Here Is How MyGate Has Made Life Simple For Everyone Associated With A Gated Community
June 26, 2019
By Team MyGate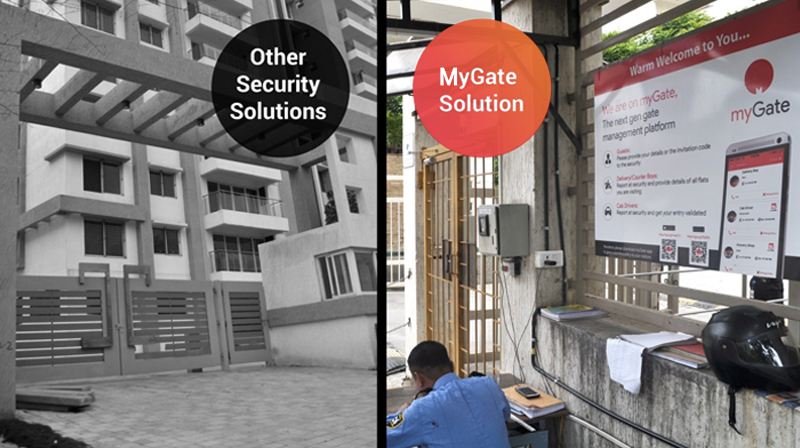 With the increase in the number of houses in the gated communities, comes not only an enhanced level of security but also a lot of confusion at the gates. With tons of people coming in and out of the community on an everyday basis, a lot of uninvited people may also step into your community and here, is when the problem creeps in. The security guards are neither motivated nor educated enough to keep a strict check on who is coming into the community and leaving at what time. Hence increases a gap between the expected and the delivered security level of the communities.
MyGate intends to not only bridge this gap and enhance the security of a gated community but also take the immense pressure off the guards and everyone associated with a gated community. Here is how we intend on achieving our aim;
1. Gives the owners a complete control on who is let into the community
MyGate gives the residents of the gated communities a complete control on deciding who steps into the community. So only people they are expecting will be allowed entry, hence eliminating a major section of the society that may cause danger. There are also other features like pre-approving entries and instantly hiring house helps among the many other features of MyGate which help in lessening the stress of the residents.
2. Lessens the stress on the guards
A typical community hires 3–4 guards who work for a specific shift, these guards are neither educated nor are they paid enough for the job they do. Hence the amount of expectations from the guards to make sure that only the right people enter the apartment is pretty stressful. MyGate automates most of the entry and exist procedures making is easier for the guards to keep a check and monitor the activities at the gate. Thus, creating a secure environment.
3. Helping the management committe keep a complete check on the community
The basic role of the management community of a society is to ensure the safety and security of the residents and also make sure all their needs are catered to. MyGate helps the management committee by automating the safety measures with the help of technology. It also provides features where house helps can be hired instantly, visitors can be pre-approved, security alarms are available at their fingertips, among the many other features which make the living of the society not only safe but a lot easier.
MyGate is already deployed at over 100+ communities in India and this number only seems to be increasing. With customers like Adarsh, Shobha, Mantri and Salarpuria among the many others, MyGate is latching its roots in the security space of the gated communities in the country rapidly. Know more about how this product is benefitting over 100+ societies.