MyGate's Move-In, Move-Out feature makes the cumbersome process of moving house easy for residents. For Managing Committees, it simplifies the process of keeping track of and facilitating resident movement, with a few clicks on the App. Relocating residents can submit moving requests, upload documents and obtain approvals. Managing Committees can easily keep track of all relocations.
Features of Move-In, Move-Out
Real-time information
Get up-to-date information on the total number of move-ins or move-outs at any given time to bring in transparency and better management.
Unified dashboard
Single dashboard to manage all move-in, move-out requests with an up-to-date database.
Effective administration
Ensure society relocation rules are adhered to and never miss out on on collecting move-in charges or pending dues during move-out.
Promotes convenience
Give residents a smart, improved experience so they don't have to run around last minute with documents for permissions.
How it works
A.The move-out process
Go to 'Settings' on the top right corner of your mobile app, then to flat settings and choose 'move-out/delete'
Understand the move-out rules to avoid unpleasant experiences or last minute surprises around move-out date and select a move-out date
Complete the move out application, check off the digital checklist, make the necessary payments to clear any dues along with the move-out charges – all in the MyGate app
Once the application is approved, a move-out gate pass is generated
This is a 6-digit unique passcode that must be shown at the gate when the vehicle carrying your household items is leaving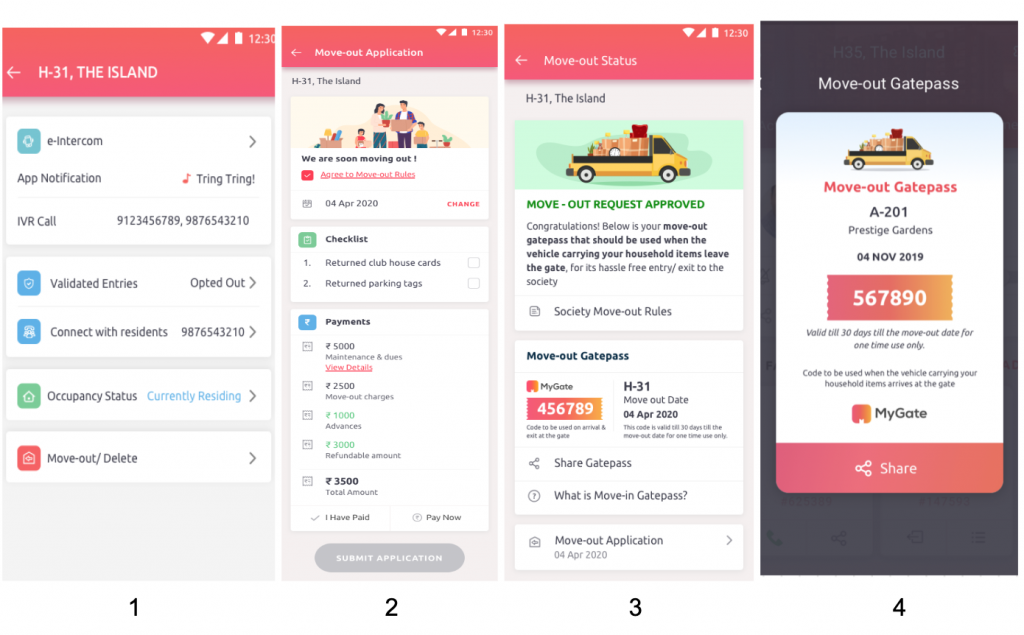 B.The move-in process
When you sign up on MyGate to add a new flat/villa, select 'Moving in'
Understand the move-in rules to avoid unpleasant experiences or last minute surprises around move-in date
Complete the move-in application, update your household details, attach the documents requested for by the management committee, and make the move-in charge payment all in the MyGate app
Once the application is approved, a move-in gate pass is generated. This is a 6-digit unique passcode that must be shown at the gate when the vehicle carrying your household items is leaving