Ever since the Union Government approved apartment complexes and offices as private COVID-19 vaccination centres (PCVCs), a few large residential societies have conducted their own vaccination drives.

These decentralised vaccination drives at gated communities are playing an important role in improving access to vaccines, successfully vaccinating people at scale, reducing the burden on hospitals as well as mitigating the risk of overcrowding and the consequent exposure to infection.

Apartments, being places of high population densities, have witnessed a large number of cases during the second wave. It is for this very reason, that vaccinating people in situ, is a good way to reduce the risk of infection within the society.
PEBL City in Hyderabad is a 2,000-unit apartment community that recently conducted a vaccination drive on its premises. Over 2 days, close to 2,500 people were administered Covishield in partnership with city-based Aster Prime Hospital. This makes it the first gated community to carry out a private vaccination drive at this scale.
We spoke to PEBL City RWA President, Mr. Chandramohan, regarding the SOP for conducting a vaccination drive within a gated community.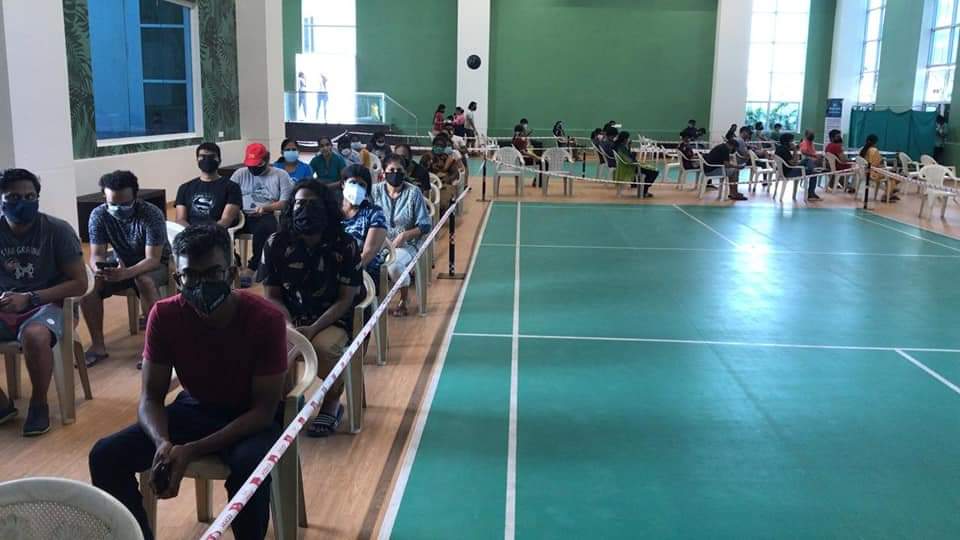 Before the vaccination drive
Partnerships and approvals
Approach the hospitals nearest to you with a request for organising a vaccine drive in your community. Check for availability of dates, vaccines, MOQs, and any arrangements to be made by the society or approvals to be obtained
Payment of an advance to the hospital for the vaccinations booked
Sign a Memorandum of Understanding (MoU) with the hospital partner, mentioning vaccination rates and numbers
Get the necessary approval as a PCVC from the District Medical and Health authorities
Alternatively, the hospital partner manages the government approvals
Organise a site visit and inspection by the health department officials, if needed
Arrange for a training session for RWA members and volunteers, if needed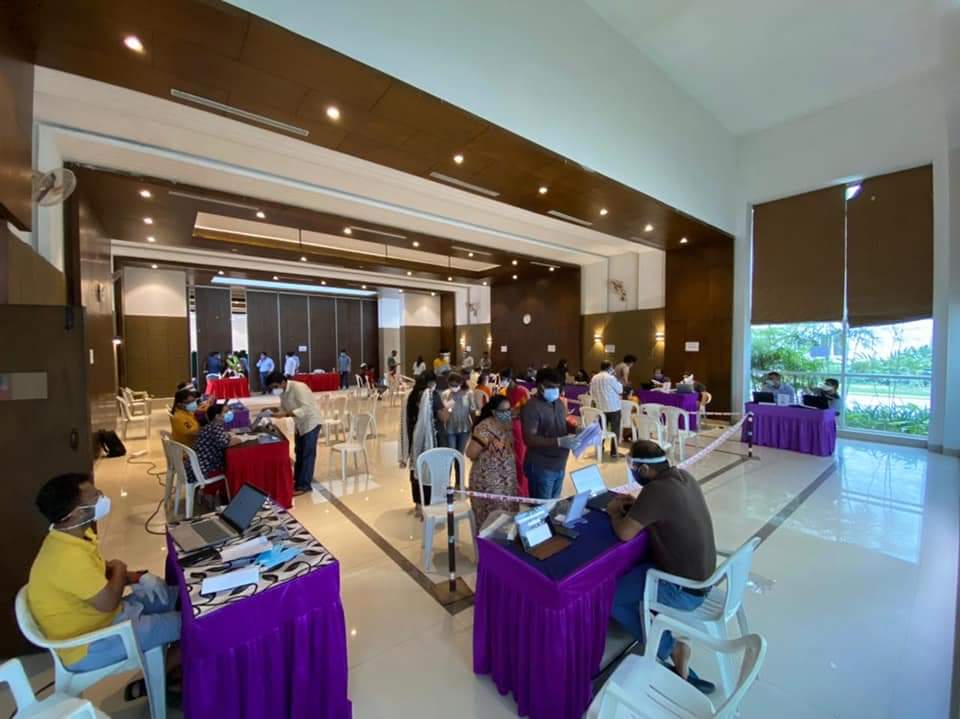 Arrangements to be made at the society
Inviting registrations and collecting payments
Assess residents' interest in getting vaccinated and estimate numbers based on age. This information is to be passed on to the hospital
Make sure all interested residents register themselves on the CoWin app/website
Collect payments in order to pay the advance amount to the hospital
Allocate time slots based on floors or blocks. This can be managed based on the number of people to be vaccinated
Arranging amenities & infrastructure
Identify a suitable, well-ventilated location for organising the vaccination drive. Apartments that have amenities such as clubhouse, tennis courts, gym etc can designate these areas. Other areas such as basements and car parks can also be used
In all, you will need to have separate areas for setting up:
A registration counter with 1.5ft distance between desks
Pre and post vaccination waiting area with defined social distance and not more than 50 people at a time
Designated vaccination area
AEFI (Adverse events following immunisation) Room with two beds, crash cart (to manage/ stabilise any kind of immediate reaction observed post vaccination)
Make arrangements for chairs, beds, oxygen concentrator and cylinder and first aid kit
Organise a team of volunteers to assist with the registration, crowd control, post vaccination verification etc
Organise staff to sanitise the rooms between sessions
An ambulance and medical staff – provided by the hospital
Communicate to residents the time slots and location of the drive, as well as information about all the documents to be carried (Aadhaar card or other government-issued ID, phone etc.)
If payment is to be made on-the-spot, mention the various modes accepted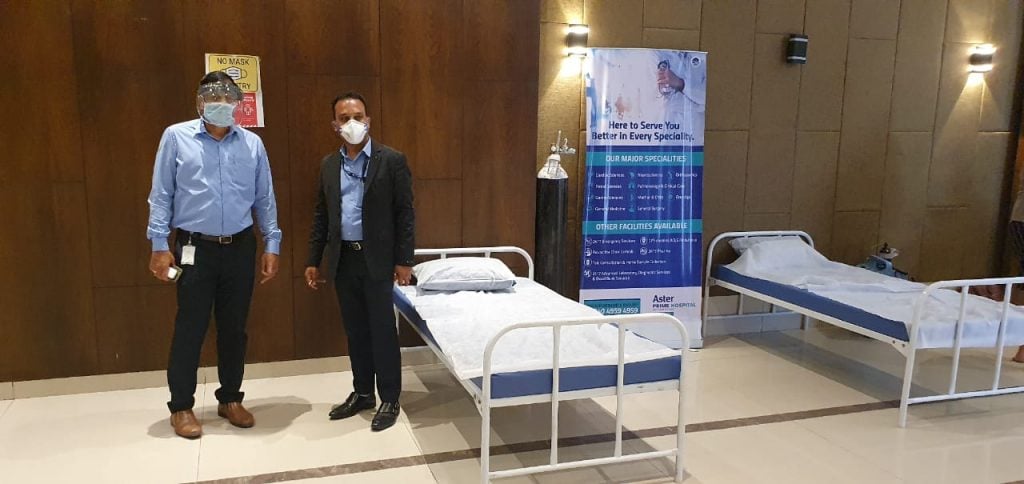 On the vaccination day
"The most time-consuming task during the drive is not the vaccination itself, which takes a few seconds and is managed by hospital staff. CoWin registration takes up the most time, says Mr. Chandramohan, as not everybody understands its nuances or books slots in advance.
How PEBL City utilised MyGate to successfully vaccinate 2,000+ residents
Getting estimates
One month before the actual vaccination drive, the RWA conducted a test run using the Amenities Booking feature on the MyGate app. Says Mr. Chandramohan, "At that time the vaccine wasn't available but we created free slots on the app so that we could know how many residents were interested." They received around 2,000 bookings, helping them estimate that the approximate number of vaccinations to be procured. It also worked as a dry run so things could run smoothly on D-Day.

Booking
Amenities like the clubhouse, gym and badminton court were converted into vaccination centres. They were marked as paid amenities on the MyGate app. Time slots for each vaccination session were allocated and bookings were made available through the app.

Payments
"Every hospital requires a paid advance for administering the vaccines. "Using the various payment options on the MyGate app, PEBL City was able to collect the required amount from residents based on the number of slots booked. This allowed quick collections, helped the society avoid cash payments and enabled prompt payment to the hospital within a day of collection.

Expanding vaccination access
"Initially, we had kept a cap of 4 vaccines per flat but then we realised that we would also need to vaccinate the close relatives and household staff such as cooks, help and drivers." So, an additional 2 slots per household were opened up on the MyGate app. This helped the society vaccinate a larger number of people, including those who did not have access to the CoWin app.
Communication
PEBL City RWA used MyGate's Notice Board feature to send timely communication to residents regarding various aspects of the vaccination process, including how to register on the CoWin site, documents to be carried on vaccination day, protocol to be followed etc.