Burgundy is a Reddish-Brown shade akin to the color of the wine. However, in broader terms and particularly regarding hair color, the notion of Burgundy hair color shades covers a wide range of gorgeous colors beyond just the normal range of available Red hair colors for Indian skin tones.
This will be a worthwhile read for you if you belong to any of the following categories:
You have tried applying color to your hair but find flaws in your choice.
You are new to this activity and raring to go.
Certain factors must be considered before you engage in the exercise. The most important considerations are –
The quality and color of your hair.
Your skin color.
The shape of your face.
The type of your personality.
The tone of your skin.
Choosing a burgundy hair color in India
Choosing a Burgundy hair color highlight is easier than finding the correct shade of Burgundy for complete hair color. There are certain aspects to judge the face and skin and try to match it to the right shade of red hair colors for Indian skin tones.
Skin undertones can be warm as well as relaxed. Skin tones can be identified by how the sun impacts your skin. For example, if your skin turns Red under the sun, you should have a cool undertone. Conversely, your skin tone is warm if you tan when exposed to the sun.
Skin undertones
It is essential to note that a warm hair color matches well with a cool skin undertone, while a warm skin undertone can wear a cool shade of hair color. Indians generally possess a warm skin tone, so a cool hair color shade suits them better. Therefore, it is uncommon to find people using Red hair colors for Indian skin tones.
Burgundy hair color with skin color
The pigment Melanin sets the body's hair, eyes, and skin color. It also accounts for the change in your color for the climatic conditions. The variation in the amount of Melanin secreted by the body impacts skin coloration.
Usually, an Ash Blonde will suit a fair skin color, while a Red with Blue undertones perfectly matches a darker skin. However, for medium colors, you should stay close to your natural color and prefer a lighter or darker version of your shade.
Coloring regarding your face contours
Hair color contouring is a unique technique that adds to your looks in terms of widening or compacting your face structure.
While dark colors may make a facial area look smaller, a light shade may open up and widen the space. It could add stimulus to your facial contours and make you look stunning. It could add to your personality as well.
Making the right choice
The choice had to be made with care and due diligence to your skin tone and natural hair color to find the most appropriate Burgundy hair color shade:
Select a color that is either a shade or two lighter or darker than your natural hair color.
Alternatively, you can choose a color that matches the color of your eyes.
Warm undertones should opt for colors like Copper.
Cool tone hair colors
The most sought-after cool tone hair colors include Ashy Blonde, Ashy Gold, Beige Blonde, Cool French Brown, Intense Cold Beige, and Soft Ash Brunette.
Popular burgundy hair color products in India
| | | |
| --- | --- | --- |
| Brand & Variant | Shade Number | Price (Rs) |
| BBlunt Salon Secret High Shine Creme Hair Color | Burgundy | 209 |
| Color Mate Hair Color Cream | 6.65 Burgundy | 155 |
| Garnier Color Naturals | 3.16 Burgundy | 160 |
| Godrej Expert Creme Hair Color | 4.16 Burgundy | 115 |
| Indus Valley Organically Natural Gel Hair Color | 3.6 Burgundy | 599 |
| L'Oreal Paris Casting Creme Gloss | 316 Burgundy | 550 |
| L'Oreal Paris Creme Triple Care Color | 3.16 Burgundy | 434 |
| Revlon Color 'N Care Permanent Hair Color | 3RV Burgundy | 188 |
| Revlon ColorSilk Beautiful Color | 3DB Deep Burgundy | 333 |
| Vegetal Bio Color | Burgundy | 280 |
Popular burgundy hair color shades highlights in India
1. Aubergine
Type: Cool burgundy hair color shade
This new-age color will be ideal for you if you wish to look different. This purple hair shade with shimmery tones could shake up your locks.
2. Black Cherry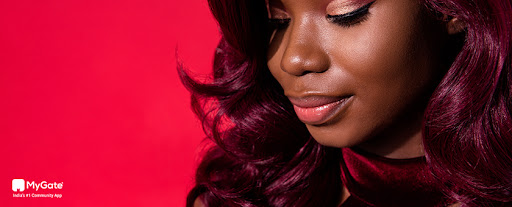 Type: Cool burgundy hair color shade
It is difficult for this mix to show up in the hair, but if you like this color, you could apply the highlighting technique for this effect on your hair.
3. Bright Burgundy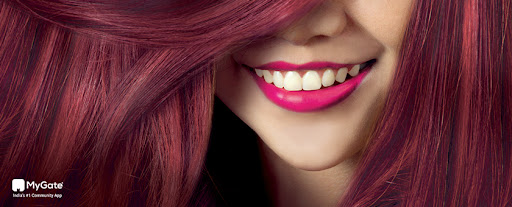 Type: Cool burgundy hair color shade
This earthy shade of burgundy red is the only way to give life to thick and dense hair growth. The ones who dare can go for a full Red color, while the others could try bright burgundy ombre or highlights.
4. Dark Red
Type: Cool burgundy hair color shade
This subtle red color would be a perfect setting for your hair. As it is not too bright, you could have the option of making it a full head color with a possible shade.
5. Deep Plum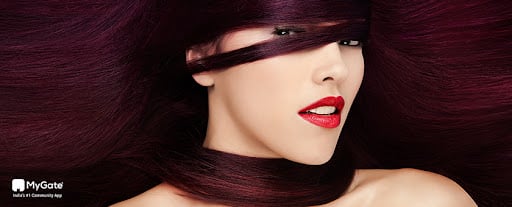 Type: Cool burgundy hair color shade
There are purple tones in this beautiful maroon hair color most suitable for olive complexions—a great display in the burgundy hair color charts.
6. Deep Purple Burgundy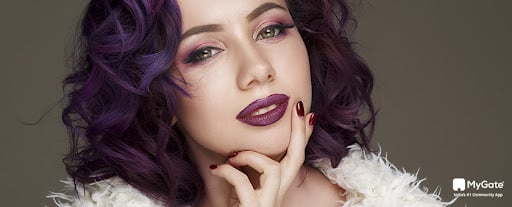 Type: Cool burgundy hair color shade from the purple hair color family
This burgundy hair color shade is a violet variant of hair color to glorify dark brown or black hair. It is as good when tried as lowlights on dark hair and not the best suited as an option for burgundy hair color highlights.
7. Light Auburn
Type: Warm/Neutral burgundy hair color shade
The reddish-brown color is misplaced in this list of pinkish-purple hair colors but is a needed addition to the relaxed skin undertone. The warm skin can also wear this light auburn color for a change.
8. Magenta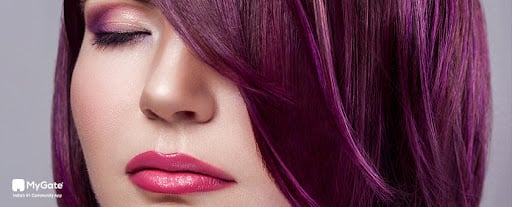 Type: Neutral burgundy hair color shade
This earthy magenta ombre perfectly balances warm pink and cool purple, making it a neutral shade for cool and warm undertones. Magenta is one of the popular burgundy hair color shades.
9. Metallic Lavender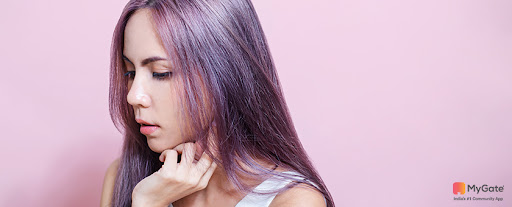 Type: Neutral burgundy hair color shade
Metallic Lavender is the right balance between firm and soft. It is fresh, and it is new and worth a try.
10. Mulberry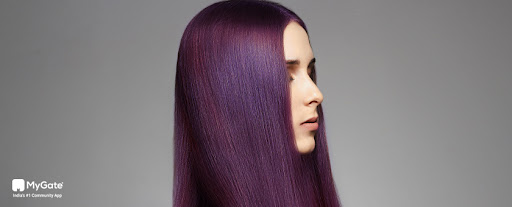 Type: Cool burgundy hair color shade
Imagine red juice flowing from a handful of crushed berries and covering your hair from all directions in this vivid red hair color. This is an ideal choice for fair and moderate complexion with cool undertones.
11. Mulled Wine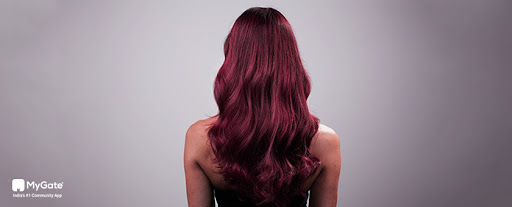 Type: Warm red hair color shade
Mulled wine looks so good that you almost would like to taste the warmth. Also, a mulled wine shade would greatly benefit a cool skin undertone – a safe option for a burgundy hair color shade as a first-timer.
12. Red Velvet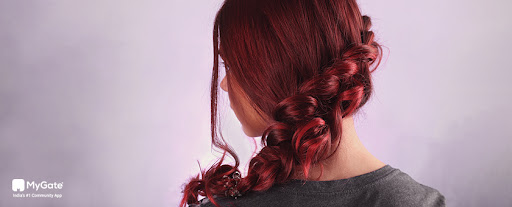 Type: Warm burgundy hair color shade
Red Velvet is an excellent burgundy hair color shade. Brighter, warmer shades like this would suit complexions with cool undertones.
13. Violet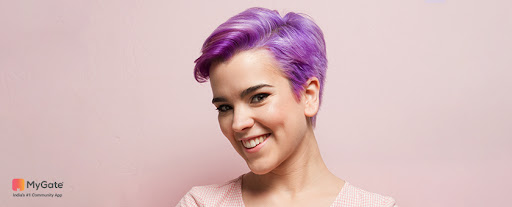 Type: Cool burgundy hair color shade
If you are leaning toward purple, you could try this dark burgundy with bright violet coloration and magenta highlights.
This list perfectly describes how Red hair colors for Indian skin tones matter to the Indian skin and hair quality.
Folks with light-colored hair may directly apply burgundy hair color with great precaution. However, dark and dense hair like dark brown and black must be bleached before the coloration is applied. Red, purple, and burgundy hair color shades application also warrants thick black or brown hair to be bleached and lightened so that the colors get highlighted.
Hair bleaching is best done by a professional, more as a precautionary measure than anything else.
Color with care
Hair bleaching is a systematic process; one must indulge in it regularly to retain the hair's glory and eminence. The method of hair bleach may also have to be repeated when the ingredients fade off.
However safe the hair coloring appears to be, there exists an element of risk if done individually. Therefore, it is advisable to have a trained hair coloring expert do it for you to avoid the slightest degree of hurt or damage to you.
A homemade mask must be worn after the coloring to prevent the color from splashing onto your face. In addition, it could serve to reverse the damage if caused due to negligence.
13 Brown Hair Color Shades for Indian Skin Tones
11 Blonde Hair Color Shades for Indian Skin Tones
Loreal Hair Color Chart :Top 10 Shades for Indian Skin Tones
About MyGate
MyGate is India's largest society app, benefiting thousands of housing societies, developers, society facility managers, and millions of homeowners in every Indian city.