"I like to feel blonde all over," said Marilyn Monroe.
Do you also feel the same? Do you want to appear stylish and stand out? The best approach to achieve this is to try some blonde hair highlights.
Growing up, many wished for blonde hair like their favorite Hollywood models and actresses. Someone's motivation for wanting blonde hair stems from the desire to stand out. It's like a "wow" effect. You lose your allure the instant you become merely average. It's best to go for light blonde hair, which brings out your skin's golden undertones and gives the illusion of greater sun exposure. While it's true that turning blonde will make your skin seem darker, the contrast between your hair color and your lovely tan is what will set you apart.
You can show off stunning blonde hair color in various styles. Chic blonde hair color choices are great, whether subtle blonde hair highlights or full-on blonde hair color.
So here are some blonde hair colors you can try:
1. Chestnut blonde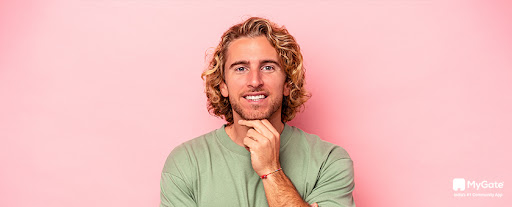 It's a warm blonde hue for a cool complexion. If Beyoncé is your favorite diva, this is the appropriate light blonde hair color to wear. This shade of blonde, a combination of light chestnut brown and light golden blonde, is supported by Queen B. Colored highlights may add dimension to hair for Indians with cool skin tones by mixing chestnut blonde with other blondes for a more natural look.
2. Honey blonde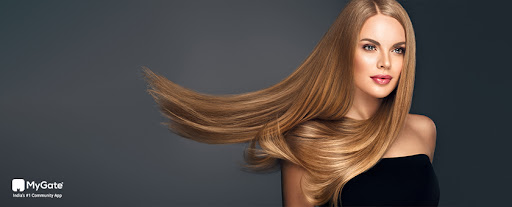 Honey blonde is another winter-appropriate light blonde hair color that compliments Indian skin tones well. This color's warm undertone makes it ideal for complete hair coloring and blonde hair highlights. Moreover, if you are afraid of lightening your hair and seek a blonde hair color that will appear on unbleached, dark natural hair, this is your product. Are you really fond of the blonde? Then try this awesome shade of blonde hair color.
3. Golden/yellow blonde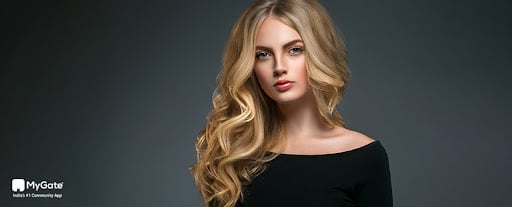 Golden blonde is a traditional light blonde hair color that ladies of all ages have favored. The yellow blonde hair color has incredibly brilliant golden undertones and beautifully complements ladies with medium to dark complexions. Considering this hair color, you should avoid a global shade since it can seem quite jarring against Indian skin tones. Combining Balayage or a few highlights with a warmer blonde hair color would be the optimal choice.
4. Ash blonde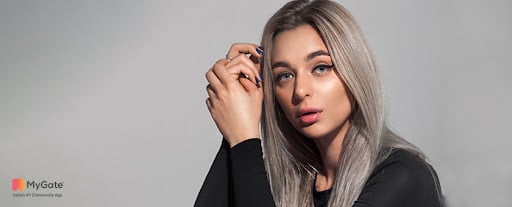 Girls who dislike or are dissatisfied with conventional blonde hair color options for Indian skin tones might experiment with this edgy ash blonde hue. This light blonde hair color's cool undertones look stunning on ladies with fair to medium complexions. If opting for a complete change in hair color seems frightening, ash blonde hair highlights are a fantastic alternative. Be sure to maintain your roots a touch darker to avoid seeming washed out.
5. Caramel blonde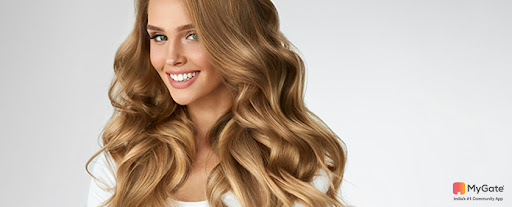 There is something we adore about caramel hair color, and caramel blonde hair color is no exception. It is the ideal approach to give depth, dimension, and warmth to an otherwise uniform brown hair color without going lighter. A number of celebrities and influencers have liked this hair color since it complements all Indian skin tones and even improves dull complexions. Are you dyeing to ask your friends this question- Notice anything blonder about me? Then caramel blonde is for you to try.
6. Butterscotch blonde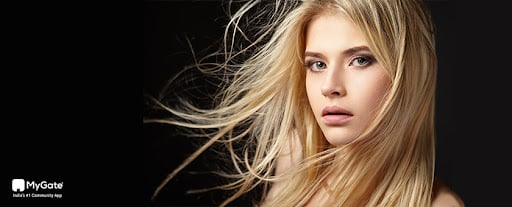 Consider opting for a butterscotch blonde hair color alternative if caramel blonde is too light for you. This lovely hair color is the ideal combination of brown and blonde and will give movement and structure to your hair.
Choose from balayage or ombré highlights to properly complement this lovely golden hair color option. Choose from several types of blonde hair color options to go from hairific to terrific!
7. Rose gold blonde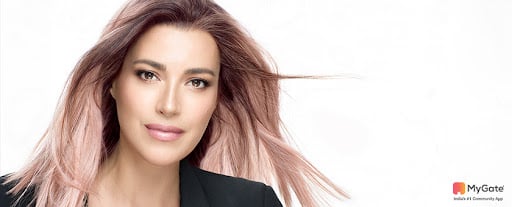 The gorgeous rose gold blonde hair color is an alternative that is both stunning and unconventional for Indian women. The rich rose gold tint intermingled with magnificent caramel blonde streaks complements the dark Indian hair nicely. If you are seeking a blonde hair color that is not ordinary but also not over the top, this one should definitely appeal to you.
8. Strawberry blonde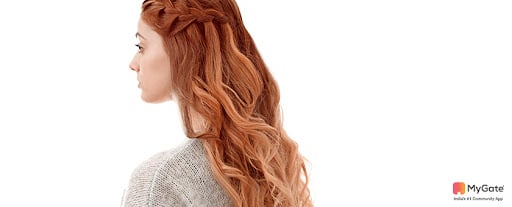 When it comes to your hair, strawberry blonde is probably not something you'd want to experiment with as an Indian girl. Don't fret, though, since this blonde hair color can look lovely when executed correctly. This beautiful light blonde hair color with red undertones is perfect for a full head color or blonde hair highlights, depending on your particular style. On all Indian skin tones, a wonderful ombré balayage with your natural hair color would look absolutely stunning. Blonde is beautiful! Get yourself a blonde look today!
9. Champagne blonde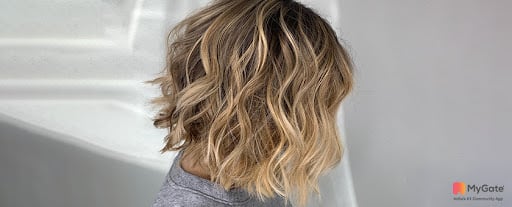 This champagne blonde hair color is our absolute favorite for all the females who enjoy experimenting with their hair color. This magnificent balayage with golden blonde and champagne hues will illuminate your features and give your hair a luminous sheen. If you get this hair color done, remember to use a color-protecting shampoo to keep the color from washing off too soon or turning brassy.
10. Bronde blonde/brown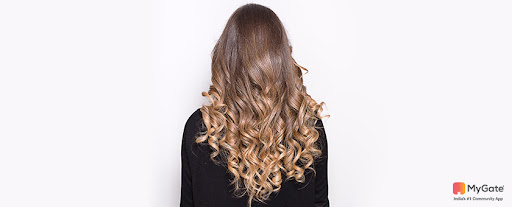 The neutral blonde hair shade is for everyone. Is it white? Is it brown? It's both! Bronde is one of this year's trendiest blonde hair colors. This neutral blonde/brown tint will complement any skin tone. Warm complexion tones with a golden sheen can wear a cool bronde with blonde hair highlights, while cool skin tones can create a warm blonde balayage by combining bronde with a butterscotch blonde. Is your hair ice-cold like your favorite Frappuccino? Then it must be Bronde blonde!
11. Dusty rose blonde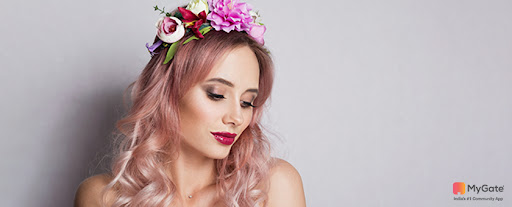 A cool blonde hue for a warm complexion. Do you adore pink? This blonde hair color is ideal for you, especially if you have a warm complexion. This blonde hair color is delicately rose-pink in hue. It is also rather versatile. When combined with an ash blonde balayage, dusty rose blonde hair highlights or balayage take on an edgy appearance.
Life is short. Go blonde. Pick your shade of light blonde hair color, or go for blonde hair highlights. Always keep in mind that regardless of the types of blonde hair color and shades of blonde hair you pick, each takes special attention and care to get desirable results. Use a special shampoo and conditioner to preserve your hair and scalp health. To avoid errors and fully appreciate each hairdo, it is advised that specialists administer these products and treatments. Let your hair do the talking while achieving the beauty you are dyeing for!
13 Brown Hair Color Shades for Indian Skin Tones
Loreal Hair Color Chart :Top 10 Shades for Indian Skin Tones
13 Burgundy Hair Color Shades for Indian Skin Tones
About MyGate
MyGate is India's largest society management software, benefiting thousands of housing societies, developers, society facility managers, and millions of homeowners in every Indian city.