The government has requested that we stay home for the good of society – however, there are times when resident movement is unavoidable for purchase of essentials and medical emergencies. In these times, it is important for the society to be aware of such movements, hence we are highlighting our Resident Entry/Exit Log feature during the coronavirus lockdown.
What is Resident Entry/Exit Log?
Resident Entry/Exit Log is a feature on the guard app that is helping both the committee members and the residents in the following ways:
Committee members:
– Record or restrict the entry of non-residents within the community
– Record logs and trace back, if and when required
Residents:
– Ensure safety of individuals and their families
– Stay aware if a suspect case is identified within the community
How important is this feature for my society?
The feature was built to help the societies monitor any movement in and out of the community during wee hours and only allow residents using their designated MyGate code.
However, with the increasing practice of social distancing amidst Coronavirus, it is observed that many societies are now using it to identify non-residents and ensure safety of those residing within the community.
As per the instructions issued by the Government Authorities, the societies are required to monitor the residents moving in and out of the communities. Many societies in Pune have already implemented the feature. As the government authorities continue to issue the same orders across other states and cities, the feature will become fundamental in helping the communities stay informed and be proactive in curbing the spread.
Keeping in view the current lockdown, we highly recommend this feature to minimise risk and stay alert, while practicing social distancing.
How does it work?
Step 1: The resident needs to share their designated passcode with the guard at the time of the entry
Step 2: The guard will then enter the passcode in the guard app
Step 3: This will reflect the resident details, such as name, flat and vehicle number, on the guard app screen. The guard will then click on the 'Allow In' button to approve and record entry.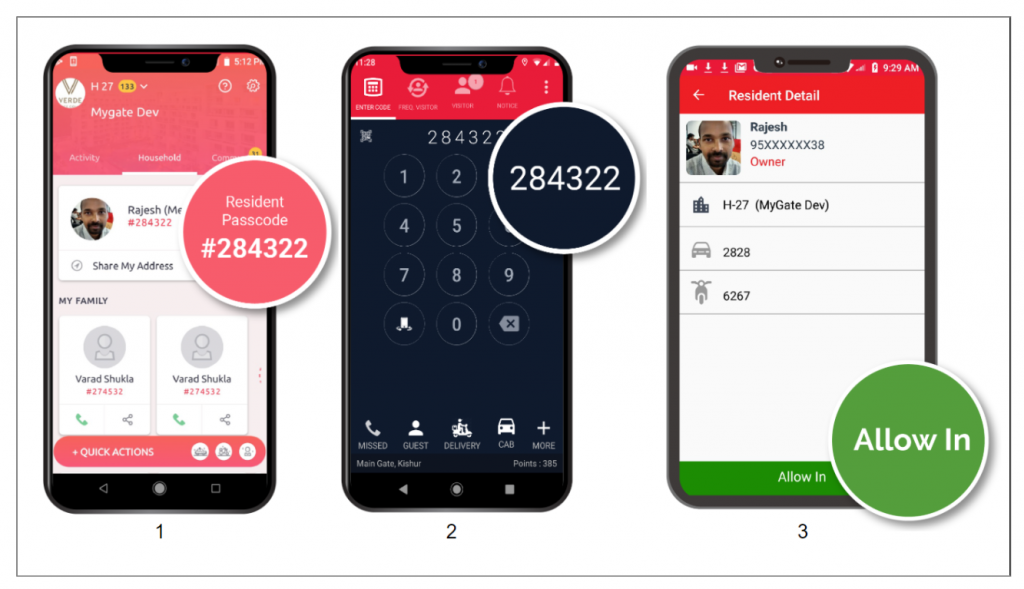 How can I enable 'Resident Entry/Exit Log' for my society?
Please get in touch with your MyGate representative. They will assist you with updating the settings on the MyGate dashboard. In case of any concerns, please write to us at [email protected].