Andheri East is a great mix of residential and commercial. Located along the Western Express Highway, here you can find a plethora of offices, stores, restaurants and pubs, as well as good apartments to buy or rent.
Andheri East is surrounded by other nice neighborhoods like Vile Parle, Powai, Andheri West and Goregaon East, so there is plenty to do nearby as well. There are many employment areas around too, such as Chakala and Marol. And with great connectivity via the railway and the metro, commuting by public transport from Andheri East is a breeze.
Are you thinking of living in Andheri East? Read on to learn about the residential buildings you could stay in, things to do and places to go in the area.
List of top gated communities in Andheri East, Mumbai
1. Suba Zircon, Andheri East
A small community of 48 units, Suba Zircon is located in the busy area of Chakala. Given it is on Sahar Road, it has a good location and in proximity to the airport and several five stars as well. The building, however, doesn't have much to offer in the way of amenities and the flat are on the smaller side.
Highlights and amenities of Subs Zircon
Area of apartment: 540 sq ft to 915 sq ft
Size of apartment: 1 BHK, 2 BHK & 3 BHK
2. Vasant Oasis Eliza II, Andheri East
This luxurious community features big apartments, by Mumbai standards, of up to 1866 sq ft. With upmarket interiors and a location close to landmarks of Marol like Seven Hills Hospital and St Vincent Pallotti Church, Eliza is the place to be in Andheri East. The metro is also in close proximity.
Highlights and amenities of Vasant Oasis Eliza II
Area of apartment: 413 sq ft to 1866 sq ft
Size of apartment: 1 BHK, 2 BHK, 3 BHK & 4 BHK
3. Krishna Chaitanya, Andheri East
The apartments may be small, with 3 BHKs at just 747 sq ft, but the location more than makes up for it. Krishna Chaitanya is close to the Leela and ITC Maratha as well as Lallubhai Park in Azad Nagar. While the building doesn't have many amenities, it does have a large compound around the building.
Highlights and amenities of Krishna Chaitanya
Area of apartment: 370 sq ft to 747 sq ft
Size of apartment: 2 BHK & 3 BHK
4. Serenity Heights, Andheri East
Located on Saki Vihar Road, Serenity Heights offers good city life, being located close to good hospitals and schools, the metro station and even fine dining restaurants like The Finch. The building has only a few amenities but is exceptionally well-designed.
Highlights and amenities of Serenity Heights
Area of apartment: 781 sq ft to 1126 sq ft
Size of apartment: 1 BHK, 2 BHK & 3 BHK
5. Joy Callista, Andheri East
The 308 units in Joy Callista have access to a play area, swimming pool, a gymnasium and even rainwater harvesting infrastructure. Located on the Western Express Highway, it has great connectivity and is near a very good residential area in Azad Nagar. The 1 BHKs in the building are also spacious.
Highlights and amenities of Joy Callista
Area of apartment: 613 sq ft to 1226 sq ft
Size of apartment: 1 BHK & 3 BHK
Things to do in Andheri East, Mumbai
1. Watch a movie
Head out for movie night to this fantastic cinema hall. Carnival Cinemas has amazing screens and sound quality. Here you can watch all the latest movies in clean and comfortable seats with good air-conditioning. The prices are reasonable and there is a good variety of food and snacks to choose from.
2. Go out dancing
In the mood to dance the night away? Nothing beats the beats at Kitty Su. This fancy nightclub draws party people from all over Mumbai. Located at the posh Lalit Hotel, this nightclub is popular for its great music, beautiful interiors, fabulous atmosphere and wonderful view.
3. Buy cool stationery
If you are looking for unique notebooks, head to Mooch Design Studio. Whether you are a stationary buff yourself or want to stock up on gifts from friends or colleagues, you're sure to find something to suit your needs. These handcrafted diaries are functional as well as fun, and there are many styles to go with different personal tastes.
4. Eat yummy chole bhatura
Gulati's in Andheri East is the talk of the town for their mouth-watering Chole Bhatura. This place sells all the favourite Punjabi sweets and snacks and the taste and quality are topnotch. Besides the excellent chole Bhatura, sample the piping hot samosas, kachoris, rabri, jalebi and laddus.
Places to visit in Andheri East, Mumbai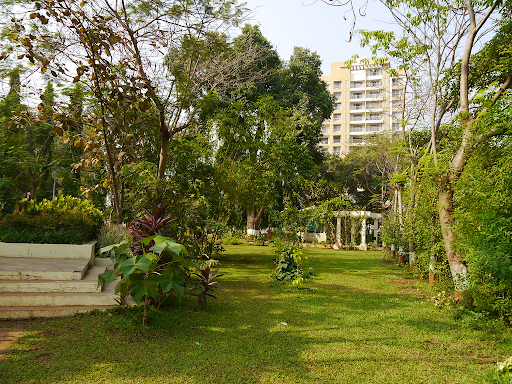 1. Ice Cream Factory & Shahi Durbar
Indulge your sweet tooth with yummy freak shakes, faloodas and ice creams in this chilled-out ice cream parlour that's pocket-friendly, too. Make sure you try seasonal specials such as their unique mango and strawberry creations. Here you can eat Instagram-worthy favourites like bubble waffles, brownie freak shakes, pancakes and dessert jars.
2. Mahakali Caves
Mahakali Caves is also known as The Kondivite Caves. Here you will see 19 monuments cut out of rock. Inside this Buddhist monastery, you will find gorgeous views of the surrounding areas as well as beautiful gardens. The carvings on the caves are intricate and a sight to behold. There is a small entry fee of Rs.25 to access these caves.
3. Parla Jin Mandir
This temple is also known as Shree Simandharswami Digamber Jain Mandir. It is located near Vile Parle and is a nice place of worship to visit if you want peace and tranquility. The all-white interiors are impressive and a temple is a special place for studies, where lectures take place. The facilities here are well-maintained – there is a good washroom, ample parking and clean water available for visitors.
4. Rodeo Drive Bar and Grill
This pub is perfect for heading to after work or for an evening out with your buddies. The ambiance is lively, with live screenings of big games and matches played regularly. Bar snacks like three-cheese fries and spicy chicken wings will tantalize your tastebuds. There are all the regular beers and alcohols on offer if you are in the mood for a drink or cocktail. Plus, beer pong and foosball if you love games.
FAQs about Andheri East, Mumbai
What is the distance from Andheri East to the Mumbai International Airport?
The travel distance or driving distance between Andheri East and Chhatrapati Shivaji Maharaj International Airport is just 2.9 kilometres.
What is the nearest bus station from Andheri East?
The main bus depot in Andheri East at the railway station, but there are other satellite ones at Seepz, Marol and Saki Naka. There are also bus stops across the suburb offering connectivity to all parts of Mumbai.
Is there any metro station in Andheri East?
Yes, there is more than one metro station in Andheri East, as the Saki Naka, Andheri East metro stations offer connectivity to Ghatkopar as well as Andheri West.
What is the best place in Andheri East to hang out on weekends?
The people of Andheri East typically spend their time at InOrbit Mall or go boating at Chotta Kashmir. However, there are also great restaurants in the area such as Kasbah Grand and Image Restaurant & Bar.
How to reach Andheri East from Mumbai airport?
The quickest way to get from Mumbai International Airport to Andheri East is by rickshaw or taxi which costs ₹50 to ₹150 depending on the area. Given its proximity, you could also consider taking a bus.
Is Andheri East a posh area?
Andheri East is a decent area to live in. There are many good properties to buy and rent. The place has good restaurants, pubs and stores. There is good connectivity to the rest of Mumbai via rail and metro and it is very close to the international airport.
Is Andheri East safe to stay in?
Yes, Andheri East is a safe area to live in. There are many decent housing options and it is a well-known employment hub. Here you will find the streets dotted with good commercial establishments, schools, shops and restaurants.
What are the best hospitals in Andheri East?
The hospitals in Andheri East include Hashir Hospital & ICU, Sanjeevani Hospital, Sugun Hospital, Criticare Asia, Chiranjeevi Hospital, Medicare Hospital, Nakshatra Hospital, Seven Hills Hospital, Kiran Care and Cure Hospital, Mangala Hospital, Holy Spirit Hospital and Shakuntala Memorial Hospital.
What are the best schools in Andheri East?
Some schools in Andheri East are St. Arnold's High School & Junior College, Bombay Cambridge International School, THE LITTLE FLOWER'S HIGH SCHOOL AND COLLEGE, Divine Child High School & Junior College, St. Xavier's High School, St. Rock's High School, Sri Kalgidhar Mission High School and Canossa High School.
Which are the parks in Andheri East?
There are several nice parks in Andheri East, including Manoranjan Park, Ramesh More Udyan, Sant Nirankari Udyan, Ashok Kamte Park, Teli Gali Garden And Park, Adarsh Nagar Park, Shahid Tukaram Omble Manoranjan Maidan, Sheth Piramal Udyan and Nana Nani Park.
What are the best gyms in Andheri East?
Some of the best gyms and fitness centres in Andheri East are Rhinos Gym Andheri East, i5 Fitness, Fitness Hub, Zion Fitness, Workout Fitness Studio, Cult Andheri East, Fitness Hub, Fitness Legacy, Captain's Gym, Your Fitness, Fortune Fitness, The Cloud 9 Fitness Club and Figure Factory Gym.
What are the police stations in Andheri East?
Andheri Police Station is on Sahar Road, Opp. Andheri Railway Station, Vertex Junction, Railway Colony. The contact number is 022 2683 1562.