Ashok Nagar is a bustling shopping and dining destination. Shopping and dining can be found in abundance in Ashok Nagar. The major road is Mahatma Gandhi Road, often known as MG Road by locals, and it is home to upscale clothing stores, used bookstores, trendy restaurants, and trendy bars. The region contains full of historical buildings from the British era, such as the elaborately stained-glassed St. Mark's Cathedral and the Mayo Hall, built in the 19th century.
Ashok Nagar is one of the oldest localities in Bangalore. The neighbourhood has grown quickly over the past several years as a result of its excellent position and accessibility to other areas of the city. The widespread creation of business enterprises was encouraged by the availability of abundant, high-quality space. This attracted some renowned developers to the region, which in turn helped this community to thrive.
Wondering which society your future home might be in, where you can find good food, a school for your kids, or even spaces you could work out in? Read on to find out!
List of top societies in Ashok Nagar, Bangalore
1. Sobha 25 Richmond, Ashok Nagar
Why Sobha 25? Opulent 3 BHK open-side homes, with homes measuring between 2772 sq. ft. and 3315.00 sq. ft. Residents at Sobha 25 Richmond may take advantage of a variety of amenities, including a gym and power backup. Aside from the swimming pool and sports area, young families with children will adore the children's play area nearby. The tennis court, cricket field, squash court, and badminton court will appeal to sports fans. Enjoy the amenities on the property, including ATM access.
By way of the road that runs through the centre of this neighbourhood, Ashok Nagar is well connected to other areas of the city. There are notable commercial centres, movie theatres, schools, and hospitals close to this residential development.
Highlights and Amenities in Sobha 25 Richmond
Type of apartments: 3 BHK
Area per apartment: 2772 to 3315 sq ft.
2. Prestige Kingfisher Towers, Ashok Nagar
The luxurious 4 BHK apartments in the prestigious Kingfisher Towers are designed to exude an authentic sense of quality, elegance, and luxury. The residents of this residential flat in Bangalore have a contemporary lifestyle, which is what most people want.
In Bangalore's Ashok Nagar, Status Kingfisher Towers offers you a luxurious selection of exquisite apartments. It offers quick access to all important services including the airport, hospitals, colleges, MNCs, and more within a short distance. The status Kingfisher Towers' features include a badminton court, a ceremonial dinner hall, a meeting room, a creche, a gym, an indoor video games room, a jacuzzi steam room, a manicured lawn, a play area, and dining options.
Highlights and Amenities in Prestige Kingfisher Towers
Type of apartments: 4BHK
Area per apartment: 8321 sq ft.
3. Vajram Tiara, Ashok Nagar
Your search has ended. This is a four-bedroom luxury residence in Avalahalli. It's quite simple and convenient to get to the bus stop and the pharmacies from this home. You won't have to travel far to get these necessities because there are ATMs, gas stations, and a big store close to this house.
Finding a high-quality education is quite simple because Little Flower Public School and Oxford Senior Secondary School are close by. You will be relieved to learn that HCG, Prompt Services, and Victoria Hospital are close by if you require any emergency services or medical support.
Highlights and Amenities in Vajram Tiara
Type of apartments: 1 & 3 BHK
Area per apartment: 595.00 – 2798.00 sq ft.
4. Deauville Apartments Gate, Ashok Nagar
A well-known community in the city, Deauville Apartments Gate in Ashok Nagar, Bangalore, is well-built and offers all the amenities you want. Working from home is practical in the contemporary age because of the trustworthy generator backup. With RBANM's High School, National Public School, and St. Joseph's Boys' High School nearby, you may give your kids a wide range of educational alternatives.
You'll be relieved to learn that the distance from this residence to the railway station is less than ten minutes if you frequently commute. This apartment is close to Rex, Fun Cinemas, and Inox, so you can always catch the newest releases there.
Highlights and Amenities in Deauville Apartments Gate
Type of apartments: 3 BHK
Area per apartment: 2285 sq ft.
Things to do in Ashok Nagar, Bangalore
1. Head to Koshy's
Want to eat where Nikita Khrushchev, Jawaharlal Nehru, and even good ol' Queen Elizabeth II did? Put Koshy's on St. Marks Road in your GPS. Here, breakfast is a renowned event. Try their omelettes, which range from loaded with bacon and mushrooms to mutton and Spanish varieties. Their robust but milky Koshy's Special Coffee will give you the boost you need at any time of day. You can also pick up food since the restaurant is open for takeaway throughout the day with no breaks.
2. Try the food at Cantan – Chinese Bar House
At Cantan, you'll have a great experience thanks to the wonderful food and welcoming staff. Amazing atmosphere, especially in the evening. You must listen to K-pop. Try their fantastic Bao Bing dessert. Excellent service is provided. The food is definitely worth every penny, and the ambience is a bonus. Do not miss this place if you're craving authentic Chinese food and vibes. The place is very chic and done well. Service is quick and courteous.
3. Shiro
Shiro is a lounge with the ideal atmosphere for recharging and unwinding. For those who enjoy Asian food, the location is ideal. They provide delicious seafood, Chinese, and Japanese cuisine. Shiro has opulent decor, tantalizing cuisine, and creative cocktails. People who wish to go for a fine dining experience should go there. They also provide a wonderful outside dining area with private sitting. It is next to the Shell Petrol Pump on Vittal Mallya Road in Central Bangalore.
4. Go liquor shopping at Tonique
One location to go for your liquor shopping is Tonique, which is advertised as Asia's largest liquor store. especially if you want a wide range of possibilities. Over 1,500 alcohol brands, including foreign names, are available here on two levels. Whiskey, vodka, tequila, gin, absinthe, liqueur, beer, and even mixers and tonics are among their available libations. There are also international wines and champagnes, as well as a wide selection of refreshing sakes.
Places to explore in Ashok Nagar, Bangalore
1. Dribble Arena
The appropriate rooftop place for your daily dosage of exercise is available at Dribble Arena, which is centrally positioned in Bengaluru. You may hone your abilities in a range of sports, including kabaddi, ultimate Frisbee, cricket, and 5-a-side football, at the floodlit, round-the-clock facility. Dribble Arena is a one-stop urban sporting option with a variety of activities catered to different age groups.
2. Garuda Mall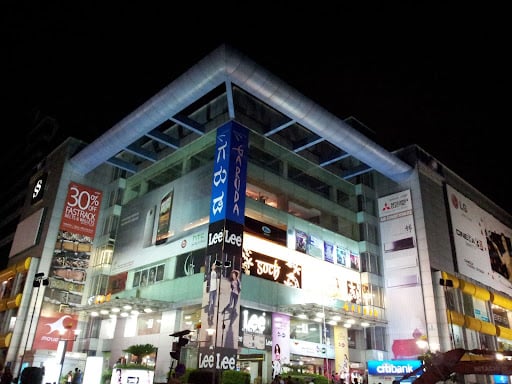 The second-oldest Shoppers Stop location in Bangalore, India, and the first mall-attached Shoppers Stop location are both located in the city's leading shopping centre, Garuda Mall. It is located on Magrath Road, which is close to Brigade Road, in Bangalore's core business centre. It provides the top manufacturers of apparel, shoes, food, entertainment, and other products.
3. St. Mark's Cathedral
The cathedral of the Diocese of Central Karnataka of the Church of South India is named St. Mark's Cathedral and is devoted to Saint Mark the Evangelist. The cathedral church is situated at the western end of Mahatma Gandhi Road in MacIver Town, Bangalore. It is renowned for its English Baroque style, which was influenced by the 17th-century St. Paul's Cathedral.
4. Sublime Galleria
A unique sky gallery in the middle of a bustling commercial area. A lengthy walled passageway was cleverly built to let natural light shine through, embossing some dazzling collections. Must see for art enthusiasts and even if you enjoy taking pictures for fun. Any person who likes art will find something about this site immediately appealing. They possessed an incredible collection of artwork, images, etc.
FAQs about Ashok Nagar, Bangalore
How far is Ashok Nagar from the City Center?
The distance between Bangalore City Station and Ashok Nagar is 1.2 kilometers.
What is the distance from Ashok Nagar to the Airport?
The travel distance or driving distance between Ashok Nagar and Bangalore Airport is 32.9 km.
What is the nearest bus station to Ashok Nagar?
The closest bus station to Ashok Nagar is Richmond Town.
Is there any metro station in Ashok Nagar?
No, the nearest metro station would be the Mahatma Gandhi Road Metro Station which is located at a distance of 3 km.
Which are the parks in Ashok Nagar?
There are many parks in Ashok Nagar where you can go, a few being Rest House Park, St. Marks Circle, etc.
Is Ashok Nagar a posh area?
Ashok Nagar is one of the premium localities in the Center of Bengaluru.