Banaswadi is a locality situated to the north east of Bangalore, about 6 km from the city centre. It is Ward no 27 of the BBMP and is further divided into two regions; Chikka Banaswadi and Dodda Banaswadi. Historically the area was known as primarily residential; little more than a village on the city outskirts; however the ongoing expansion of the city limits, the proximity of the locality to the international airport and the arrival of the outer ring road connecting Banaswadi to the City's IT hubs has seen the rapid improvement of the area and the emergence of a number of commercial and business activities. Banawadi is famous for its Anjaneya Swamy temple.
Wondering which society your future home might be in, where you can find good food, a school for your kids or even spaces you could work out in? Read on to find out!
List of top gated communities in Banaswadi, Bangalore
1. Ambience Downtown, Banaswadi
Presenting uber-luxury living in Bengaluru's heart is the perfect blend of the old colonial charm of Bengaluru with all the modern charm next to it. This gated society is designed keeping in mind the luxury thoughtfully & immaculately of a resident. The project offers 3 & 4 Bed apartments that your friends can't envy enough. And that's not even the best part. You'll find a reason not to step out of your home every time and a reason to smile while experiencing every corner of the project.
Highlights and Amenities in Purva Vantage
Type of apartments: 3 BHK and 4 BHK
Area per apartment: 2481 (3 BHK) 3091 ( 4 BHK) sq ft.
No of flats: 95
2. Godrej Splendour, Banaswadi
Godrej Splendour is a gated community designed by Godrej Properties Ltd. in Banaseadi, Bangalore. The society is current;y Under Construction. Godrej Splendour offers some of the most conveniently designed Apartment. Godrej Splendour ensures a coveted lifestyle and offers a convenient living. It offers facilities such as Gymnasium. For families with kids, there is Children's Play Area, nearby apart from Swimming Pool. Sports enthusiasts can also make the most of Tennis Court, Cycling & Jogging Track.
Highlights and Amenities in Godrej Splendour
Type of apartments: 1 BHK, 2 BHK and 4 BHK
Area per apartment: 605 (1 BHK) 982 ( 2 BHK) and 1234 sq ft.
No of flats: 1161
3. DS Max Scarlet, Banaswadi
DS Max Scarlet is located at the heart of Indiranagar making it a highly prime location. DS Max Scarlet offers some of the most convenient modern designed apartments. Located in Domlur Layout, it is a residential project.It ensures a coveted lifestyle and offers convenient living. If you are looking to move in to a flat in the next few days this is one of the best choices as it has all ready to move in flats. Some of the most prominent facilities at this modern society are s Landscaped Garden, Power Backup, Gymnasium, Swimming Pool and Lift.
Highlights and Amenities in DS Max Scarlet
Type of apartments: 2 BHK and 3 BHK
Area per apartment: 969 ( 2 BHK) and 1197 sq ft.
No of flats: 72
4. Sky Height Shanthiniketan, Banaswadi
The Sky Height Shanthiniketan, which has over 20 projects to its name, is behind this project which has over 79 units across an acre of ground. Want a luxurious lifestyle that is also pocket friendly? This is your place.
Sky Height Shanthiniketan offers comfortable and facilitated living, with conveniences which include a clubhouse, cycling and jogging track, power backup, swimming pool, lift, parking space, banquet hall, a tennis court, a badminton court, and a gym.
Highlights and Amenities in Sky Height Shanthiniketan
Type of apartments: 2 BHK and 3 BHK
Area per apartment: 859 ( 2 BHK) and 1346 sq ft.
No of flats: 79
Things to do in Banaswadi Bangalore
1. Explore an authentic Home Bakery
If you are looking for a homely baked delicacy along with some exotic veg sandwiches this is the right place for you. Earthly Dainties is a mesmerizing cozy bakery. You should definitely try the Strawberry and Rosemary flavoured aromatic tea had the perfect aroma and natural sweetness. You can also opt for orange flavoured tea, which comes with the goodness of orange in every sip. Being a bakery, this place serves some amazing desserts. The Apple Pie was rich and yummy and so was the Tres Leches.
2. Make the Garden you desire to have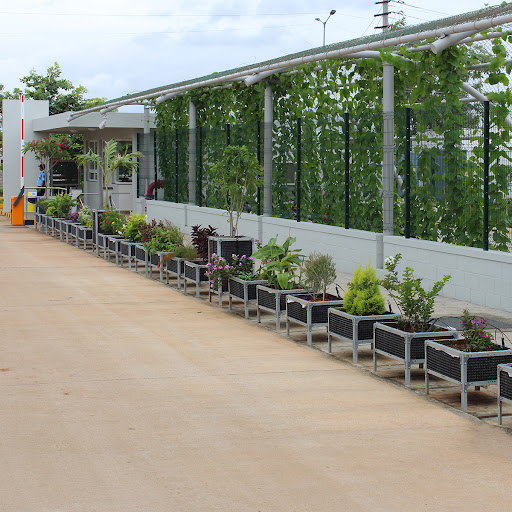 Post the lockdown, everyone have developed an interest towards gardening. If you are one of them too then gear up to learn terrace gardening. My Dream Garden helps you bring to life the garden you wish to have they are the people you should go for. If you're plant related knowledge knows certain boundaries and your fingers aren't green enough, they will be the green fingers for your garden. They believe that growing a garden is a pleasurable exercise and apparently sustains good mental health. From garden packages to gardening equipment, they have a variety of products and services to offer for your garden.
3. Go shopping for Home Decor
Banaswadi has one of the best Home Decor shop in the city. Lamp Crafts should be your go to destination for buying lamps that lightens up your home as well as your mood. They are one stop shop for all your lighting requirements. The shop mainly feature many different lighting styles including Chandeliers, pendants, wall lights, vanity lighting, landscape lights, table lamps, floor lamps, Customized Led profile, Led panels, designer Led fans, Led Mirrors and more.
Places to visit in Banaswadi, Bangalore
1. Pinkberry – Frozen Yogourt Bar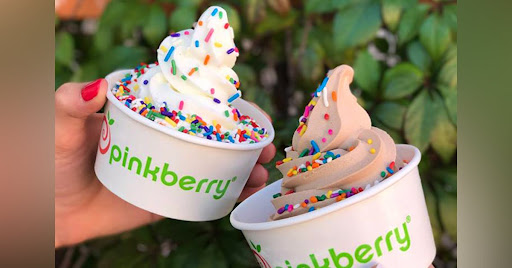 If you have a sweet tooth or you crave for an ice cream after your food, this should be on your list. Ice creams are too main steam now, get on with the trend. It'd Frozen Yoghurt or famously known as FroYo. At Pinkerry, that provides handcrafted yogurt bar you can get yourself a bowl of yogourt and mix different flavours. Some of the flavours offered by Pinkberry are original, pomegranate, chocolate, mango, green apple and salted caramel. Choose your flavour, add your own toppings of coconut shavings, red velvet cake, fruit, berries, sprinkles, and a lot more interesting options.
2. Despiwich Sandwich Shop
Are you a Minions fan? If the answer is yes you will surely love this place. If you are in a mood to grab a quick bite or need a place to hangout with your friends head to Despiwich. The decor is coloured in bright yellow and gives a very positive vibe. They also have stuffed toys of Bob, Kevin, and Stuart. They have varieties of sandwiches which includes sandwiches loaded with chocolate and another, with gelato. You can also try the Beedo Mayo, that's stuffed with tandoori chicken Icy Krushers and milkshakes complete the menu.
3. The Gluten Free Baking Co.
Banaswadi has one of a kind bakery. If you are at this place you should definitely try The Gluten Free Baking Co. Being an authentic bakery they make sure that their delicacies are completely Gluten free while maintaining the moistness of the bakery products. The Gluten Free cupcakes and Brownies are a treat! They are very moist and light. Packaging is great as well.
FAQs about Banaswadi, Bangalore
How far is Banaswadi from the City Centre?
The distance between Bangalore City Station and Banaswadi is 13 kilometres.
What is the distance from Banaswadi to Airport?
The travel distance or driving distance between Banaswadi and Bangalore Airport is 32 kilometres.
What is the nearest bus station from Banaswadi?
Banaswadi bus stop & Banaswadi bus terminal are few of the bus stops in Banaswadi.
Is there any metro station in Banaswadi?
Vidhana Soudha Metro Station and is Baiyappanahalli in Bengaluru.
What is the best place in Banaswadi to hangout on weekends
You should visit the Despiwich Sandwich Shop to try out one of the best sandwiches in the weekends.
How to reach Banaswadi from Bangalore airport?
The quickest way to get from Bengaluru Airport (BLR) to Banaswadi is to taxi which costs ₹1,300 – ₹1500, and takes 1 hr 15 mins. The cheapest way to get from Bengaluru Airport (BLR) to Banaswadi is by bus which costs ₹250 – ₹280 and takes 2h 30min.