Bellandur is a suburb of Bangalore, Karnataka, India's southeast. Its boundaries are Bellandur Lake to the north, Sarjapur Road to the south, Devarabisanahalli to the east, and HSR Layout to the west. The Bellandur Lake, which divides Bellandur from the HAL Airport, is the biggest lake in Bangalore. Bellandur is a crucial hub for travel between the east and south of Bangalore because of the Outer Ring Road's passage through the neighbourhood.
Bellandur was once a rural neighbourhood, but Bangalore's information technology boom has recently caused a dramatic increase in population and real estate development. The area is a significant residential centre with a large number of finished and ongoing apartment complexes.
Important neighbourhoods such as HSR Layout, Koramangala, Harlur, Sarjapur Road, Kadubeesanahalli, and HAL Military Airport are all close by.
Wondering which society your future home might be in, where you can find good food, a school for your kids, or even spaces you could work out in? Read on to find out!
List of top societies/ apartments in Bellandur, Bangalore
Vars Parkwood is one of Bangalore east's most sought-after destinations for residential flats. The property was constructed with modern amenities including piped gas, power backup, reserved parking, an intercom facility, water storage, security/fire alarm, and power backup.
The following are some amenities: a pool, security employees, maintenance workers, a clubhouse or community centre, a fitness facility or gym, a park, elevators, visitor parking, etc. that distinguishes this location in terms of living standards. Rainwater harvesting is one of the additional benefits.
Highlights and Amenities in Vars Parkwood
Type of apartments: 2BHK and 3 BHK
Area per apartment: 1340 -1800 sq ft.
Oceanus Freesia Enclave in Bellandur, Bangalore South by Oceanus Group Builders is a residential project. The project offers apartments with the ideal fusion of modern technology and architecture for cosy living.
Facilities including a gym and a lift are available at Oceanus Freesia Enclave.
Additionally, it contains features like a swimming pool, basketball court, lawn tennis court, and badminton court. Furthermore, it provides services like Community Hall.
Highlights and Amenities in Oceanus Freesia Enclave
Type of apartments: 2BHK and 3 BHK
Area per apartment: 1170 -1990 sq ft.
Are you considering a society that is close to the metro station, has 24×7 power backup and has on-call maintenance staff to move in with your family? Then this one is the right fit for you. To make the stay easier, you may purchase daily necessities on society's property.
For every tower in the community, there are devoted security personnel. What more? The society offers amenities like a gym, clubhouse, play area, garden and swimming pool many more amenities.
Highlights and Amenities in Adarsh Palm Retreat Phase 3 Condominiums
Type of apartments: 3 BHK
Area per apartment: 1840 sq ft.
Situated in the proximity of all the important facilities, this is a dream home for anyone who craves luxury and peace at the same time. Constructed in a way to provides comfort, this makes for a perfect residential area in all terms.
Naming a few, it has a dedicated jogging track, multipurpose hall, staff quarter, clubhouse, swimming pool, intercom, rainwater harvesting, children's play area, and a gymnasium. Found the stay of your dreams right?!
Highlights and Amenities in Orchid Lakeview
Type of apartments: 2 & 3 BHK
Area per apartment: 1211-1798 sq ft.
The Reserve Apartments are situated along Bangalore's Outer Ring Road in a first-rate neighbourhood. This is very different from the hurried and fuzzy tones of the metropolis. You may be confident that you'll love the location where your bright future lies thanks to odd high-tech requirements for high-quality building and architectural designs.
A gymnasium, swimming pool, children's play area, clubhouse, sports facility, jogging track, landscaped gardens, car parking, table tennis, party area, pool table, squash court with amphitheatre, basketball and tennis courts, are just a few of the top-notch amenities offered to meet your needs for the ideal home.
Highlights and Amenities in Vaswani Reserve
Type of apartments: 3, 4 & 5 BHK
Area per apartment: 1715- 4495 sq ft.
6. RMZ Ecospace, Bellandur
Ecospace offers an abundance of residential, medical, and Hospitality Services, within a 3 km radius, just 14 km from the Central Business District, and close proximity to the Airport, which is only 50 km away.
At RMZ Ecospace, you can take advantage of the best amenities and facilities, including a cafeteria/food court, a lift, multipurpose courts, a bank and ATM, coffee lounges and restaurants, power backup, an intercom facility, reserved parking, a gym, and a landscape garden that is aesthetically pleasing.
Things to do in Bellandur, Bangalore
1. Treat yourself at Pop Hop
One of the greatest ice cream shops is Pop Hop. You may choose your own popsicle flavour, toppings, and dip. It also has an unlimited selection of popsicle flavours to pick from. Although it is a touch expensive, the taste makes up for it. The staff is also quite helpful in guiding our decisions and making the finest suggestions.
2. Taste a slice of Singapore at Nasi and Mee
They claim that "Nasi and Mee" is the Bahasa translation of "rice and noodles," with "mee" deriving from the Cantonese word for noodles, mien.
They now operate 4 locations in Bengaluru and offer standard pan-Asian fare. Before offering it to their clients, their menu was developed from street delicacies found in Malaysia, Thailand, Indonesia, and Singapore.
3. Head to Gopaljee Cafe
This is the place to come if you love chole bhature and are searching for some delicious chole bhature prepared in the north Indian way. Their top dishes apart from chole bhature are badami poori, kachori chaat, and bhalla papdi chaat.
When it comes to the atmosphere, they offer self-service and high tables where you essentially stand and eat like other restaurants in Delhi.
4. Indulge in cocktails at Publik
With lush greens and near proximity to an eco-space, this Bellandur restaurant also provides some fantastic appetizers and bartender beverages. On Fridays and Saturdays, a DJ plays music on the dance floor and there is indoor and outdoor seating available.
Sangria, Big Chilli, Manhattan, and Old Fashion are a few cocktails that are recommended here. Reshmi Kebab, Grilled Chicken Supreme, Cottage Cheese AOP, and Tandoori Aloo are a few must-have items on the food menu.
5. Stop by BG's Poolside Bar & Grill
Need Mediterranean, Italian, Mexican, Fast Food, and Desserts, all in one place? Your search ends here. Popular dishes to try here are New Zealand Lamb Chops and Red Wine Sangria.
This location allegedly has a reputation for having a pool, laid-back atmosphere, live music, brunch, and staff communication and behaviour. Typically, it will cost Rs 1800 for two people.
Places to visit in Bellandur, Bangalore
1. Bellandur Lake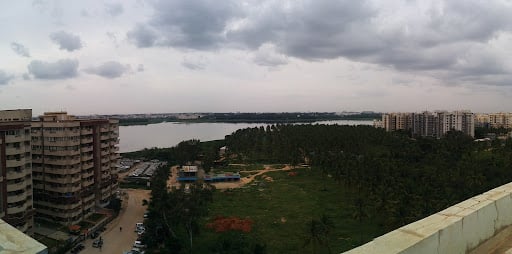 One of the largest lakes in Bellandur Lake, which is situated in Bangalore's Bellandur neighbourhood. The lake's catchment area is around 148 square kilometers, and it finally drains into the Ponnaiyar river basin by a stream that goes into Varthur Lake. The lake is a beautiful getaway place when you want to divert yourself from the weekday stress.
The best times to visit are in the morning and evening. Food stands and restrooms are other key highlights of this tourist attraction.
2. Irish House
Irish House is the spot if you want to catch up with friends and coworkers for some drinks or a game night. They have some really intriguing drinks and bar snacks on their new menu, which will keep you busy for sure.
While you gorge on the amazing food here, what makes it a great place is also the Irish decor that provides a great ambience. So next time you need a getaway, you know which place to from to!
3. Lalbagh Botanical Garden
Century-old trees, rare blooms from all over the world, and Bengaluru's equivalent of London's Crystal Palace glass house can be found in these exotic gardens.
The first Lalbagh Botanical Gardens were built in 1760 as a 40-acre (16-hectare) reserve for the Mysore king Hyder Ali. The garden has been extended and planted with many species that have been brought in from all over the world over the years, making it one of the Garden City's icons.
FAQs about Bellandur, Bangalore
What is the distance from Bellandur to the Airport?
The travel distance or driving distance between Bellandur and Bangalore Airport is 30.1kilometers.
What is the nearest bus station from Bellandur?
The nearest bus stop to Bellandur is just a 3 mins walk away which is at the BMTC bus stop.
Is there any metro station in Bellandur?
The nearest metro station to Bellandur is the Indiranagar Metro Station. The distance between Jayanagar Metro Station to HSR Layout is 4 km only. However, construction for a new metro station is underway.
What are the best hospitals in Bellandur?
The best hospitals in Bellandur are Cloudnine Hospital, Ayu Health Hospital, Parkmed Hospital, and Apollo Clinic.
Is Bellandur a posh area?
Bellandur has emerged as a posh locality of Bangalore with wide streets, parks, and modern civic amenities.
What are the best schools in Bellandur?
The best schools in Bellandur are Orchids- TheInternational School, Chrysalis High Varthur, and Neev Academy.