Dilsukhnagar is a well-established residential and commercial locality situated in the southern region of Hyderabad. L.B. Nagar, Saidapet, Masoorambagh, and Sarrornagar are some of the areas located near Dilsukhnagar.
Residential developments in this area include the likes of residential houses, multi-storey apartments, single-floor apartments. Owing to its commendable connectivity coupled with fabulous infrastructure, Dilsukhnagar is witnessing a tremendous potential for real estate growth. Dilsukh Nagar's social infrastructure is well-settled with all kinds of facilities available within a short distance.
Looking for a place that is pleasing, with good connectivity, suitable surroundings, close to schools and hospitals nearby. Dilsukhnagar might be the best pick.
Here is all the information you require. Read on!
List of top gated communities in Dilsukhnagar, Hyderabad
1. Sai Ratan Nivas, Dilsukhnagar
Sai Ratan Nivas is a residential property located in NH9, Dilsukhnagar. It has, on offer, a number of magnificent apartments meant to wow prospective residents. Sai Ratan Nivas is a meticulously designed complex that is a balanced blend of modernity and elegance. The apartments in this society are affordable and designed for comfort and convenience.
One of the highpoints of Sai Ratan Nivas is its prime location. This society is located in a well connected area that is bubbling with community spaces and a close knit community of affluent and important people. Other than that, it is also seamlessly connected to important civic infrastructures.
Highlights and Amenities in Sai Ratan Nivas
Type of apartments: 2, 3 BHK
Area per apartment: 1130-1380 sq.ft.
Address: National Highway 9, East Prasanth Nagar, Moosarambagh, Hyderabad
2. Jaya Bharathi Enclave, Dilsukhnagar
Jaya Bharathi Enclave is a dashing residential property located in Dilsukh Nagar. This society has much to offer such as its prime location, comfortable and convenient lifestyle, great amenities, and healthy surroundings. These apartments are designed to have proper ventilation facilitated by great windows. The interiors are beautifully crafted and appeal to the modern homeowner.
Jaya Bharathi Enclave is strategically located and provides direct connectivity to nearly all other major points in and around the city. It also ensures easy access to schools, shopping areas, hospitals, recreational areas, public gardens and several other public amenities.
Highlights and Amenities in Jaya Bharathi Enclave
Type of apartments: 2 BHK
Area per apartment: 1200 sq.ft.
Address: 9GFG+5JC, Dwarakapuram Main Rd, Durga Nagar, New Dilsukh Nagar Colony, Dilsukhnagar, Hyderabad, Telangana 500060
3. Mayuris Ramaiah Castle, Dilsukhnagar
Mayuris Ramaiah Castle is a residential property located in SBI Lane, Krishna Nagar, Dilsukhnagar. It is a well planned space that is carefully constructed to offer ideal homes to prospective residents. The apartments in Mayuris Ramaiah Castle come with all the essentials of modern living. These apartments are meant to be comfortable and a convenient option for a home. This society is not just great in respect to its facilities but also because the various units are well priced and quite affordable.
Mayuris Ramaiah Castle is a great option for a home owing to its location. Dilsukhnagar is a bubbling locality and is well connected to the important infrastructures such as Schools, hospitals, malls, parks, and public transportation as well.
Highlights and Amenities in Mayuris Ramaiah Castle
Type of apartments: 1, 2 BHK
Area per apartment: 970-1180 sq.ft.
Address:16-11-511, B/1, Shalivahana Nagar, Indira Nagar, Dilsukhnagar, Hyderabad, Telangana 500036
4. Sri Sailaja Pride, Dilsukhnagar
Sri Shailaja Pride is another excellent housing property located in Dilsukhnagar. This society had various benefits that make it an ideal option for home, such as, its prime location, the facilities and amenities, the comfort quotient, and the healthy surroundings. Other than that the community that comes with it also plays a major role in its favor. The apartments in Sri Sailaja Pride are known for comfort and its economic use of space.
Dilsukhnagar is a brimming locality and thus, Sri Sailaja Pride enjoys a great deal of advantage when it comes to its location. The residents of Sri Sailaja Pride not only enjoy comfort within the compound but also outside owing to its well connectedness to important civic infrastructures.
Highlights and Amenities in Sri Sailaja Pride
Type of apartments:1, 2 BHK
Area per apartment: 990-1250 sq.ft.
Address: 9G9M+C59, Chaitanyapuri, Kamalanagar Bridge, Dilsukh Nagar, Hyderabad, Telangana 500060
5. Vaishnavi Nest, Dilsukhnagar
Vaishnavi Nest is a magnificent housing complex located in Indira Nagar, Dilsukhnagar. It is a carefully crafted society. Its economic use of space is commendable and rather unique. The apartments of 1 and 2 BHK configurations are available at Vaishnavi Nest. Apartments of these sizes are important because they cater to individuals and small families. The best part of Vaishnavi Nest is its affordability. You get to enjoy a great home at a good price.
Location of Vaishnavi Nest is a major highlight for buyers and prospective residents because it is in close proximity to various necessary public infrastructures such as schools, hospitals, shopping centers, park, and public transportation.
Highlights and Amenities in Vaishnavi Nest
Type of apartments: 1,2 BHK
Area per apartment: 880-1030 sq.ft.
Address: 16-11-741/16/1, Indira Nagar, VAISHNAVI CONSTRACT, Hyderabad, Telangana 500060
Things to do in Dilsukhnagar, Hyderabad
1. Go gaming
If gaming is your idea of fun then you will thoroughly enjoy LA Foresta in Dilsukhnagar. It has a Playstation Cafe, PS Club, where you can play the best games head on with the best gamers of the city.. Indulge in some VR gaming or get on those PCs. With a large open screen and a compact ground, you can burn some calories after a good hearty meal.
2. Shop for designer sarees
Looking to shop for beautiful sarees? Look no further because Adityan Design located in Kota Theatre lane, Dilsukhnagar is an iconic store known for their designer sarees. When visiting you must check out their Kota sarees and linen sarees that come in different kinds of fabric and offbeat colors like purples, grays, among others. Their Kalamkari saree collection is solid, and if you want to get on with the trending collection, this is where you should find yourself.
3. Catch a Movie
PVR Cinemas in Moosarambagh is the closest theater from Dilsukhnagar. So, if you are looking to spend a couple of hours catching the latest release then this is where you should be headed. Grab a tub of popcorn, a soda and enjoy a good couple hours in the dark hall watching the latest blockbuster.
4. Grab tasty breakfast
When in Dilsukhnagar, you cannot miss out on Ram-Bharose or Bhattad Ki Idli, the award-winning breakfast place that serves yummy South Indian breakfast at pocket-friendly prices. They also serve tasty and spicy dosas in plenty of varieties. Or you could opt for a completely different breakfast option and treat yourself to some warm and sweet waffle. Head to Wafflepedia if you're in the mood to have some waffles with coffee.
Places to visit in Dilsukhnagar, Hyderabad
1. Pochampalli, Dilsukhnagar
Pochampalli, officially called Bhoodan Pochampalli, is a small village located in Yadadri Bhuvanagiri district of Telangana. It is world famous for its weaving of Ikkat Saris and other textiles. It is on the tentative list of UNESCO world heritage sites. When visiting the village you can see weavers at work. It's a wholesome experience to see saris being made and availing them directly from the weavers is an experience in itself.
Address:
Pochampalli, Rengareddy, Secunderabad, Hyderabad, 500100
2. Saroornagar Lake, Dilsukhnagar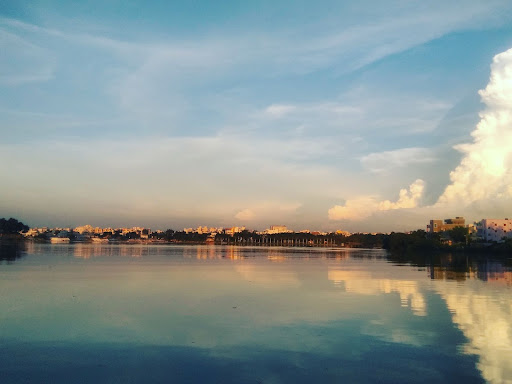 Saroornagar Lake is located in Dilsukhnagar, the eastern part of Hyderabad. It is often called a mini Tank Bund. The Lake has a nice garden on one side of it, suitable for brisk walks and running. It is a refreshing place amidst the busy city. The lake itself requires a little maintenance but other than that it's a great place for children to play around, adults to exercise, or just spend a leisurely time.
Address:
Lb Nagar Road, Saroor Nagar, Hyderabad – 500035, Near Priyadarshini Park
3. Mega Shopping Mall, Dilsukhnagar
Mega Shopping Mall is located in Dilsukhnagar. It is one of the most frequented places of this locality for both shopping purposes and as a hangout spot. Many national and international brands have their retail stores here making it a great shopping destination. The mall is maintained very well with all amenities and facilities in place and functional. The food court of Mega Shopping Mall is one of the main attractions for all the mall goers.
Address:
H No 16-11-739/A/7, Gaddi Annaram, Dilsukh Nagar, Hyderabad, Telangana 500060
4. Smaaash, Dilsukhnagar
Get together with your friends and go smashing at SMAAASH Zone for a bowling game. It is also a great place for kids with many arcade games and a play zone being available. They also have an in-house cafe for lip smacking food in between all the calorie burning of jumping and running around. Needless to mention, it can get quite crowded on weekends.
Address:
L4, 6 Mall Dilshuknagar ,Above Max Store, Dilsukhnagar, Hyderabad
FAQs about Dilsukhnagar, Hyderabad
How is Dilsukhnagar connected to the rest of the city?
TSRTC (Telangana State Road Transport Corporation) buses plying from this area offer seamless connectivity to areas like Ghatkesar, LB Nagar, Patancheru, Nagole, Secunderabad, and Koti.
Which is the metro station that serves this locality?
Dilsukhnagar has its own metro station which is Dilsukh Nagar Metro Station on the Red Line.
How far is the nearest railway station from Dilsukhnagar?
The closest railway station from Dilsukhnagar is Malakpet Railway Station, which is situated ata a distance of about 4 kms via NH65.
How far is the airport from Dilsukhnagar?
Rajiv Gandhi International Airport is situated at a distance of 26 kms from Dilsukhnagar. It is reachable via Balapur Airport Road/RCI Road/Shivaji Chowk-Airport Road.
Which are some of the prominent schools situated in and around Dilsukhnagar?
Some of the prominent schools situated in and around this area include Springdale Academy De International School, Rosy International School, Samhita International School, Pallavi Aware International School, and Delhi International School.
Which are the major hospitals located in and around Dilsukhnagar?
Some of the major hospitals in and around this area are Geeta Multispeciality Hospital, Induss Hospital, Manju Sudha Multispeciality Hospital, Ikonn Hospital, Kamal Hospital, and Sigma Hospital.
Which are the go-to shopping centers of this area?
Shopping centers such as Mega Shopping Mall and Chennai Mall are the go-to marketplaces of Dilsukhnagar.
How is Dilsukhnagar connected to the important employment hubs of the city?
IT parks situated nearby Dilsukhnagar are Divyasree NSL Orion at a distance of 19 kms, Cyber Towers at a distance of 22 kms, DLF IT SEZ at a distance of 23 kms, Laxmi Cyber City ata distance of 24 kms, Kohinoor IT Park at 24 kms.. Also, Manikonda at a distance of 19 kms, Madhapur at 22 kms, Gachibowli at 23 kms, and Nanakramguda at 25 kms can be accessed through NH65.