Domlur is a small township located in the eastern part of Bangalore city in India. Offices of international software and business process outsourcing firms surround Domlur. The software park Embassy Golf Links is located in Domlur (EGL). The businesses here include McAfee, NetApp, Dell, IBM, Microsoft, ANZ, Sasken, Target, and Mistral Solutions.
The "old airport" is close to Domlur. The Indian Air Force, EME Workshop, and ASC are the principal military organisations that have divisions in Domlur (Army Service Corps). By road, Domlur is very well connected to every area of Bangalore. There are three arterial roads in the locality- Old Airport Road, 100 Feet Road, and Inner Ring Road – which connect Domlur to the rest of Bangalore city.
The Bangalore Metropolitan Transport Corporation (BMTC) buses run frequently through Domlur, which includes a large bus terminal known as Domlur TTMC. The TTMC features a parking lot for vehicles and two-wheelers and is situated on Old Airport Road. The Airport Road Flyover, often referred to as the Domlur Flyover, is a significant landmark in Domlur and is located at the intersection of Old Airport Road, 100 Feet Road, and Inner Ring Road.
Wondering which society your future home might be in, where you can find good food, a school for your kids or even spaces you could work out in? Read on to find out!
List of top gated communities in Domlur, Bangalore
1. UBR Vantage Place, Domlur
UBR Vantage Place is a premium standalone project by UBR Realty. It has a special Landscaped Rooftop Garden with Barbeque Area. The society is offering 3 BHK.UBR Vantage Place was launched in September 2012. It offers a host of facilities for residents. These amenities in UBR Vantage Place are those that every homebuyer aspires for!
Highlights and Amenities in UBR Vantage Place, Domlur
Type of apartments: 3 BHK
Area per apartment: 2035 (3 BHK) sq ft.
No of flats: 6
2. Prerna Saiven Sunset Boulevard, Domlur
Prerna Saiven Sunset Boulevard is a gated society in Domlur Layout, Bangalore.Prerna Saiven Sunset Boulevard is located in Hilton Hotel Opp Embassy Golf Links, Challaghatta. It is located beside one of the biggest IT parks in the state making it a prime location for the citizens.
It is equipped with various resident-centric amenities that includes Gymnasium, Power Backup etc. You can enjoy a class-apart lifestyle at Prerna Saiven Sunset Boulevard.
Highlights and Amenities in Prerna Saiven Sunset Boulevard, Domlur
Type of apartments: 1 BHK, 2 BHK, and 3 BHK
Area per apartment: 1031 (1 BHK), 1294 (2 BHK) and 1628 (3 BHK) sq ft.
No of flats: 20
3. DRA Ranka Iris, Domlur
DRA Ranka Iris is located at the heart of Indiranagar making it a highly prime location. DRA Ranka Iris offers some of the most convenient modern designed apartments. Located in Domlur Layout, it is a residential project.It ensures a coveted lifestyle and offers convenient living. If you are a sports lover, there are provisions meant for you such as Squash Court. Residents also have access to Spa, Internet/Wi-Fi provisions in the project.
Highlights and Amenities in DRA Ranka Iris, Domlur
Type of apartments: 3 BHK
Area per apartment: 3500 (3 BHK) sq ft.
No of flats: 50
4. Gruha Kalyan Erica, Domlur
Residential project, Gruha Kalyan Erica in Bangalore is offering units for sale in Domlur Layout. These apartments will definitely suit your lifestyle and liking. Gruha Kalyan Erica is located in Off Old Airport Road, Near Chokkanathaswamy Temple.. Residents and their lifestyles are at the centre of their development. Prominent suburbs of Bangalore are close to Domlur Layout and with several schools, hospitals, banks, and offices situated in the proximity, the project is a preferred choice for home seekers.
Highlights and Amenities in Gruha Kalyan Erica, Domlur
Type of apartments: 2 BHK and 3 BHK
Area per apartment: 1300 (2 BHK) and 1800 (3 BHK) sq ft.
No of flats: Contact the developers to know the availability
5. KBG Sunanda Residency, Domlur
Sunanda Residency is one of the most elegant residential apartments designed in the area. Situated at a prime location it is a well-connected address. It is planned taking into consideration the light, ventilation, and air circulation, it offers modern comfort and complete privacy. Blended with the best of environment and landscape with plenty of open area around, it has been crafted in such a way that every area has been well used to accommodate all requirements.
Highlights and Amenities in KBG Sunanda Residency, Domlur
Type of apartments: 3 BHK
Area per apartment: 1804 (3 BHK) sq ft.
No of flats: 14 units
Things to do in Domlur, Bangalore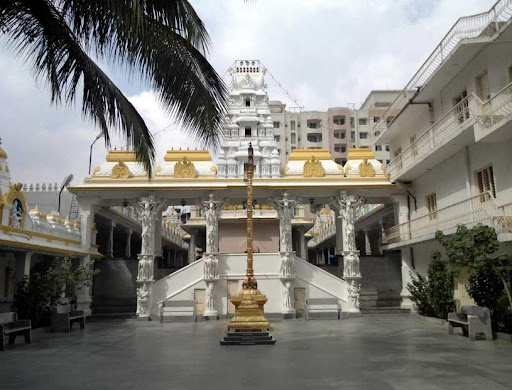 1. Visit one of the famous Sun temples in the country
Domlur hosts one of the very well-known sun temples across the country. The name of the temple is Sree Surya Narayana Swamy Temple and one of the very few Sun God Temples in India. It is dedicated to Lord Surya Narayana (Sun God). It is superbly constructed by expert and crafty artisans in Chola style So if you are in Domlur next time make sure to visit this temple and seek the blessings of the Sun god.
2. Take a jog in a nearby park
Domlur has a beautiful park that has been recently built. Kanakadasa Park is one of the well known parks in the area. This park offers a parking space for joggers and people visiting the park. BBMP has taken the sole responsibility to maintain this park. The park has dotted square acupressure tiles at dedicated areas to benefit walkers. Senior citizens are seen coming down in groups to this park and have a great time with their peers.
3. Go shopping on 100 FT main Road, Indira Nagar
Shop for anything, from clothing to decor on the 100 FT main road! It hosts several top brands and is a premium shopping destination for all. Brands such as Hamley's, Van Heusen, Lenskart, Levi's, Allen Solly, Casio etc have their shops here. This part of Domlur is also known for hosting restaurants from every corner of the world. You can find local cafes like Rameshwaram Cafe to Italian Pizzeria's, Korean cuisines, hi-tech pubs and much more.
Places to visit in Domlur, Bangalore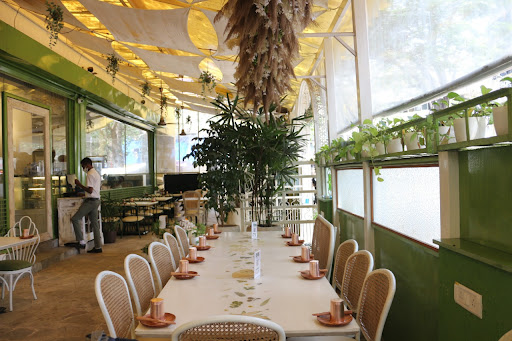 1. Krumb Kraft Artisans Bakes & Co
From authentic European Breads to rustic sandwich loaves to crunchy biscotti to crispy crackers,this place stands for labour of love for all things Sourdough.Their signature bakes are baked and sent fresh every day to clients that include bread enthusiasts and popular restaurants & cafes. They also bake for communities as a whole (Eg. apartment complexes), while catering to individual palates. Visit Krumb Kraft for an experience like never before.
2. Sante Spa Cuisine
Explore the world of Mediterranean and Thai cuisines here. Good coconut ice cream, passion fruit cheesecakes and chocolate pie at Santé Spa Cuisine are some of their specialties. If you like wine, you should not miss this place. Visit this place and have great fruit smoothies, rose lemonade or milkshakes. The terrific service is something these restaurateurs care about. You are to be pleasantly impressed with the fair prices at this spot.
3. Floral Conceptz
Bring home a set of lavish and beautiful looking home decor. Floral conceptz is well known for their authentic collection in the city. If you are looking to decorate your interiors, this cannot be skipped. Floral Conceptz offers charming birdcage or glass lamps and little terrariums, all woven with fairy lights. These will make awesome decor for your room.
FAQs about Domlur, Bangalore
How far is Domlur from the City Centre?
The distance between Bangalore City Station and HSR Layout is 10 kilometres.
What is the distance from Domlur to Airport?
The travel distance or driving distance between Domlur and Bangalore Airport is 37 kilometres.
What is the nearest bus station from Domlur?
Domlur bus stand & Domlur bridge bus stand are few of the bus stops in Ramamurthy Nagar.
Is there any metro station in Domlur?
The nearest purple line Metro to Domlur is Indiranagar Metro Station in Bengaluru. It is located at 2.7 km from Domlur bridge.
What is the best place in Domlur to hangout on weekends?
Kanakadasa Park if you're heading out in the morning, and stroll across the 100 ft road to try out cafes & restaurants with the best ice cream corners.
How to reach Domlur from Bangalore airport?
The quickest way to get from Bengaluru Airport (BLR) to Domlur is to taxi which costs ₹1,024 – ₹1,275 and takes 60 mins. The cheapest way to get from Bengaluru Airport (BLR) to Domlur is by bus which costs ₹200 – ₹250 and takes 1h 30min.