Frazer Town (or Fraser Town) is a largely residential area in the heart of the city known for its delicious and varied food choices. From street food to pubs and cafes, Frazer Town's food scene is packed with flavour and diversity, drawing foodies from around Bangalore to its eateries on Mosque Road, MM (Madhavraya Mudaliar) Road and Coles Road.
The suburb's close proximity to Commercial Street, MG Road and Brigade Road (all just a few kilometres away) gives it an ideal balance of community living and commercial access. There are parks, supermarkets, and schools all within walking distance.
Frazer Town got its unique name from Stuart Mitford Fraser, who was said to be the tutor and guardian of Krishna Raja Wodeyar IV of Mysore. It was renamed Pulikeshi Nagar in 1988; however, most still refer to the location by its original moniker.
Curious about what it's like to live in Frazer Town? Here's the lowdown on the best societies, restaurants, parks and facilities that Frazer Town residents enjoy. Read on to find out!
List of top gated communities in Frazer Town, Bangalore
1. Prestige Deja Vu, Frazer Town
Situated on a road that holds plenty of old-world charm, Prestige Deja Vu is a dream gated community with enormous apartments. A stone's throw away from Coles Park, as well as a few reputed schools and hospitals, it also features a swimming pool, gym and sauna, a party hall and a stunning view of the city from the top of its 21 storeys.
Highlights and Amenities in Prestige Deja Vu
Type of apartments: 3 BHK
Area per apartment: 2275 sq ft
No of flats: 40
2. Raheja Regent, Frazer Town
An older building in the area, constructed way back in 2003, Raheja Regent is still a vibrant small community. What it lacks in terms of amenities (besides a playground, it has no facilities), it makes up for in terms of space. Some of the flats are well over 3000 sq ft, with the BHKs spanning two floors.
Highlights and Amenities in Raheja Regent
Type of apartments: 2 BHK, 3 BHK & 4 BHK
Area per apartment: 1600 (2BHK) sq ft, 1900 (3 BHK) sq ft, 3450 (4 BHK) sq ft
No of flats: 39
3. Prestige Spencer Heights, Frazer Town
Another Prestige property in the area, Spencer Heights' best highlight is its terrace swimming pool and gymnasium. The apartment building has 34 apartments spread across 18 floors, with two large 3 BHK flats on each floor.
Highlights and Amenities in Prestige Spencer Heights
Type of apartments: 3 BHKs
Area per apartment: 2387 sq ft.
No of flats: 34
4. HM Grandeur, Frazer Town
Opposite the iconic Thom's Bakery, HM Grandeur is the most luxurious apartment building in Frazer Town. With the largest apartments at nearly 6000 sq ft, expect a truly grand lifestyle here. Amenities include a coffee shop, 100-seater party hall, a state-of-the-art gymnasium and swimming pool, as well as a sauna and jacuzzi.
Highlights and Amenities in HM Grandeur
Type of apartments: 3 BHKs & 5 BHKs
Area per apartment: 3065 (3 BHK) sq ft onwards & 5660 (5 BHK) sq ft onwards
No of flats: 72
5. Embassy Oasis, Frazer Town
If you plan on spending most of your time within the complex, Embassy Oasis is the place for you. It has nearly every amenity you could think of — a meditation room, jogging track, a rentable community space, indoor squash and badminton courts and much more. The apartments are huge, too, with each 4 BHK measuring over 4000 sq ft.
Highlights and Amenities in Embassy Oasis
Type of apartments: 4 BHK
Area per apartment: 4500 sq ft
No of flats: 26
Things to do in Frazer Town, Bangalore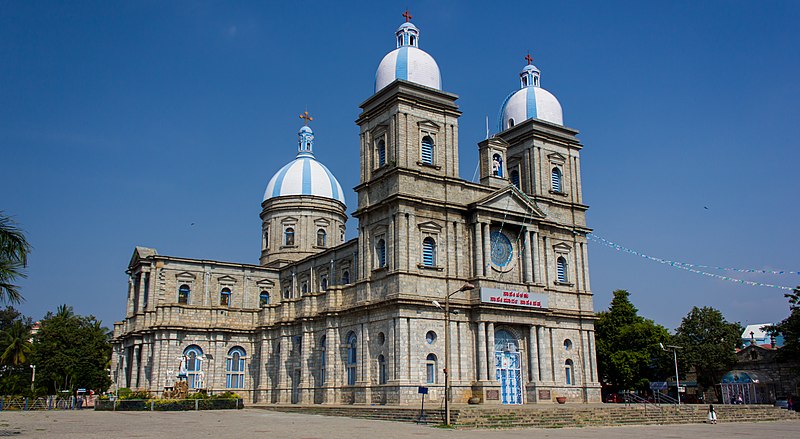 1. Admire the architecture
The tree-lined streets of Frazer Town are dotted with beautiful colonial houses, breathtaking churches, mosques and temples. Take a walk and take in the history of remarkable religious institutions such as St. Francis Xavier Cathedral, St. John's Church and Hajee Sir Ismail Sait Masjid.
2. Have a food fest on Mosque Road
Mosque Road is a non-vegetarian foodie paradise, especially the Iftaar specials during Ramadan. Some must-try dishes include haleem, kheema samosa, shawarma and mutton kebab. If you are looking for a more upmarket kebab spot, try Sheeshkebab MM Road for kebabs and biryanis. Or the budget-friendly Siddique Kabab Centre for a no-frills but delicious sit-down meal.
3. Grab a snack at iconic bakeries
Albert Bakery (Mosque Road) and Thom's Bakery and Supermarket (Wheeler Road) are old-school establishments in Frazer Town. Albert Bakery is over 100 years old and is famous for its cocktail samosas, freshly-baked biscuits, rolls and festive specials such as Easter eggs and Iftaar foods. In addition to bread and snacks like puffs, cakes and cookies, Thom's houses a wide range of local and imported groceries.
4. Down a cold one
The suburb has plenty of drinking spots to unwind at. Perhaps the most popular is Sherlock's Pub in Frazer Town, which has great outdoor seating and a laid-back vibe.
5. Splurge on a custom-made outfit
Frazer Town has high-end boutiques such as Lustre Studio and Malka Design Studio which offer readymade and custom-made clothes for special occasions.
Places to visit in Frazer Town, Bangalore
1. Coles Park
Coles Park opens really early: 5 am. It has a lovely walking track and plenty of benches to sit on. There are separate gym areas for men and women and a nice play area and skating rink for kids. Well-maintained and with ample tree cover, Coles Park is perfect if you want to get some fresh air and exercise.
2. Crankmeister Bicycle Works
This place is a dream for cycling enthusiasts. Get all your bicycle riding essentials here at this store cum repair and customization store. If you're looking to hone your maintenance skills, they also run workshops covering fixing and looking after your two-wheeler.
3. Big Bang Pizza
A hit with the young crowd, this is a tiny pizzeria that's big on portions and taste. You can order 20-inch pizzas to share with your friends at extremely reasonable prices.
4. Lazio Steaks & More
This is a must-visit for steakhouse fans. From Salisbury to Philly steak, you'll find all the classics here. As well as burgers, pizza and more. Their traditional American desserts like apple and cherry pie are also worth sampling.
5. The Haberdashery
This home decor and gift shop in Frazer Town is filled with gems from around the world. It's a haven for discerning shoppers who love knickknacks and unique items.
6. Wanderophile Trips
If the great outdoors and adventure are what you are seeking, visit Wanderophile Trips in Jeevanahalli which organises group treks and camps.
FAQs about Frazer Town, Bangalore
How far is Frazer Town from the City Centre?
The distance between Bangalore City Station and Frazer Town is 6.8 kilometres.
What is the distance from Frazer Town to the Airport?
The travel distance or driving distance between Frazer Town and Bangalore Airport is 24.6 kilometres.
What is the nearest bus station from Frazer Town?
Frazer Town has a number of bus stops, but the largest one is on Mosque Road.
Is there any metro station in Frazer Town?
The nearest metro station to Frazer Town is Mahatma Gandhi Road station. The distance between Mahatma Gandhi Road station and Frazer Town is 4.4 kilometers.
What is the best place in Frazer Town to hang out on weekends?
Coles Park is a relaxed spot to catch up with friends or walk about during the day. If you're looking to go out with friends in the evenings, head to Sherlock's Pub Frazer Town for its spirited vibe. Or go to the more old-school Dolphins Restaurant And Pub for great coastal cuisine and moderately-priced drinks.
How to reach Frazer Town from Bangalore airport?
The quickest way to get from Bengaluru Airport (BLR) to Frazer Town is by taxi which costs ₹800 – ₹1000 and takes 60 minutes. The cheapest way to get from Bengaluru Airport (BLR) to Frazer Town is by bus which costs under ₹250.
Is Frazer Town a posh area?
Frazer Town is a posh locality of Bangalore with well-maintained roads, beautiful bungalows and buildings, appealing commercial establishment and modern civic amenities. It's well connected to other central areas of Bangalore.
Is Frazer Town safe to stay in?
Yes, it is a good area with schools, restaurants, shops, hotels, hospitals and banks all in the vicinity.
What are the best hospitals in Frazer Town?
The best hospitals in Frazer Town include Santosh Hospital, Primecare Hospital, Annasawmy Mudaliar General Hospital and Seventh Day Adventist Medical Centre.
What are the best schools in Frazer Town?
Some of the best schools in Frazer Town are St. Germain's Academy, St. John's High School, Zenith Academy, St. Francis Xavier Girls High School, Seventh Day Adventist School and St. Joseph's Convent Girls High School.
Which are the parks in Frazer Town?
There are several parks in Frazer Town. Coles Park is one of the most popular. Others include Frazer Town Park, BMP Park, MM Road Park and BBMP Park.
What are the best gyms in Frazer Town?
If you're looking to work out, Frazer Town has plenty of gyms and fitness centres. Some popular gyms are Breakthrough Studio, Ignite Developing Physical System, Cult Frazer Town, Revive Fitness Solutions, Vivs Gym, Steve's Gym, Life The Fitness Centre and 5E Holistic Fitness Studio LLP.
What are the police stations in Frazer Town?
Pulikeshi Nagar Police Station is on MM Road, near the BBMP Help Centre (+91 80 2548 7365). ​​