Hulimavu is one of the preferred residenntial locality. It is at a prime location and has schools and supermarkets near to it. Hulimavu Road is located in Bangalore. It is closed to schools, bus stops, hospitals, shopping malls, restaurants, banks, ATM and also near by main market and railway station. It is located in the south of Bangalore under the Bommanahalli Zone of Bruhat Bengaluru Mahanagara Palike (BBMP).
Sri Ramalingeshwara Cave Temple,Meenakshi temple, Royal Meenakshi Mall, and Hulimavu Lake are some known landmarks in the locality. Some of the hospitals in the vicinity are Apollo and Fortis Hospitals on Bannerghatta Road. There are also world class education institutions like Indian Institute of Management(IIMB), School of Business Studies and Social Sciences of CHRIST (Deemed to be University), ITM Business School, BGS National Public School and AECS Maaruti Magnolia school.
Wondering which society your future home might be in, where you can find good food, a school for your kids or even spaces you could work out in? Read on to find out!
List of top gated communities in Hulimavu, Bangalore
1. Surath Silver Shades, Hulimavu
Looking for Apartment in Hulimavu, Bangalore? Surath Silver Shades should be your ideal choice. If you are looking to occupy a flat right way this is a perfect choice as it's a Ready to Move residential project. Surrounded by lush green forest this place can be your next home. The complete address of Surath Silver Shades is Plot 275, Off Hulimavu Main Road, Near Rajiv Gandhi College Of Nursing.The list of amenities at Surath Silver Shades are Gymnasium, Power Backup and Security Guards.
Highlights and Amenities in Surath Silver Shades
Type of apartments: 2 BHK
Area per apartment: 920 sq.ft
No of flats: 16
2. Valmark City Ville, Hulimavu
Valmark City Ville is one of the most luxurious residential project in Bannerghatta Road-Bannerughatta, Bangalore. It is spread over an area of 35 Acres . It is located near Meenakshmi Mall, Adjoining Hulimavu Lake, Off Bannerghatta Road, Hulimavu. It is surrounded by world class facilities and looks like a town in itself as it is equipped with various resident-centric amenities that includes Gymnasium, RO Water System, Power Backup, Spa/Sauna/Steam and Library. The property is equipped with Fire Sprinklers to make tackle any emergency evacuation.
Highlights and Amenities in Valmark City Ville
Type of apartments: 3 BHK and 4 BHK
Area per apartment: 2916, 2825 sq.ft
No of flats: 212
3. Mantri Pinnacle, Hulimavu
Mantri Pinnacle is one of the elite socities in Bangalore.It has a round shaped structure that allows the flat to have a sun facing view either during morning or evening. The building is also equipped with a helipad. One of the wealthiest people live in this society. Mantri Pinnacle is located in South Bangalore,jus behind Royal Meenakshi Mall, Near IIM, Bannerghatta Road, Hulimavu. The amenities at Mantri Pinnacle are Gymnasium, Power Backup and Swimming pools etc.
Highlights and Amenities in Mantri Pinnacle
Type of apartments: 3 BHK and 4 BHK
Area per apartment: 3035, 3375 sq.ft
No of flats: 133
4. Valmark Apas, Hulimavu
Apas Valmark society has modern architechtyre and is very well planned & designed to give you a healthier and pragmatic lifestyle. The society has brilliant interiors with all up to date facilities helps the project to provide dream home like sensation being in secure immediacy to all the luxuries possible. The apartments are designed in such a way that they can provide sufficient light and tremendous air flow with the perfect neighboring of greenery that makes it an absolute place for living with all kinds of lavish facilities.
Highlights and Amenities in Valmark Apas
Type of apartments: 3 BHK and 4 BHK
Area per apartment: 3056, 3375 sq.ft
No of flats: 112
Things to do in Hulimavu, Bangalore
1. Go shopping to JP nagar and Jayanagar
Shop for anything, at Royal Minakshi Mall, or on the Navy street of Hulimavu. It's home to several top shopping spaces, such as Soch, FabIndia, Croma and NewU.Since You can also find great clothes at cheaper prices in shops that serve the local community of the area.
2. Visit Sapna Book Store for gift & stationary
Whether it's to score some stationery or buy the newest launched books, Sapna Book House is our go-to when at Meenakshi Mall. You will find the bestselling fiction novels, reference books and art supplies. There's a ton of back-to-school supplies too. Think nifty school bags, lunch boxes and water bottles. You can head over to the gift section and find greeting cards for all your friends birthdays.
3. Grab a bite of sea food
Hulimavu has one of the very popular sea food restaurant in the town. Fish net is a famous fast food joint that serves variety of sea foods and they are very fresh. The quality of fish is absolutely magnificent. The food of the place is very authentic that although its a small joint it is rated a 5 star. People from different part of the city come on a long drive just to grab a bite here.
Places to visit in Hulimavu, Bangalore
1. Hulimavu Cave Temple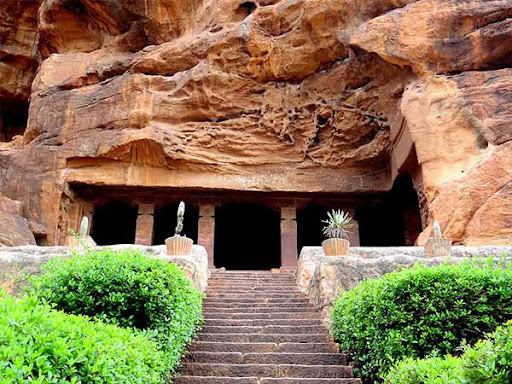 The Hulimave cave temple, also known as the Hulimavu Shiva Cave Temple is located in Hulimavu, Bannerghatta Road, Karnataka, very close to the BGS National Public School. The Cave Temple is administered by the Sri Sri Bala Gangadaraswami Mutt. It is stated that a saint Sri Ramanand Swamiji did tapas in the cave for many years and his samadhi is also found inside. There are three main deities consecrated inside. A Shiva Lingam occupies the center, on one side there is a Devi idol and on the other side, an idol of Ganesha has been consecrated. On the other side of the cave, a very old dhyana mantap is also found. The cave has been declared as a 2000 year old single rock cave
2. Royal Meenakshi Mall
Wondering what's the best place to go shopping in Hulimavu? Royal meenakshi mall is the right choice. It is one of the biggest in the south east part of bangalore. The mall has stone benches to sit and feel conformable outside of it. The mall hosts many well known brands like Soch, FabIndia, Croma and NewU.
3. Mysore Cafe
It is one of the most famous cafe's in the area. If you are looking to have a great coffee and anything in veg this should be your go to place. This place is famous for its authentic filter coffee and south indian delicacies. The prices are very reasonable and anyone can take their family for a nice lunch and dinner.
FAQs about Sanjay Nagar, Bangalore
How far is Hulimavu from the City Centre?
The distance between Bangalore City Station and Gandhi Nagar is around 15 kilometres.
What is the distance from Hulimavu to Airport?
The travel distance or driving distance between Hulimavu and Bangalore Airport is approximately 44 kilometres.
What is the nearest bus station from Hulimavu?
Hulimavu bus stand and Meenakshi bus stop are two of the primary bus stops in Hulimavu.
Is there any metro station in Hulimavu?
There is no metro near Hulimavu. However, you can go to Jayanagar for a metro.
What is best place in Hulimavu to hang out on weekends?
Meenakshi Mall, Mysore cafe, Fish net are one of the best place to hang out duing weekends.
How to reach Hulimavu from Bangalore airport?
The quickest way to get from Bengaluru Airport (BLR) to Hulimavu is to taxi which costs ₹1,000 – ₹1,500 and takes 1 hr 30 min. The cheapest way to get from Bengaluru Airport (BLR) to Hulimavu is by bus which costs ₹250 – ₹350 and takes around 2 hr.
What are the best hospitals in Hulimavu?
Apollo Hospitals, Fortis Hospital are one of the best hospitals in Hulimavu.