Kammanahalli is a suburb located in the north-eastern part of the city of Bangalore. It is bordered by HBR Layout, Banaswadi and Lingarajapuram. The locality has been described as a "cosmopolitan hub" in recent years, and earned the nickname "Kammanhattan".
and Lingarajapuram. The locality has been described as a "cosmopolitan hub" in recent years, and earned the nickname "Kammanhattan".
Kammanahalli has seen a rise in commercial activity, with retail shops, eateries and educational institutions in the locality increasing in number. Kammanahalli, or "Kammanahattan" has become quite the spot to hang out. It's no longer the quiet neighborhood on the outskirts it once used to be. It's pretty self-sufficient — there's nothing you can't find here.
Wondering which society your future home might be in, where you can find good food, a school for your kids or even spaces you could work from? Read on to find out!
List of top gated communities in Kammanahalli, Bangalore
1. Prestige North Point, Kammanahalli
In the midst of the hubbub of the city rises a mammoth structure, towering over the neighborhood in Kammanahalli, North Bangalore. A single elegant high-rise tower, Prestige North Point stands tall, making a strong statement.
Equipped with all amenities like swimming pool, gym and indoor sport, the club house is spread over two floors. Encouraged by Prestige's signature landscaping and water features, Prestige North Point beckons you to live a calm and quiet life even in the midst of a busy city.
Highlights and Amenities in Prestige North Point
Type of apartments: 2,3,4, BHK
Area per apartment: 1492- 2596 sq. ft.
2. NCN East, Kammanahalli
NCN East is an unmatched Residential property that caters to the needs of its residents perfectly. The society offers plenty of benefits that include prime location, lavish lifestyle, and healthy surroundings.
NCN East is a complex which houses beautifully crafted apartments that provide a modern and contemporary lifestyle. The building is equipped with all the basic amenities and boasts of high-end specifications to make the life of its residents comfortable and luxurious.
Highlights and Amenities in NCN East
Type of apartments: 2 BHK
Area per apartment: 1023- 1115 sq.
3. Gurudeo Enclave, Kammanahalli
Gurudeo Enclave is strategically located at Kammanahalli with a seamless connectivity to the prominent areas of Bangalore. This society is smartly constructed.
Providing a great living experience, Gurudeo Enclave provides best in class amenities such as Visitor Parking, Air Conditioned, Service/Goods Lift, Vaastu Compliant, Private Terrace/Garden, Security. The project is located at one of the most sought after localities. Gurudeo Enclave spells convenience and comfort at a competitive price.
Highlights and Amenities in Gurudeo Enclave
Type of apartments: 2 BHK
Area per apartment: 775-900 sq. ft.
4. Bhanu Pride, Kammanahalli
Bhanu Pride Apartments, an abode of magnificent apartments in Bangalore with all modern features required for a contemporary lifestyle. These residential apartments in Bangalore flaunt a resort like environment.
Bhanu Pride in Kammanahalli ensures privacy and exclusivity to its residents.From stylish flooring to spacious balconies every little detail here gives it an attractive look. Bhanu Pride comprises meticulously planned apartments that collectively guarantee a hassle-free lifestyle. So come own the dashing home you've always dreamt of.
Highlights and Amenities in Bhanu Pride
Type of apartments: 2 BHK
Area per apartment: 1200 sq. ft.
5. Kumar Prospera, Kammanahalli
'Kumar Prospera' is a well-designed society having two 25-storied high-rises. Optimum utilization of space, practical design, and robust construction add to the beauty of the elevation. The design elements have integrated privacy in the layout with no common walls so that you can enjoy the wide vistas all by yourself.
Connectivity is enhanced by the wide 6-lane roads and accessibility to all basic necessities. The project is 3 km from Manyata Tech Park and next door to the upcoming Divyashree Tech Park
Highlights and Amenities in Kumar Prospera
Type of apartments: 2,3 BHK
Area per apartment: 1138-1710 sq. ft.
Things to do in Kammanahalli, Bangalore
1. Get coffee, or just work from a cafe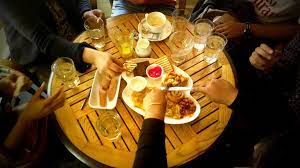 There are plenty of cafés in Kammanahalli for you to check out.Two of Bangalore's favorite cafés, Third Wave Coffee and Glen's BakeHouse are also in Kammanahalli now.
If you're looking for a quiet, cozy place to work from, try Writer's cafe, Cake house- Story cafe, etc.
2. Indulge in Art at Artville cafe
At Artville cafe, you can enjoy a nice cup of hot chocolate or coffee along with all the art around you. You can also purchase pieces as well as study different forms of art on your own.They have the Artville Academy where you can learn how to unleash the artist within you.
3. Get moving and Grooving!
There are plenty of dance studios, gyms and even parks in Kammanahalli. Xavier's Dance Studio runs classes for different forms of dance. You can check out Steopperz, Attitude Dance academy, and Melange Academy as well. Just a little outside of Kammanahalli, you'll also find Break Brahma, a hip-hop and yoga studio that hosts fun events every now and then.
4. Eat and then eat some more
There's something that Kammanahalli couldn't have enough of. And that is food joints. Want some street food? Go to CMR Road or Kammanahalli Main Road and take a stroll around. For Chinese food, you should go to either Peking Orient or Mainland China.If you're looking for fast food, Kammanahalli has it all. McDonald's, KFC, Burger King, Popeye's and Taco Bell — all walking distance from each other.
5. Pubs, bars & microbreweries
Wanderer's is a microbrewery just along the ring road.The Local is a great place with a fun atmosphere, delicious food, and great music too. They also have something happening every weekday, from stand-up comedy to Karaoke. Brewklyn Microbrewery is known for its brews and pizza, so go all out on beer and pizza.
Places to visit in Kammanahalli, Bangalore
1. Panchamukhi Ganesha Temple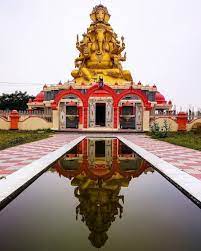 Panchamukhi Ganesh temple is dedicated to Lord Ganesha. The specialty with the deity here is that it has 5 faces, each facing a different direction .The excellent sculptured temple stands with a gopuram of 30 feet from ground level coated with gold color.
2. Toyroom
Get your kid sustainable and eco-friendly toys from Toyroom in Kammanahalli. Toyroom has educational toys for kids up to seven years from Germany to Bangalore. They have it all here- finger puppets, building blocks, traffic signs, pull-string toys, and puzzles. They also sell from their corporate office in Kammanahalli and participate in exhibitions and flea markets.
3. Dr. Kuvempu Park
Dr. Kuvempu Park is a small, clean park with an outdoor gym and kids play area. It's a great place to spend a few hours on a Saturday morning. Parking is easily available around the park premises.The best part? On Saturdays it's generally open till 10am.
4. Dr. Rajkumar Park
Dr. Rajkumar Park is another small, local park in this locality. Laden with numerous green trees, this is a perfect place for jogging around, and has spaces for kids to play around as well. You might just want to pack a picnic and go strolling for a few hours.
FAQs about Kammanahalli, Bangalore
Is Kammanahalli a good place to live?
Kammanahalli is aN excellent location. It is a well connected area with all facilities, connected with 13 schools, colleges, good hospitals, around 250+ restaurants, parks, good roads and an amazing neighborhood.
How far is Kammanahalli from the Airport?
The distance between Kammanahalli and Bengaluru Airport (BLR) is 22 km. The road distance is 29.5 km.
Is Metro available to Kammanahalli?
The PURPLE LINE is the first Metro that goes to Kammanahalli in Kacharakanahalli.
What is the distance between Kammanahalli and the nearest Railway station?
Distance between Kammanahalli and Bangalore City Railway Station is 19 kms.
Which are the schools in Kammanahalli?
Some of the schools in kammanahalli are- Evershine High School, St. Anne's High School, Little Angel's School, Carmel Convent, St. Charles High School, etc, among others.
Which are some of the hospitals in Kammanahalli?
Motherhood Hospital, Cura Multidisciplinary Hospital, Zion Hospitals, RK Multispeciality Hospitals, HC Hospital, are some of the hospitals in Kammanahalli.