Malviya Nagar is an upscale locality in South Delhi. It is surrounded by posh areas like Hauz Khas, Panchsheel, Saket and Pushp Vihar. This locality enjoys quality infrastructure, greenery and excellent connectivity.
It largely hosts horizontal residential developments in the form of independent houses, builder floors, Delhi Development Authority (DDA) flats and Resident Welfare Association (RWA) managed societies. Malviya Nagar consists of several sub-localities including Shivalik Colony, Geetanjali Enclave, Bhavishya Nidhi Enclave and Khirki Extension.
Looking for a home in Malviya Nagar? A place that is pleasing, with good connectivity, suitable surroundings, close to schools and hospitals nearby. Here is all the information you require. Read on!
List of top gated communities in Malviya Nagar, Delhi
1. RWA Malviya Nagar Block M, Malviya Nagar
RWA Malviya Nagar Block M, is a sprawling luxury society of excellent apartments in Malviya Nagar. These apartments are constructed truly to elevate the contemporary lifestyle. RWA Malviya Nagar Block M is meticulously designed with a keen eye for details. It is packed with unbound comfort & great amenities, thus, making it an effortless blend of modernity and elegance.
The amenities made available in RWA Malviya Nagar Block M comprises of 24 hrs water supply, compound, fire safety, gated community, lift and rain water harvesting. This could be your future home if you are looking to live within a cozy, homely community.
Highlights and Amenities in RWA Malviya Nagar Block M
Type of apartments: 2 BHK
Area per apartment: 900 sq.ft.
2. Shivalik A Block, Malviya Nagar
Shivalik A Block is another residential socirty in Malviya Nagar. It is a well planned city design project. This society offfers you with good quality yet affordable home options.Shivalik A Block is designed as such to cater to the modern needs of all its residents This property offers plenty of benefits that includes prime location, comfortable and lavish lifestyle, great amenities, healthy surroundings.
The amenities offered in Shivalik A Block are lift, car parking, 24 hr backup electricity and security. All these features allow you to leas an easy andrelaxed lifestyle in the comfort of your home. Apart from that, suitable security devices are installed to ensure safety to the residents at all times.
Highlights and Amenities in Shivalik A Block
Type of apartments: 3 BHK
Area per apartment: 2000 sq.ft.
3. Ganpati Apartment, Malviya Nagar
Ganpati Apartment is an excellent residential property located in Malviya Nagar. This society is crafted to provide its residents with a lifestyle that is convenient and comfortable. With its great connectivity to necessary infrastructure like many famed schools, shopping areas, hospitals, recreational areas, public gardens and several other public amenities, this residential society is an impressive place to call home.
The various amenities offered at Ganpati Apartment are car parking, fire safety and 24 hr water supply. Apart from this, suitable security devices are also installed to ensure safety to the residents at all times. Home-seekers should definitely check this place out as a prospective future home.
Highlights and Amenities in Ganpati Apartment
Type of apartments: 3 BHK
Area per apartment: 1150 sq.ft.
4. Shivalik Apartments, Malviya Nagar
Shivalik Apartments is a magnificent residential complex in Malviya Nagar. It is truly a reflection of the modern lifestyle located in this area. This society offers its prospective buyers exclusively designed apartments, each of which is an epitome of elegance and simplicity.
Shivalik Apartments are finely crafted and committed to provide houses with unmatched quality. The apartments in this complex are spacious, well ventilated and Vastu compliant.
Shivalik Apartments offers an array of world class amenities necessary for a healthy and comfortable lifestyle. Beside that proper safety equipment are installed to ensure the safety of you and your family at all times.
Highlights and Amenities in Shivalik Apartment
Type of apartments: 1, 2, 3 BHK
Area per apartment: 550- 1100 sq.ft.
5. Geetanjali Enclave, Malviya Nagar
Geetanjali Enclave is a brilliant residential project in Malviya Nagar. It is beautifully engineered to cater to the needs of its prospective residents. Both the exteriors and the interiors of this residential complex are well planned and executed to provide ultimate elegance and comfort.
Geetanjali Enclave delivers houses with unmatched quality both in terms of community and the amenities. The apartments here are built to be spacious, well ventilated, airy and sunlit. This society is also Vaastu Compliant. The most important thing, however, is the proper safety equipment that is installed to ensure ultimate safety at all times.
Highlights and Amenities in Geetanjali Enclave
Type of apartments: 3, 4, 5 BHK
Area per apartment: 2700- 6075 sq.ft.
Things to do in Malviya Nagar, Delhi
1. Read at a book cafe
What could be better than a book, a mug of coffee and a cozy nook to read? Bahrisons in DLF Place, Saket offers just that. It is a spacious book cafe with all kinds of books ranging from non-fiction, fiction to children's books. Bahrisons makes the reader in you jump with excitement with the environ it offers as a perfect reading place. You can buy a book, order a blue tokai coffee, find a place to sit & read. Isn't it like a dream come true?
2. Go shopping for pots and crockery
Hauz Rani Market, a colorful little market place very close to Select Citywalk, Saket, offers various clay, ceramic, and terracotta planters, pots, and crockery. If you want to pick up something colorful, patterned and cheap make sure to stop by this place and check out the large collection of goods that they have in stock. If you are lucky you might even spot some metallic goods among the clays and the ceramics.
3. Buy plants if you have a green thumb
If you love plants and like having them around your house then this place is just for you. Wow Plants, in Malviya Nagar is the perfect plant destination. They have a wide variety of plants for you to choose from. From lucky bamboo to cacti, they have it all. Pick ferns, snake plants, aloe platers, english ivy, or money plants to spruce up your home while making it fresh and somewhat pollution free.
4. Eat your heart out
When in Malviya Nagar make sure to go restaurant hopping because there are so many eateries to check out. No matter what you are craving these eateries have you covered. Check out places like Plats, EVOO- Eatery and Pizzeria, Nomad Pizza, Pema's, Oodles Noodles, Pudding & Pie, The Oriental Wok, Honey & Dough, Space Cakes by Nasa, The Fat Cat Bostro, HMan, Salad Days, for beautifully curated meals and desserts.
5. Take a dance lesson
If you have been thinking of learning how to dance then you should definitely check out The Yellow Stripe Dance Co. They have amazing dance lessons especially choreographies for weddings, sangeets, and other functions. You can also hire them for flash mobs, proposals, and other such events. Learning dance has never been easier than right now. Get your moves and grooves on.
6. Take a bartending class
Mixologik is an Institute for Bartending Management in Malviya Nagar. It is a niche course for people interested in bartending. With the growth in numbers of restaurants, and bars, bartending as a job field is definitely taking off. If you have an interest in mixing drinks and learning the tricks of the bar then you should definitely opt to take a class here.
Places to visit in Malviya Nagar, Delhi
1. Khirki Masjid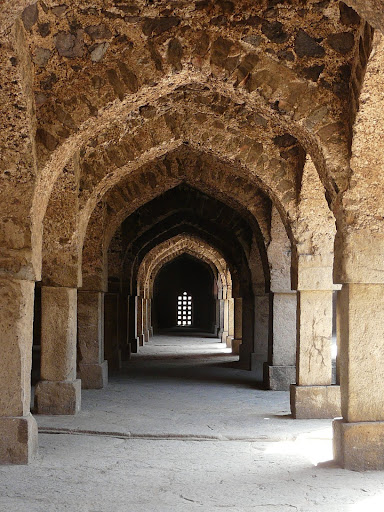 Khirki Masjid was built between 1351-54 by Khan-i-Jahan Junan Shah, the prime minister of Feroz Shah Tughlaq, the third ruler of the Tughlaq dynasty in Delhi. It is a grand mosque, among one of the best when it comes to its architecture. Today, it is not used as a place of prayer. It is an archeological site and one of the various keepsakes of history. It is a beautiful place to visit but you have to be a little careful of bats and the darkness inside. Carry a flashlight perhaps.
2. Satpula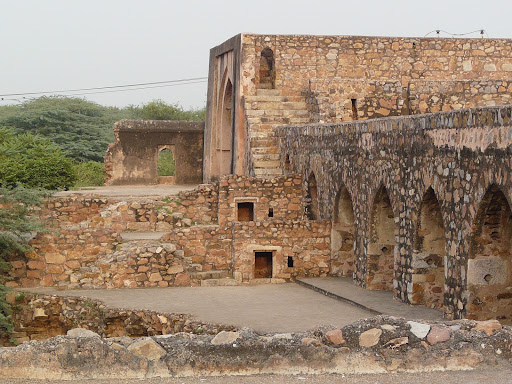 Satpula is a remarkable ancient water harvesting dam or weir located about 800 m (2,625 ft) east of the Khirki Masjid. Once upon a time the objective of building the weir was for providing water for irrigation and also, as a part of the city wall, to provide defense security to the city against attacking armies. Today it is more of a jogging park. The lake area is where children play cricket. There's an old fort with small narrow passages that leads to some caves.
3. Iskcon Temple
Iskcon Temple Delhi is a Hindu temple of Vaishnava sect dedicated to Lord Krishna and Radharani. It is one of the largest temple complexes in India. It is a marvelous temple with beautifully decorated interiors. The temple complex is very neat and clean. You are sure to feel at peace and very relaxed once you are within the temple complex. Janamashtami is the biggest festival celebrated in this temple.
4. Lotus Temple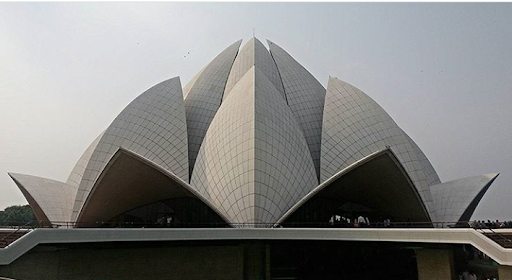 The Lotus Temple is a temple with an amazing architecture shaped like a blooming lotus. It is one of the famous tourist attractions in the capital city. The building is composed of 27 free-standing marble-clad "petals" arranged in clusters to form the shape of a lotus flower. It has a huge hall which can hold almost 1000 people at a time. It's a meditation hall with an enchanting ambience where everyone is welcome regardless of the religion.
FAQs about Malviya Nagar, Delhi
How is Malviya Nagar connected to the rest of the city?
Malviya Nagar is conveniently placed and has widespread reach through roads such as the Outer Ring Road, Sri Aurobindo Marg, Press Enclave Marg and Lal Bahadur Shastri Marg. Public transportation comprising buses, auto rickshaws and cabs, is well developed.
Which metro line serves Malviya Nagar?
Malviya Nagar metro station on the Yellow Line connects it to key areas of Delhi, Noida and Gurugram.
How far is the closest railway station from this locality?
Hazrat Nizamuddin Railway station is situated at a distance of 11 km from Malviya Nagar.
How far is the airport from Malviya Nagar?
Indira Gandhi International Airport is at a distance of 12 km from Malviya Nagar.
Which are some of the malls near Malviya Nagar?
Some of the popular malls such as Select Citywalk, DLF South Court, DLF Place and Saket Community Center, are situated at a distance of 2 km from Malviya Nagar.
Which are some of the prominent Hospitals and Schools/Colleges around Malviya Nagar?
Some of the prominent hospitals and schools/colleges in the Malviya Nagar locality are Pt. Madan Mohan Malaviya Hospital, Max Super Speciality Hospital, Apeejay School, Gyan Bharti School and Sri Aurobindo College.
How is Malviya Nagar connected to the employment hubs of the city?
Malviya Nagar shares easy access to commercial areas of Saket District Center, Hauz Khas, Greater Kailash, Nehru Place, Bhikaji Cama Place, Okhla, Connaught Place and Mohan Cooperative Industrial Estate that are close by. Moreover, the key business / IT parks in Gurugram and Noida can also be reached conveniently via road and metro rail.