Mandi House is one of the most planned localities of New Delhi. It has a systematic urban planning, the locality is constructed keeping in mind the greenery in the surroundings. They also have historically and culturally significant buildings and all-in-all a truly riveting atmosphere; all this encapsulates the beauty that is Mandi House. The citizens can stroll down the narrow roads of the lanes of Mandi House and be amazed by the historic sights it has to offer.
List of top gated communities in Mandi House, Delhi
1. Navgrow Gulmohar Park Builder Floor, Mandi House
Home Developers is one of the most well-known builders in New Delhi and they have started the Navgrow Gulmohar Park Builder Floor project. It is a Ready to Move project. Navgrow Gulmohar Park Builder Floor offers some of the most conveniently designed Apartments.It is located at one of the most prime locations in Delhi and offers some of the most exclusive 3 BHK. As per the area plan, units are in the size of 1500.0 sq. ft. The buildings have been designed keeping in mind the aesthetic of the surroundings and sustainability.
Highlights and Amenities in Navgrow Gulmohar Park Builder Floor
Type of apartments: 3 BHK
Area per apartment: 1550 sq ft.
No of flats: 55
2. GNG Housing, Mandi House
If you are looking for a ready-to-move- near Mandi House in Delhi, then GNG Housing is the right gated society for you. It comprises 3 BHK builder floor apartments of size 2,000 square feet. The location offers good connectivity and social infrastructure. It is very close to banks, schools, hospitals, parks, grocery shops, chemists stores, shopping malls, movie theatres, bars, and restaurants in the neighborhood of GNG Housing. With railway stations and bus stops in its vicinity, it is well-connected to other areas of Delhi by trains and buses. The society also has a wide range of amenities to offer.
Highlights and Amenities in GNG Housing
Type of apartments: 3 BHK
Area per apartment: 2000 sq ft.
No of flats: 45
3. Home Developers Enclave
Home Developer Enclave near Mandi House, Delhi is a residential project. The project offers an Apartment with the perfect combination of contemporary architecture and features to provide a comfortable living. The society consists of apartments with 1 BHK and 4 BHK configurations. The size of the Apartment ranges between 900 Sq. mt and 2024 Sq. mt. The price of these apartments starts from Rs 4.36 Cr. Some of the amenities include Car parking, Power backup, Children's play area.
Highlights and Amenities in Home Developers Enclave
Type of apartments: 1 BHK and 4 BHK
Area per apartment: 900 to 2024 000 sq ft.
No of flats: 32
4. Navgrow Home 1, Mandi House
Navgrow Home is a residential society that has been designed keeping in mind modern lifestyles and amenities. It is for the quintessential contemporary urban families who require residential abodes in terms of luxuries, comforts, and amenities. These living spaces covet luxury, high-end amenities, and incredible comfort at this amazing residential destination. In fact, this would be the best decision of your life because that is the kind of effect comfort, the finest state-of-the-art amenities and luxury can have. Your recreational needs have also been taken care of by the recreational facilities and spaces that have been provided here.
Highlights and Amenities in Navgrow Home 1
Type of apartments: 3 BHK and 4 BHK
Area per apartment: 2160 to 3060 sq ft.
No of flats: 5
Things to do in Mandi House, Delhi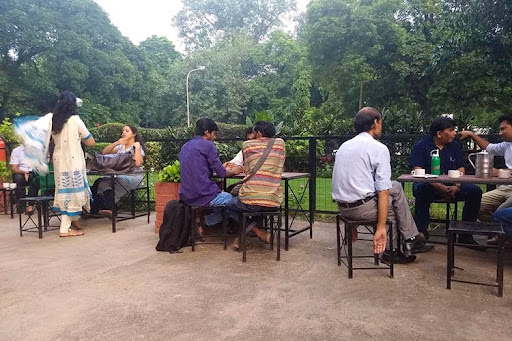 1. Experience the 90s at Shri Ram Centre canteen
If you want to experience the old skool canteen ambience that existed before these boozy pubs you should surely try the Shri Tam Centre canteen. You can catch a theatrical performance in the auditorium followed by a chill hangout at the open-air canteen. The area has many decade-old thela or a sweet mango shake man who does brisk business thanks to all the hurried office folks or rushed students who come by to shop, drink DePaul's or just learn a new language at Max Mueller. Some of the famous things you should try are spring rolls, momo, noodles, chilli chicken, chilli paneer, nimbu paani, tea, and more at affordable prices.
2. Take a walk in Buddha Jayanti Park
Buddha Jayanti Park, of course, draws its name from the Buddha, and so there is some presence of the Buddha and his teachings. Unlike more formal parks (even the not-too-far off Nehru Park among them), Buddha Jayanti Park is a cross between the wild and the tamed. It is located in a part of what is known as the Central Ridge of the Delhi Ridge, and while the more intrepid of Delhi's naturalists would do best to wander right off the roads and into the forested scrub, for those of us who are less adventurous but would like to experience at least some of the Ridge, this is a good place to start.
3. Visit culturally rich Triveni Kala Sangam
Triveni Kala Sangam is an important cultural and arts complex and education center in New Delhi. Founded in 1950, by Sundari K. Shridharani, who was also its Founding Director, Triveni, as it is commonly referred to, contains four art galleries, a chamber theatre, an outdoor theatre, and an open-air sculpture gallery, besides this, it runs its various arts, music, and dance classes. It is situated on Tansen Marg, between Mandi House roundabout and Bengali Market. An American architect was commissioned to design a multi-purpose complex of art galleries, chamber theatre, library, photography darkroom, staff quarters, and classrooms over just half an acre of land. Finally, construction began around 1957, and eventually, on 3 March 1963, the present building was inaugurated.
4. FICCI Auditorium
Situated in Federation House, Janpath, FICCI Auditorium (Federation of Indian Chambers of Commerce and Industry) is an ideal place to conduct formal and business meetings. Spacious and aesthetically decorated, this auditorium boasts seven meeting rooms; some of which can accommodate up to 600 people. Furnished with the state-of the art equipment, this auditorium has witnessed several key functions and meetings, and has also a prestigious reputation for itself, as one of the most vital meeting centers of the city. Some of the other places that you can visit are Kamani Auditorium and the National School of Drama.
Places to visit in Mandi House, Delhi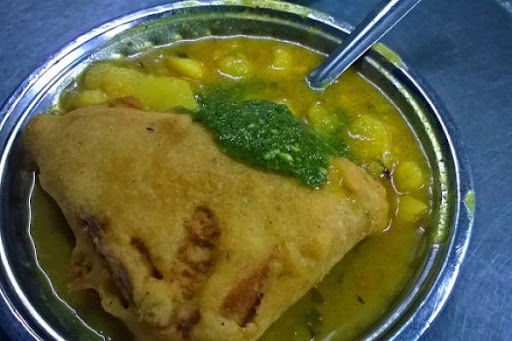 1. BM Snacks Corner
BM Snacks Corner is well known for chai and best quality samosas. You can have a filling stomach at the end of the day. Here you get an opportunity to indulge in the luxury of having good quality chai. This tapri-like stall gives you simple, yet satisfying gastronomic treats at unbelievable prices. Their samosas paired with zesty aloo ki sabzi, along with a side of warm tea or coffee is the best grub to have a casual, hangout session over! They also have kachoris and puri sabzi, which are equally great accompaniments.
2. Triveni Terrace Cafe
Triveni Kala Sangam is one of the most famous in-house eateries and Triveni Terrace Cafe is one of the most sought-after places in not just Mandi House, but in all of Delhi. The cafe gives an old skool yet sophisticated vibe. You will definitely feel content once you relish the dishes they have to offer. Dishes like Palak Patta Chaat, Sabudana Khichdi, and Ragi Idli make you indulge in a delicious, yet guilt-free and healthy meal. The ambience is perfect for brunch, with an open-air setting, captivating architecture, and a charming garden-amphitheater.
3. Bengali Market
If you are craving to eat a Bengali cuisine, this is the right place for you. It is one of the oldest markets in Delhi. Due to the rich bengali community in Delhi, this market has been catering to various needs of the locals for decades. Bengali Market is popular for its various eateries like Bengali Sweet House and the two Nathu's outlets, and for quick fast foods like chole bhature, pav bhaji, and of course, a wide variety of sweets! The other famous stores like Bee-Kay dry cleaners and Rama Photo Studio are worth mentioning as well since they've held on for decades and are very much a part of the city's heritage. You can also browse through the fruit stalls and flower shops for a vibrant day of retail therapy!
4. Rabindra Bhawan
Rabindra Bhawan is by far one of the most culturally rich buildings in all of Delhi. The building was designed by legendary architect Habib Rahman on the centenary birth anniversary of Rabindranath Tagore. Rabindra Bhawan is a hub of art and culture, housing the head offices of the most important cultural associations of India – Sahitya Akademi, Lalit Kala, and Sangeet Natak Akademi. The building houses massive art galleries that display a wide variety of artifacts, paintings, sculptures, and many more fascinating elements that showcase the best of Indian talent. You should also visit Himachal Bhavan, Sahitya Akademi, Agrasen Ki Baoli
and Dhobhi Ghat while in Mandi House.
FAQs about Mandi House, Delhi
How far is Mandi House from the City Centre?
The distance between Delhi City Station and Mandi House is 36 kilometers.
What is the distance from Mandi House to the Airport?
The travel distance or driving distance between Mandi House and Delhi Airport is 42 kilometers.
What is the nearest bus station from Mandi House?
Mandi House bus stand & Kasturba Gandhi Crossing bus stand are a few of the bus stops in Mandi House.
Is there any metro station in Mandi House?
Mandi House Metro Station is in Mandi House.
What is the best place in Mandi House to hangout on weekends?
You can visit National School of Drama, Kamani Auditorium,Mandi House Traffic Circle or have good food at Turant Chinese Van with your friends.
How to reach Mandi House from Delhi airport?
The quickest way to get from Delhi Airport to Mandi House is by taking a metro. You can take a direct metro from the Delhi Airport to Subhash Nagar station and it would cost you just ₹90 to ₹100. Next is through a taxi which costs ₹200 – ₹250 and takes 1 hr 30min. The last way to get from Delhi Airport to Mandi House is by bus which costs ₹200 – ₹250 and takes 2 hr.