Nagavara is one of the upcoming developing suburbs, located between HBR Layout and Thanisandra in Northern Bengaluru. This locality has good connectivity to neighbouring areas like Hebbal, Thanisandra, Shampura, and Amrutahalli. The sublocality Nagavara Village, Nagavara falls in Bengaluru Urban district situated in Karnataka state, with a population of approx 3996. It is a safe locality. It has good connectivity to schools, colleges, hospitals, markets, malls, temples, parks, banks and ATMs. Nagavara Metro station of Namma Metro is situated on Red Line Bangalore Metro. This metro station of Namma Metro is under construction and is expected to open in 2023. It is a developing area and hosts many new projects.
Wondering which society your future home might be in, where you can find good food, a school for your kids or even spaces you could work out in? Read on to find out!
List of top gated communities in Nagavara, Bangalore
1. Kumar Prospera, Nagavara
'Kumar Prospera' is a well-designed project having two 25-storied high-rises. Optimum utilisation of space, practical design, and robust construction add to the beauty of the elevation. The project offers a total of 229 apartments with the flexibility of space in the form of 2 BHK and 3 BHK spacious plans. The design elements have integrated privacy in the layout with no common walls so that you can enjoy the wide vistas all by yourself.
Highlights and Amenities in Kumar Prospera
Type of apartments: 2BHK and 3 BHK
Area per apartment: 1138 (2 BHK) 1461 (3 BHK) sq ft.
No of flats: 229
2. ATZ Rock View, Nagavara
ATZ Rock View is one of the most glamorous societies in the city. ATZ Rock view offers a comfortable living with high-standard amenities. It is located in a very lucrative area and gives a surrounding every resident desires. The location of ATZ Rock View is very near to the highway which makes connectivity very easy for the residents. It also offers some of the most luxurious facilities such as a Gymnasium, Tennis Court, Basketball Court, Cycling and Jogging Track. It also provides Spa/Sauna/Steam, as well as a Library.
Other provisions include access to Banquet Hall, Health Facilities, Party Hall, Landscaping & Tree Planting, Shopping Mall, Multipurpose Room, and Staff Quarter. Own a home in ATZ Rock View today!
Highlights and Amenities in ATZ Rock View
Type of apartments: 2BHK and 3 BHK
Area per apartment: 1150 (2 BHK) 1600 (3 BHK) sq ft.
No of flats: 64
3. Sky Height Shantiniketan, Nagavara
If you are looking for luxurious and modern living, Sky Height Shantiniketan is the place for you. You can live a luxurious and diverse lifestyle in the magnificent Sky Height Shantiniketan. This stunning medium-sized society is a vaastu-compliant society with a clubhouse, gym, health facilities, temples, meditation hall, play area, swimming pool, and tennis court. It even has an amphitheatre, a skating rink, a multipurpose room and so on!
Be it quiet or a hustle and bustle, pick and choose what you'd want to live with inside this amazing society!
Highlights and Amenities in Sky Height Shantiniketan
Type of apartments: 2 BHK and 3 BHK.
Area per apartment: 859, 1406 sq ft.
No of flats: 79
4. Mantri Lithos, Nagavara
Mantri Lithos is a spectacle set in stone. An abode so unique in design and formation ths it's a milestone among all other residential spaces in the city. Crafted with a pastiche of eccentric shapes, rebellious structures and maverick contours, here's a residential address set out of eternity. Founded with structural contemplations that defy conventional living spaces, our creation is an antithesis of every known architecture. Mantri Lithos is one of the most elite societies to live in Nagavara.
Highlights and Amenities in Mantri Lithos
Type of apartments: 2 BHK and 3 BHK and 4 BHK.
Area per apartment: 1200, 1400 2008 sq ft.
No of flats: 125
Things to do in Nagavara, Bangalore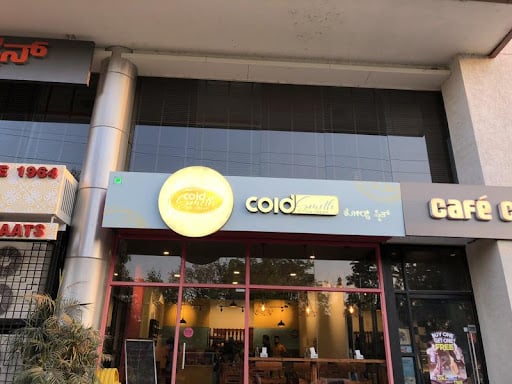 1. Grab a bite at North Indian Bhukkads
Are you a fan of North Indian cuisine? If the answer is yes make sure you visit this place next weekend. The restaurant offers an authentic Dhaba look and has tasty and delicious finger-licking food. You can start by gobbling up a few samosas and kachoris filled with lots of aloo. They are also known for all Mughlai and tandoori dishes- Malai paneer tikka and stuffed mushrooms. The green chutney on the sides goes very well with the tandoori dishes.
Desserts are also equally good. You should try rabdi jalebi, gulab jamun, gajar ka halwa and moong dal halwa and end your meal with a sweet lassi.
2. Experience the flavour of Turkey in Bengaluru
Tarbouche is one of the most famous restaurants in Bengaluru that serves authentic Turkish and middle eastern food. If you are on the go, grab a falafel, a Shawarma or a kebab. If you want to try something heavy you can always go for Combos of chicken and falafel platters. Tarbouche also offers various types of beverages as well.
3. Bring home a piece of Indian Culture & Heritage
If you are in Nagavara, you should definitely visit Khadi Bhandar in Elements mall. Khadi Bhandar store has a very well-crafted handicrafts collection from various states. Some of their top products are Handloom and cotton fabrics and home furnishing items, Bedsheets, Quilts, Blankets, carpets, Mats etc. They are also into lifestyle products such as Sarees, dress materials and ladies' Kurtis, Shawls, stoles, Boy's Kurtas, Towels, Dhotis etc. Do support the artisans of the country by bringing home a set of their hard work.
4. Best place for Ice-cream lovers
Nagavara has one of the most famous Ice-cream parlours, Cold Smith Ice Creams. Chocolate ice cream rolled with a layer of red velvet brownie is prepared right in front of you on a cold stone. The process is an absolute treat to the eye and the rolls are delicious. You should also try the Nutty Chocolate Swirl. Dark chocolate ice cream with lemon zest and sprinkled chilli. It is served with a chocolate-coated waffle cup. They also serve waffle ice cream. The staff is courteous and attentive. service is very quick and fast.
Places to visit in Nagavara, Bangalore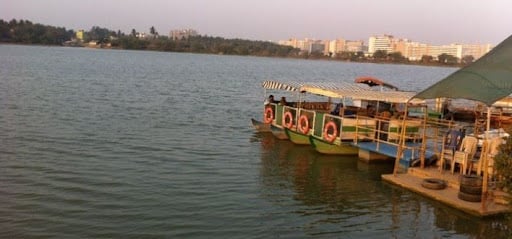 1. Nagavara Lake
Nagavara Lake is one of the popular attractions of Bangalore. The lake is situated on the Outer Ring Road of Bangalore. The beauty of the lake has an appeal of its own. Adding to the natural beauty of the lake is the recently developed Lumbini Gardens that stands on the banks of the water body. The lake is spread across an area of 43.86 hectares. It has been developed by the lake authority of India. The beautifully landscaped lake and the surrounding Lumbini Gardens is the ideal destination for spending a relaxed time within the limits of the city.
2. Lumbini Gardens
Lumbini Gardens is a public park on the banks of the Nagawara Lake in Bangalore, Karnataka named after Lumbini of Nepal. Although the garden is mainly a national park, it is a treat to the eyes with its serene landscapes and lots of greenery. Located near the Nagawara lake, the Lumbini garden is one of its kind garden attractions in Bangalore. The beautiful, serene environment of the lake hosts visitors with mesmerising views and activities that people come to enjoy with their loved ones. Undoubtedly, the Lumbini garden has made its place among the crowd's favourite weekend destinations.
3. Manyata Tech Park
Manyata Embassy Business Park (also called Manyata Tech Park) is a software technology park in Nagavara (near Hebbal) on Outer Ring Road and has a building area of 9.8 million square feet. The park is spread over 300 acres (1.2 km²). Manyata Embassy Business Park has a workforce of more than 150,000 professionals, as of November 2017. Some of the tenant companies of the tech park are Cognizant, L Brands, Lowe's, Cerner, Hudson's Bay Company, Harman and more elite companies.
FAQs about Nagavara, Bangalore
How far is Nagavara from the City Centre?
The distance between Bangalore City Station and Gandhi Nagar is around 15 kilometres.
What is the distance from Nagavara to Airport?
The travel distance or driving distance between Gandhi Nagar and Bangalore Airport is approximately 25 kilometres.
What is the nearest bus station from Nagavara?
Nagavara bus stop and Hebbal Bus Stop are two of the primary bus stops in Nagavara.
Is there any metro station in Nagavara?
Byappanahalli metro is the nearest metro to Nagavara.
What is the best place in Nagavara to hang out on weekends?
You can go shopping at the Manpho convention centre. Most of the time there are many lifestyle fairs available. You can choose from a wide variety of stalls.
How to reach Nagavara from Bangalore airport?
The quickest way to get from Bengaluru Airport (BLR) to Nagavara is by taxi which costs ₹ 600 – ₹800 and takes 1 hr. The cheapest way to get from Bengaluru Airport (BLR) to Nagavara is by bus which costs ₹100 – ₹150 and takes around 1 hr 30 min.
What are the best hospitals in Nagavara?
Motherhood Hospital, Ayu Health Hospital, and Sri Sai Hospital are one of the best hospitals in Nagavara.