Naraina Vihar is a residential locality in South West Delhi. It is composed of flats built by the Delhi Development Authority (DDA) and privately built houses. The neighborhood is connected with Delhi Metro by Naraina Vihar station.
Naraina is divided into three different parts: industrial, residential and rural areas.The industrial area has a large focus on steel and electronics. Whereas, Naraina Gaon is a rural area. The residential part of this area is called Naraina Vihar.
Naraina is located adjacent to the western segment of the Ring Road, between Dhaula Kuan and Rajouri Garden. Areas surrounding Naraina incluse- Inderpuri, Loha Mandi, IARI or Pusa, Delhi Cantt, Mayapuri, Shadipur Depot, and Patel Nagar.
Looking for a home in Naraina? A place that is pleasing, with good connectivity, suitable surroundings, close to schools and hospitals nearby. Here is all the information you require. Read on!
List of top gated communities and colonies in Naraina, Delhi
1. Vijay Niketan RWA, Naraina
Vijay Niketan RWA is an excellent residential society located in Naraina Vihar. The apartments in this society consist of wide space with proper ventilation at every corner of the house. The interiors are beautifully crafted and have huge windows for proper sunlight. Additionally, this society is strategically located and provides direct connectivity to nearly all other major points in and around the city.
The amenities offered in Vijay Niketan RWA are play area, rain water harvesting, car parking, 24 hr power backup and 24 hr Water Supply, among others. Vijay Niketan RWA is an impressive place to rest, relax and be at home.
Highlights and Amenities in Vijay Niketan RWA
Type of apartments: 2, 3 BHK
Area per apartment: 1200-1460 sq.ft.
2. RWA Uday Niketan, Naraina
RWA Uday Niketan is a residential society located in Naraina Vihar. This society is a beautiful blend of simplicity and elegance manifested in a residential complex. Moreover, it is located amidst verdant surroundings. RWA Uday Niketan is in proximity to many prominent schools, hospitals, shopping destinations, tech parks and every other essential civic amenity.
RWA Uday Niketan offers an array of necessary amenities for the comfort and convenience of its residents. Besides that proper safety equipment is installed to ensure the safety and security of the residents within their home space.
Highlights and Amenities in RWA Uday Niketan
Type of apartments: 3 BHK
Area per apartment: 850 sq.ft.
3. DDA Flat, Block I, Naraina
DDA Flat, Block I is a neighborhood, part of the DDA apartments, in Naraina Vihar. There are several independent houses and DDA flats available for both buying and renting in this locality. The locality is enriched with a supportive community as well which makes it all the more impressive. The affluent crowd and the healthy surroundings is why this is a prominent residential area of Naraina
It is an ideal location for young families with kids, as this property is close to A to Z Training Institute, Gyan Mandir Public School, and Tagore Public School. Healthcare facility is also close at hand with Army Hospital, Deen Dayal Upadhyay Hospital, and Army Base Hospital Delhi.
Highlights and Amenities in DDA Flat, Block I
Type of apartments: 2 BHK
Area per apartment: 700 sq.ft.
4. Naraina Industrial Area, Phase I, Naraina
Naraina Industrial Area, Phase I is a neighborhood in Naraina. This locality has some independent houses and builder floors available for sale and rentals. This locality is in proximity to well known healthcare centers such as Deen Dayal Upadhyay Hospital, and Army Base Hospital Delhi. Schools like A to Z Training Institute, Cambridge Montessori Pre School, and Kidzee – Play School are also located close to this area.
This one particular builder unit located in this area enjoys a good view and is a North-East facing property. This residential building has a lift(s), gym, garden, clubhouse, 24 hr water supply, among others.
Highlights and Amenities in Independant floor, Industrial Area
Type of apartments: 4 BHK
Area per apartment: 2700 sq.ft.
5. The Leela Sky Villas, Naraina
The Leela Sky Villas is a residential project near Naraina Vihar. Apartments in this society are a perfect combination of contemporary architecture and features that provide a comfortable lifestyle. The interiors of these apartments are spacious, with large windows that provide not just a great view but fresh air and sunlight too.
The Leela Sky Villas has amenities such as- round the clock security, CCTV surveillance, car parking spaces, lifts, power back-up, badminton court, banquet hall, basketball court, children's play area, club house, cricket pitch, fire fighting system, gymnasium, intercom, library, multipurpose room, spa, sauna, steam facility, squash court, swimming pool, regular supply of water, made available for the comfort of its residents.
Highlights and Amenities in The Leela Sky Villas
Type of apartments: 3, 4, 5, 8 BHK
Area per apartment: 2307- 9774 sq.ft.
Things to do in Naraina, Delhi
1. Get a fresh haircut
Meraki Salon in Naraina is the first of its kind in this locality. It is a unisex salon and offers a wide range of services to its customers. Get a haircut, hair treatment, hair color, or get your makeup done for an event. They also offer other services like manicure, pedicure, or a facial. And the best part? All of their services are super pocket friendly. Also, they have great bridal packages so that is definitely something to remember for when you might need it.
2. Eat at the local favorite food joints
Naraina has a number of food joints that receive more footfall than others. These are some of the trusted places that are local favorites. You might want to get tikkas and tandooris from Tandoor N Grillz. This place is a meat lover's heaven. You absolutely cannot miss out on Kanshi Ram's Chole Kulche when in Naraina. If you want to grab a dessert get yourself to N'pauls Bakers and Confectioners. Now, if you are a pan lover then Zero Point Paan is the best place for that post meal paan.
3. Shop for a wedding
If you have a wedding coming up then get yourself to Matsya in Naraina for all the wedding looks. It has fantastic, delicate, handcrafted pieces for the bride, bridesmaids, the mims and the aunties, the cousins and all the other ladies in the gang. The rich collection, with a variety of designs, colors, and pieces to choose from, Matsya definitely has something for everyone.
4. Take your kid shopping
Gini & Jony is a popular name when it comes to kids apparel. The outlet in Naraina carries a wide variety of affordable and great quality clothes for you to choose from. From casual to trendy to party wear, you will find everything here. Make sure to visit the store next time you are planning to take your kid shopping for clothes for whatever occasion it might be.
5. Go running or take a walk at a local park
Naraina has quite a few parks in the neighborhood for a quick morning run or an evening walk. Keep yourself fit with outdoor activities and catch the swift breeze when you can when under a large tree. Some of the parks to check out in this locality are- Munshi Ram Gupta Park, Welcome Park opposite E block flats, Central Park.
Places to visit in Naraina, Delhi
1. Gurudwara Sis Ganj Sahib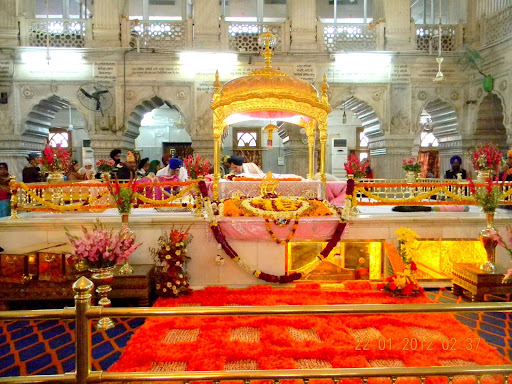 Gurdwara Sis Ganj Sahib is one of the nine historical Gurdwaras in Delhi. It was first constructed in 1783. Situated a couple minutes away from Naraina in Chandni Chowk, Old Delhi, it marks the site where the ninth Sikh Guru was beheaded. It is a sikh place of worship but anyone can enter as long as you cover your head. Sit crossed legged on the floor and enjoy the chanting. The premise is very calm and peaceful.
2. Delhi War Cemetery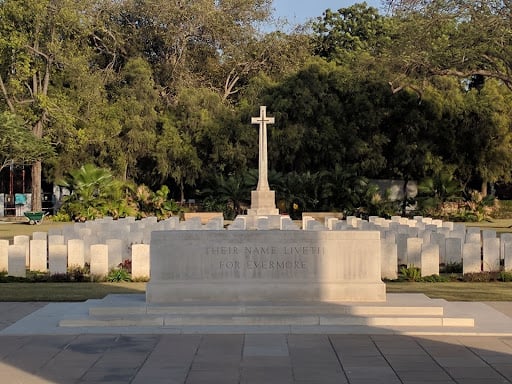 Delhi War Cemetery was created in 1951. There are 1,022 Commonwealth casualties of the Second World War buried, or commemorated by special memorial.In 1966, 99 First World War burials were moved into the cemetery from Nicholson Cemetery. The place is very quiet, clean, and well maintained. You might be allowed to loiter around but it's a moving experience to be here and reading some of the tombstones certainly evokes a lot of emotions.
3. National Agricultural Science Museum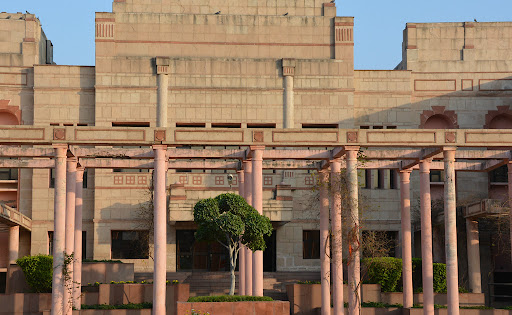 National Agricultural Science Museum situated on the grounds of the National Agricultural Science Centre (NASC) is situated a couple minutes away from Naraina. This museum is an excellent place to learn about agriculture in general and the history of agriculture in India in particular. There are various exhibits for both children and adults. There are other attractions such as an animated representation of the water cycle, a speaking statue, agriculture documentaries and such.
4. Mughal Garden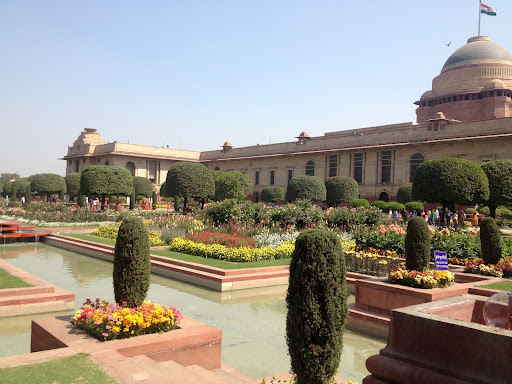 Located about five kilometers away from Naraina, Mughal Garden is built over a sprawling area of 15 acres. It is rightfully called the soul of the Presidential palace. This garden boasts a total of about 159 different types of roses. Apart from roses, tulips, asiatic lilies, daffodils, hyacinth and other seasonal flowers are used to beautify these grounds. Mughal Garden is an almost heavenly place to visit when it is opened to the public.
FAQs about Naraina, Delhi
How is Naraina connected to the rest of the city?
Naraina has excellent connectivity. It is connected via Ring Road to other nearby cities like NOIDA and Gurgaon. There are a number of buses that are run by DTC (Delhi Transportation Corporation) from Naraina to other parts of the city.
How far is the airport from Naraina?
Indira Gandhi International Airport is situated at a distance of about 8 km from Naraina.
How far is the nearest railway station from Naraina?
Naraina Vihar Railway Station is situated at a distance of 1 km from this locality.
Which is the metro station that serves this locality?
Naraina has its own metro station called Naraina Vihar Metro Station on the Pink Line of Delhi Metro.
Which are some of the prominent schools in this locality?
Some prestigious schools in and around Naraina are- Tagore Public School, Salwan Public School, Aravali Public School and Gyan Mandir Public School.
Which are some of the notable hospitals in this locality?
Some of the notable hospitals in Naraina are- Apex Hospital, Behl Hospital, Kapoor Medical Centre & Ambulance Services.
Which are the go-to entertainment centers in Naraian?
Some of the shopping complexes in the vicinity are CTC Plaza, City Square Mall, Paradise Mall, within 3 kms of this locality. You could watch movies at PVR Naraina, Wave Cinema, INOX Cinemas which are all located in and around Naraina.
How is Naraina connected to the important employment hubs of the city?
Naraina itself is a manufacturing hub and offers ample employment opportunities in steel, electronics manufacturing, Auto part manufacturing and medical equipment manufacturing. Further, Naraina is a distance of about 13 kms and 23 kms from the commercial hubs of Delhi and Gurgaon respectively.