The New Market, formerly known as Sir Stuart Hogg Market, is a popular market in Kolkata situated on Lindsay Street, beside Free School Street (Mirza Ghalib Street/Rani Rashmoni Road). Although primarily "New Market" referred to the original enclosed market, today in local parlance, the entire shopping area is known as "New Market".
Despite the appearance of new air-conditioned, American-style, shopping malls all over Kolkata, New Market, which has survived two devastating fires and regular flooding, remains at the core of the shopping experience in the city.
Looking for a home in New Market? A place that is pleasing, with good connectivity, suitable surroundings, close to schools and hospitals nearby. Here is all the information you require. Read on!
List of top gated communities in New Market, Kolkata
1. Mani Crest, New Market
Mani Crest is a 12-storeyed single tower structure standing at the heart of AJC Bose road, near Nirmala Shishu Bhavan, Missionaries of Charity (Jora Girja). It is designed as such to be a luxurious and comfortable residential building. At Mani Crest you get to live in a calm, quiet and pollution free healthy environment.
Located at AJC Bose Road, you are just 3 minutes away from Moulali Crossing and about 5 minutes away from Park Street. This property is located to have unparalleled connectivity due to its equal proximity to two key landmark crossings — Esplanade and Park Circus 7 Point.
Highlights and Amenities in Mani Crest
Type of apartments: 4 BHK
Area per apartment: 2380-2615 sq.ft.
2. Cloud 9 Residency, New Market
Cloud 9 Residency is a residential society in Taltala, New Market Area. Planned to be a spacious place, the apartments are excellently designed. Cool breeze and ample natural light seeping through the windows of these units make the apartments even more appealing. Cloud 9 Residency is sure to provide you with an easy lifestyle.
It is available with facilities and amenities such as a lift, reserved parking, security, visitor parking, maintenance staff, making Cloud 9 Residency an ideal option for a home. You should definitely check it out if this is something you are interested in.
Highlights and Amenities in Cloud 9 Residency
Type of apartments: 2 BHK
Area per apartment: 1256 sq.ft.
3. Kailash Building, New Market
Kailash Building is a dashing residential property located in Chowringhee, Near New Market. This society offers plenty of benefits that include prime location, comfortable, lavish lifestyle, great amenities, and a healthy surrounding. The apartments in Kailash Building are designed to be spacious with proper ventilation and huge windows that allow ample sunlight.
The amenities offered in Kailash Building are lift, car parking, fire safety, 24hr power backup, security and 24 hr water supply. All these features together assure you relaxation and comfort at home with your family.
Highlights and Amenities in Kailash Building
Type of apartments: 2 BHK
Area per apartment: 950 sq.ft.
4. Mani The 42, New Market
Mani The 42 is a residential complex in Chowringhee, near New Market. Apartments in this society are magnificently crafted to offer luxury and comfort to its prospective residents. Mani The 42 flaunts a peaceful and relaxing environment. It ensures privacy and exclusivity to its residents. One of the main characteristics of apartments in this complex are the spacious balconies that give it an attractive look.
The amenities in Mani The 42 include 24 hrs water supply, 24 hrs power backup, CCTV surveillance, club house, gym, intercom, jogging track, landscaped garden, lift, play area, security personnel and swimming pool.
Highlights and Amenities in Mani The 42
Type of apartments: 4, 5 BHK
Area per apartment: 7800- 7815 sq.ft.
5. Merlin Identity, New Market
Merlin Identity is a signature residential complex in Taltala, near New Market. It is a beautifully designed place with spacious apartments that are well ventilated, airy and sunlit. Merlin Identity just as its name suggests is an identity of luxury and ultimate comfort. You will get to enjoy an easygoing modern lifestyle in this society.
At Merlin Identity, all residents have easy access to some of the truly desired facilities such as power backup, and kids can use the children's play area, nearby apart from the swimming pool. The property has fire sprinklers. There is 24×7 security made available for the safety of its residents.
Highlights and Amenities in Merlin Identity
Type of apartments: 4 BHK
Area per apartment: 1585- 1624 sq.ft.
Things to do in New Market, Kolkata
1. Go book shopping
New Market has all kinds of shops and if you are a reader then you are in for a treat with the number of bookstores there. These bookstores stock rare books that are difficult to find in other regular bookstores. You definitely want to check out The Modern Book Depot, Piccadilly Book Shop or Bengal Bookstores for some really cool collections. Get your hands on comics, novels, non fiction, crime pulp fiction classics and even some classic erotica.
2. Go old schools with vintage vinyls
If you are a music lover then you most definitely want to stop by Vibrations. Vibration is a seven-decade-old shop on Mirza Ghalib Street that stocks the finest collection of gramophones and vinyl records. Listening to music from vinyls has a completely different charm compared to anything digital that is available today and at Vibrations you get to experience just that. From Beethoven, Mozart to Beatles, Pink Floyd and even Ravi Shankar, this store has whatever you love.
3. Catch a movie at an old cinema hall
New Market quite literally is a place that has captured everything old and kept it safe. Cinema halls like Regal Cinema, Roxy, New Empire Cinema or Paradise Cinema are some old cinemas halls that allow you the nostalgia of watching movies almost 70 years ago. Catch a show at one of these age-old cinema halls instead of the multiplexes and experience the lifestyle that is now gone and forgotten.
4. Check out the famous Camera Gully
If you are a photographer and in New Market then you want to check out Metro Gali in Esplanade also known as Camera Gully. The entire area is full of camera shops. From second-hand film and DSLR cameras to the latest models, You'll find everything here.They also have repair shops if you want to get your repaired. Also, check out M.A. Photographic Centre if you want to get your hands on age-old cameras.
5. Eat the best Kolkata Biryani
When in New Market you cannot not try Kolkata Biryani from one of the best restaurants in Kolkata, Aminia. Aminia is a big eatery situated in a busy street in New Market. It is best known for its Kolkata Biryani and rightfully so because their food is absolutely delicious. Get yourself some biryani along with some kebabs and your meal would be sorted.
Places to visit in New Market, Kolkata
1. Indian Museum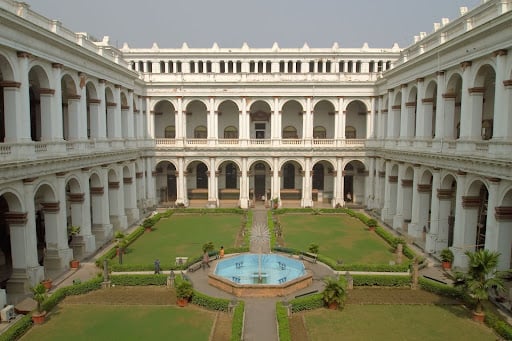 The Indian Museum also referred to as the Imperial Museum at Calcutta or Jadu Ghar is the ninth oldest museum in the world. As the oldest and largest museum in India it has rare collections of antiques, armor and ornaments, fossils, skeletons, mummies and Mughal paintings. It was founded by the Asiatic Society of Bengal in Kolkata, in 1814. It has six sections comprising thirty five galleries.
2. Smaranika Tram Museum
Smaranika is a small café-museum set up in the Esplanade tram terminal. It consists of a restored tram parked in its own enclosure. The front car has a few tiny tables where you can sip tea or coffee. The rear car – which can be entered only through the front car – has a display of old photographs, a few old uniforms, old tickets and tokens, etc. The ticket for the museum costs INR 10/- and is designed to look like a tram ticket.
3. Shaheed Minar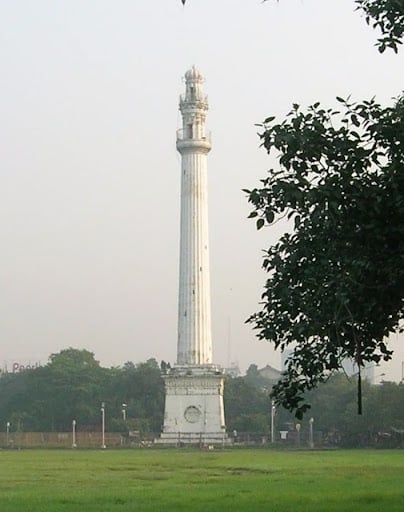 Located at the very heart of Kolkata, the 158-foot high, pristine white Shaheed Minar has remained a landmark monument for over a century and a half. Its characteristic design and size has drawn the attention of many, including Mark Twain who dubbed it the 'cloud kissing monument.' Shaheed Minar is today considered to be a tribute to the Indian independence struggle, and the surrounding ground was once a hotspot of political activity.
4. Millenium Park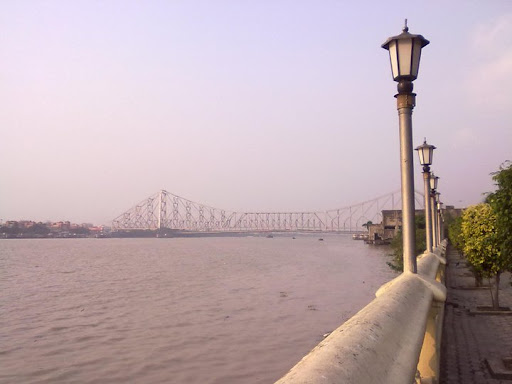 Located on Strand Road, next to the Hooghly River is a beautiful park named Millenium Park. The park is named Millenium Park since it was a gift from the Kolkata Metropolitan Development Authority (KMDA/CMDA) to the citizens of Kolkata on completing a millennium. Millennium Park is a wonderful place to hangout with friends and family. It has a Kids zone with toy trains, bumpy cars, and also has boating activity since it's located along the Hooghly river.
5. St. Paul's Cathedral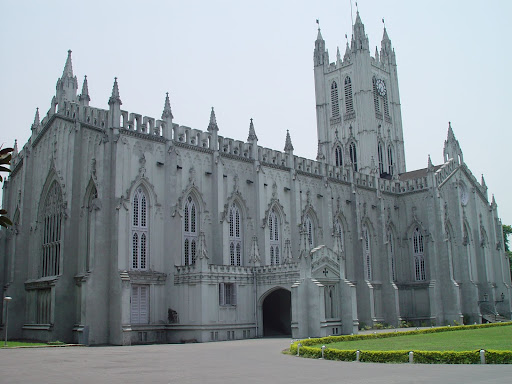 Located in the heart of the city, this cathedral is a magnificent colonial style structure. The white walls, the coloured glass windows and the Indo-Gothic architecture makes this place one of the most visited places in Kolkata. The mass halls and the altar are peaceful and one can enjoy a little slice of solitude here. The gardens here are very well maintained.
FAQs about New Market, Kolkata
What is New Market famous for?
New Market is the most famous market place of Kolkata. The marketplace has over two thousand big and small shops selling all kinds of goods. You could shop for garments & accessories, flowers, different food items including raw meat, fish, vegetables and fruits and even spices. There are crockeries and utensil stores and among other things.
How is New Market connected to the rest of the city?
New Market enjoys excellent connectivity with the rest of the city. Located in central Kolkata, New Market is quite literally the heart of the city of joy. The New Market area has excellent bus service that connects it to the rest of the city. Deys Medical Bus Station, Chowringhee Bus Station, Dharmatala Bus Station are all nearby.
Which is the closest metro station from this area?
Chandni Chowk Metro Station is at a distance of 1 km, while Central Metro Station is at a distance of 2 Kms from New Market.
Which railway stations are the closest to New Market?
Eden Gardens Railway Station is at a distance of 1.5 kms, and Howrah Railway Station is at a distance of 3.5 kms from New Market.
How far is the nearest airport from New Market?
Netaji Subhash Chandra Bose International Airport is at a distance of 17 Kms from New Market.
Which are some of the prominent schools in this locality?
St. Thomas Day School, St. Anthony's High School, St. Xavier Collegiate School, Shri Shikshayatan School, Don Bosco School, are some of the prominent schools in the New Market area.
Which are some of the notable hospitals in this locality?
Bhagirathi Women and Child care, Nightingale Hospital, Institute of Neurosciences, Park Clinic, Calcutta Medical College and Hospital are some of the notable healthcare facilities in the New Market area.