Preet Vihar is a well-developed residential locality situated on the intersection of Vikas Marg and Swami Dayanand Marg in East Delhi. The locality is conveniently placed near Patparganj and is in close proximity with the border of Delhi and Ghaziabad.
Preet Vihar is an established residential neighborhood which comprises low-rise apartment complexes, Co-operative Group Housing Societies (CGHS) and builder floors, along with a DDA Market and DDA School.
Preet Vihar is closely surrounded by Patparganj, Mandawali, Dayanada Vihar, Swasthya Vihar, Nirman Vihar and Shakarpur, along with established areas of Mayur Vihar, Laxmi Nagar, Anand Vihar and Kaushambi in proximity.
This upscale locality is famous for its Shiv Mandir, Preet Vihar Metro Station, fancy markets and cafes.
Looking for a home in Preet Vihar? A place that is pleasing, with good connectivity, suitable surroundings, close to schools and hospitals nearby. Here is all the information you require. Read on!
List of top gated communities in Preet Vihar, Delhi
1. Sahaj Apartments, Preet Vihar
Sahaj Apartment is a residential society located in Preet Vihar. It is an elegant and opulent space created to impress prospective residents. This magnanimous and meticulously designed society allows residents to experience luxury and comfort together in a beautiful blend. Additionally, this society is built in compliance with the rules of Vaastu.
Sahaj Apartment comes with various facilities such as power backup, earthquake resistant structure, rainwater harvesting facilities, among many others that makes it an optimum option for a home. It ensures that the standard of living is truly uplifted with no compromise in comfort and privacy for its residents.
Highlights and Amenities in Sahaj Apartments
Type of apartments: 3 BHK
Area per apartment: 1485 sq.ft.
2. Rawal Builders Site 1. Preet Vihar
Rawal Builders Site 1 is a housing project in Preet Vihar. It is conceptualized and executed in such a way so as to provide the most luxurious apartments to the prospective residents. Each apartment is designed to offer privacy, spectacular views and cross ventilation to make sure that one makes the most use of natural light and the fresh breeze.These Vaastu compliant homes have unmatchable and incomparable finesse and elegance.
Rawal Builder Site 1 also enjoys great facilities within and outside the complex because it is situated in close proximity to important public infrastructure like markets/malls, food hubs, schools, hospitals, transportation points, etc.
Highlights and Amenities in Rawal Builders Site 1
Type of apartments: 3 BHK
Area per apartment: 1197 sq.ft
3. Jainco 175 Madhuban, Preet Vihar
Jainco 175 Madhuban is located in Block D of Preet Nagar. It is a smartly designed housing complex that aspires to impress its prospective residents. Apartments in this residential complex truly are a perfect blend of luxury, comfort and an easy modern lifestyle. The highlight of these apartments are how spacious, well ventilated, airy and the ample sunlight they get.
At Jainco 175 Madhuban one gets to experience various amenities such as a landscaped arena, earthquake resistant RCC framed structure, lifts(s), and the best of all is its strategic location. The location is a big plus because it is situated close to necessary infrastructure that makes living here comfortable and very convenient.
Highlights and Amenities in Jainco 175 Madhuban
Type of apartments: 4 BHK
Area per apartment: 2500 sq.ft.
4. C Block Preet Nagar, Preet Vihar
C Block is an important residential neighborhood of Preet Nagar. This locality has some independent houses and builder floors available for sale and rentals. C Block Preet Nagar is a popular residential area owing to its close proximity with important healthcare centers such as Indraprastha Apollo Hospital, Max Super Speciality Hospital, Patparganj, and Yashoda Super Speciality Hospitals Kaushambi. Schools like Sanfort, Mother global school are also situated close to this area.
There are several gated communities in this area that come with facilities such as sport centers, parks, regular water supply, among many others.
Highlights and Amenities in C Block Preet Nagar
Type of apartments: 3 BHK
Area per apartment: 600-1125 sq.ft.
5. Madhuban Enclave, Preet Vihar
Madhuban Enclave is a gated residential society in Preet Vihar. It is an excellently crafted complex with apartments that are made to impress prospective residents. The location of Madhuban Enclave is definitely one of the plus points. It is situated in close proximity to some of the reputed speciality hospitals like Indraprastha Apollo Hospital, and Max Super Speciality Hospital.
Madhuban Enclave has several amenities made available for the convenience of its residents. Some of these amenities are- lift(s), sport facilities, gym, garden, swimming pool, intercom, clubhouse, community hell. 24 hrs water supply, CCTV surveillance, kids play area, song many others.
Highlights and Amenities in Madhuban Enclave
Type of apartments: 3, 4 BHK
Area per apartment: 2550- 2970 sq.ft.
Things to do in Preet Vihar, Delhi
1. Shop for home decor items
If you are in Preet Vihar and looking to shop for home decor items then you need to head to this store. Home 360 situated in Vikas Marg might just be your one stop solution for all furnishing needs. The store itself is lavishly decorated and is the most inviting place. They carry chandeliers, crockery, mirrors, curtains, bed covers, pillow covers, carpets, wooden flooring options, wallpapers, mattresses, little furniture pieces, vases, lamps, showpieces and many others. They also have great products that are ideal for gifting.
2. Satisfy your midnight dessert cravings
There's nothing worse than a midnight snack craving. But worry not! because if you are in Preet Vihar and have a midnight craving for a cold, sweet treat then Classic Ice Cream Parlour has you covered. They have the best ice cream in the locality, in the classic flavors and some very unique flavors, such as Rajbhog, Meetha Paan, etc., too. The best part, however, is the fact that they are open until 1 am. So, go try out some of their ice cream sundaes, ice creakes cakes, fudges, and every other sugary goodness they offer because it doesn't get better than grabbing a scoop at midnight.
3. Enjoy lip smacking food
Preet Vihar is a posh locality and has some really awesome food joints that are a must visit when you are in the area. You could hang out at a cafe, or dine at a multi cuisine restaurant, or go all out in an all you can eat food buffet. The possibilities are truly endless. Some of the best eateries in Preet Vihar are- Berco's, 4th Street Cafe, Salt Cafe Kitchen & Bar, Tesoro Mio, Asia 21, Chinese Hut, The Riding Guns Cafe, Unlimited Food Factory, among so many others.
4. Treat yourself to a spa day
If you have been planning on a day off, some self care and deep healing, then you totally have to visit SILA Ayurveda Spa & Wellness in Preet Vihar. SILA Ayurveda is a health brand associated with veda wellness & hospitalities. It is the first of its kind in India. It is known for purely promoting ayurveda, wellness & lifestyle. Book an appointment, take a day off and get into a zone of healing your mind, body and the soul. The experience there is engaging and completely worth it.
5. Chill at a park
When in Preet Vihar you cannot miss out on the various local parks that are built around the area. If you love a good walk, or a run then these parks serve as the best spot to catch up on your daily run. You could go in to exercise, meditate, play, read, relax, paint, or just catch a breeze and chit chat too. Some of the parks in around this locality are- B – Block Park 2, Preet Vihar Park, Central Park, Krishna Jayanti Park, B – Block Park .
Places to visit in Preet Vihar, Delhi
1. Swaminarayan Akshardham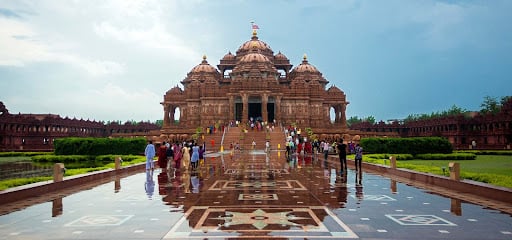 Swaminarayan Akshardham is a Hindu temple, also known as a spiritual-cultural campus, situated near Preet Vihar. The temple complex displays millennia of traditional and modern Hindu culture, spirituality, and architecture. The temple, at the center of the complex, was built according to the Vastu shastra and Pancharatra shastra. There are various exhibition halls which provide information about the life and work of Swaminarayan. Contemporary modes of communication and technology have been adopted to create the various exhibition halls.
2. Gufa Wala Mandir
Gufa Wala Mandir is a popular temple and outing spot in Preet Vihar. Particularly if you are with a kid this place is a must visit. There is a gufa (cave) within the temple complex in the shape of a tiger. It is a unique experience for all, especially kids. The statue of lord hanuman is really huge and impressive. There are other statues around the mandir as well. The temple is well maintained and is totally worth visiting. You can also attend the evening aarti for a wholesome experience.
3. Madhuban Park
Madhuban Park is a huge green space located in the center of this locality. It has Mandawali on its north side, Nirman Vihar on its South, Preet Vihar on its West and Laxmi Nagar on the East. It is a great place for a morning walk. There are two different tracks for walking and running within the park. You get to see a lot of people doing yoga, meditation, exercises, every morning and evening. It also accommodates kids and youngsters playing catch, badminton, cricket,etc.
4. Red Fort or Lal Qila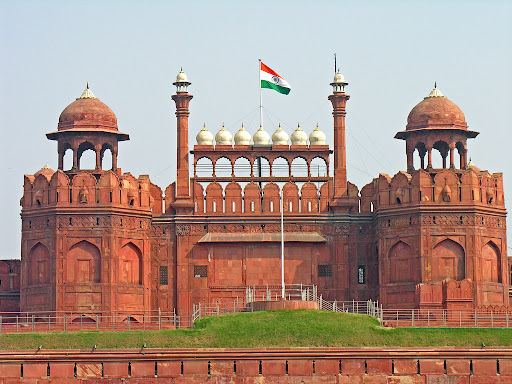 The Red Fort or Lal Qila is one of the most popular historic forts in Old Delhi. It served as the main residence of the Mughal Emperors during the 1600s. The fort represents the peak in Mughal architecture under Shah Jahan, and combines Persianate palace architecture with Indian traditions. Every year on India's Independence Day, the Prime Minister hoists the Indian tricolor flag at the fort's main gate and delivers a nationally broadcast speech from its ramparts.
There is a Museum within the fort and it also has vast gardens for people to take a walk around.
FAQs about Preet Vihar, Delhi
How is Preet Vihar connected to the rest of the city?
Preet Vihar is located right at the intersection of Vikas Marg and Swami Dayanand Marg, and boasts excellent road and metro rail connectivity with other key areas of Delhi, Noida and Ghaziabad.
Which are the metro stations that serve Preet Vihar?
Preet Vihar is served by Preet Vihar Metro Station, which lies on the Blue Line, connecting the locality to Central and West Delhi and parts of Noida. IP Extension Metro Station on the Pink Line is at a distance of 3 kms from the locality.
How far is the nearest railway station and Bus stop from Preet Vihar?
Preet Vihar is located at a distance of 6 kms from Anand Vihar Railway Station and Anand Vihar ISBT.
How far is the closest airport from Preet Vihar?
T1 and T3 terminals of the Indira Gandhi International Airport are at a distance of 22 kms and 27 kms respectively from Preet Vihar.
Which are some of the prominent educational institutions in and around this locality?
Ryan International School Montessori, Mother's Global School, New Oxford Public School, Bal Mandir Sr. Sec. School and Hillwoods Academy School are some of the prominent schools in and around Preet Vihar. The key colleges in this locality are Ambedkar Institute of Technology, K V College and UEI Global.
Which are the renowned hospitals in and around this locality?
LifeLine Hospital, Metro Hospital, Narula Medicare and Kasturba Hospital are the renowned hospitals in and around Preet Vihar.
Which are the malls located in and around this locality?
Preet Vihar is in proximity to several local shopping complexes such as V3S East Center Mall, which also hosts Cinepolis Cinemas, East Delhi Mall, Pacific Mall and Wave Mall.
How is Preet Vihar connected to the important employment hubs of the city?
The closest employment hubs for Preet Vihar include Patparganj and Sahibabad Industrial Area, which are the two employment centers that house several commercial offices and industrial entities. Laxmi Nagar Commercial Complex on Vikas Marg is another key commercial area placed right across the road at a distance of 1 km, hosting offices of various government enterprises, public sector units and private sector firms. Moreover, Preet Vihar shares easy metro accessibility with prominent offices and IT parks across Noida Sectors 57, 59, 60, 62 & 63. The headquarter of CBSE is also located in Preet Vihar.