Rajarhat is a prominent neighborhood situated in the northern part of Kolkata. It is a part of Kolkata Metropolitan Development Authority (KMDA). Situated in the northern outskirts of Kolkata, Rajarhat is a residential hub and is closely surrounded by prime localities of Dum Dum, Baguiati, Keshtopur, New Town, Salt Lake and Lake Town.
Rajarhat is a preferred residential destination for people working in the nearby IT / business parks. Rajarhat is closely connected to major job avenues in Salt Lake Sector V at a distance of 12 kms and New Town Area at a distance of 8 kms. Several key IT and business parks are situated in these job hubs such as DLF IT Park 1 & 2, Unitech Infospace, TCS – Gitanjali Park and Ecospace Business Park. IBM, Capgemini Technology, Cognizant Technology, TCS, Genpact India, Tech Mahindra, Ericsson also operate from these employment hubs
Looking for a home in Rajarhat? A place that is pleasing, with good connectivity, suitable surroundings, close to schools and hospitals nearby. Here is all the information you require. Read on!
List of top gated communities in Rajarhat, Kolkata
1. Urban Vista, Rajarhat
Urban Vista is a residential society in Rajarhat. It offers a blissful living experience amidst vast greenery. Designed to cater to the modern urban lifestyle, this unique society is the epitome of comfort living. Consider living in Urban Vista where the enchanting greens will redefine your senses and experience of home.
Urban Vista is a high-quality yet affordable residential complex. The amenities in this society includes earthquake resistance, large open space, grand entrance lobby, premium branded fittings, lift, park, event space & amphitheater, multipurpose hall, barbeque space, kids play area, among others.
Highlights and Amenities in Urban Vista
Type of apartments: 2, 3 BHK
Area per apartment: 545-831 sq.ft.
2. Merlin Rise, Rajarhat
Merlin Rise located in Rajarhat is planned to offer a modern lifestyle to all the residents. The residential units in the premium Merlin Rise project are reasonably priced. This professionally conceptualized residential society is a sight to sore eyes.
With more than just a swimming pool and gymnasium, Merlin Rose is a premium home. It has a football ground, two clubhouses, jacuzzi, two 25M lap color themed swimming pools, among other basic facilities. Choose the way of fine living with amenities such as lift, banquet hall, park, power backup, CCTV surveillance, waste disposal, visitor parking, water storage, security, reserved parking at Merlin Rise.
Highlights and Amenities in Merlin Rose
Type of apartments: 2, 3 BHK
Area per apartment: 561-812 sq.ft.
3. Rishi Pranaya, Rajarhat
Rishi Pranaya is a residential property located in Rajarhat. It is meticulously planned to cater to all the needs of its residents. Thus allowing you to create a life that is ever-evolving and nurtures your soul. You are sure to enjoy the luxury of living with all modern conveniences in Rishi Pranaya.
Rishi Pranaya comes with top-in-class amenities including lift, cafeteria/food court, 24hr power backup, internet/Wi-Fi connectivity, DTH television facility, banquet hall, jogging and strolling track, earthquake resistant, coffee lounge & restaurants, bank & ATM.
Highlights and Amenities in Rishi Pranaya
Type of apartments: 2, 3 BHK
Area per apartment: 954-1400 sq.ft.
4. Siddha Happyville, Rajarhat
Siddha Happy Ville located in Rajarhat, Kolkata is a well-crafted township. It is a world-class residential society redefining the way of elegant lifestyle. The society comprises ten eye-catching towers. All the apartments designed to be airy & sun lit across all the rooms, thus creating a refreshing home ambiance.
Besides being finished with a classy look, the well-ventilated residential apartments of Siddha HappyVille Rajarhat Chowmatha, Kolkata are also armed with an array of top-notch amenities. Gymnasium, kid's play area, tennis court, banquet hall, yoga deck and swimming pool are some of the impressive amenities of Siddha HappyVille.
Highlights and Amenities in Siddha Happyville
Type of apartments: 2, 3 BHK
Area per apartment: 910-1445 sq.ft.
5. Siddha Galaxia Phase 2, Rajarhat
Siddha Galaxia Phase 2 is a township located in Rajarhat. It is a well-planned residential society. It ensures to cater to the modern needs of all residents. Siddha Galaxia Phase 2 is nothing short of being one of the most attractive residential societies in Rajarhat.
The Siddha Galaxia Phase 2 is equipped with all the necessary modern facilities and amenities, such as premium branded fittings, club house, meditation area, library and business center, kids play area, indoor squash & badminton courts, indoor games room, bank & ATM, earthquake resistance, jogging and strolling track.
Highlights and Amenities in Siddha Galaxia Phase 2
Type of apartments: 2, 3 BHK
Area per apartment: 1010-1385 sq.ft.
Things to do in Rajarhat, Kolkata
1. Shopping and mall hopping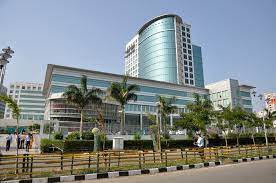 If you are in Rajarhat and in the mood to splurge, just head to one of the many malls. There are various malls you could consider such as- City Center, Axis Mall, or Central Mall. These malls host a number of luxury brands that you can possibly think of. Get food at the food court, maybe catch a movie, or just window shop. Spend the day doing whatever activity you like.
2. Rejuvenate at a spa
If you are having a hectic week at work or just are tired from home making, it is time to reward yourself with a relaxing spa session. Get yourself to Sohum Spa, Novotel Kolkata for a day of rejuvenation. Put on a robe and then soak yourself in the pleasurable palette of oils, essences, and perfumes. Just have a relaxing weekend day that you deserve.
3. Get yourself a hearty meal
No matter where you are in Kolkata, a hearty meal is just a walk away. If you are a foodie and in Rajarhat then you have a number of food places to visit. These are some of them you should try for starters- XII Zodiac, Throttle Shrottle, The Japanese Restaurant and Garden, The Orient, The Steak Factory.
4. Spend your day at a museum
If you are an art lover then this place is definitely for you. Artsacre Museum of Bengal Modern Art is a lovely art gallery conceived and run by the celebrated Bengali artist Shubhaprasanna. The entry fee for the museum is Rs.20. The museum is three stories in total. Works of various Bengali artists are on display for the visitors to see.
5. Immerse in the ultimate amusement park experience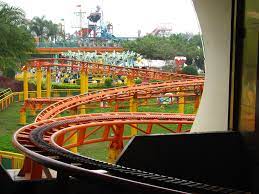 Nicco Park is one of the largest Amusement Parks in the country. It has almost 30 different Rides & Attractions. Wet-O-Wild, Nicco's Water Park has the best quality Water Slides, Wave Pool and other water based facilities. One can purchase or even hire swimming costumes besides hiring the lockers. If you love spending time around thrilling rides and the water parks then go here and have the absolute best time.
Places to visit in Rajarhat, Kolkata
1. Eco Park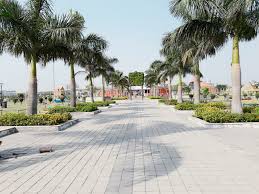 Eco Park is the largest park in Kolkata with a lot of fun stuff to do. Next time you are looking for something to do, head to this place and your day will be sorted. You can play on trampolines, go cycling, boating, get a tour of the entire park on a toy train, maybe a buggy, or just attempt the tour on foot. It has a huge water body on which you can go kayaking, speed boating, and land and water zorbing. Eco Park also lets you try your hands at ice-skating, archery and rifle shooting.The park also has a few cafes and restaurants in the compound for you to grab a quick bite.
2. Mother's Wax Museum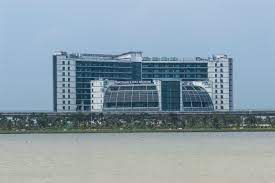 Just opposite Eco Park is The Mothers Wax Museum. It is known as Kolkata's Madame Tussaud's. It has become a popular spot for both- the locals and tourists. Taking pictures next to life-size models of many personalities is definitely fun. You'l find wax statues of freedom fighters like Mahatma Gandhi, Subhas Chandra Bose, Jagdish Chandra Bose, Rabindranath Tagore, Kazi Nazrul Islam, singers such as Manna Dey, Lata Mangeshkar and Kishore Kumar, actors such as Shahrukh khan, Salman Khan, sports legends like Diego Maradona and Sachin Tendulkar, and hugely popular movie characters including the likes of Harry Potter, Jack Sparrow, or the entire Avatar ensemble.
3. Rabindra Tirtha
If you want a glimpse into the works of Rabindrnath Tagore without leaving the city then this is where you should go. Rabindra Tirtha is a cultural center in Narkel Bagan, New Town, dedicated to Rabindranath Tagore. The project has been developed by HIDCO. It houses an exhibition of Tagore's paintings, archives, a research center, an auditorium and dormitories for students opting to conduct their research on Tagore.
4. Nazrul Tirtha
Kolkata and culture are almost synonymous so when you talk about Kolkata, it is impossible to leave out culture. Nazrul Tirtha is one such cultural and educational centre dedicated to poet Kazi Nazrul Islam. It is situated in Action Area 1, New Town.Nazrul Tirtha serves as a cinema hall and open air theater for exhibitions and performances.Since November 2015 this cultural heritage site has become the official venue for the Kolkata International Film Festival.
FAQs about Rajarhat, Kolkata
How far is the nearest airport from Rjarhat?
Netaji Subhash Chandra Bose International Airport is the closest airport situated at a distance of almost 4km from Rajarhat.
How is Rjarhat connected to the rest of the city?
Rjarhat has excellent connectivity via VIP Road, Biswa Bangla Sarani Road and Rajarhat Road.
How far is the closest metro station from Rajarhat?
Rajarhat lacks metro connectivity and the nearest Blue Line metro station of Dum Dum is situated at a distance of 8.5 km. However, the construction of Line 6 or yellow line is underway.
Which are some of the prominent schools and hospitals in Rajarhat?
Some prominent schools and hospitals in Rajarhat are National English School, Calcutta Public School, Mangalam Vidya Niketan, ILS Hospitals, Ohio Hospital and Charnock Hospital.
Which are some of the popular malls and entertainment hubs of Rajarhat?
Popular malls and entertainment hubs of Rajarhat are City Center, Diamond Plaza, Axis Mall, Eco Park, Aquatica Water Park, etc. These places are all situated about 30 minutes away from the locality.