Rabindranath Tagore Nagar which is popularly known as R.T Nagar is a residential area located in the northern part of Bangalore. Rabindranath Tagore's name is used to name the area. Since the construction of Kempegowda International Airport and the vicinity of prestigious neighbourhoods like Sadashivnagar and Dollars Colony, the region has gained a lot of popularity (Sanjay Nagar).
The advantage of being close to the Kempegowda International Airport and surrounding IT parks like the Manyata Embassy Business Park or Manyata Tech Park has helped RT Nagar grow as a residential area. Due to its proximity to other areas of the city and the presence of adjacent IT Parks, rental demand is also very strong. People who work at the surrounding IT companies choose to live close to their place of employment.
Wondering which society your future home might be in, where you can find good food, a school for your kids, or even spaces you could work out in? Read on to find out!
List of top gated communities in RT Nagar, Bangalore
1. MAIA Estates, RT Nagar
With a commitment to serving people with the highest honesty and openness, Maia embodies the principles of real estate development in contemporary India. Apartments with every amenity, including a private balcony and outdoor area, are developed by Maia Estates.
They build venues that improve our ecology by upholding the greatest standards of design, execution, sustainability, and professionalism. The structure, which is designed to radiate luxury, is shaped like a tree and has decks that are staggered at a height of 20 feet. The property, which is covered in 108 trees, is teeming with wildlife, including 4 gigantic rain trees that highlight the gorgeous terrain.
Highlights and Amenities in MAIA Estates
Type of apartments: 4 BHK
Area per apartment: 4750- 5250 sq. ft.
2. HM Tropical Tree, RT Nagar
HM Tropical Tree is a magnificent sculpture combining classical and contemporary architecture made up of 2 towers. HM Tropical Tree is a lovely 1.5-acre estate located in the centre of the city, 20 minutes from MG Road, on the green stretch that is home to some of RT Nagar's best mansions and bungalows, close to commercial areas and other luxuries of daily life.
An exquisite avenue with a canopy of lush green trees lines the route that leads to HM Tropical Tree. You are ushered into a lavishly planted entry courtyard by it. The 21-story HM Tropical Tree towers over this 1.5-acre platform of gardens and tranquil water features.
Highlights and Amenities in HM Tropical Tree
Type of apartments: 3BHK and 4 BHK
Area per apartment: 2150- 3655 sq. ft.
This Victor Harmony apartment is well-presented, with three bedrooms, and three bathrooms, and is remarkable with three great balconies overlooking a gorgeous park and the road. It is conveniently located on the top floor of a three-story building.
A typical granite platform, a stainless steel sink, and a few storage shelves are included in the well-designed kitchen. The entire apartment is modern with all the best electrical fixtures, including lighting and fans, and is furnished with a beautiful display unit. The vitrified tile flooring enhances the beauty and brightness of this apartment.
Highlights and Amenities in Victory Harmony
Types of apartments: 3BHK
Area per apartment: 1116- 1300 sq. ft.
This ready-to-move-in house in Bangalore's Vinayaka Residency is definitely worth taking into account if you're looking for a luxurious home. This east-facing apartment's interiors, exteriors, flooring, and specs were all carefully built to meet the demands of its current residents, making it a worthwhile investment.
This major road-facing flat is well situated on the third and fourth floors with internal stairs and has freehold ownership rights, making it a really profitable investment opportunity. There is an adequate quantity of water available continuously, one lift is available, and there are very few or no power outages in this region.
Highlights and Amenities in Vinayaka Residency
Types of apartments: 4BHK
Area per apartment: 3200 sq. ft.
Things to do in RT Nagar, Bangalore
1. Binge on momos at Wow! Momo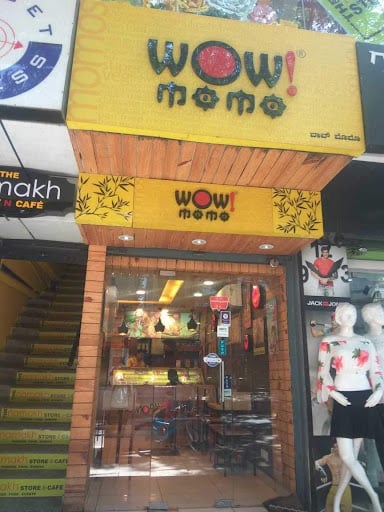 Situated on the 3rd main road of the P&T colony, Wow! Momo is heaven for people who love to have lip-smacking momos. It also specializes in momo-filled burgers and momo-based desserts. They have a wide range of momos and platters to choose from catering to every taste bud. The average cost for two people here would be around INR 500. So next time you crave juicy momos with some fiery red chutney, this is the place you should head to!
2. Taste Arabian food at Rahhams
It is a popular casual dining establishment in Bangalore and a gathering spot for individuals who want to enjoy wonderful cuisine and quality time with their friends and family. Along with the typical North Indian and Chinese food, their menu includes Arabian delicacies like Shawarmas and Grilled Chicken. Large families and couples looking for a cosy private space might choose this location. The atmosphere is calm. Even in the evening on a Saturday, there is no annoying rush. The location is clean and well-kept.
3. Stop by J B Bakery
For all cake and pastry enthusiasts, this is the place to be. In this bakery, customers may choose from a variety of cakes and pastries with distinctive flavours and tastes. One must undoubtedly try their Benne Biscuits, fresh cakes, and puffs given their affordable costs. People surely love this place, thanks to the quick service and budget-friendly options. A must-try bakery if you are in the mood for a quick bite.
4. Taste authentic Punjabi cuisine
All the Punjabi food lovers, need your attention, please! The perfect place for a satisfying Punbaji meal is The Punjabi Rasoi. Punjabi Rasoi serves mouthwatering food with a rich texture and at reasonable costs by adding small variations and innovation to the meals. There, one may gobble up regional specialities like Nagada Paneer, Bhindi Masala, Veg Biryani, Nargisi Tikka, and Chicken Chaat. Additionally, their buffet method is advantageous for the wallet and the stomach.
5. Go blindfold at Blindfold
You will be wearing a blindfold the entire time you eat at the restaurant Blindfold in RT Nagar. Blindfold, a restaurant that has been open for approximately six months, aims to engage all of our senses—aside from sight—during the eating experience. You'll be eating while wearing a blindfold while you're here, allowing your other four senses to take over. Additionally, before you begin with the meal, there will be a few games that will get you using your nose, mouth, hands, and ears to get warmed up.
Places to explore in RT Nagar, Bangalore
1. Going Out Of Business
Going Out Of A Business, a little shop on the congested Dinnur Main Road close to RT Nagar specialises in exporting surplus garments. The shop caters mostly to guys; you can get everything from semi-formal, flowery shirts to sharp, monochrome shirts for business and even casual tees from brands like Allen Solly, Massimo Dutti, Zara, and others. We also saw Levi Strauss jeans, which start at around INR 600. The store has a significant selection of athletic clothing, including sippers, workout trousers, and Puma shoes.
2. BAM Dance Company
Love to move to hip-hop music? Then you should be at BAM Dance Company. Along with having talented dancers, BAM Dance Company also has excellent teachers that teach all the foundations in accordance with each student's aptitude. The teachers there are also choreographers, making them personable and willing to assist anybody interested in learning the hip-hop dance form.
3. Visvesvaraya Park
This park is a lush green place to be with your closed ones. It's a fantastic location to spend the evening with someone. Many eateries are close by. A good, well-kept park with lots of vegetation and a pleasant walking path. Even children may enjoy the park's children's play area and the surrounding vegetation. The park is actually a museum too. It encourages you to touch and see the working of the particular model. This park is purely science-based and suitable for ages above 6.
FAQs about RT Nagar, Bangalore
What is the distance from RT Nagar to the Airport?
The travel distance or driving distance between RT Nagar and Bangalore Airport is 26.1 kilometers.
What is the nearest bus station to RT Nagar?
The Bangalore Cantonment station is the nearest one to RT Nagar.
Is there any metro station in RT Nagar?
No, the nearest metro station to RT Nagar is Cubbon Park metro station which is at a distance of 3 km.
Is RT Nagar a posh area?
RT Nagar is emerging as one of the posh areas of Bangalore with connectivity to all facilities nearby.
What are the best hospitals in RT Nagar?
The best hospitals in RT Nagar are Bangalore Baptist Hospital, Poornima Hospital, Manipal Hospital, Mamta Hospital, and Columbia Asia Hospital Hebbal.
What are the best schools in RT Nagar?
The best schools in RT Nagar are Florence Public School, Shemrock Jolly Juniors Play School, Daffodils English School, Gem English High School, GRV Public School, and Vatican High School.