Salt Lake or BidhanNagar is one of the planned satellite towns of Kolkata. It is also the main IT hub of the city. It falls under the jurisdiction of BidhanNagar Municipal Corporation in North 24 Parganas. The area is divided into sectors from I to V, which are further subdivided into various blocks. It is a well-developed locality in the north-eastern part of the city.
Salt Lake is surrounded by other known areas of Kestopur, Lake Town, South Dum Dum, Baguiati and Ultadanga. It mostly comprises horizontal developments in the form of independent houses and low-rise apartment complexes.
Looking for a home in Salt Lake? A place that is pleasing, with good connectivity, suitable surroundings, close to schools and hospitals nearby. Here is all the information you require. Read on!
List of top gated communities in Salt Lake, Kolkata
1. Ideal Aquaview, Salt Lake
Ideal Aquaview is a magnificent residential society located in Salt Lake City, Kolkata. It is a well-planned society with all the necessary facilities in place. This property is a part of an integrated township which spreads over an area of 9 Acre. It is very well maintained and clean in terms of the surroundings.
The Ideal Aquaview is equipped with all the modern facilities and amenities necessary to lead a comfortable lifestyle. Amenities such as power backup, banquet hall, jogging and strolling track, outdoor tennis courts, flower gardens, guest accommodation, kids play area, library and business center, meditation area, multipurpose courts, are all made available for the convenience of its residents.
Highlights and Amenities in Ideal Aquaview
Type of apartments: 2, 3, 4 BHK
Area per apartment: 1050-1950 sq.ft.
2. Karunamoyee Housing Society, Salt Lake
Karunamoyee Housing Society is a well-planned residential project located in Salt Lake City. It is a large scale housing society built in optimum quality. The highlight of this society is its proximity to major public infrastructures such as Malls, Educational institutes and hospitals. It is also situated close to major consulting and IT companies of Salt Lake that form the economic backbone of Kolkata.
At Karunamoyee Housing Society you get to enjoy basic amenities such as club house, security, maintenance staff, kids club, that are kept in place to provide comfort and convenience t its prospective residents.
Highlights and Amenities in Karunamoyee Housing Society
Type of apartments: 2, 3 BHK
Area per apartment: 680-1100 sq.ft.
3. Sourav Abasan, Salt Lake
Sourav Abasan is one of the most aesthetically pleasing residential societies situated in Salt Lake City. It is a comparatively smaller property and covers an area of 1 Acre. The place is designed to provide comfort and is enclosed within a peaceful environment. Sourav Abasan offers residential apartments that are a great value for money. Especially because the apartments are rather affordable.
This society comes with all the important amenities and facilities required for an easy modern lifestyle, such as lift, reserved parking, security, visitor parking, maintenance staff, flower gardens, power backup, waste disposal, jogging and strolling track, among others.
Highlights and Amenities in Sourav Abasan
Type of apartments: 2, 3 BHK
Area per apartment: 892-1100 sq.ft.
4. Sun Helious Mansion, Salt Lake
Sun Helious Mansion is an excellent residential society in Salt Lake. It is a magnificent abode that is well planned and comes with all the modern amenities and equipment necessary for a comfortable and easy lifestyle. Apartments in Sun Helious Mansion, just as the name suggests, are bright and receive a lot of sunlight during the day. It is also well ventilated and airy.
Sun Helious Mansion comes with amenities such as 24 hrs water supply, 24 hrs power backup, CCTV surveillance, covered car parking, indoor games, landscaped garden, lift, party area, rain water harvesting and security personnel, to provide a convenient space for home to its prospective residents.
Highlights and Amenities in Sun Helious Mansion
Type of apartments: 1, 2, 3 BHK
Area per apartment: 464-1458 sq.ft.
5. GPS Meena Avalon
GPS Meena Avalon is a residential society located in Salt Lake City. This property has plenty of benefits that make it an excellent choice for a home. Amenities such as prime location, lavish lifestyle, great amenities, healthy surroundings, make it all the more appealing and impressive.
The interiors are equally beautiful because it is crafted with designer tiled floor, granite counters, modern sanitary fittings and huge windows for proper sunlight.
Amenities such as landscaped garden, earthquake resistant, CCTV surveillance, gymnasium, play area, lift, club house, car parking, fire safety, jogging track, 24 hr power backup, drainage and sewage treatment, table tennis, security and 24 hr water supply are all made available at GPS Meena Avalon. Apart from that, suitable security devices are installed to ensure safety to the residents 24*7.
Highlights and Amenities in GPS Meena Avalon
Type of apartments: 2, 3 BHK
Area per apartment: 902-1387 sq.ft.
Things to do in Salt Lake, Kolkata
1. Dine at the best multicuisine restaurants
Salt Lake is one of the high end localities of Kolkata and so naturally it also has some great restaurants in and around the area. 6 Ballygunge Place in Sector 1 is Kolkata's most cherished authentic Bengali food restaurant. You get to dine at a heritage bungalow that's over a century old and surrounded by walls adorned with pictures of old Calcutta. Another restaurant to visit when in Salt Lake is Oudh 1590. This place has an old-world charm and serves some of the city's finest Mughlai food.
2. Go shopping and mall hopping
Salt Lake is one of Kolkata's best shopping destinations when looking beyond the city's vibrant market scene. City Centre Mall is located in Salt Lake and so is AMP Vaisakkhi Mall. Both of these malls have many retail stores for a quality shopping experience. You could also grab delicious food at the food court and other eateries. Catch a movie at the cinema, play games at an arcade, or just window shop while hanging out with your friends.
3. Enjoy party going
Some of the city's hottest new bars and nightlife venues are housed in this locality. Come weekend, it is only natural that you would want to wrap your day up with some drinks and good music. Raize the Bar has its own microbrewery that offers four different varieties of craft beer. It is an excellent option for a fun evening with its dance floor and live music. You can also catch live sports screenings and hang with an energetic crowd. Other fantastic pubs to check out are 10 Downing Street and Bakstage for assured excellence in music, food, and drinks.
4. Escape into the virtual reality
If you are bored and want to escape into the virtual realm then there's nothing better than VIREL. VIREL or virtual reality entertainment and leisure gaming cafe in Salt Lake will make sure you experience the adventures of the closest possible reality with zombies, space monsters and even army expeditions with their head-mounted display and special effects. This might just become your new favorite place to hangout with your squad and get into the new-age adventure.
5. Go bowling
If you enjoy bowling then Nicco Super Bowl is the place to be at. It is a fun place to bowl and hangout with friends. Nicco Super Bowl is probably also the only bowling alley in Kolkata that still holds proper bowling tournaments and championship matches. It is a place that is great for beginners and professionals alike. Weekends are usually very crowded here.
Places to visit in Salt Lake, Kolkata
1. Central Park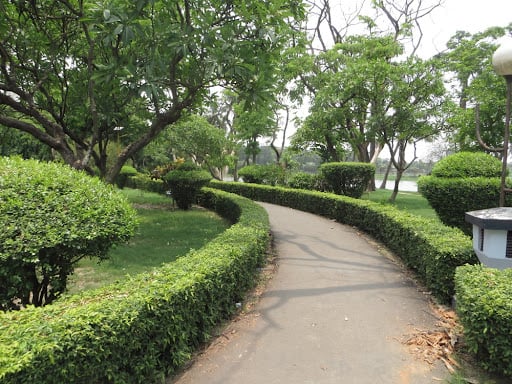 Central Park situated in Salt Lake is a beautiful green space. This park has a forest-like trail, which would be almost impossible to find elsewhere. It is a calming space suited for a walk. A scenic sunrise is something to look out for when strolling about. There is a facility for boating because the park is built around a large lake. Central Park boasts of endless vast green lawns and rich flora and fauna. It is home to a variety of aquatic birds such as egrets and lesser whistling ducks. It is also home to several themed gardens, from a colorful butterfly garden to a well-maintained rose garden.
2. Salt Lake Stadium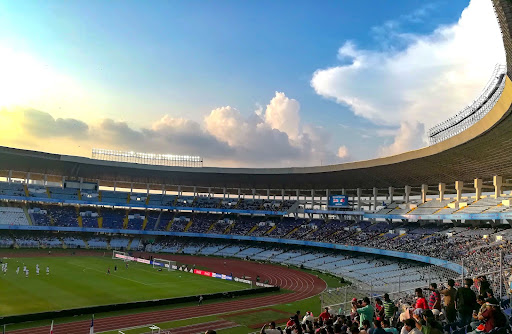 Salt Lake Stadium, officially known as Vivekananda Yuba Bharati Krirangan (VYBK), is a multipurpose stadium in Salt Lake, Bidhannagar area. With a current capacity of 85,000. It is the second largest stadium in India by seating capacity. Nothing beats watching a football match here. The crowd, the hooting, the snacking, everything is beyond anything you might have experienced.
3. Nicco Park
Nicco Park is one of the largest Amusement Parks in the country. It has almost 30 different Rides & Attractions. Wet-O-Wild, Nicco's Water Park has the best quality Water Slides, Wave Pool and other water based facilities. One can purchase or even hire swimming costumes besides hiring the lockers. If you love spending time around thrilling rides and the water parks then go here and have the absolute best time.
4. Eco Park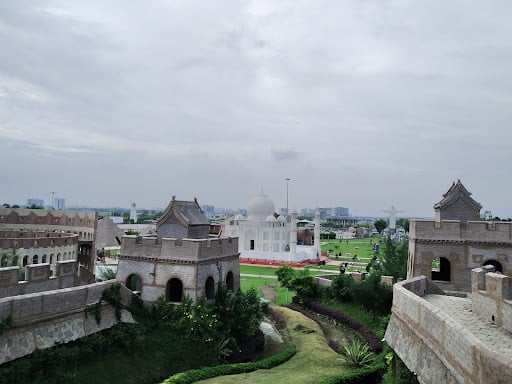 Eco Park is the largest park in Kolkata with a lot of fun stuff to do. Next time you are looking for something to do, head to this place and your day will be sorted. You can play on trampolines, go cycling, boating, get a tour of the entire park on a toy train, maybe a buggy, or just attempt the tour on foot. It has a huge water body on which you can go kayaking, speed boating, and land and water zorbing. Eco Park also lets you try your hands at ice-skating, archery and rifle shooting.The park also has a few cafes and restaurants in the compound for you to grab a quick bite.
5. Mother's Wax Museum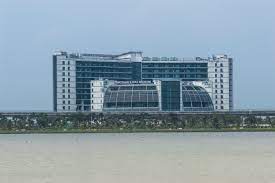 Just opposite Eco Park is The Mothers Wax Museum. It is known as Kolkata's Madame Tussaud's. It has become a popular spot for both- the locals and tourists. Taking pictures next to life-size models of many personalities is definitely fun. You'l find wax statues of freedom fighters like Mahatma Gandhi, Subhas Chandra Bose, Jagdish Chandra Bose, Rabindranath Tagore, Kazi Nazrul Islam, singers such as Manna Dey, Lata Mangeshkar and Kishore Kumar, actors such as Shahrukh khan, Salman Khan, sports legends like Diego Maradona and Sachin Tendulkar, and hugely popular movie characters including the likes of Harry Potter, Jack Sparrow, or the entire Avatar ensemble.
FAQs about Salt Lake, Kolkata
How is Salt Lake connected to the rest of the city?
Salt Lake enjoys excellent connectivity. It is connected via a network of roadways and railways. EM Bypass and NH-34 connect it with other prominent localities of the city. Several private and public buses run through the region offering extensive connectivity.
Which is the nearest railway station from Salt Lake?
Bidhan Nagar railway station is the closest local railway station from Salt Lake. It connects the locality with Sealdah Railway Service.
How far is the airport from Salt Lake?
Dumdum International Airport is located at a distance of 11 km from Salt Lake via Panchpota Road.
Which are some of the prominent schools in and around this locality?
Salt Lake School, IEM Public School, Delhi Public School, and The Newtown School are some of the prominent schools in and around Salt Lake.
Which are some of the established hospitals in and around this locality?
ILS Hospital, Columbia Asia Hospital, and AMRI Hospital are some of the established hospitals in and around Salt Lake.
Which are the go to market places and malls in and around this locality?
Downtown Mall, City Centre and Mani Square Mall are the prime malls located close to Salt lake. There are several smaller local markets in and around this locality.
How is Salt Lake connected to the other important employment hubs of the city?
Salt Lake Sector V and its adjacent New Town area, both are the renowned employment hubs of Kolkata. These areas host several IT / business parks such as P.S. Srijan Techpark, TCS Gitobitan, Wipro Campus, DLF IT Park 1 & 2, Unitech Infospace and Ecospace Business Park. Many IT majors are present here including IBM, Capgemini Technology, Cognizant Technology, TCS, Genpact India, Tech Mahindra and Ericsson.