Sanjay Nagar, a popular neighbourhood in North Bengaluru, is close to NH7, which links to the airport. This is also one of Bengaluru's most in-demand areas for residential purposes. Major employment centres like Rajajinagar IT Park and Manyata Tech Park are connected to this area and it offers good connectivity options through NH7 and is located quite near to the isro headquarters. In order to improve connectivity to other significant parts of Bengaluru city, this area is intended to be included in the phase iii plan of the metro line carmelaram-yelahanka.
List of top gated communities in Sanjay Nagar, Bangalore
A residential project spread over 9 Acres , it offers ample amounts of facilities for residents.
Some of these facilities include Gymnasium, RO Water System, and Power Backup. Children have access to Children's Play Area, School, nearby apart from Swimming Pool, Sports Area, Recreation Facilities. Ample provision for sports avenues such as Tennis Court, Squash Court, Wall Climbing, Badminton Court, Cycling & Jogging Track.
Highlights and Amenities in Vista Auburn
Type of apartments: 3BHK, 3.5BHK, 4BHK
Area per apartment:1950 – 3381 sq.ft..
No of flats: 373
Looking to move into a popular society to live in? Pebble Bay Apartments is considered one of the best around R.M.V. 2nd Stage in Bangalore.
You get ample & dedicated bike parking facility with this home. Apart from that, you get all the amenities like a fully loaded gym, a swimming pool to relax in, a play zone for children etc. Additionally, proximity to good schools, theatres, malls and hospitals makes it a great place to live in.
Highlights and Amenities in Embassy Habitat
Type of apartments: 2BHK, 3 BHK and 4BHK
Area per apartment: 1100 sq. ft. – 3400 sq. ft.
No of flats: 351
3. Zenith Residences, Nagawara, Sanjay Nagar
Karle Infra is famous for their well-planned societies like Zenith Residences – Karle Town Centre in Bangalore. If you have always wanted to be part of a vibrant and well managed society, this is the best option for you.
In addition to all the basic facilities like lift, power backup, rain water harvesting, it also has a fully functioning gym and a huge swimming pool.
Highlights and Amenities in Meenakshi Pride
Type of apartments: 3BHK, 4BHK
Area per apartment: 2388 – 6297 sq ft.
No of flats: 406
4. L&T Raintree Boulevard, Hebbal, Near Sanjay Nagar
Looking to enjoy an international lifestyle? SNR Mayfair is here for you! Whether you want a school for your kid, college perhaps, want to go shopping to malls, want to spend your evening in the dreamy lights of cafes, and restaurants, want to have healthcare centres close by – SNR Mayfair is strategically located close to them all.
Apart from this, the conveniences at SNR Mayfair include power backup, lift, gym, an indoor games room, a multipurpose hall, swimming pool, and a play area.
Highlights and Amenities in SNR Mayfair
Type of apartments: 3BHK, 4BHK
Area per apartment: 1355 – 2765 sq ft.
No of flats: 1075
Things to do in Sanjay Nagar, Bangalore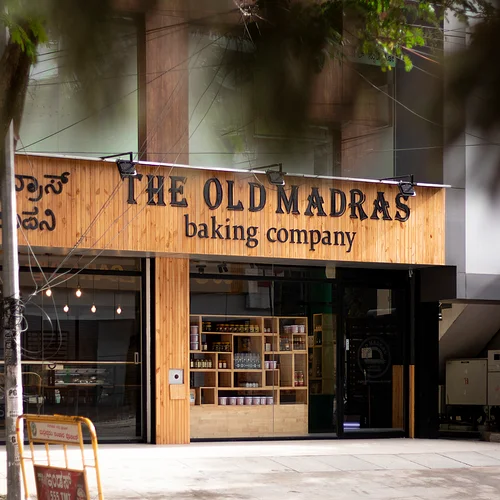 1. Go traditional at Mann Ethnic Wear
A terrific place to locate an extensive selection of high-quality ethnic clothing. Mann Ethnic Wear on New BEL Road is the store where you may get fantastic additions to your wardrobe, whether it's for a wedding, a particular occasion, or just a need to flaunt your amazing self. The expert staff is available to help you make the right decision if you're unsure of what best fits your style.
2. Taste Chennai at The Old Madras Baking Company
The setting of this bakehouse has the same warm, cosy, wooden, and slightly industrial aesthetic as the one in Chennai. Community-style tables offer a chance to start up a conversation with friends or complete strangers. When it comes to baked goods, you must try their famous coconut buns, which are modelled after the bakeries in Kodaikanal. We attest to the flaky, buttery croissants, the custard danish, and the variety of puffs that truly transport you back to the days when puffs were THE tea-time treat.
3. Quench your cravings for North Indian food
This restaurant has put an end to finding a restaurant that serves authentic North Indian dishes along with scrumptious Chinese cuisine, that serves as a treat for people in the vicinity. It has a casual dining experience accompanied by a humble and decent staff and all of it, at a very reasonable price. Do try their Chicken Grill, Shawarma and Tandoori Chicken.
4. Kick it off at the Banana Kick
A football fan's dream comes true at Sanjaynagar's The Banana Kick. It is not simply a football field, but also a football coaching facility, with 8000 square feet of 7-a-side DOMO grass turf.
The arena is open from 6 am till 10:30 pm. Additionally, they have an on-site cafe that offers healthy food alternatives and continental cuisine. The cafe is open from 8 am till 10:30 pm.
Places to visit in Sanjay Nagar, Bangalore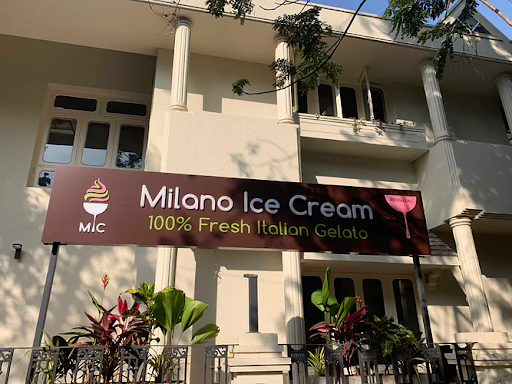 1. Milano Ice Cream
If you are an ice cream lover, Milano is a must visit for you! Ice cream aficionados should be happy that Milano has arrived at New BEL Road. This beautiful cottage, situated on the busy 80-foot road of RMV Second Stage, is currently providing us with delectable organic gelato. If you've tasted authentic Italian gelato, you'll know that the ice cream from Milan comes quite close. Since they are organic, they are not overly sweet.
Milano offers a wide variety of unusual flavours in addition to ice cream. Ice cream cakes and sandwiches are also available.
2. Amerikhani Burgers
If burgers are your jam, you definitely need to drop by at the Amerikhani Burgers! They have tried to bring the American flavours to your city and it can be said that they have come pretty close. That's not all! They have not shied away from experimenting with their food either; their colour buns, their fanta chicken wings and Amerikhani fries will blow your mind.
FAQs about Sanjay Nagar, Bangalore
How far is Sanjay Nagar from the City Centre?
The distance between Bangalore City Station and Sanjay Nagar is around 8 kilometres.
What is the distance from Sanjay Nagar to Airport?
The travel distance or driving distance between Sanjay Nagar and Bangalore Airport is approximately 27 kilometres.
What is the nearest bus station from Sanjay Nagar?
Sanjay Nagar bus stop and RMS Sanjaynagara bus stop are two of the primary bus stops in Sanjay Nagar.
Is there any metro station in Sanjay Nagar?
Yeshwantpur Metro Station is the closest metro station to Sanjay Nagar and can be reached through the Green Line.
What is best place in Sanjay Nagar to hangout on weekends
Commercial Street, which is one of the hottest spots in Bangalore for street shopping and street food, which makes it one of the coolest places to hang around with friends and explore new places.
How to reach Sanjay Nagar from Bangalore airport?
The quickest way to get from Bengaluru Airport (BLR) to Sanjay Nagar is to taxi which costs ₹1,000 – ₹1,500 and takes 34 min. The cheapest way to get from Bengaluru Airport (BLR) to Sanjay Nagar is by bus which costs ₹270 – ₹350 and takes around 2 hr 30 mins.
What are the best hospitals in Sanjay Nagar?
Aster CMI, Manipal Hospital, CloudNine Hospital, and Shirdi Sai are some of the top hospitals in Sanjay Nagar.
What are the best schools in Sanjay Nagar?
Best schools in Sanjay Nagar are Shiksha Sagar School, Chiranta English School, Pavitra Vidyaniketan High School, Daffodils Foundation For Learning, Shanti Niketan School, Florence High School.
Which are the parks in Sanjay Nagar?
Bruno Park, MS Ramaiah Park, Sri Siddivinayaka Layout Udyanavana, Judicial Layout Park, Pda Money Park are some of the top parks in Sanjay Nagar.
What are the best gyms in Sanjay Nagar?
Power World Gyms, Xtreme Fitness, Reforma Fitness, Chisel Fitness Centre, Physique, Armstrong Fitness, National Corps Fitness (ncf), Budocore, Trotz Fitness, Beyond Fitness are the top gyms in the Sanjay Nagar area.
What are the police stations in Sanjay Nagar?
Sanjay Nagar Police Station: 2HMG+88J, Sanjay Nagar Main Rd, CIL Layout A Block, Judicial Colony, Raj Mahal Vilas 2nd Stage, Sanjayanagara, Bengaluru, Karnataka 560094
Ph.: 080 2294 2533.