Shivajinagar is a bustling, central neighbourhood built around the Russell Market of the 1920s. While old-fashioned tea shops and nightly street food stalls fill the adjacent area outside, sellers inside sell flowers, fruit, and meat. Commercial Street, which is nearby, is lined with shops that sell clothing, trinkets, and fabric.
Planning to move to Shivaji Nagar or just thinking about paying a visit to this area with your friends? We think we can help.
List of top gated communities in Shivaji Nagar, Bangalore
1. Vista Auburn, Haines Road, Shivaji Nagar
Looking for an urban, affluent lifestyle? Look no further. Purva Vantage in Sector 2 of Shivaji Nagar is the perfect place for you.
Apart from being a vibrant and well-managed society, Vista Auburn includes a park, a swimming pool, lift, gym, power backup, and a parking space.
It is well positioned too! Be it healthcare, schools, theatres or cafes, you'd have it all.
Highlights and Amenities in Vista Auburn
Type of apartments: 2BHK and 3BHK
Area per apartment: 780 – 1420 sq.ft. (2 BHK) 1690 – 1880 sq.ft. (3 BHK) sq ft.
No of flats: NA
2. Embassy Habitat, Shivaji Nagar
Embassy Habitat is an ultimate reflection of the urban chic lifestyle located in Palace Road, Bangalore.
Located at Palace Road in Bangalore, Embassy Habitat is inspiring in design, stirring in luxury and enveloped by verdant surroundings. Embassy Habitat is within walking distance of many famous schools, hospitals, shopping destinations, tech parks and every civic amenity required, so that you spend less time on the road and more at home.
Highlights and Amenities in Embassy Habitat
Type of apartments: 2BHK, 3 BHK and 4BHK
Area per apartment: 1100 sq. ft. – 3400 sq. ft.
No of flats: 351
3. Meenakshi Pride, Shivaji Nagar
Swarna Meenakshi Prides is unquestionably appropriate for those in the IT industry. due to the fact that it is located close to ITPL, which is around 18 km from the City Centre. It is simple to get to Whitefield Railways Station, Kadugodi Bus Stand Depot, and Hoskote Junction. Nearby is the Old Madras Road.
Highlights and Amenities in Meenakshi Pride
Type of apartments: 2 BHK and 3BHK
Area per apartment: 1200 – 1720 sq ft.
No of flats: NA
4. Purva Carnation, Cox Town, Near Shivaji Nagar
Looking to enjoy an international lifestyle? SNR Mayfair is here for you! Whether you want a school for your kid, college perhaps, want to go shopping to malls, want to spend your evening in the dreamy lights of cafes, and restaurants, want to have healthcare centres close by – SNR Mayfair is strategically located close to them all.
Apart from this, the conveniences at SNR Mayfair include power backup, lift, gym, an indoor games room, a multipurpose hall, swimming pool, and a play area.
Highlights and Amenities in SNR Mayfair
Type of apartments: 3 BHK.
Area per apartment: 2050 – 2500 sq ft.
No of flats: 43
5. Thipu Residency, Shivaji Nagar
The well-planned property Thipu Residency is conveniently located in Halasuru, Bangalore. The land is a part of a township that spans 1 Acre and is integrated.
With features like Power Back Up, Banquet Hall, RO Water System, Internet/Wi-Fi Connectivity, Intercom Facility, Visitor Parking, Air Conditioned, Service/Goods Lift, Vaastu Compliant, Private Terrace/Garden, and Visitor Parking, Thipu Residency offers you the best in contemporary living.
Highlights and Amenities in Salarpuria Serenity
Type of apartments: 2, 3 BHK.
Area per apartment: 1342 – 1760 sq ft.
No of flats: 20
Things to do in Shivaji Nagar, Bangalore
1. Go street shopping on Commercial Street
Everyone who has lived in Bangalore for more than six months has visited Commercial Street at least once. It is one of the city's busiest and oldest shopping streets. You can find shops in every imaginable category, including clothing, home decor, stationery, jewellery, homeware, and furniture, among other things, from the simplest trinkets to the trendiest outfits to find great clothes at cheaper prices in shops that serve the local student community.
2. Relive a part of history at Quiro City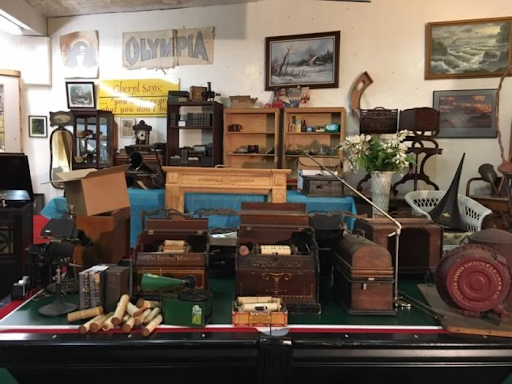 Qurio City, founded in 2006 by SV Ramachandran, is a haven for anyone who enjoys antiquities and history. Ramachandran, who previously served in the Indian Air Force, entered the antiquities industry because it allowed him to daily relive his boyhood. Do not be discouraged by the tiny store on Kamaraj Road. Ramachandran has stored up his goods in godowns and even at his house in the alleyways behind the shop.
Shop for silk sarees in Badshah Stores
One of the oldest stores in Shivaji Nagar, Badshah store's biggest feature is that you may find a lehenga that fits your budget here. Intricately embroidered lehengas that can be worn for festivals and even shaadis were displayed when we asked for a selection that would cost between INR 3,500 and INR 4,000. If you're having trouble choosing a lehenga, have a look at Badsha's beautiful selection of cholis, which are available in sizes 42 and higher.
3. Check out men's apparels at Prestige House for Men
Prestige House for Men started tailoring and selling men's clothing and fabric in 1956 in a 600 square foot shop on one floor at 165 Commercial Street, the centre of Bangalore's apparel retailing. This is when Prestige Fashions Pvt. Ltd. was founded. Their goal is to provide a one-stop store for men, and they succeed in doing just that. If you're looking to purchase men's clothing, here is the location to go.
Places to visit in Shivaji Nagar, Bangalore
1. Sri Muthyalamma Devi Temple
Situated at Cello Platina, Near, 24, Muthyalamma, Anjaneya Temple Street, Seppings Road, Shivaji Nagar, Sri Muthyalamma Devi Temple is one of the most visited temples by the locals. Dedicated to Sri Muthyalamma Devi, who is said to be an avatar of Durga/Kali mata, this is one of the major temples in Shivaji Nagar and people come to visit it from afar in the Ashada month. There is a growing belief that if you worship here for anything and promise to come back and pray, your desires will be fulfilled.
2. St. Mary's Basilica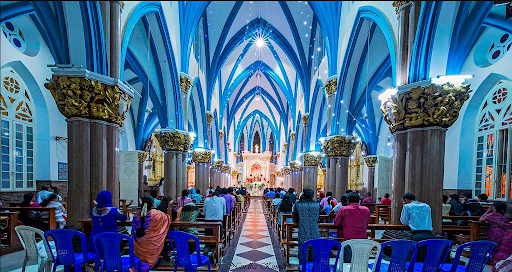 The Archdiocese of Bangalore in the Indian state of Karnataka is home to St. Mary's Basilica. It is one of the oldest churches in Bangalore and the first one in the state to be given minor basilica status. It is well-known for celebrations that take place during the St. Mary's Feast in September of every year, drawing people from all over Bangalore.
3. Jauhar, Commercial Street
For brides and grooms to be all over the city, more than a century-old boutique Jauhar is a wedding attire paradise. Jauhar, which is situated over two floors and across from Westside on Kamaraj Road, is a prominent building. As soon as you enter the store, you'll notice a display of shimmering lehengas in mint green and blush pink. These are ideal for your sangeet or your glamorous engagement. You can choose from floor-length dresses with flowing skirts and anarkalis with flowery hand work within the store.
4. Sri Pydal Novelty
You can find everything you need for wardrobe accoutrements and accessories at Sri Pydal Novelty. Sri Pydal Novelty has specialised in various types of embellishments that can spruce up a boring garment in no time. The shop keeps an abundance of lace in stock, ranging in price from INR 100 for a bundle to ones with heavy beading and everything in between. They also include borders that feature beadwork, sequins, zari, delicate stitching, and mirror work. Simply put these on a saree, salwar, or dress (if you want to add an ethnic touch), and you'll have a stunning ensemble to wear.
FAQs about Shivaji Nagar, Bangalore
How far is Shivaji Nagar from the City Centre?
The distance between Bangalore City Station and Shivaji Nagar is around 2 kilometres.
What is the distance from Shivaji Nagar to Airport?
The travel distance or driving distance between Shivaji Nagar and Bangalore Airport is approximately 31 kilometres.
What is the nearest bus station from Shivaji Nagar?
Shivaji Nagar bus stop and M G bus stop are two of the primary bus stops in Shivaji Nagar.
Is there any metro station in Shivaji Nagar?
Cubbon Park is the closest metro station to Shivaji Nagar and can be reached through the Purple Line.
What is the best place in Shivaji Nagar to hangout on weekends?
Commercial Street, which is one of the hottest spots in Bangalore for street shopping and street food, which makes it one of the coolest places to hang around with friends and explore new places.
How to reach Shivaji Nagar from Bangalore airport?
The quickest way to get from Bengaluru Airport (BLR) to Shivaji Nagar is to taxi which costs ₹1,200 – ₹1,500 and takes 45 min. The cheapest way to get from Bengaluru Airport (BLR) to Shivaji Nagar is by bus which costs ₹290 – ₹400 and takes a little over 3 hours.
What are the best hospitals in Shivaji Nagar?
Vyedehi Super Speciality, Fortis, Manipal North Side, Apollo Spectra, Aster CMI, Bangalore Baptist and Bhagwan Mahaveer Jain are some of the top hospitals in Shivaji Nagar.
What are the best schools in Shivaji Nagar?
Best schools in Shivaji Nagar are St. Xaviers Boys High Scool, Tunbridge High School, Colonel Hill High School, St. Mary's Public School, Army Public School, BKS High School.
Which are the parks in Shivaji Nagar?
Apart from Cubbon Park, which is arguably the most renowned park and most frequented park in all of Bangalore, Shivaji Nagar has some other parks as well like Century Plaza, Cariappa Memorial Park and Mahatma Gandhi Park.
What are the best gyms in Shivaji Nagar?
If you're fitness freak you can visit Madbody Fitness Studio, IGNITE, Breakthrough Studio, Vivs Gym, Athena Gym and Fitness, Energy Fitness, Fitcircle 360, Sunrise Fitness, Silver Gym, and Leon Maestro De Fitness.
What are the police stations in Shivaji Nagar?
SHIVAJINAGAR POLICE STATION.
[email protected].
Ph: 0251-2709000.