Located on the Ring Road and surrounded by lush greens, South Extension 1 is adjacent to South Extension 2 and consists of the most beautiful bungalows that are grand enough to live a resort-like lifestyle.
South Extension 1 is a prime residential cum commercial locality which is located in the southern part of Delhi along the Ring Road, Bheeshma Pitamah Marg and Barahpulla Marg. It is divided into multiple blocks and surrounded by Kotla Mubarakpur, Sewa Nagar, INA Colony, East Kidwai Nagar, Defense Colony and South Extension 2.
The famous mughal monument Kale Khan ka Makbara is located in South Extension 1. The locality has multiple parks which give a healthy environment and pleasant ambience to the residents. The residential development consists mostly of builder floors developed by either private developers or Delhi Development Authority (DDA).
Looking for a home in South Extension? A place that is pleasing, with good connectivity, suitable surroundings, close to schools and hospitals nearby. Here is all the information you require. Read on!
List of top gated communities in South Extension, Delhi
1. RWA South Extension 2, South Extension
RWA South Extension 2 is a housing society situated in the South Extension 2. It is a well planned society made to impress prospective residents. The apartments in RWA South Extension 2 are crafted to be comfortable and elegant. The flats are spacious, well ventilated, with big windows that allow it to be airy and let ample sunlight in.
The apartments in this residential complex are equipped with facilities that make for a comfortable lifestyle with utmost convenience. Moreover, this housing society is situated close to various necessary public infrastructure such as the market place, eateries, schools, hospitals, transport points, etc.
Highlights and Amenities in RWA South Extension 2
Type of apartments: 2, 3, 4 BHK
Area per apartment: 1800-4000 sq.ft.
2. DDA Shalimar Apartment, South Extension
Shalimar Apartments is located in South Extension 2. This apartment complex is built over a vast area of 1 Acre that is well maintained, clean and safe. DDA Shalimar Apartment is an affluent society that offers beautiful houses along with a community that is friendly and helpful. This place makes for an easy lifestyle with abundant comfort.
Shalimar Apartment has made available necessary amenities such as lift, kids play area, flower gardens, jogging and strolling track, DTH television facility, laundry service, waste disposal, maintenance staff, visitor parking, water storage, etc for the comfort and convenience of its prospective residents.
Highlights and Amenities in DDA Shalimar Apartment
Type of apartments: Studio, 2, 3 BHK
Area per apartment: 450-1400 sq.ft.
3. Archies Home, South Extension
Archies Home is a residential project located in South Extension. It is a well constructed space that allows its residents to enjoy beautiful exterior and interiors all the same. The building is completed in a distinctive manner with eye relaxing and water resistant colors in the interior and the exterior respectively. The exterior of this complex is simple yet elegant and the interior is modern and has an aesthetic look to it. The place has an effortless lavish look and feel to it.
It is a thoroughly safe premise with CCTV facility. Other facilities in Archies Home include amenities like gym, garden, regular water supply, etc. Additionally, Archies Home is situated in close proximity with a number of reputed schools, and major hospitals of the locality.
Highlights and Amenities in Archies Home
Type of apartments: 3 BHK
Area per apartment: 2500 sq.ft.
4. Alok Homes 1, South Extension
Alok Homes 1 is a residential complex situated in South Extension. It offers simple and beautiful spaces as homes to its prospective residents. The apartments in Alokes Homes 1 are spacious with large windows that allow proper ventilation while making the living space airy and well lit. The apartments are well furnished and utmost care is taken while designing the basic assets of apartments. One of the best aspects of these apartments are the open balconies that they come with.
Alok Hoes 1 has several facilities and amenities in place such as lifts, power backup system, etc., that makes for a comfortable lifestyle. It also has safety equipment and security guards available 24 hrs to assure complete safety of its residents for them to relax within their households.
Highlights and Amenities in Alok Homes 1
Type of apartments: 3 BHK
Area per apartment: 2250 sq.ft.
5. Kotla Mubarakpur, South Extension
Kotla Mubarakpur is one of the most popular colonies in South Extension I. This locality has some independent houses and builder floors available for sale and rentals. Kotla Mubarakpur is enriched with a supportive community as well which makes it all the more impressive. The affluent crowd and the healthy surroundings is why this is a prominent residential area of South Extension.
Kotla Mubarakpur is very close to some of the city's best hospitals, such as, AIIMS New Delhi, Safdarjung Hospital, and Apollo Spectra Hospitals. Established schools, such as AP Tech, Kalvin Kids International, and Kalvin Kids Paradise International preschool are also close-by.
Highlights and Amenities in Kotla Mubarakpur
Type of apartments: 2, 3, 4 BHK
Area per apartment: 750- 2700 sq.ft.
Things to do in South Extension, Delhi
1. Prepare yourself for the winter
Dellhi winters are no joke and it is always helpful to be prepared beforehand. If you are in South Extension then you have to check this place out for beautiful and warm shawls & stoles. Dastaan-E-Pashmina is a leading retailer of pashmina shawls & stoles which are made using traditional Indian craftsmanship and techniques. From plain basics to traditional embroidery, they have hand-made pashminas to fit every budget and occasion.
2. Get a Tattoo- Tender Poke
If you are looking to get a tattoo then this is the place you should definitely put down on your list of tattoo parlors. Tender Pokes is a tattoo studio by Shreya Jain, a South Extension based tattoo artist. Through her work, Shreya, promotes the art of stick and poke tattoos. While this technique takes a bit longer, it is said to be a lot less painful. These tattoos even heal a little bit faster and it's possible to incorporate finer lines and more details.
3. Take a self care day
There is nothing more refreshing and rejuvenating than a spa day. If you are in South Extension, make sure to head to Monsoon Salon & Spa for the best spa services. It is a lovely spa with good services and welcoming service staff. Take a day off and soak yourself in oils, essences,and experience the best of what this place has to offer. Do not miss out on their massages.
4. Take an art class
It is never too late to chase your passions or find a new hobby. The Art Hub in South Extension offers art classes of various modules. You can choose to go in for a 60 or 120 minutes art workshop for creating your own souvenir's on canvases, paper, stones or tiles. They also have several customized classes for children, teenagers and adults in private & group sessions. They also provide their own customized kits for different art styles and forms according to the necessity.
5. Buy intricate silverwares
El 'Unique is an amazing e-store based in South Extension which specializes in all things shiny and silver. El'Unique designs the finest silver collections with an in-house manufacturing facility and has been doing so for the last two decades. What's more? They have more than one hundred great craftsmen from all around the country working to produce these stunning pieces. You should definitely check them out for intricate home decor, or elegant gifting options which are endless.
6. Eat decadent cakes
If you have a sweet tooth and enjoy your cakes and bakes then these two places should be your go-to when in South Extension. Chocestra, by Mehak Prakash, is a place where you get your finest confections from. Their cheesecakes are to die for. Chocestra also makes Organic, Gluten-free and Vegan Cakes to traditional desserts and even hand-rolled Chocolates.
Cake Palace is another bakery in South Extension and has been in business since 1985. They have a great variety of cakes, tea cakes, snacks, cookies and much more. They offer a wide range of cakes, both birthday cake & dry cake which are delicious.
Places to visit in South Extension, Delhi
1. Moth Ki Masjid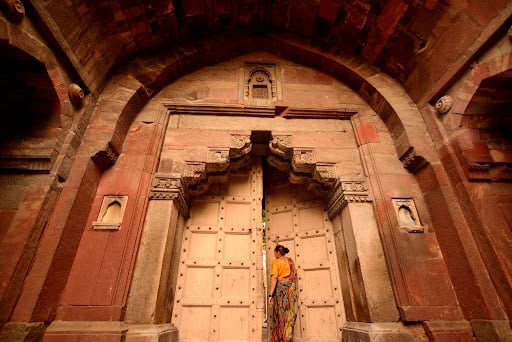 Moth ki Mosque is a heritage building located in South Extension. It was built in 1505 by Wazir Miya Bhoiya, Prime Minister during the reign of Sikandar Lodi. It was a new type of mosque developed by the Lodis in the fourth city of the medieval Delhi of the Delhi Sultanate.The mosque is now completely enclosed within the modern locality of South Extension Part II. It is surrounded by various other smaller dargahs and monuments that may be found peppered within the nooks of this urban village.
2. Bade and Chote Khan ka Gumbad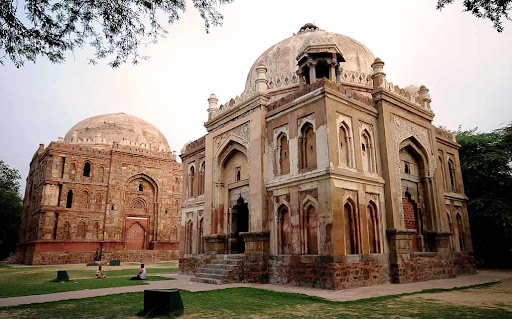 If you are around South Extension then you should definitely visit this place.Bade and Chote Khan's twin tombs are magnificent structures. It is a complex of twin tombs.They are a part of the Kotla Mubarakpur complex, which includes several other lesser known tombs. These tombs are barely a few feet apart. The authorities have built a pathway surrounding them. The minimal free space is tightly surrounded by walls and beyond them lie the residential & commercial establishments of the locality.
3. South Extension 2 Market
South Extension 2 market is one of the oldest markets. It is known for big brand retail outlets, including McDonalds. It is a posh market that still retains its character of the pre-malls era.
The market is easily accessible, however, on weekends parking space is sparse. This place is very popular among youngsters as a suitable hangout spot. You also get to see airplanes taking off up close from time to time. It is an activity greatly loved by kids.
4. Delhi Haat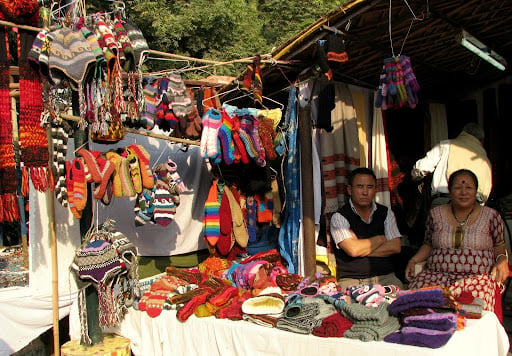 Dilli Haat is a paid-entrance open-air market, food plaza, and craft bazaar located about three kilometers from Kailash Colony. Some shops in Dilli Haat are permanent but other sellers are rotated, usually for fifteen days. A variety of products are sold here, some of which includes rosewood and sandalwood carvings, embellished camel hide footwear, sophisticated fabric and drapery, gems, beads, brassware, metal crafts, and silk & wool fabrics. A number of shows promoting handicrafts and handlooms are held at the exhibition hall in the complex. It is a great place to visit with family and friends.
FAQs about South Extension, Delhi
How is South Extension connected to the rest of the city?
South Extension enjoys great connectivity with other parts of Delhi via. Ring Road, Bheeshma Pitamah Marg and Barahpulla Marg.
Which are the metro stations close to South Extension?
South Extension Metro Station on the Pink Line is located next to this locality, INA Metro Station and AIIMS Metro Station, on the yellow line, are at a distance of 2 km from South Extension.
How far is the nearest railway station from South Extension?
The nearest railway station is Lodhi Colony Railway Station which is at a distance of 2 kms from South Extension and The New Delhi railway station is located at a distance of 10kms.
How far is the airport from South Extension?
Indira Gandhi International Airport is at a distance of 18 kms from South Extension.
Which are some of the prominent educational institutions in and around this locality?
SDMC South Extension II School, DAV, Guru Nanak Primary School, Tagore International Schools, Kalindi College are the key educational institutions in South Extension.
Which are some of the major hospitals in and around this locality?
The major hospitals in South Extension are AIIMS and Vardhman Mahavir Medical College (or Safdarjung Hospital).
Are there any marketplaces in and around this locality?
There are many shopping complexes in South Extension 1 and South Extension 2, along with a major market on the Ring Road.
How is South Extension connected to the important employment hubs of the city?
The nearest job hub is the main market of South Extension 1 and South Extension 2, along with Ansal Plaza which is at a distance of 1 km from the locality. Other commercial locations in proximity include East Kidwai Nagar at a distance of 1km, INA Market at a distance of 2 kms, Defense Colony at a distance of 2 kms and Lajpat Nagar at a distance of 4 kms. One can commute to the employment hubs of Connaught Place, Noida and Gurgaon via metro through Pink line and Yellow Line.