Tangra is a prominent residential and commercial hub located in the eastern part of Kolkata. It is best known for Chinatown, with its tanneries and Chinese restaurants.
Gobra, Beck Bagan, Kustia, Panchanna Pally and Tiljala are some of the well-known residential neighborhoods of Tangra. Tangra is witnessing tremendous growth in the residential sector due to the presence of superior social infrastructure, and robust connectivity to tech parks like DLF IT Park, STPI etc.
Looking for a home in Tangra? A place that is pleasing, with good connectivity, suitable surroundings, close to schools and hospitals nearby. Here is all the information you require. Read on!
List of top gated communities in Tangra, Kolkata
1. Salarpuria Amarana Residences, Tangra
Salarpuria Amarana Residencies brings together intelligent planning and careful attention to detail which makes it absolutely functional and ergonomic for living. This residential society offers its residents an immediate sense of belonging with everything that it offers. Apartments in Salarpuria Amarana Residencies are carefully planned for living comfortably.
Lift, flower gardens, power backup, kids play area, indoor games room, CCTV surveillance, security, gymnasium, swimming pool, club house, are some of the amenities available at this residential complex.
Highlights and Amenities in Salarpuria Amarana Residences
Type of apartments: 2, 3 BHK
Area per apartment: 931- 1337 sq. ft.
2. Diamond Brindavan Gardens, Tangra
Diamond Brindavan Garden is a residential property in Tangra, Kolkata. This society ensures a comfortable and convenient lifestyle to its prospective residents. It offers facilities such as gymnasium, power backup, children's play area, swimming pool. Sports enthusiasts can also make the most of cycling & jogging tracks available inside the society. For the safety of the inhabitants there is 24×7 security i n place.
Tangra is well-connected to other parts of the city by road, which passes through the heart of this suburb. Prominent shopping malls, movie theaters, schools, and hospitals are present in proximity to this residential project which makes it all the more suitable for you.
Highlights and Amenities in Diamond Brindavan Gardens
Type of apartments: 2, 3, 6 BHK
Area per apartment: 1050-2300 sq. ft.
3. PS Montage, Tangra
Looking to live in an affluent society? PS Montage might just be the place for you. Designed with meticulous eye for details, this society is perfect for leading a comfortable lifestyle in a luxurious way.
PS Montage offers a host of facilities for its prospective residents. Said facilities include gymnasium, children's play area, swimming pool. The society assures complete safety with 24×7 security. It also has a provision for closed car parking. Choose PS Montage as your home if these are all the facilities you are looking to have.
Highlights and Amenities in PS Montage
Type of apartments: 2, 3 BHK
Area per apartment: 900-1096 sq. ft.
4. Purti Jewel, Tangra
Purti Jewel is a well-planned residential complex located in Tangra, Kolkata. Purti Jewel just as its name suggests is bejeweled with all the necessary facilities required to lead a modern lifestyle. It is a one of a kind luxury society, with apartments that are sure to awe you. If well ventilated, airy, and well lit apartments are your thing then this is most definitely a place for you.
Choose to lead a fine lifestyle with comfortable amenities such as health club with steam / jacuzzi, power backup, lift, gymnasium, intercom facility, multipurpose hall, CCTV surveillance, barbeque pit at Purti Jewel.
Highlights and Amenities in Purti Jewel
Type of apartments: 2, 3, 4, 6 BHK
Area per apartment: 870- 2234 sq. ft.
5. PS Palm Spring, Tangra
If you are looking for a place that is Vaastu compliant then you must check out PS Palm Spring.
The Residential complex is equipped with the finest amenities that are ideal for people of all ages. This society is beautifully designed and sure to make you happy.
Some of the amenities at PS Palm Spring include complete power backup, kids play area, indoor games room, flower gardens, maintenance staff, intercom facility, visitor parking, air conditioning. You are sure to enjoy living in PS Palm Spring with all modern conveniences at your disposal.
Highlights and Amenities in PS Palm Spring
Type of apartments: 3 BHK
Area per apartment: 1381- 1481 sq. ft.
Things to do in Tangra, Kolkata
1. Visit a chinese temple
There are many beautiful Chinese temples around Tiretta Bazaar also known as China town. Many of these temples are simply referred to as churches even though they do not follow christinity. You could walk around these places of worship and learn about traditional Chinese practices on a day off. Some prominent Chinese temples include Sea Ip Church, Toong On Church, Sea Voi Yune Leong Futh Church, etc.
2. Pick a copy of India's only Chinese newspaper
The Overseas Chinese Commerce of India is the only Chinese language newspaper published in India which comes out of a neighborhood in Tangra. It has little readership with the Chinese community itself since it is written in mandarin and reports the happenings in China. However, it is interesting to see the heritage that it holds and thus an intriguing pick if you want to see the script type, and the style of reporting.
3. Go sauce shopping
Sing Cheung is the oldest and the most authentic sauce manufacturer in kolkata. They have been doing it since 1954 and the legacy lives on even to this day. If you love cooking and eating indian chinese at home then you ought to go pick up some essential sauces from the factory outlet in Tiretta Bazaar.
4. Shop for handmade customized shoe
Sen Fo & Co is one of the few remaining small shoe shops that sell authentic handmade customisable shoes to this day. The leather making expertise of the Chinese settlers is reflected in the beautifully made pieces that are available at this store. You can also get yourself a trendy cowboy boot other than the regular simpler styles.The best part though is their reasonable pricing. So, if you wish to own a one of a kind customized leather shoe then Sen-Fo & Co is your place.
5. Get authentic Chinese food
One thing that makes ChinaTown popular is authentic Chinese food. China town is home to many budget friendly restaurants that serve delicious fried rice, pork soups, crab soups, chili prawns, bok choy, fried wontons, dumplings, rice noodles and more. Some popular Chinese restaurants in Chinatown that you should definitely checkout are Beijing, Kim Fa, Kafulok, Golden Joy, Kim Ling, China Gardens and Big Boss.
Places to visit in Tangra, Kolkata
1. China Town
Tangra houses the largest Chinese community in India. Chinatown is an important part of the social fabric of Tangra in particular and Kolkata in general. People from around the world visit Tiretta Bazaar also called Chinatown for its food, leather work, age old heritage buildings, its culture and antique shops. Since the wee hours of the morning, Chinese elders put up stalls for authentic chinese breakfast that consists of baos, dumplings, soups, etc.
2. Science City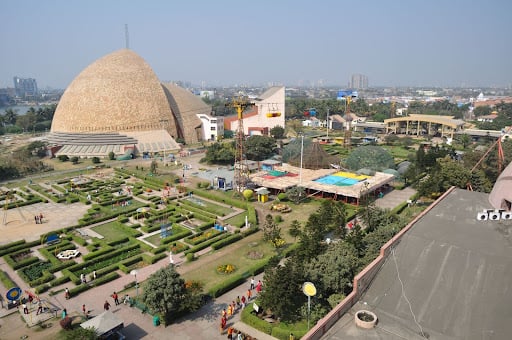 The Science City inaugurated in 1997 is a one of a kind experience in Topsia, near Tangra, Kolkata. It blends together the concepts of an amusement park, a museum, and a center for science designed to educate and interest people. Some of the most interesting attractions of this science city are the Earth Exploration Hall, a Biodiversity enclave, the Space Odyssey center, a Maritime Center, Musical Fountains, a Butterfly Nursery, the Science Exploration Hall, Science on A Sphere, among others.
3. Mother's House
Mother's House is one of the notable landmarks of Kolkata.This is the house where Mother Teresa lived & served, and now she's entombed here. Visiting Mother's house is a solemn act and the premise is very peaceful. It allows you the opportunity to relax, contemplate and experience some peace and quiet. Next to the tomb room is a small museum named 'Mother Teresa's Life, Spirit and Message'.
4. South Park Street Cemetery
South Park Street Cemetery is one of those must-visit places in Kolkata. The tall graves, shady trees and the relative quietness from the hustle-bustle of the city makes it a great place to visit for a leisurely stroll. You get to see many beautiful tombs from the 18th and 19th centuries here. It is interesting to read the inscription on the tombs and see how many lives were cut short at a relatively young age.
FAQs about Tangra, Kolkata
What is Tangra famous for?
Tangra houses Kolkata's ChinaTown with various Chinese Restaurants and various versions of Indian Chinese Cuisine. Also, it houses a number of leather manufacturing units.
How is Tangra connected to the rest of the city?
Tangra is very well connected to the rest of the city in saying that the Tangra Bus Stop is easily accessible and Calcutta State Port Corporation, Surface Port Corporation are all readily available from this locality.
Which is the closest railway station from Tangra?
If you take the Gobinda Khatick Road the Park Circus Railway Station is hardly 4Km away from Tangra.
Which Metro line is the closest to Tangra?
If you take the Mahatma Gandhi road, the Central Metro Station- Line 1 is at a short distance of 5 k from Tangra.
How far is the closest airport from Tangra?
The Netaji Subhash Chandra Bose International Airport is located at a distance of 15 km from Tangra. You have to follow the Bangaon – Kulpi Road/Thakurnagar – Panchpota Road to reach the airport.
Which are some of the good schools in this locality?
Some of the good schools are Calcutta International School, St Francis International School, Jibreel International School and Asia Pacific International School which are all located within 6 km from Tangra.
Which are some of the Hospitals in Tangra?
Some of the notable hospitals are Flemming Hospital, Mercy Hospital, Calcutta National Medical College & Hospital and Mission Hospital which are all located within 5 km from Tangra.