Tondiarpet is located in the extreme east of the city, close to the N4 beach. The area is extremely well maintained and is among the most advanced localities of Chennai. Tondiarpet is known for connectivity. Tollgate metro station, Washermenpet metro station and the Tondiarpet metro stations are all within walking distance from the locality. The neighbourhood is extremely well connected to the industrial and commercial sectors of the city through roads. The Ennore high road and Ennore express road flanks the locality from West and East. And the Thiruvottiyur high road passes from right through. Therefore, Vyasarpadi industrial estate and Manali chemical industry hubs are well within the reach.
When it comes to recreational options, Tondiarpet has no shortage of offerings. Bharathiar beach, Kasimedu Beach, Marina beach, and Thiruvottiyur beach are the prime attractions around Tondiarpet. The infrastructure, abundance of multistorey apartments, connectivity and well-maintained amenities make Tondiarpet the perfect locality for a new settler in Chennai.
Top gated communities in Tondiarpet, Chennai.
1. Prince village, Tondiarpet
Prince village is a huge gated community occupying over 14 acres of land. The project proudly flaunts 26 buildings and all of them are equipped with state-of-the-art convenience and security systems. The community is well-supplied with utilities and all kinds of modern amenities. And is guarded by a layered security system, 24*7.
Highlights and amenities of Prince village
Type of apartments: 1 BHK, 2 BHK, 3 BHK
Area per apartment: 580 sq. ft. – 1400 sq. ft.
Number of apartments: 1012
Address: Elaya St, Sai Nagar, New Washermenpet, Tondiarpet, Chennai, Tamil Nadu 600081
2. Voora Ocean's 27, Tondiarpet
Occupying over 2 acres of land and offering an excellent view of the sea, this project is the pride of Tondiarpet. The project consists of two tall buildings that are supplied generously with all kinds of amenities and utilities that a modern household need. The project concentrates on providing their customers with an elegant lying experience. And the same is bolstered by the extraordinary connectivity of Tondiarpet.
Highlights and amenities of Voora Ocean's 27
Type of apartments: 2 BHK, 3 BHK
Area per apartment: 1120 sq. ft- 1620 sq. ft.
Number of apartments: 132
Address: No:6, Surya Narayana St, Thangal, Srinivasa Nagar, Tollgate, Chennai, Tamil Nadu 600081
3. Emaar Esplanade, Tondiarpet
Emaar Esplanade occupies a staggering 14 acres of land and flaunts 16 well-maintained buildings. The amenities are supplied to the household with generosity and uninterruptedly. And among advanced provisions, Rain Water Harvesting, Swimming Pool, a gymnasium, Lifts, and Children's play areas are the most noteworthy. The place enjoys proximity to essential entities like ATMs, Parks, educational institutes and hospitals.
Highlights and amenities of Emaar Esplanade
Type of apartments: 1.5 BHK, 2.5 BHK, 3.5 BHK
Area per apartment: 597 sq. ft. – 1715 sq. ft.
Number of apartments: 385
Address: Emaar Grace, Old No:7a, 75, Vaidhyanathan St, behind Apollo Hospital, Tondiarpet, Chennai, Tamil Nadu 600081
4. Brindavan Apartments/Advaita Brindavan, Tondiarpet
Brindavan apartments live up to its name by providing a luxurious lifestyle full of excess. The amenities are supplied uninterruptedly and other privileges include Power Back Up, Waste Disposal, Laundry Service, Internet/Wi-Fi Connectivity, DTH Television Facility, Flower Gardens, Indoor Games Room, Kids Play Area, Meditation Area and Multipurpose Courts. The project is located on 3 acres of land and flaunts 5 gargantuan towers.
Highlights and amenities of Brindavan Apartments
Type of apartments: 2 BHK, 3 BHK
Area per apartment: 1065 sq. ft.- 1540 sq. ft.
Number of apartments: 128
Address: 67, Cross Road, Opp to port trust stadium, New Washermenpet, Tondiarpet, Chennai, Tamil Nadu 600081
1. DAC Mahathi
DAC Mahathi aims for delivering a satisfying residential experience at the heart of Tondiarpet. The locality is known for being a well-maintained one and like the same, the residents of DAC Mahathi enjoy easy connectivity. The project is a single building, well supplied with all the amenities and guarded 24*7.
Highlights and amenities of DAC Mahathi
Type of apartments: 2 BHK, 3 BHK
Area per apartment: 685 sq. ft. – 986 sq. ft.
Number of apartments: 6
Address: 155/50/3 & 153/50/1,151/50/1, Sanjeevarayanpet, Old Washermanpet, Chennai, Tamil Nadu 600081
Things to do in Tondiarpet, Chennai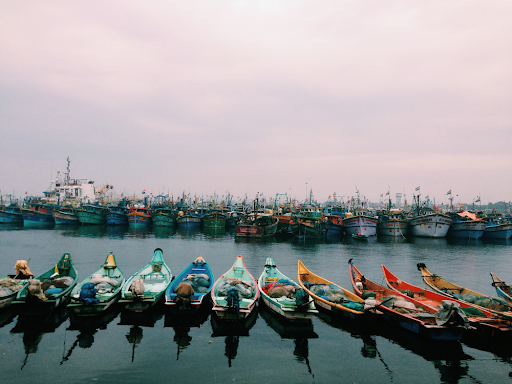 1. Indulge in innovation at Semmoli Poonga
Semmoli Poonga is a botanical garden jointly maintained by the horticulture and agricultural engineering departments of Tamil Nadu. the garden is huge, occupying a staggering 20 acres of land. The garden houses 500 species of trees and among them, many are 100s of tears old. The garden is extremely well maintained and is the perfect place for an outing with family. And for botany enthusiasts, the place is like heaven, waiting with all the specimens they need.
2. Take a relaxing stroll on the Marina beach
Marina beach is the pride of Chennai and is considered among the most attractive places to visit in the city. The marina beach is the greatest of all the beaches in Chennai and is famous for wonderful views of sunrises. The beach is well-maintained and the cleanliness is phenomenal. While visiting marina beach, a traveller can experience local street food and an environment ideal for relaxation.
3. Shop for fresh fish at the N4 fishing harbour
The N4 fishing harbour is a busy fishing port controlled by the Chennai port trust. There is a dedicated boast building facility in the harbour and the same houses a lot of sea-faring fishing vessels. The markets surrounding this harbour never fail to provide the locals with fresh seafood like fish and crustaceans.
4. Take care of day-to-day needs at Pondy Bazaar
Pondy market or Soundarapandianar Angadi is the prime shopping district in Chennai. The market is huge and enriched with all kinds of commercial establishments. The place is full of commodities, food, grocery, electronics, clothes and footwear shopping provisions. And the competition in the market keeps the prices reasonable and accessible for the common folk.
Places to visit in Tondiarpet, Chennai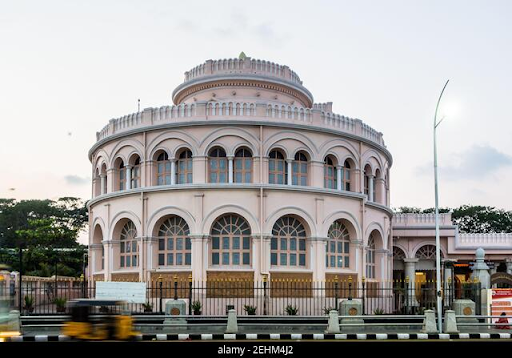 1. Vivekananda House
Vivekananda house was inhabited by Swami Vivekananda after his glorious return from the west. He stayed in the house for 9 years. And after the inception of Ramakrishna math, this house was selected to be their administrative building. The place is now a modern museum. Dedicated to helping visitors experience Swami Vivekananda's life from an up-close angle. That too enhanced by 3D and 4D representations.
Address: Kamaraj Salai, Marina Beach Road, Triplicane, Chennai, Tamil Nadu 600005.
2. Kumaran Kundram
Kumaran Kundram is a hull situated in Chromepet. The rock is home to a Murugan temple with Swaminathaswamy presiding over the city from the same. Reaching this tranquil and beautiful place involves climbing a lot of stairs—an arduous task for the old and the weak-hearted. But if the toil is taken in good spirit. Kumaran Kundram rewards the visitors generously. The place is peaceful and ideal for a weekend refuge away from all the bustle.
Address: W4VV+G6F, Hasthinapuram Main Road, Nehru Nagar, Chromepet, Chennai, Tamil Nadu 600044
3. Anna Memorial
Anna square or Anna samadhi was built in memory of the chief minister of Tamil Nadu C N Annadurai. The park is located near Marina beach and is home to dense and maintained vegetation. Being the centre of all attention and an attraction for weary tired travellers, the government maintains this monument with utmost care and precision. The environment is tranquil and offers everlasting calm. A perfect place for occasional strolls and even routine exercises. That too, with the promise of modern hospitality and grandeur.
Address: D6, Santhome High Rd, Navalar Nagar, Chepauk, Triplicane, Chennai, Tamil Nadu 600005
4. Madras High Court
Madras high court is known for its grandeur. The court complex is among the largest in the world, occupying over 107 acres of land. Madras high court is among the oldest in India, contemporary of the Mumbai and Kolkata high courts. It enjoys direct supervision over the state of Tamil Nadu, the city of Chennai and the union territory of Puducherry. The architecture reminds a visitor of the golden age of English architecture. And the premises are maintained for a healthy work environment and tranquillity.
Address: 37PQ+M3Q, High Ct Rd, Parry's Corner, George Town, Chennai, Tamil Nadu 600104
5. The Royapuram Fishing Harbour
Royapuram fishing harbour is located near the Royapuram railway station. The harbour comes under the direct oversight of Chennai port trust and features a state-of-the-art shipbuilding facility. The port is co-responsible for producing fishing boats and maintaining the supply of fish and crustaceans for the city.
Address: Fishing Harbour, Tondiarpet, Chennai, Tamil Nadu 600081
FAQs about Tondiarpet, Chennai
What is the distance from Tondiarpet to the airport?
Via the Chennai Trichy highway, Chennai international airport is 29 km from Tondiarpet which takes 75 minutes to drive or by public transport.
What are the best hospitals in Tondiarpet?
ESI Hospital, Peripheral government hospital, Apollo hospital and J.K hospitals are the closest and most accessible for Tondiarpet residents.
What are the best schools in Tondiarpet?
ECI matriculation higher secondary school, model matriculation higher secondary school, Chennai girl's higher secondary school, and K.C Sankaralinga Nadar higher secondary schools are the leading academic entities in Tondiarpet.
What are the best gyms in Tondiarpet?
National Power gym, New Galaxy Gym, Royal Gym, MAXX gym and Fitness town are the most prominent Gyms in town.
Is Tondiarpet a posh area?
Yes, indeed! Tondiarpet is among the poshest areas in Chennai. The locality is well connected to the rest of Chennai and other prominent localities. And social services are extremely easy to avail. Amenities Are also well-supplied and maintained throughout the year.
Is Tondiarpet safe to stay in?
Yes, it is. The Tondiarpet police station is the sole crime-fighting body in the locality. And their records speak for their efficacy. Tondiarpet has always been among the safest neighbourhoods with comparatively low crime rates.