Vijayanagar, officially Vijayanagara is a locality in west Bangalore, India. Its name comes from the thriving Vijayanagara empire in South India in the 15th and 16th centuries. Mysore Road, Magadi Road, and Chord Road are the roads that encircle it. It is located in South Bangalore's northernmost region.
Residential Vijayanagar is well-known for its traditional temples, shops, and a variety of eateries. R.V. and Vijayanagar are not far from one another. Indian Institute of Fashion Technology, Dr. Ambedkar Institute of Technology, College of Engineering, P.E.S. Institute of Technology, M. S. Ramaiah Institute of Technology, Bangalore University, National Law School of India University. One of the largest public libraries in Karnataka is housed there. The expansive Vijaya Ranga building is home to the distinctive Karnataka Haridasa Scientific Research Centre.
Wondering which society your future home might be in, where you can find good food, a school for your kids, or even spaces you could work out in? Read on to find out!
List of top apartments in Vijayanagar, Bangalore
1. Sattva Anugraha, Vijayanagar
Why should you think about Sattva Anugraha? It is the first residential gated luxury property of its kind near the Vijayanagar expansion. Each tower is built to offer plenty of solitude, and corner apartments have views on three sides. In addition, it offers 75% lung space in the form of lush green areas.
Other significant amenities include two swimming pools, a convenience shop, and plenty of parking with a three-level parking structure.
Highlights & Amenities in Sattva Anugraha
Types of apartments: 2 & 3 BHK
Area per apartment: 1046- 1704 sq. ft.
2. SLV Regency, Vijayanagar
Some of the city's elite residents and wealthy families reside in the area. Residents will experience an upscale, peaceful, and tranquil community with access to modern amenities. All key amenities are accessible and available to the inhabitants of the complex to match modern lifestyles and comfort. starting with a lift facility with power backup, security, and CCTV surveillance as well as continuous water and energy supplies.
Basic amenities including grocery stores, convenience stores, schools, hospitals, and restaurants can all be reached on foot from the complex. SBI Bank, as well as other significant landmarks like the Vijayanagar metro station, Reliance Mart, and More shops, are all conveniently located nearby the complex.
Highlights & Amenities in Sattva Anugraha
Types of apartments: 3 BHK
Area per apartment: 1350 sq. ft.
3. Gopalan Residency, Vijayanagar
The project offers apartments with the ideal fusion of modern technology and architecture to ensure pleasant living. The project provides a wide range of advantages, including lifts, feng shui, and vaastu compliance, intercom facilities, security and fire alarms, parks, swimming pools, visitor parking, maintenance staff, security personnel, clubhouses and community centres, fitness centres, and gyms, rainwater collection, water softening plants, and waste disposal.
Highlights & Amenities in Gopalan Residency
Types of apartments: 2 & 3 BHK
Area per apartment: 1176- 1755 sq. ft.
Things to do in Vijayanagar, Bangalore
1. Head to Indraprastha Restaurant
Make a reservation at this restaurant if you enjoy vegetarian and Indian food. For bhaji pav, and idli, Indraprastha comes highly recommended. Many people note that the pancakes served here are of high quality. You may get delectable fruit juices, coffee, or tea at this location. Visitors who remark on their experiences mention fast service. The cost of your dinner will be within reason. The atmosphere at this location is described as unique by visitors.
2. Try the best fast food in town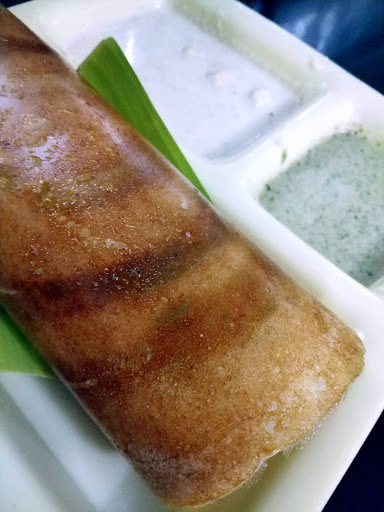 Sagar restaurant is a notable and affordable dining establishment situated in Vijayanagar. If you're travelling through and hungry, this is a wonderful opportunity to get off and eat something. Everyone adores this restaurant since the cuisine is of excellent quality. Tastes great, and it's conveniently located on a service road that leads to Vijayanagar.
3. Lounge at DWINKS
Visit Dwinks to experience one of the top clubs in Bangalore with opulent luxury and coveted privileges created only for you. Dwinks is undoubtedly a spot suitable for relaxing, gatherings, and late-night fun thanks to its ample seating and cosy ambiance. The environment is lovely and pleasant, with vibrant panels. Although the costs are not precisely reasonable, the food is really tasty. friendly personnel. fairly tolerant environment for all races and ethnicities.
4. Sip on hot coffee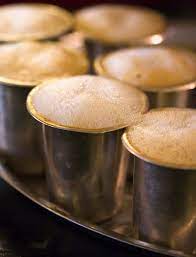 Noteworthy cuisine and top-notch service are the key takeaways of Hot Coffee. The food is delicious and kept in good condition. For those who enjoy South Indian cuisine, it's a fantastic spot to have breakfast in the morning. Idly vada is without a doubt the top dish, according to visitors! Shavige bath and upma are two more popular dishes in this region. The price is a tiny bit less expensive than in other locations.
5. Relish on sweet treats
The Ice Fort Ice Cream Parlour in Vijayanagar is a terrific place to go whenever you want a sweet treat in the area. The ice cream shop offers an extensive selection of ice-cold treats in a wide range of flavours. Regular Flavours, Special Flavours, Real Fruit Ice-Creams, Sorbet, Special Faluda, Stick Kulfi, Cassata, Stone Sundae, etc. are some of the categories used to classify the menu. The air-conditioned location is kept immaculately, and the various flavours are presented in glass dishes.
Places to visit in Vijayanagar, Bangalore
1. Lil Darlings
One of the greatest shops in Vijaynagar that can meet all needs for girls' clothing between the ages of 1 and 16 years. One of the major companies in the kid's party wear retailers is Lil Darlings in Bangalore. This well-known business serves both locals and visitors from various areas of Bangalore as a one-stop shop. You now know where to go the next time you want to dress up your little darling!
2. Sri Nagasubramanya Swamy Temple
Most people visit the temple on Tuesdays. A number of deities, including Ganesha, Shiva, Subramanya, and Durga Maa, are housed at this sacred temple. Every Tuesday, they have pujas, and the people there are warm and genuinely kind. Pets have received such good care from temple pandits. In the temple, you may witness ducks, fish, turtles, bunnies, and more.
3. Maruti Mandir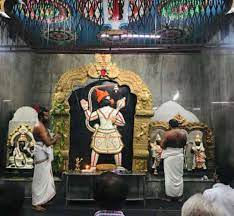 Maruthi Mandir is a temple dedicated to the Hindu deity, Hanuman. The Maruthi Mandir is situated on a rocky hill within the Mahalakshmi Layout gate in Vijayanagar, not far from the well-known ISKCON Temple. Huge Hanuman statues and Mahalakshmi temples, including those for Kodandarama Swamy, Shani Mahatma, Shiva Ganapati, and Adichunchunagiri, are nearby.
4. Govindaraja Swami Temple
In close proximity to Govindaraja Nagar lies the Govindaraja Swami Temple. During the Vykunta Ekadashi festival, this temple is very packed. The temple will be ornamented and lit throughout this time. To fascinate the followers and give them a sense of admission into paradise, a portal to heaven was constructed and put up. The view is lovely. It is thought to be kept in good condition.
FAQs about Vijayanagar, Bangalore
How far is Vijayanagar from the City Centre?
The distance between Bangalore City Station and Vijayanagar is 10.2 kilometres.
What is the distance from Vijayanagar to the Airport?
The travel distance or driving distance between Vijayanagar and Bangalore Airport is 35.6 kilometres.
What is the nearest bus station from Vijayanagar?
The Whitefield T.T.M.C. (Vydehi Hospital) stop is the nearest one to Vijayanagar.
Is there any metro station in Vijayanagar?
Yes. It comes in the purple line.
Is Vijayanagar a posh area?
Vijayanagar is a beautiful and peaceful locality with all the basic facilities nearby.
What are the best hospitals in Vijayanagar?
The best hospitals in Vijayanagar are Gurushree Hi-Tech Multi Speciality Hospital, Vijayanagar Hospital, Gayathri Hospital Pvt Ltd, and Kamadhenu Hospital.