The pandemic is far from done. Not only do our health systems remain under pressure, but authorities have also warned of a possible third wave. Local authorities are also requesting RWAs to share information on their society's vaccination status. To assist our societies to combat the virus, we had introduced the Vaccination Tracker. For societies to be better prepared, residents can update their & their daily help's status on the app. Admins can use this feature to view the vaccination status of the entire community.
Benefits of Vaccination Tracker
Get an overview of the society's vaccination status
Accurately estimate demand during in-society vaccination drive
Plan the opening of common areas and amenities
Urge residents to get vaccinated before the 3rd wave
Please forward the following message to your society residents:
Dear Residents,
Please mark your vaccination status, as well as the status of your family members and daily help by visiting the Covid Protect section of the MyGate app. Help us get an overview of the society's vaccination status so we can work with the local authorities (as needed), accurately estimate demands during in-society vaccination, and be better prepared for the possible 3rd wave.
Note: Only aggregate information for the entire society will be visible to other residents.
Click here.
How you can check the vaccination status of your society
1. Login to dashboard.mygate.com
2. Click on the People Hub icon present on the left-hand side of the screen
3. Click on Residents/Service Providers
4. Download the Resident list and the Service providers list to view the society's vaccination status
How residents can mark their vaccination status
1. Click on the 'Covid Protect' section
2. Click on 'Mark as Vaccinated'
3. Residents can now select either 'Dose 1' or 'Fully Vaccinated'
4. The vaccination status is automatically saved against the user
5. Resident can also mark the vaccination status for family members, daily help & service providers tagged to their household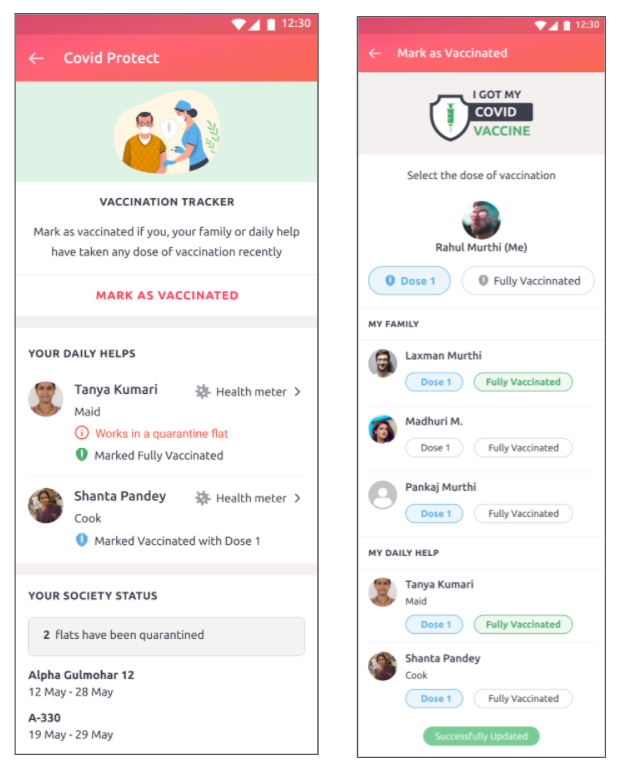 Contact your management committee or MyGate relationship manager for further assistance.