As an organisation committed to ensuring the privacy and security of user information, we are happy to announce that all our apps now follow GDPR guidelines. This means that your society and its residents can enjoy all the privacy protections laid out by the General Data Protection Regulation (GDPR), considered the gold standard for data privacy standards the world over.
Our decision to enable GDPR for our societies has also made us compliant with the Indian Data Privacy Bill, 2019, which is still before a parliamentary committee. This means that societies that opt to adhere to GDPR guidelines (which we highly recommend) also ensures compliance with upcoming law in India.
We do hope you appreciate the effort behind these initiatives as it makes us among the only B2C apps built for an Indian audience with such strong data privacy controls. The commitment to ensuring user privacy is ingrained in the culture here at MyGate and we assure you that this is only the beginning.
Changes we've made to follow GDPR guidelines
1. Visitors need not share phone numbers
2. All personal data will be masked
3. Residents will have access to the data log
4. Auto-deletion of visitor data
5. Right to be forgotten

1. Visitors need not share phone number
To gain entry to a society, the name and flat number is all that is required of a guest. This means that residents will be able to create invites without entering a contact number. The MyGate Guard App will also no longer require a phone number to be added to authorise guest entry. The RWA will have the ability to opt for this feature.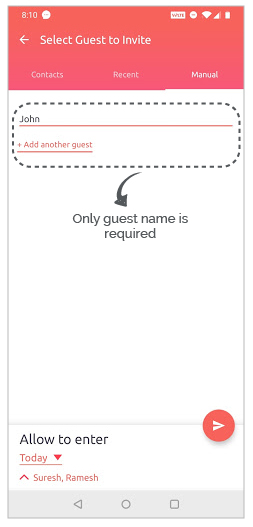 Only Name Required: Visitors no longer need to share their phone number at the gate.
Note: This only applies to persons seeking to enter as guests and not those seeking to enter with a commercial purpose, as the law places greater data demands on this cohort.
2. All personal data will be masked
The data shared on the MyGate apps (user and guard) have always been available for perusal by those designated as society administrators. To comply with the Data De-identification sub-clause of the Security Safeguards obligation in the aforementioned bill, all of this information will now be masked on the MyGate dashboard. The RWA will have the ability to opt out of this feature; however, we urge you to follow through on this soon-to-be obligation.

3. Residents will have access to the data log
Particularly with regard to personal data, people prefer to be in the know. It builds trust, both in the RWA as well as a data fiduciary like MyGate. It is also in line with the 'Requirement of notice for collection or processing of personal data' obligation mentioned in the bill.
This is why we are enabling a complete data access log for residents on the app, where they will be able to view who viewed their personal data and when. Both the RWA as well as (in rare instances) MyGate will be required to share the purpose of viewing this data.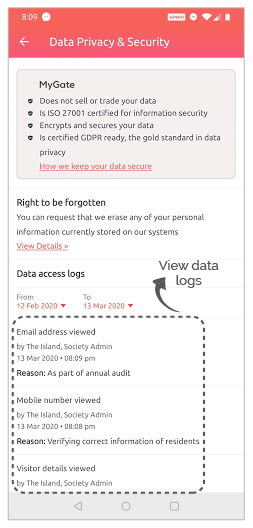 Open access logs: Users will now know if their data has been accessed.
4. Auto-deletion of visitor data
All entry and exit data will be deleted from MyGate systems after 60 days by default. The RWA will have the option to reset this to 120 days or 180 days, but no longer. Once deleted, even MyGate will not be able to retrieve past data. This is to satisfy the requirements of the proposed bill, which states that 'the data fiduciary shall not retain any personal data beyond the period necessary to satisfy the purpose for which it is processed and shall delete the personal data at the end of the processing'.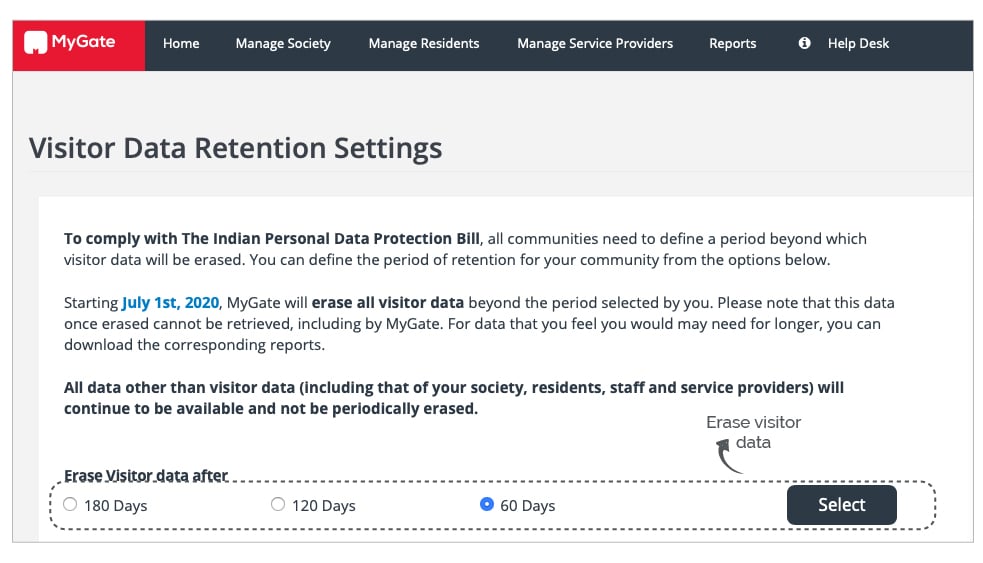 Periodic deletion: You can choose the duration for which you hold visitor data.
5. Right to be forgotten
Residents can choose for their personal data to be deleted. MyGate will seek the society's approval, post which resident information would be deleted from all places (except financial records).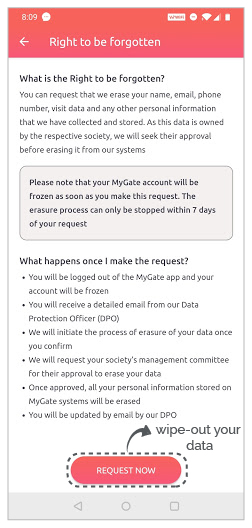 Wipe out data: Any user can request that they be forgotten.
In taking these steps, it is our endeavour to be clear and transparent in our handling of information and help you, as the RWA, to remain trusted stewards of resident and society data.
We are now ready to enable these guidelines for all our societies, including yours. All you need to do is, let your MyGate representative know that you are willing to opt-in.
We look forward to your feedback and suggestions. We also invite you to view our updated Privacy Policy, which reflects the changes made in the app and mentioned above.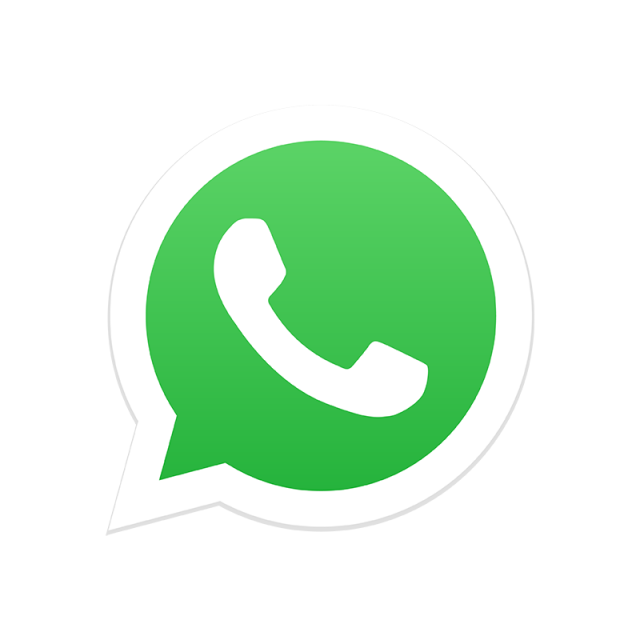 Connect with us on WhatsApp
Get offer details for your society