Paying your society dues, and keeping track of past payments, can be a hassle. MyGate puts an end to these problems by offering a quick and easy way to pay and manage your home bills and society charges via the app and without hefty convenience charges.
Features of Payments
Zero convenience fee
Enjoy 0% charges on payments via UPI and Rupay.
Multiple payment modes
Pay securely via credit cards, debit cards, UPI or e-wallets.
Access transaction history
Get transaction history of all your utility payments and download receipts of paid dues and maintenance bills.
On-call support
Receive updates on the current status of your payment with MyGate support for payment related queries.
How to make payments
A. How to pay house rent
Click on the Rent Payment widget on the app
Click on 'Pay Rent'
Add the Landlord's name, the property address, the Landlord's Bank account details and click on 'Next'
Add a note, enter the amount that has to be paid. You can check 'Payment reminder' and edit the date. Click on 'Proceed to Payment'
Select the payment mode and click on 'Pay now'
For UPI, enter the UPI ID
For Debit/Credit Card, enter the card details
View the payment status and download the receipt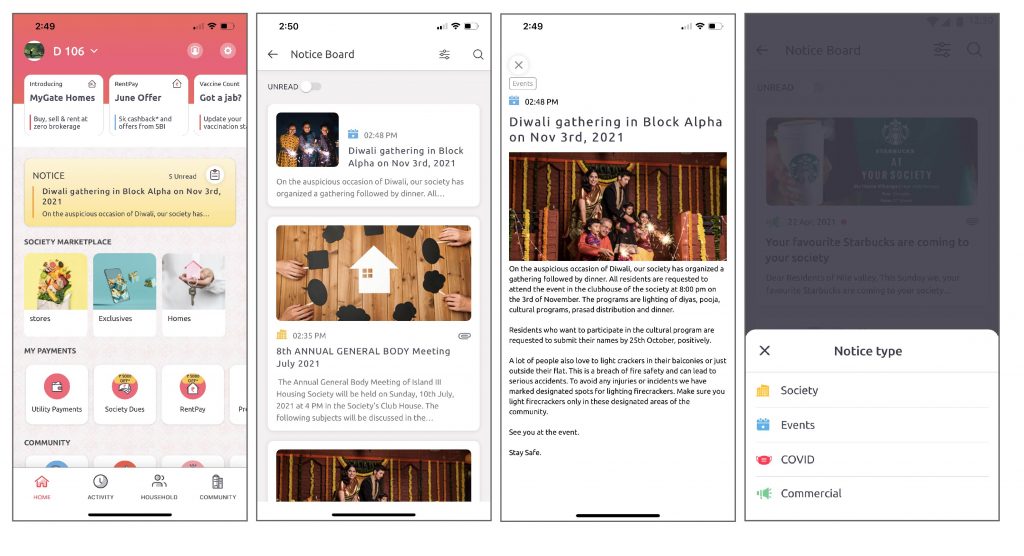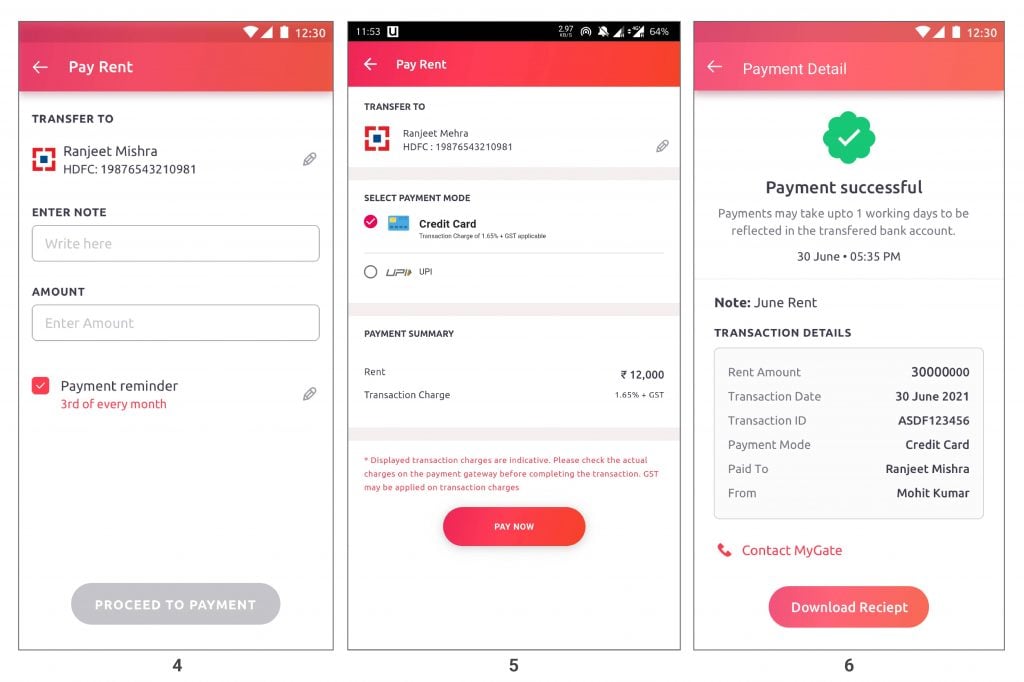 B. How to pay maintenance dues
Tap on the 'Community' tab
Click on the 'Society Dues' card
Click on 'Pay Now' on the invoice raised
Select the mode of transaction – UPI, Debit/Credit Card, Net Banking, Wallet and click on 'Checkout'
Enter the details and click on 'Pay' STEP-5
For UPI, enter the UPI ID For Debit/Credit Card, enter the card details
For Net Banking, select the bank and login
For wallet, select the wallet and login
The convenience charges are displayed on the screen. Click on 'Continue' to make the payment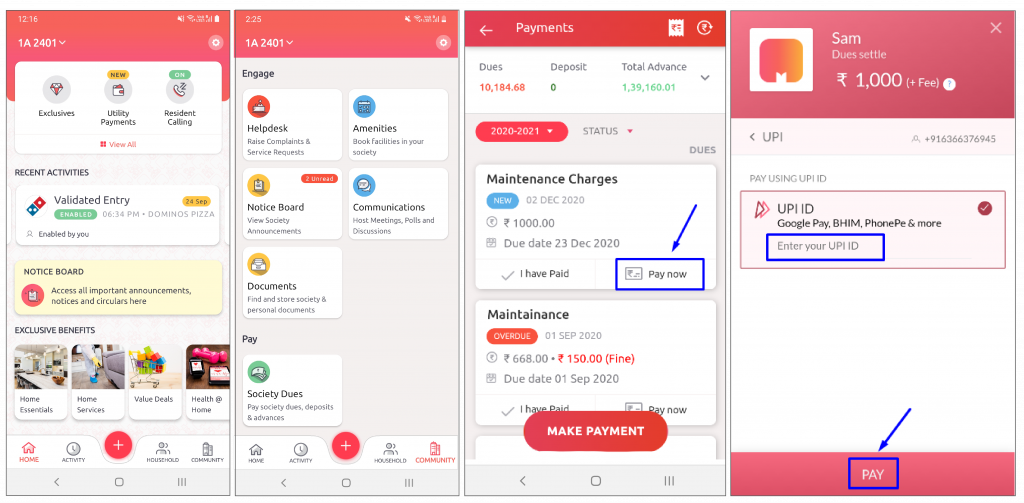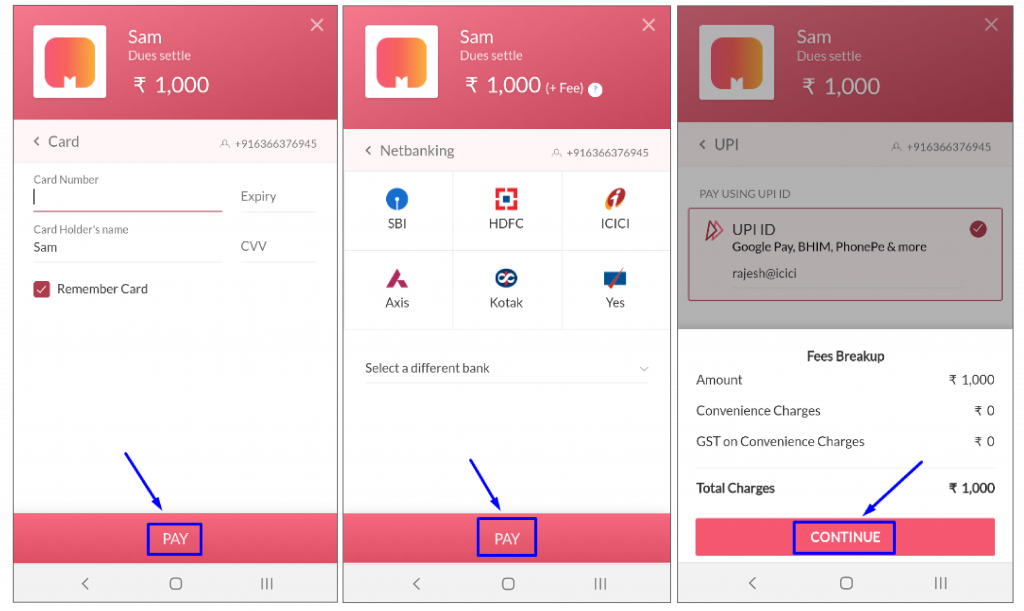 C. How to pay utility bills
Click on the Utility widget on the app
Sign up and validate your mobile number
Select the payment you want to make – mobile, DTH, Electricity, Gas, or others – and proceed. You will remain signed in to the 'Utility Payments' section for 90 days.
Post 90 days, validate your mobile number again with OTP for security reasons
Transaction History for all the Utility Payments is available in the top right corner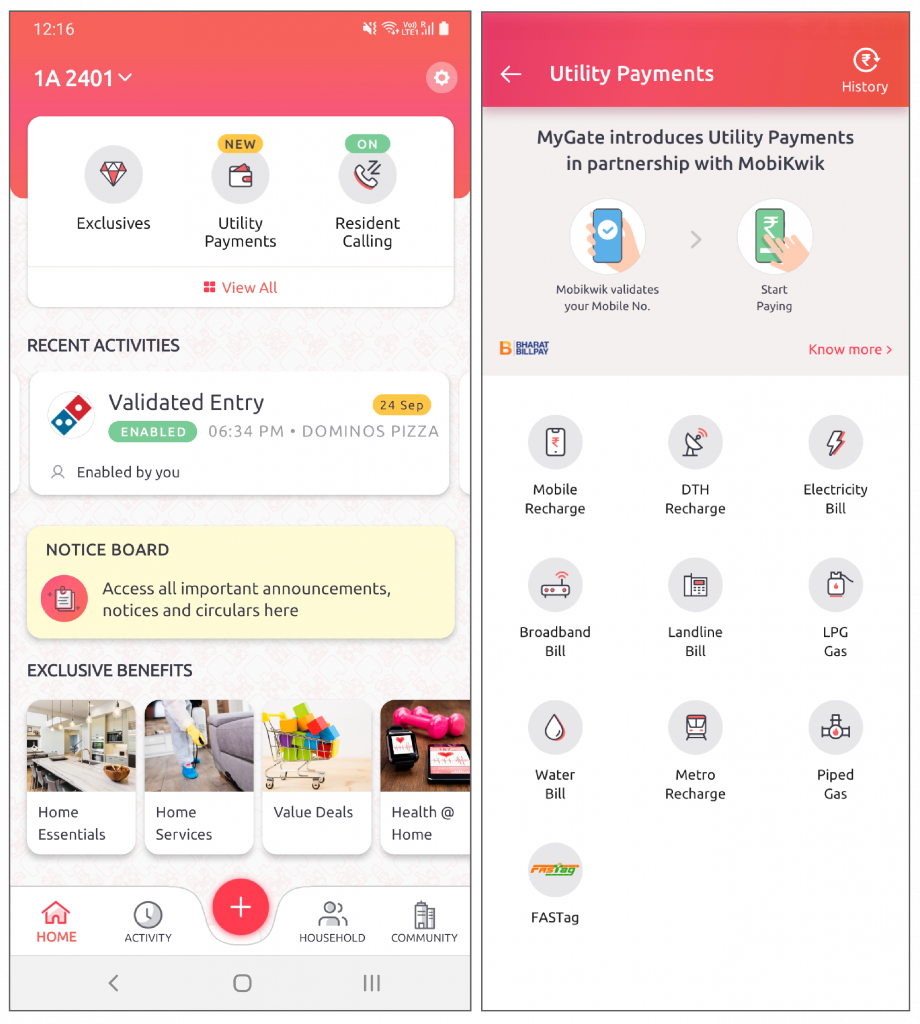 D. How to pay domestic help salaries
Select the 'Household' tab on the app home screen
Got to your domestic help's profile and hit the 'RECORD PAYMENT' button
Enter the amount to be paid and the transaction description
Choose payment mode as UPI
Click on 'Proceed to Payment'