Use MyGate Digital Notice Board, to easily & quickly share important updates, announce events and provide information to the residents. It is a single medium of communication for your community, and a source of truth for the residents.
Here's how you will benefit…

– Send all critical announcements via a single medium of communication
– Avoid loss of crucial information on chat groups and emails
– Make verified information available to all residents
– Skip walking to the traditional notice board with paper notices
Latest Enhancements…

a) Notice via mobile: Send and share notices via the Admin app
b) Notice Print: Take printouts of the digital notice board
c) Add details: Upload images, gifs, thumbnail/cover images, enter a title, notice type, descriptions, add inline images, & embed URL in notice text
d) Share notices: Share the notice on your app with Non-MyGate users on WhatsApp or Telegram
How it works for the MCs…
A) Sending a notice via the Admin App
1. Go to the admin app and click on the admin console and then select Notice Board.
2. Admins can click on Send Notice to create a new notice. They can edit or delete old notices
3. Now select the notice type, the notice title (character limit is 70 characters), upload up to 5 attachments (one attachment of 20MB each).
4. Select the building details and resident type. The notice is ready, now click on Send notice.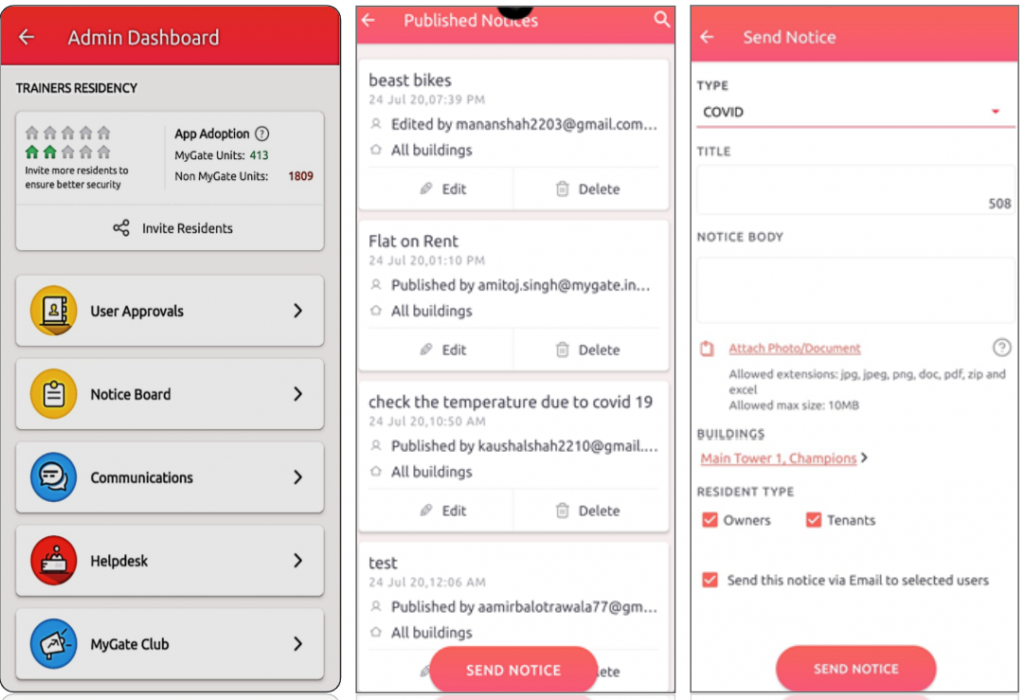 B) Sending a notice via the Admin Dashboard
1. Go to the communication tab on the admin dashboard and click on new notice.
2. With the new enhancements, the admin can enter title (Character length 70 character), notice type, descriptions, add inline images, embed URL in notice text, set publish date and type. The admin can add attachments (jpg, jpeg, png, doc, pdf, zip, and excel) that are up to 20 MB.
3. The admin can select "Upload Thumbnail/Cover, upload a thumbnail/cover image. The thumbnail ratio has to be 1×1 and the cover image ratio should be 2×1.
4. Before sending the notice, the admin can preview how the notice would look on the mobile phone.
5. The admin can choose to send a notice to a particular building, flat or resident type (owners or Tenants).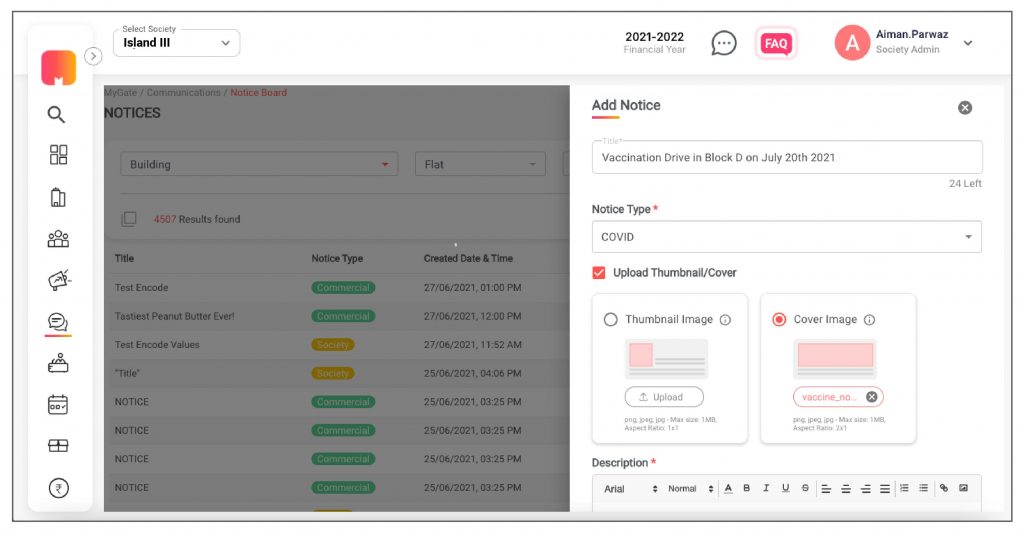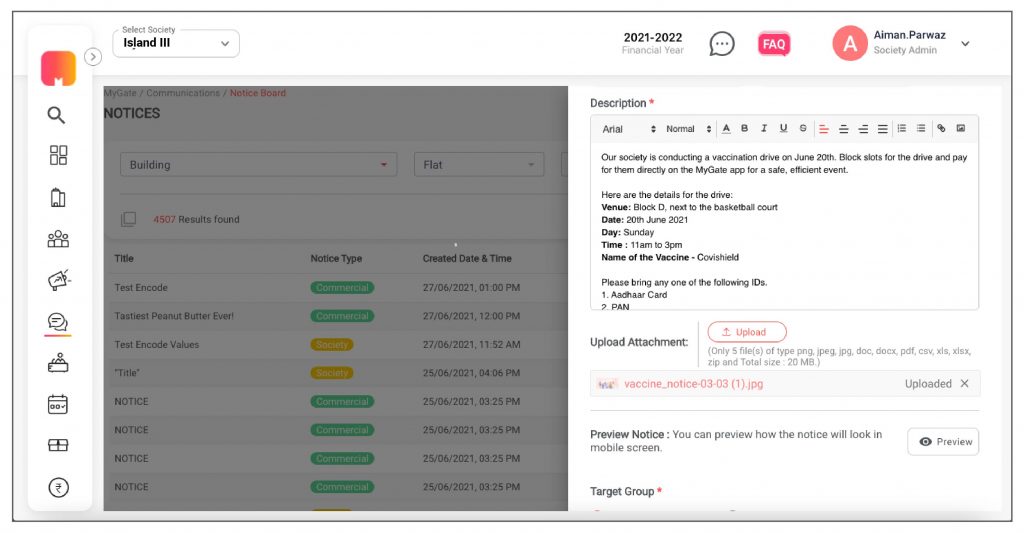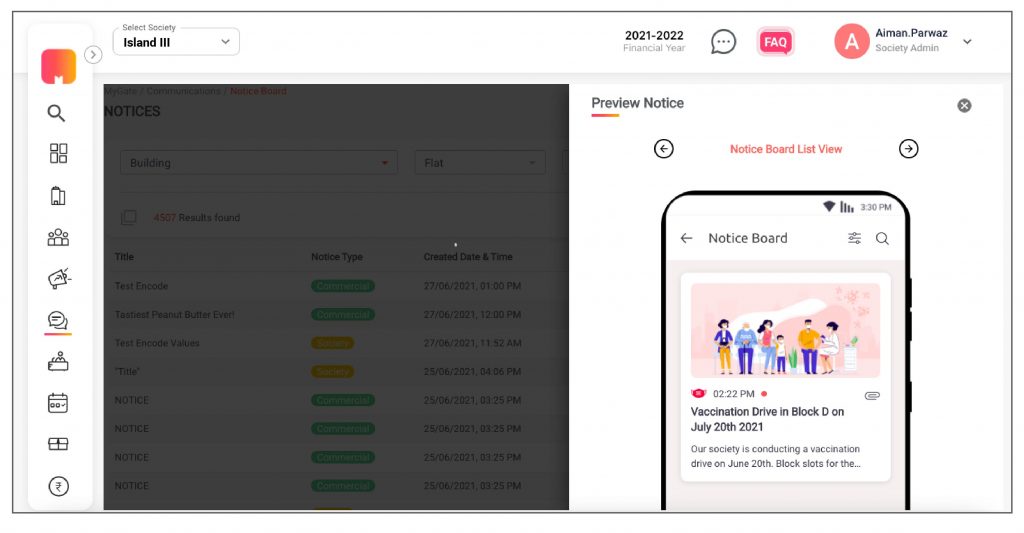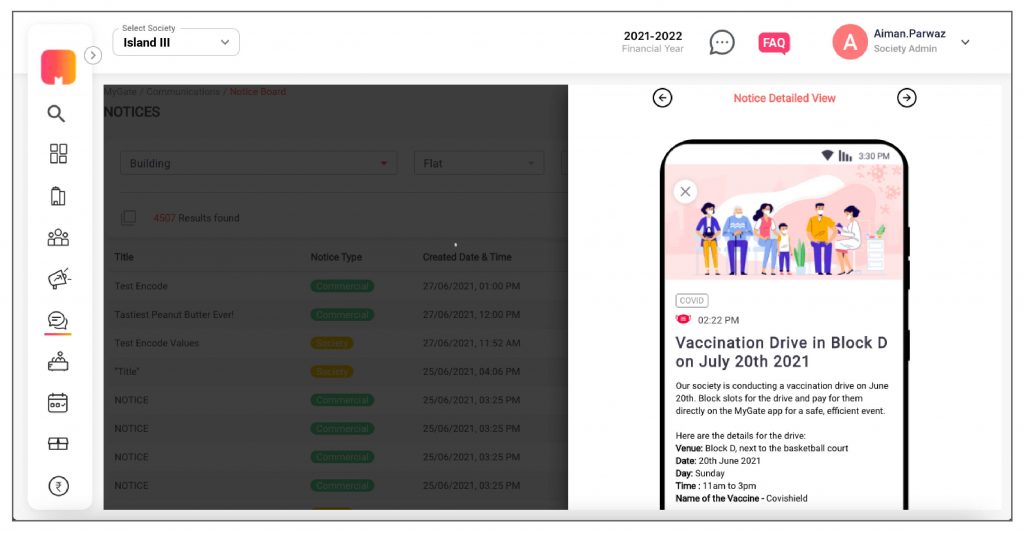 How it works for the residents…
Once the feature is enabled in the society, residents can view the notices on the 'Homescreen'.
1. Residents can click on the icon on the notice board to go to the listing page.
2. If residents click on the notice, it will directly take them to the notice detail page.
3. Residents can view attachments and files within the notice board.
4. They can also filter out the notice type they want to view.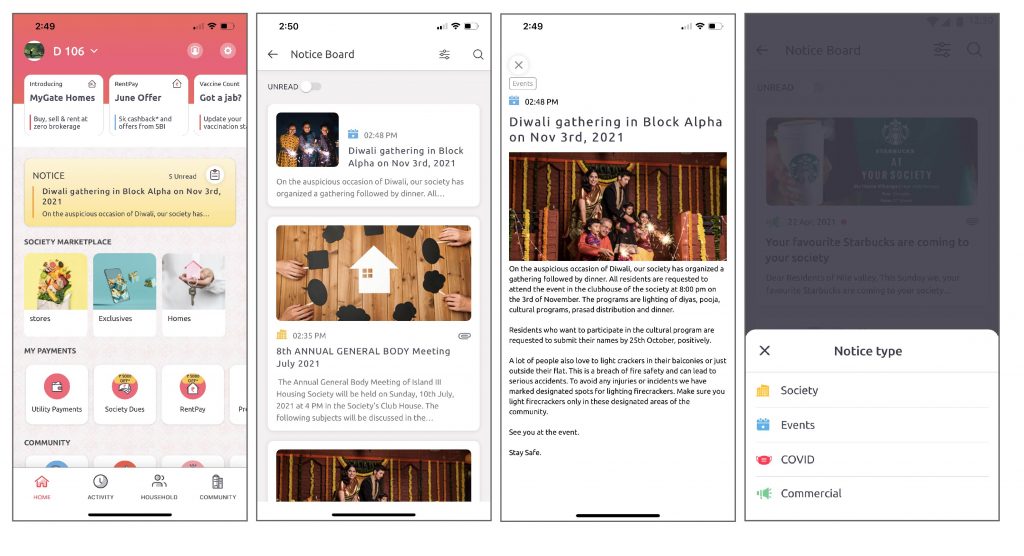 Enable this feature for your society and get an authorized platform for community-wide broadcasting.
Contact your management committee or MyGate relationship manager to enable Notice Board for your society today!