Let's talk about hair! Do you want to become a dyeing sensation with Indian skin tone? Here is the hair colour for brown skin. Brown is the latest trending hair colour. But why brown hair colour shades for brown skin?
Brown is stunningly gorgeous, but red is alluring, black is mysterious, and the blonde is, well, blonde. Brown hair colour hues are the best option for anyone who wants to make themselves seem different without undergoing significant life adjustments. Because of its modest elegance, it is likely to appeal to ladies looking for something delicate and discreet in their daily lives. It brings out the gorgeous dusky look of Indian women.
The more browner your hair, the more attention you get.
Our selection of brown hair colour tones for every Indian skin type includes options suitable for everyone. After determining the undertone of your complexion, proceed to our curated collection of brown colours to identify your ideal brunette character.
Explore the brown hair colour shades suitable for people with Indian complexion.
Brown hair colour shades: 1. Light brown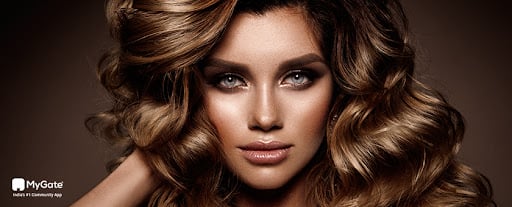 Light brown hair colour for Indian skin tone takes the hair dyeing to the next level.
Brunettes are full of electricity. Do you want to appear like a brunette for the day? If that's the case, you should go with this colour. It is a popular and neutral kind of light brown that works wonderfully with all of the many undertones of human flesh. It has the perfect balance of darkness and lightness, and its overall appearance is spot on.
Brown hair colour shades: 2. Dark brown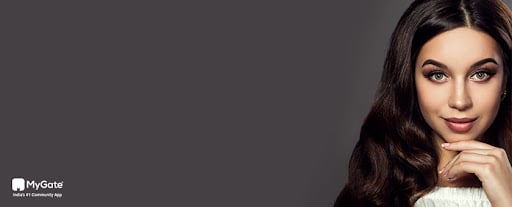 Dark brown is the recommended brown hair colour shade for Indian skin tone.
It is an easy-to-use yet powerful black hair colour for Indian hair and is ideal for concealing all your grey hair and other hair defects. To give your dark brown hair depth and personality, you may also apply a few touches of golden lowlights in strategic places.
Brown hair colour shades: 3. Golden brown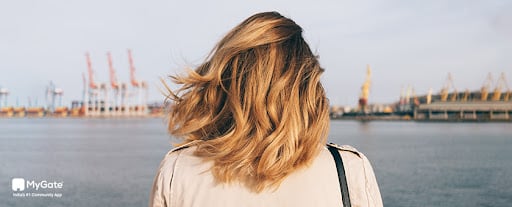 Golden brown is a brown hair colour shade that works well with the Indian skin tone.
Brunettes do it better and with Golden browns, they almost always look magnificent. It is a warm colour, and those with warm skin tones and brown eyes appear particularly stunning when they wear it. Subtle golden highlights may also create a sun-kissed appearance with this hair colour. This will give the impression that the sun has kissed your hair.
Brown hair colour shades: 4. Caramel brown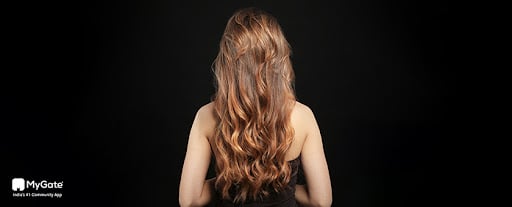 Best hair colour for Indian skin tone: Caramel brown.
If caramel popcorn is one of your go-to snacks for a night at the movies, but you're ready for a change, why not try dying your hair the same colour? You love caramel; so does your hair. The colour caramel brown is a delectable combination of the mahogany and golden-brown tones, and it flatters ladies with complexion tones ranging from dark to light equally well.
Brown hair colour shades: 5. Chestnut brown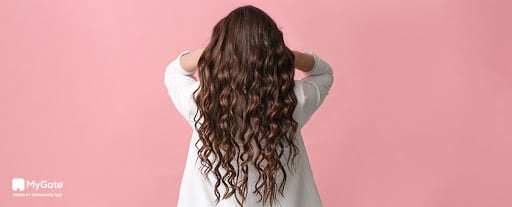 People will be (chest)nuts about this brunette in you. Warm tones such as dark brown, caramel, and golden brown come together to create the gorgeous colour combination known as chestnut brown. It has a rosy undertone that gives it an air of refinement and elegance unmatched by any other colour. It is the best option for folks with cool undertones to their complexion.
Brown hair colour shades: 6. Mahogany brown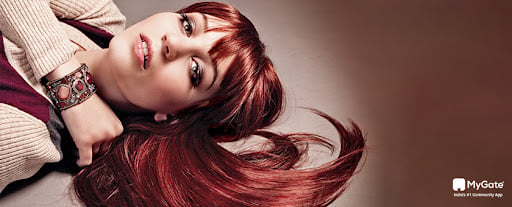 We didn't know that you looked better with brown hair. If you're searching for some edgier tones of brown in your hair colour, then this shade of brown could be the ideal option. It is a stunning hair colour that mixes a richer shade of brown with a hint of reddish undertones and works very well with cool skin complexions. You might also experiment with burgundy to bring out the red undertones.
Brown hair colour shades: 7. Ash brown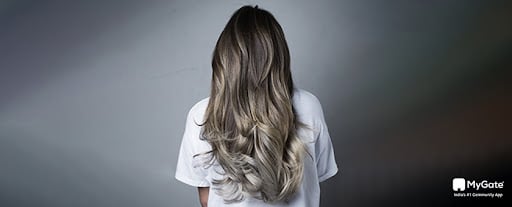 Hair colour for Indian skin tone- Ash brown
Learn the new language of hair colour, and that is ash brown. This unique hair colour, ash brown, is on the border between blonde and brown. Due to their cool grey undertones, your tresses will have more dimension and volume. If you have warm skin undertones and are seeking a hair colour that balances out the yellows in your complexion with a cooler hue, you need to try this one.
Brown hair colour shades: 8. Cinnamon brown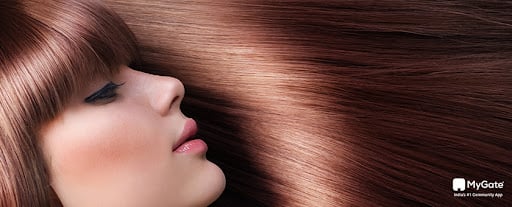 Cinnamon brown is a great choice of hair colour for Indian women.
Cinnamon brown is a new take on the traditional brunette hair colour, characterised by a delicious combination of milk chocolate and daring red accents. You can bring this hair colour to life by combining it with auburn highlights in a balayage manner, with a dark brown colour as the foundation colour. This will further accentuate the red tones in the hair colour. Your choice of cinnamon brown will make everyone say brunettes do it better.
Brown hair colour shades: 9. Red brown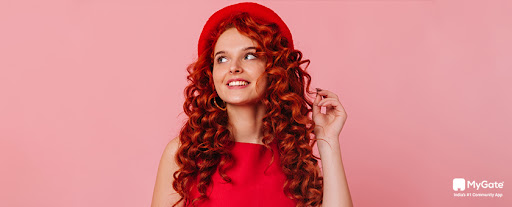 Reddish-brown is the best hair colour for Indian skin tones.
Are you unsure about the difference between browns and reds? What about having both of them? This hair colour is an excellent illustration of how you can combine different shades of red and brown naturally and seamlessly. In addition, it provides a diverse range of variants for you to explore and play about. Those with lighter complexion should choose redder tones, while those with darker or tanned skin should choose more brownish shades. Be brown and beautiful!
Brown hair colour shades: 10. Iced chocolate brown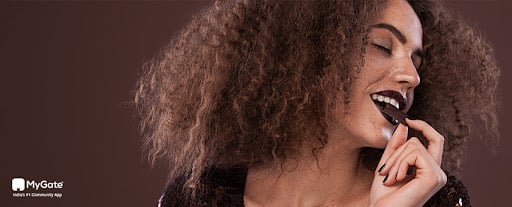 A different hair colour for Indian skin tone—Iced chocolate brown
Looking for highlights in your hair colour done by a professional that complements Indian skin? Iced chocolate brown colour highlights are the best. It is a hair colour that looks good on people of different complexion tones. This neutral tone will look stunning on those who have hair that is a rich chocolate brown colour. it reminds you of the hot chocolate brownies that melt in your mouth. You will melt the hearts of the people with one of these exotic brown hair colour shades.
Brown hair colour shades: 11. Copper brown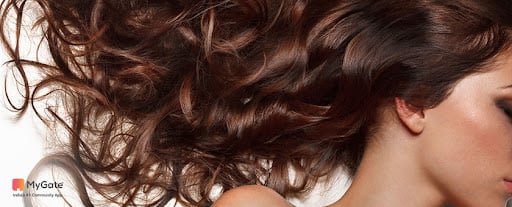 Hair colour shade for Indian skin tone- Copper brown
This magnificent shade of copper brown is the one colour that has the potential to make your tresses appear thick and full of volume. This shade of hair colour is flattering for people of different complexion tones, but it works incredibly well for individuals whose natural hair colour is brown. You will feel like you've always been a brunette once you've seen one of these brown hair colour shades.
Brown hair colour shades: 12. Mushroom brown (english)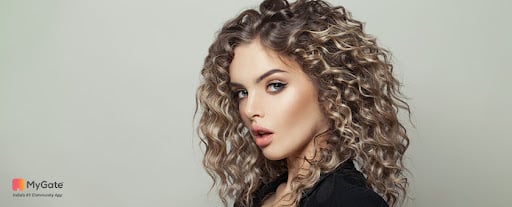 Mushroom brown is one of the best hair colours for Indian skin tone.
Among the several hues of brown hair, many people consider mushroom brown one of the most attractive colours. It is a colour you can describe as between brown and grey. This super-chill hair colour gives people with warm skin tones an edgy appeal, and it looks best when it's coupled with an ombre. Show your Braun with this brown and stand apart from the rest.
Brown hair colour shades: 13. Toffee brown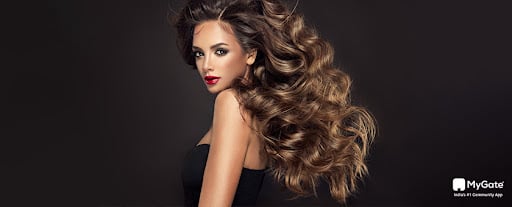 Toffee brown is the recommended hair colour for people with an Indian skin tone.
Who doesn't like toffee? This stunning shade of light brown hair colour is known as "delicious," and it's easy to see why. It brings out the best in those who have chilly undertones to their skin.
These few different brown hair colours go well with Indian skin tones. If they inspire you, give them a go; we promise you won't regret it! After colouring your hair, you must take proper care of it by utilising hair products appropriate for coloured hair.
11 Blonde Hair Color Shades for Indian Skin Tones
Loreal Hair Color Chart :Top 10 Shades for Indian Skin Tones
13 Burgundy Hair Color Shades for Indian Skin Tones
About MyGate
MyGate is India's largest society management system, benefiting thousands of housing societies, developers, society facility managers, and millions of homeowners in every Indian city.