Waste management is often seen by residential societies as a tedious and difficult task, to be put in the back burner until it becomes a crisis. Luckily, some pioneering societies awaken early and take proactive steps towards sustainable waste management. Their efforts are proof that small and realistic methods over time can go a long way in making a positive difference towards keeping reducing the burden of the garbage in our cities.
Anand Society and Tarangan Society in Thane, Mumbai are uniquely inspiring success stories, unlike any other in the country. Both have managed to create long-lasting solutions to their waste problem. With their perseverance and innovative ideas, they are a beacon for other housing societies.
Anand Society came into being in 2014 and houses 58 units while Tarangan Society, established in 2016, has 120 units. Here's a look at their journey towards sustainable in-house composting.
Pre-composting waste management situation
Neither society was compliant with Solid Waste Management Rules nor were any waste management rules being enforced by the Managing Committee. Segregation at source was not taking place and piles of mixed waste used to be collected by the local municipal corporation in trucks. Door-to-door waste collection was managed by the housekeeping staff and there was no involvement of the residents, either in segregation or in any in-house waste management.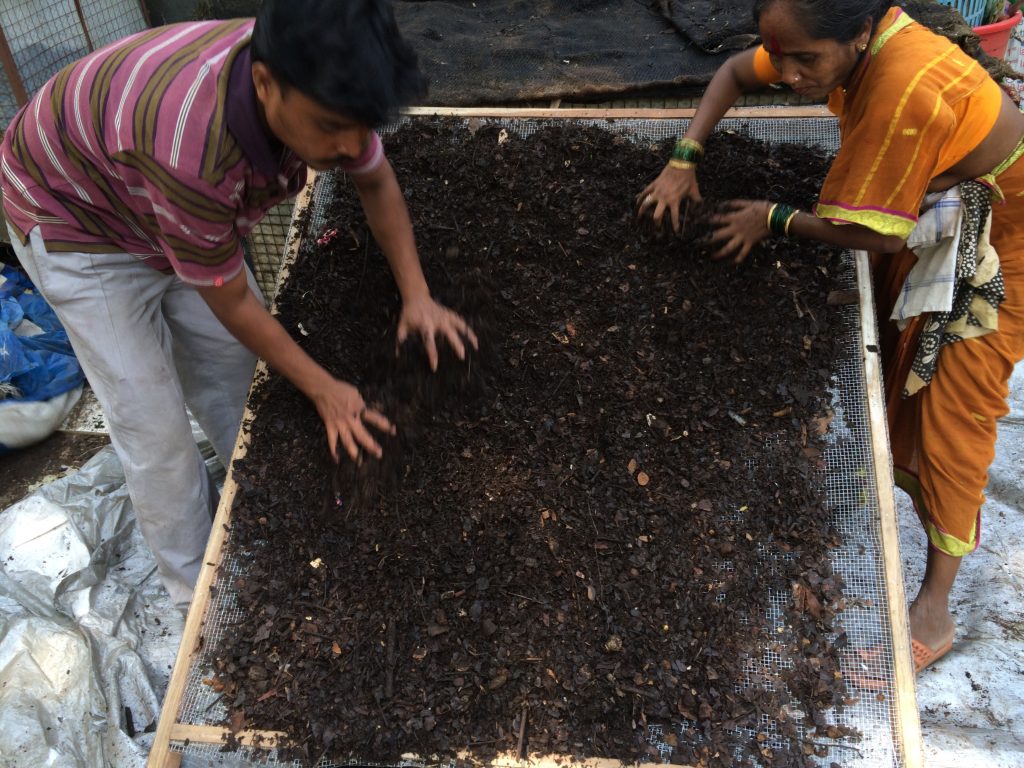 Involving all stakeholders
In 2017, Dr Lata Ghanshamnani, an Ophthalmologist and Founder of Rnisarg Foundation, an NGO dedicated to waste management and sustainable living in cities, launched the waste management project at Anand Society where she is a resident. She began by conducting an awareness programme for residents of Anand and Tarangan Societies to understand the basics of waste management and to inform them of their responsibility as waste generators. Once there was enough traction, the planning began.
Dr Lata integrated four stakeholders in the strategy:
The Managing Committee was approached for providing space and funding
Residents were instructed to segregate dry, wet and hazardous waste
Housekeeping staff was trained on ensuring daily segregation, composting techniques and sending dry waste for recycling
The Municipal Corporation was kept in loop to support and encourage housing society members with appreciation, tax rebates and other incentives
After the approval came through and the space was designated, two members made contributions towards vermicomposting bins. "We adopted vermicomposting initially and used it for two years because there weren't many readily available solutions at the time. Biocomposting was adopted later. With biocomposting, there was a learning curve, however a fully functional and effective system was achieved eventually after continuous efforts for around two years", says Dr Lata.
Interestingly enough, the 2 societies set up their bio-composting unit by winning place in Swachh Society Awards – an inter-society contest to recognize and reward clean and green residential housing societies in the Mumbai Metropolitan Region. Anand Society was awarded Rs 5 lakh cash prize while Tarangan won Rs 50,000, with which an investment in a bio-composting unit was made.
Getting started
Both the societies installed a bio-composting unit called Bhoomi Butti. There were many trials and errors before a suitable location was identified and a foolproof method of composting was achieved. The bio-composting unit consists of a shredder, currying system with racks to place trays and a big stainless steel bin for the composting process. Since two years, the system has been working well on auto-pilot mode with regular upkeep financed with a part of the monthly maintenance fees.
The housekeeping staff has been thoroughly trained to carry out composting activities professionally. They also receive additional payment every month for doing this job. The society has also financed the purchase of separate dustbins for three-way segregation.
The entire process isn't just handled by MC and housekeeping staff alone. The residents have been engaged too. Education about the importance of segregation and composting was handled by the children of the society. Each child was an ambassador who carried the message of sustainable waste management to their homes.
The success of community composting in these two societies has a distinct flavour to it. Since it wasn't just carried out as a mandate, but as a shared duty, it became an immersive experience for residents of all ages. They have not only participated in the efforts to set up and run the composting unit, but have also made waste management best practices a part of their lifestyle. The consistent efforts over the last six years have unified everyone and brought about a palpable change in the overall quality of life. Residents feel pride in having made the right step in the direction of a clean and green India.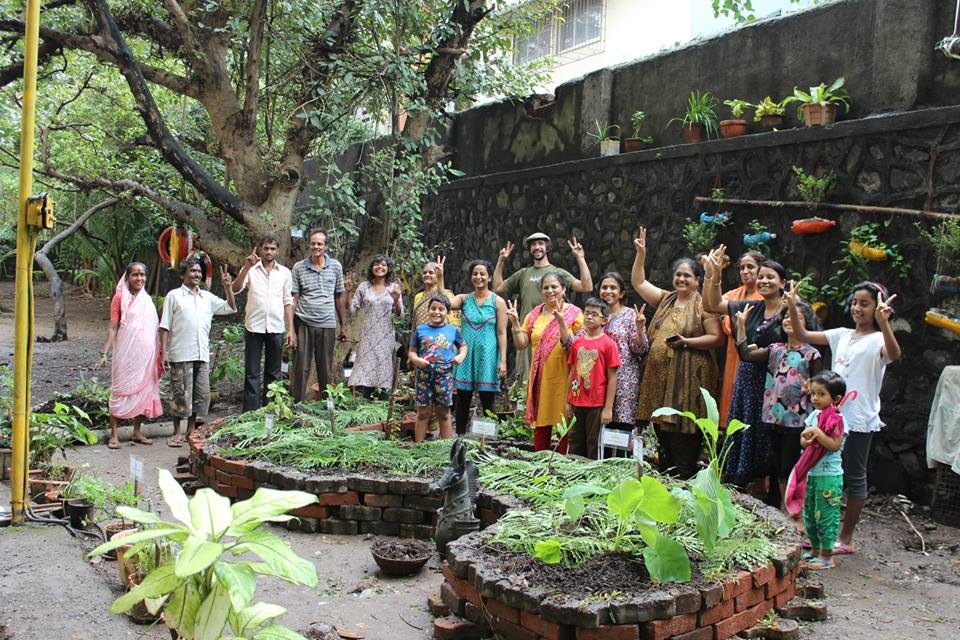 Overcoming challenges
There were challenges in the beginning, some expected, some unexpected, but these were handled with practical strategies.
"The initial location of the composting unit in the society's compound was an eyesore to many. So we grew an organic garden around it to beautify the place and create a natural and fresh aesthetic. When we started bio-composting, the smell was also a problem initially. So we decided to move the system to the terrace and that worked out well. It is now odour-free and no one has any complaints," says Dr Lata.
However, the biggest challenge was to make the entire system financially viable. This is because of the availability of municipal waste collection services that don't refuse mixed waste and collect it for free. If such wrong practices become a habit, no one feels compelled to get together and pay money for something they'd have to be accountable for. But gradually, mindsets must be changed and responsibilities should be shared equally by the citizens and the government.
Anand Society generates 30 – 35 kgs of wet waste daily while Tarangan Society generates around 120 kgs, one-third of which is turned into compost. The compost is used by the society and is also donated for free to residents. They also sell the compost to friends and family at Rs 10 per kg.
The societies and the stakeholders, aided by Dr Lata's guidance, intend to sustain the waste management and disposal efforts and continue them well into the future, while expanding their activities to other societies who are willing to take the lead in composting. Dr Lata advises housing societies. "Accepting your responsibility as a good citizen is the first step in waste management. The rest can be handled with planning and commitment. The key takeaways for societies planning to venture into composting are not giving up at the first sight of obstacles. Sometimes, the lack of participation or the challenge of financial planning can take a toll on your perseverance. But finding workarounds is always better than giving up. As long as awareness and a responsibility towards waste management are your guiding motivation, everything can be resolved, says Dr Lata.
All's well that ends well, and in the case of Anand Society and Tarangan Society, the journey towards sustainability has been especially rewarding because it has made the entire community more resilient, responsible and collaborative.
Images courtesy Dr Lata Ghanshamnani.
Disclaimer: Thank you for visiting our site. The information provided by MyGate ("we," "us" or "our") on https://www.mygate.com (the "Site") is for general informational purposes only. We strive to provide our readers with accurate information that helps learn more about the topics. It is not intended as a substitute for professional advice. We do not accept responsibility for the accuracy of information sourced from an external entity or take personal/ legal responsibility for your use of this information.