Home to Bollywood and TV stars, Andheri West is a hip and happening residential area with some of the best restaurants and pubs in the city of Mumbai. Within Andheri West lies a buzzing community with many major neighbourhoods such as Versova, Lokhandwala Complex, Seven Bungalows and Four Bungalows.
Andheri West is a sought-after residential hub because of its quality roads, great apartment options, commercial establishments, central location and civic amenities. You can choose from older standalone apartments, multi-storey buildings or large gated communities.
Are you looking to live in Andheri West? We've listed out some of the best societies to rent and buy apartments in. Plus, read about all there is to do as well as places to see in Andheri West.
List of top gated communities in Andheri West, Mumbai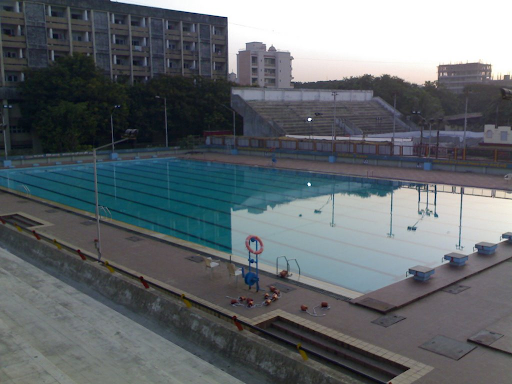 1. UK Sangfroid, Andheri West
Offering a dry balcony in all its 62 units, UK Sangfroid is surely a unique apartment complex (most Mumbai buildings don't even have a balcony!). The building also has all the amenities, including a cricket court, table tennis and rainwater harvesting. It is also conveniently located off Veera Desai Road, near Azad Nagar Metro Station, a Decathlon showroom and Andheri Sports Complex!
Highlights and amenities of UK Sangfroid
Area of apartment: 708 sq ft to 954 sq ft
Size of apartment: 2 BHK & 3 BHK
2. Touchwood Whispering Woods, Andheri West
Like so many Mumbai buildings, this premium complex doesn't have any amenities barring a small play area and covered parking. But the 79 families that reside here have good access to restaurants (Joey's Pizza), educational institutions (Bhavan's College), shopping destinations (Fabindia is down the road) and drinks, too (Bombay Cocktail Bar).
Highlights and amenities of Touchwood Whispering Woods
Area of apartment: 280 sq ft to 702 sq ft
Size of apartment: 1 BHK, 1.5 BHK & 2 BHK
3. Mohid Swiz Heights, Andheri West
A budget apartment complex, Mohid Swiz Heights still has a beautiful landscaped garden and jogging track in its single tower. The apartments also have two bathrooms, though the kitchen is on the smaller side. It is located on Lokhandwala Complex Road, near Shabari Restaurant and close to Ryan Kendra Secondary School.
Highlights and amenities of Mohid Swiz Heights
Area of apartment: 442 sq ft to 471 sq ft
Size of apartment: 1 BHK
4. Tirupati Platinum Tower 7, Andheri West
If location is important to you, look no further. The building is near the Andheri YMCA, which has numerous sports facilities and plenty of green area, as well as D-Mart and Hansraj Morarji Public School. The building also has some cool features such as a party area, a gym and a terrace garden.
Highlights and amenities of Tirupati Platinum Tower 7
Area of apartment: 330 sq ft to 585 sq ft
Size of apartment: 1 BHK & 2 BHK
5. Bayview Building, Andheri West
Plush apartments built by a boutique developer, Bayview is a marvellous project located near Urban Tadka on Juhu Versova Link Road. The building has all the premium amenities like a sky deck, swimming pool, state-of-the-art gym and even a library. Plus, the apartments are massive, at 3800 sq ft, with high-performance windows, imported sanitary ware and Italian marble in all the rooms.
Highlights and amenities of Bayview Building
Area of apartment: 3800 sq ft
Size of apartment: 4 BHK
Things to do in Andheri West, Mumbai
1. Bag a bargain
Bargain hunters will rejoice in this treasure trove known as Lokhandwala Complex Market. It's one of the most well-known clothes and accessories markets in Mumbai. Here you can find, clothing, shoes, bags, jewellery and much more at low prices. Make sure you bargain and check your purchases thoroughly before buying.
2. Visit a temple
Sri Sri Radha Rasabihari Ji Temple is also known as ISKCON (International Society for Krishna Consciousness) temple. A short distance away in Juhu, this is a beautiful structure and a peaceful place to pray at. There is a bookshop and pure vegetarian restaurant called Govindam here.
3. Explore South Indian Food at The Tanjore Tiffin Room
Go here for the delicious South Indian food, great ambiance and wonderful service. Eating at Tanjore Tiffin Room is a learning experience as each curry that is served comes with an incredible story. There is a tasting thali with various curries on offer to help you decide which main course to choose. For starters, make sure you order their unique sweet potato fries.
4. Eat authentic momos
For an authentic momo experience, Suraj Lama Momos ticks all the right boxes. Here you can eat vegetarian and non-vegetarian varieties with yummy red chilli and yellow peanut garlic chutneys. The outlet is basic but you can enjoy these momos in the comfort of your own home as they do home delivery.
5. Have a fun evening out
Andheri West is full of great restaurants and pubs. You can enjoy a good meal and dance the night away at one of the many trendy resto bars such as 1BHK – Brew House Kitchen, Independence Brewing Company and WTF!.
Places to visit in Andheri West, Mumbai
1. Manish Nagar Shopping Centre
A great place to do some street shopping. If you love clothes and accessories, Manish Nagar Shopping Centre will seem like paradise. Tee shirts, jeans, tops, skirts, dresses and jewellery in all sizes and styles are available here. There are also plenty of options for kids' clothing. Outside, there are a few food stalls.
2. Pratap's The Dhaba
If you are craving North Indian and Punjabi food, this place serves amazing naans, dal tadka, paneer dhaniya adraki, cholay and much more. The service is prompt and attentive and the venue is casual and comfortable. The perfect destination for a wholesome, homely meal in a relaxed setting.
3. The Darjeeling
Traditional Tibetan and Chinese food is served at The Darjeeling. This simple restaurant is tastefully done with soft music that plays in the background and prayer flags hanging all around. Go here to sample the crispy pan-fried momos and steaming hot thukpas.
4. Gilbert Hill
This is a 200-foot monolith column of black basalt rock located in Andheri West. This impressive rock has a vertical face that was formed from molten lava over 66 million years ago. From this hill, you get an amazing view of the surrounding areas. There is even a tiny temple here that is said to be over 500 years old. It is open from 7am to 12pm and 4pm to 8pm every day.
5. Mystery Rooms
This is a great activity-based entertainment option to enjoy in groups. Mystery rooms require you to work with your buddies to solve clues and complete tasks required to win the game. It's a fun group adventure that you can enjoy with family, friends or office colleagues.
6. Sardar Vallabhbhai Patel Park
A nice park with a basketball court and a walking track. There is enough space to do basic workouts such as push-ups and jumping jacks. This park is well-maintained and there is a lot of greenery.
FAQs about Andheri West, Mumbai
What is the distance from Andheri West to the Mumbai International Airport?
The travel distance or driving distance between Andheri West and Chhatrapati Shivaji Maharaj International Airport is 7.9 kilometres via JP Rd/Versova Marg.
What is the nearest bus station from Andheri West?
The main bus depot in Andheri West is at the railway station but there are a few others in Versova, Four Bungalows and Seven Bungalows. There are also bus stops across the suburb offering connectivity to all parts of Mumbai.
Is there any metro station in Andheri West?
Yes, there are metro stations in many parts of Andheri West, currently offering connectivity both toward the Central suburbs and across the Western suburbs.
What is the best place in Andheri West to hang out on weekends?
The people of Andheri West typically spend their time at Infinity Mall, go shopping in Lokhandwala, get some drinks at Urban Tadka or Social or walk on the beach at Versova.
How to reach Andheri West from Mumbai airport?
The quickest way to get from Mumbai International Airport to Andheri West is by taxi or rickshaw which costs ₹200 to ₹450 and takes 30 to 45 minutes depending on traffic.
Is Andheri West a posh area?
Yes, Andheri West is a posh area to live in. There are many upmarket residential properties, great restaurants and pubs, and high-end stores. The civic amenities are very good, with well-maintained roads and trusted schools and hospitals in the area.
Is Andheri West safe to stay in?
Yes, Andheri West is a safe area to live in. It is a very popular residential area as well as an employment hub. There are good buildings to reside in, nice commercial establishments, and many schools, shops and restaurants all in the area.
What are the best hospitals in Andheri West?
The hospitals in Andheri West include Bellevue Multispeciality Hospital, BSES MG Hospital, Shraddha Vihar Hospital, CritiCare Asia Multispeciality Hospital, Kulkarni Hospital Andheri West, SANGHVI HOSPITAL, Ark Hospital, Mahima Hospital & Polyclinic, SBS HOSPITAL, Ananda Hospital, KRIPA HOSPITAL and Masrani Hospital for women and MIMAS.
What are the best schools in Andheri West?
Some schools in Andheri West are St Louis Convent High School, St. Mary's High School, Shri Harshad C Valia International School, Belvedere Spring School International, OES International School, C.P Goenka International School, Marble Arch School (ICSE), HANSRAJ MORARJI PUBLIC SCHOOL, JBCN International School, Orchids The International School, Billabong High International School and Ryan Global School.
Which are the parks in Andheri West?
There are several nice parks in Andheri West, including Lallubhai Park, Sardar Vallabhbhai Patel Park, Jogger's Park, Ganpatrav Aambre Maharaj Udhyan, Sangeetkar Anil Mohile Manoranjan Park, MCGM Walawalkar Garden, Freedom Fighter Janardhan R. Patil Park, Bhardawadi Park And Garden, Vigneshawar Udhyan Park and Pramod Mahajan Playground.
What are the best gyms in Andheri West?
Andheri West has many good gyms and fitness centres. These include Waves Gym, FITNESS ART, The Cloud 9 Fitness Club, Rebellion Fitness, MESHA Forever Fitness Gym, Anytime Fitness, X ANIMO Fitness, Planet Muscle Performance & Fitness Centre, Power zone gym, Gym Spirit, The Fundamentals of Sports, SYKZ Gym and Power Point Gym.
What are the police stations in Andheri West?
There are a few police stations in Andheri West. DN Nagar Police Station is on Andheri Link Rd, Shiv Nagar. Versova Police Station is on New Link Rd, near C.D.Barfiwalla School, Madhuban Colony.