Churchgate, currently known as Veer Nariman Street, is a prominent South Mumbai locale. The name Churchgate came from the railway station and St. Thomas Church. Churchgate is home to some of Mumbai's most famous structures and organisations. Churchgate, home to financial and corporate enterprises and educational institutions, is a must-see when visiting Mumbai. The bustling neighbourhood is surrounded by several iconic landmarks, such as the Bombay Stock Exchange, General Post Office, and High Court, making it a vital historical hub. It is the perfect place to experience the hustle and bustle of the city while learning about its past. Its well-connected train station provides easy access to all city areas, and the nearby Marine Drive is a stunning spot for evening strolls. Churchgate is a vibrant and lively area of the city that provides insight into Mumbai's past and an opportunity to immerse oneself in its present.
Top gated communities in Church Gate, Mumbai
1. Vishnu Mahal
Vishnu Mahal, located in the centre of Church Gate, is an excellent place to stay. The apartment complex is 1 acre in size, well maintained, and equipped with all required facilities. The area is convenient for several schools and institutions. It is also a short walk from the nearest bus station. Additionally, the apartment complex is surrounded by various shops and eateries that offer an array of cuisines to suit any taste.
Highlights and amenities of Vishnu Mahal
Types of apartments: 2 BHK and 4 BHK apartments
Area per apartment: 1000 sq. ft. to 2000 sq. ft.
Number of apartments: N/A
Address: Vinoo Mankad Road, Churchgate, Mumbai, Maharashtra 400020
2. Churchgate Mansion
Churchgate Mansion is one of Church Gate's most desirable residential areas. The building is well-kept and has all the facilities its occupants require. There is also 24-hour running water, power backup, security, a garden, and an elevator. The apartment complex is near several bus stops. The residents of Churchgate Mansion enjoy a luxurious lifestyle, with the convenience of modern amenities and the peace of mind that comes from living in a secure environment.
Highlights and amenities of Churchgate Mansion
Types of apartments: 1 BHK, 2 BHK, and 3 BHK apartments
Area per apartment: 650 sq. ft. to 1200 sq. ft.
Number of apartments: N/A
Address: WRMG+FWG, A Rd., Churchgate, Mumbai, Maharashtra 400020
3. NCPA Apartment
The NCPA Apartment at Church Gate is semi-luxurious. It is a well-kept residential complex close to many bus stops and an airport. There is 24-hour security, running water, and security guards. The location is close to several schools, universities, and hospitals. The NCPA Apartment at Church Gate is a perfect choice for those looking for a semi-luxurious, secure, and convenient place to call home.
Highlights and amenities of the NCPA Apartment
Types of apartments: 3 BHK and 4 BHK apartments
Area per apartment: 2680 sq. ft. to 2880 sq. ft.
Number of apartments: N/A
Address: NCPA Residential, Dorabaji Tata Road, Nariman Point, Mumbai, Maharashtra 400021
Things to do in Church Gate, Mumbai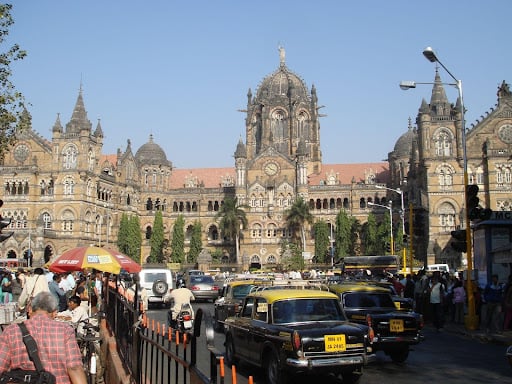 1. Visit the famous landmarks of Church Gate
Church Gate has some of the most iconic and prominent landmarks in Mumbai, such as the Marine Drive, Wankhede Stadium, Chhatrapati Shivaji Terminus, Bombay High Court, Rajabai Clock Tower, Nariman Point Sea Face, Churchgate Railway Station. Exploring these places and marvelling at their historical and architectural beauty is a great way to spend the day.
2. Experience the historical Flora Fountain
The Flora Fountain is a relic of the early British Empire in India. Built in the 1860s, the fountain depicts the Roman goddess Flora. Modelled after Victorian-style architecture, the monument has stood the test of time. Despite the changes in Mumbai, the Flora Fountain still stands as a reminder of its colonial past.
3. Visit the ancient Elephanta caves
The Elephanta Caves, also known locally as Gharapurichi Leni, are the remnants of what were formerly brilliantly painted artworks. Situated on an island off the coast of Mumbai, Hindu devotees created these rock-cut temples in the 7th century and are believed to represent Lord Shiva. Today, the Elephanta Caves are a popular tourist attraction and a reminder of Mumbai's history, offering visitors a chance to experience ancient Indian culture.
4. Fashion galore on Fashion Street
Fashion Street is one of Mumbai's most popular retail zones. With over 150 stores, Fashion Street promises the eager shopper a lot more variety than any huge mall or trendy store can give. A perfect place to buy fashion items at affordable prices. From traditional Indian clothes to western outfits, accessories, and all kinds of ethnic jewellery, Fashion Street has it all.
5. Visit the impressive Bayview Hotel Marina Plaza
This Mumbai 24-hour restaurant is meant to seem like the inside of a ship, and the menu is as eccentric. Guests can select from gourmet pleasures that appeal to global and local palates. Bayview Hotel Marina Plaza will give you an exceptional and memorable dining experience. Whether you are looking for a romantic night out, a great place to have a business meeting, or simply to relax and enjoy the hotel's ambience, Bayview Hotel Marina Plaza is an ideal destination.
Places to visit in Church Gate, Mumbai

1. Gaylord
Gaylord is a casual eating establishment that specialises in dessert specialities. A popular restaurant in Churchgate, it is acclaimed for its prompt service and is an excellent place to go if you want to satisfy your appetite with great, sanitary meals at a fair price. Moreover, Gaylord is well known for its delectable desserts such as malpuas, gulab jamun, and kulfi.
Address: Mayfair Building, V N Rd., Churchgate, Mumbai, Maharashtra 400020
2. Gaughan Supreme South Indian
Gughan Supreme South Indian is the place to be for an unforgettable South Indian dining experience. The ambience is very calm and will never fail to relax you. Some popular dishes are Sambhar Rasam, Rasam Vadai, Sweet Pongal, Ghee Idli, Rasam Idli, and Tomato Rasam. All the dishes are expertly prepared and deliciously spiced, ensuring that every bite is as flavorful as possible.
Address: Ground Floor, 91, Shalimar Building, Near Registrar of Companies (RoC G Road, Bhagwandas Todi Marg), Close to Parsee Gymkhana, Marine Dr., Mumbai, Maharashtra 400002
3. The Blowdry Bar
The Blowdry Bar, a unisex concept salon overlooking Marine Drive, has us reconsidering our present salon options. They provide rapid hair and nail solutions. With its luxurious ambience, wide range of services, and expertise in hair styling, the Blowdry Bar is a standout when it comes to getting ready for that special occasion.
Address: Bajaj Arcade, Danda, Pali Hill, Mumbai, Maharashtra, 400052
4. Mockingbird Cafe Bar
Mockingbird Cafe Bar is a must-visit for foodies who appreciate terrific music and ambience. The restaurant not only delivers delicious meals but also offers an extensive range of beverages and mocktails. The service is prompt, and the personnel are courteous and helpful. The cosy and comfortable atmosphere makes it perfect for family outings or romantic dinners. The Mockingbird Cafe Bar has been lauded for its unique decor, combining rustic and modern elements that create a welcoming ambience.
Address: 80, Veer Nariman Road, Churchgate, Mumbai, Maharashtra 400020
5. The Society Restaurant, The Ambassador Hotel
A wonderful setting for crucial meetings or quiet lunches. This restaurant, which serves North Indian, Continental, seafood, and European cuisine, should be on everyone's list. The atmosphere is captivating, expressive, and lovely. The Society Restaurant offers the perfect atmosphere for any occasion with its plush interior featuring classic decor and stunning views of the nearby gardens.
Address: The Ambassador Hotel Mumbai, Marine Drive, The Ambassador Hotel, Veer Nariman Road, Churchgate, Mumbai, Maharashtra 400020
FAQs about Church Gate, Mumbai
What is the distance from Church Gate to the airport?
The Chhatrapati Shivaji International Airport is just 3.1 kilometres away from Church Gate. It takes an average of 15 to 25 minutes to reach the airport, depending on traffic conditions. People may take a taxi, a ride-hailing service, or other public transportation to the airport from Church Gate.
What are the best hospitals in Church Gate?
Some of the best hospitals in Church Gate are Shroff Eye Clinic, Saifee Hospital, Sewree Nursing Home, and Family Care Hospitals. These hospitals offer quality medical care for various conditions, from minor ailments to complex surgeries.
What are the best schools in Church Gate?
Some of the best schools around Church Gate are St. Xavier's High School, The Cathedral & John School, and Aditya Birla World Academy. These schools offer a range of educational programs, including general academics, performing arts, athletics, and extracurricular activities to help students develop their skills and talents.
What are the best gyms in Church Gate?
Some of the best gyms in Church Gate are UFC Gym, Melt Gym, Body Art, and Studio 23. These gyms provide a range of facilities and classes to cater to people from all walks of life.
Which are the parks in Church Gate?
There are numerous parks around the Church Gate neighbourhood. Some of the best ones are Tata Garden, Churchgate Garden, Firdaus View, and Mahatma Gandhi Garden. These parks provide a peaceful environment for people to relax and take a break from the busy hustle of the city.
What is the best place to hang out in Church Gate on weekends?
Church Gate has various recreational areas to choose from to spend quality time hanging out with friends and family on weekends. The Mockingbird Cafe Bar is such a place. Located in the heart of Church Gate, the cafe bar has an extensive menu with delicious food and drinks.