Hebbal or Hebbala is a neighbourhood of Bengaluru, Karnataka. Although Hebbal Lake is considered one of the most attractive and well-known places, it is now more well-known for the tangle of flyovers that connect the Outer Ring Road and Airport Road on NH 44. Hebbala's lake region is popular for its picnic areas, a well-kept park, boating opportunities, and bird-watching chances.
Bengaluru has expanded significantly in the north recently. Some of the places close to Hebbal are R. T. Nagar (2.08 K.M), Kaval Bairasandra (2.63 KM), Sanjaynagar (3.49 KM), RMV Extension Stage 2 (3.67 K), Dasarahalli (4.63 KM) are the nearby areas to Hebbal. Amani Byrathikhane, Byatarayanapura CMC And OG Part, Kothnur Narayanapura, Mesthri Palya, Geddalahalli, Bangalore are the nearby small cities near to Hebbal.
It is because of the mix of urban lifestyle, low living cost and abundant open space, Hebbal has become one of the most go-to places for living for the working professionals in the city. The types of society range from Ready to Move in, Township, Affordable and Luxury. Wondering which society your future home might be in, where you can find good food, a school for your kids or even spaces you could work out in? Read on to find out!
List of top gated communities in Hebbal, Bangalore
1. Embassy Lake Terraces, Hebbal
Embassy Lake Terraces is an iconic structure designed with a twist to give beautiful views of lakes. The beauty and elegance in crafting and structuring make the project a phenomenon to gaze at. Few of the top reasons to choose Embassy Lake Terraces are innovative design, intelligent home access control, Lake view and 42+ modern amenities such as club house, Children's Play Area, Cricket Pitch, Indoor Games, Skating Rink, Swimming Pool, Gymnasium and much more.
Highlights and Amenities in Embassy Lake Terraces, Hebbal
Type of apartments: 3 BHK, 4 BHK and 5 BHK
Area per apartment: 3500 (3 BHK), 4400 (4 BHK), 8300 (5BHK) sq ft.
No of flats: 467
2. SNN Clermont, Hebbal
SNN Clermont is a project by SNN Estates. SNN Clermont is located opposite to Lumbini Gardens & Nagawara Lake, Hebbal. SNN Clermont was launched in April 2012.It offers a host of facilities for residents.If you are looking for a gated community with abundance of amenities this is where your future flat lies.Some of the amenities includes Gymnasium, Swimming Pool, Sports Area,Spa/Sauna/Steam, Restaurants/ Cafeterias, Conference Room.
Highlights and Amenities in SNN Clermont, Hebbal
Type of apartments: 3 BHK and 4 BHK
Area per apartment: 2526 (3 BHK), 3067 (4 BHK) sq ft.
No of flats: 422
3. Vaishnavi North 24. Hebbal
Vaishnavi North 24 is a project by Vaishnavi Group in Bangalore. It is an Under Construction project at the moment. Vaishnavi North 24 offers some of the most conveniently designed apartments. Located in Hebbal Kempapura, it is a residential project. The project is spread over 3 Acres .Vaishnavi North 24 offers some of the most exclusive 3 BHK. The address of Vaishnavi North 24 is Chiranjeevi Layout, Hebbal. Vaishnavi North 24 ensures a coveted lifestyle and offers a convenient living. Along with excellent connectivity it also offers facilities such as Gymnasium, Power Backup.
Highlights and Amenities in Vaishnavi North 24, Hebbal
Type of apartments: 3 BHK
Area per apartment: 1682 (3 BHK) sq ft.
No of flats: 150
Things to do in Hebbal, Bangalore
1. Relax by taking a walk across the lake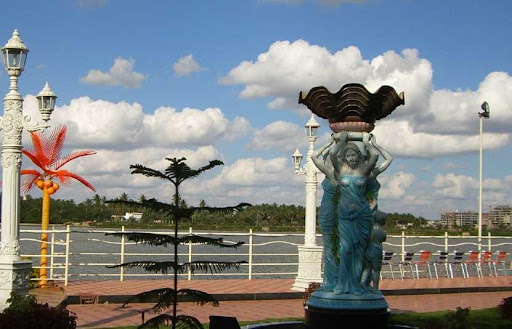 Lumbini Gardens is a public park on the banks of the Nagawara Lake in Bangalore, Karnataka named after Lumbini of Nepal. Although the garden is mainly a national park, it is a treat to the eyes with its serene landscapes and lots of greenery.Located near the Nagawara lake, the Lumbini garden is one of its kind garden attractions in Bangalore. The beautiful, serene environment of the lake hosts visitors with mesmerising views and activities that people come to enjoy with their loved ones. Undoubtedly, Lumbini garden has made its place among the crowd's favourite weekend destinations.
2. Visit local temples and witness the cultural heritage
Ananda Giri (Hill) is in Cholanayakanahalli, Hebbal as the abode for Lord Ananda Lingesheshwara who got himself locked up in this temple in capital city Bangalore of Karnataka state in India. 'The temple is found on the peak of a small hill rock called Ananda Giri situated towards east of Hebbal town. The temple was rebuilt during 1997. The 21st century has brought in several developments and modifications in this beautiful hillock. The temple was renovated in 2000; the surrounding place was modified in 2009.
3. Head out for Food & Beverage
Given its mix of north indian and south indian crowd, Hebbal is a part of Bengaluru with great food restaurants, too. This means that you can enjoy north indian and south indian food at DJ Bar and Family Restaurant hebbal with drinks on the side, and chinese food at Red Dragon Restaurant.
Places to visit in Hebbal, Bangalore
1. Hebbal Lake
One of the most popular sightseeing places in Bangalore is the charming Hebbal Lake, which is located along the junction of Bellary Road and the Outer Ring Road (ORR). If you are someone who is interested in spending time in the lap of nature, this magnificent lake is a must visit! Surrounded by the ever growing sky high concrete buildings of the city, this lake is a treat to your eyes and soul.
2. Five Petals
This place has a collection of organic seeds – vegetables, herbs, and fruit trees – and a vibrant and innovative variety of garden accessories, so if you are looking forward to buying elegant plants for your home or workplace garden this place is heaven. They also sell organic products like organic fertilisers made of natural ingredients like neem, neem oil pesticides, and plant nutrients made from age-old organic recipes. Five Petals has this Organic Grow Kit which includes a pack of seeds, fertiliser, plant nutrients, neem oil, and neem cake. It also comes in different sizes, according to your need.
3. DJ Bar and Family Restaurant
Wanna party late at night? Head to this place, it is simply awesome. It has eye-catching interiors, attractive decor, and comfortable sitting arrangements. From the meals prepared in the kitchen to the drinks offered by the bartender, everything is perfect here. Tandoori chickens are the best ones to go for.
4. Ananda Lingeshwara temple
It is a very beautiful Hindu temple located on a small hill called Ananda Giri Hill near Hebbal. This religious place originated in the 13th century Chola dynasty era. The temple was renovated in 2000, 2009, and 2012. Goddess Parvati is also worshipped, whose idol is on the right side of the main deity Ananda Lingeshwara.
5. Red Dragon Restaurant
If you are fond of Chinese food, this is the place for you. The place has decent decorations with shadowy lights, peaceful, and Chinese lamps providing a typical feel to it. The staff is very polite and provides great help to its customers. The prices here are also cheaper as compared to some other fancy-looking Chinese restaurants. Chilli Sesame Chicken Starter, Lung Fung Soup, and Veg. Spring Roll are best sellers.
6. Saaga
A deluxe restaurant, known for providing a sensibly priced buffet. They have cuisines like Mughlai, Chinese, Thai, North Indian, and Continental. The special dishes to try here are Sizzling Brownie, Appam, Soups, Desserts, Drink, Starters, Paneer Pasanda, Chicken Hariyali Tikka, Prawn Curry.
The place is considerably spacious and entirely decorated with wondrous lights. Also, the comfortable sitting and marvellous wall hangings make the place more unique.
FAQs about Hebbal, Bangalore
How far is Hebbal from the City Centre?
The distance between Bangalore City Station and K R Puram is 10 kilometres.
What is the distance from Hebbal to the Airport?
The travel distance or driving distance between Hebbal and Bangalore Airport is 27 kilometres.
What is the nearest bus station from Hebbal?
Depot-28 Hebbala, Hebbala Bridge and Kempapura (Hebbala) has a number of buses, even those going to the airport.
Is there any metro station in Hebbal?
The Baiyappanahalli station is the nearest Namma Metro station on the Purple Line serving Hebbal, Bangalore.
What is best place in Hebbal to hangout on weekends?
Hebbal lake or lumbini gardens is a great place to go for a walk or a picnic with your family. You can also go to Red Dragon restaurant for a lunch or dinner.
How to reach Hebbal from Bangalore airport?
The quickest way to get from Bengaluru Airport (BLR) to K R Puram is to taxi which costs ₹1,200 – ₹1,400 and takes 42 min. The cheapest way to get from Bengaluru Airport (BLR) to K R Puram is by bus which costs ₹200 – ₹250 and takes 1h 45m.