HSR Layout, also known as Hosur-Sarjapur Road Layout, is a bustling suburb in South Bengaluru most famous for being home to a number of top Indian startups. These include Udaan, MyGate, WhatFix, Cure.Fit and many others. This has resulted in it developing into a contemporary living space. Wide roads, the best eateries, good schools, great offices to work in, a street for all your shopping needs – name it, and you have it.
It is because of these hallmarks, and its proximity to Koramangala, Sarjapur Road and Indiranagar, that properties in the HSR Layout are highly profitable and always in high demand, especially among IT professionals working in startups.
Wondering which society your future home might be in, where you can find good food, a school for your kids or even spaces you could work out in? Read on to find out!
List of top gated communities in HSR Layout, Bangalore
Looking for an urban, affluent lifestyle? Look no further. Purva Vantage in Sector 2 of HSR Layout is the perfect place for you.
Apart from being a vibrant and well-managed society, Purva Vantage includes jogging and cycling tracks, a tennis court, table tennis tables, billiards/ snooker table, a swimming pool, lift, gym, power backup, and a parking space.
It is well positioned too! Be it healthcare, schools, theatres or cafes, you'd have it all.
Highlights and Amenities in Purva Vantage
Type of apartments: 2BHK and 3 BHK
Area per apartment: 1340 (2 BHK) 1850 (3 BHK) sq ft.
No of flats: 87
2. Sobha The Supreme Tower, HSR Layout
Sobha Supreme Tower lives up to its name with the quality, brilliant designs, and amazing customer experience. It offers every amenity that you might need. Want a space to play sports? They have a badminton court, a cricket field, a jogging and cycling track, a space for your kids to play and even make sandcastles in!
There is even a space for the yoga lover in you. If you are an indoor game lover, fret not! There is a place for you too! Apart from this, Sobha glows green with a park and tons of green spaces. What's more? 24×7 security!
Highlights and Amenities in Sobha the Supreme Tower
Type of apartments: 2BHK and 3 BHK.
Area per apartment: 1365 (2 BHK) 1935 (3 BHK) sq ft.
No of flats: 910
Live a luxurious and diverse lifestyle in the magnificent 27 Park Avenue. This stunning skyscraper is a vaastu compliant society with a club house, gym, health facilities, temples, meditation hall, play area, swimming pool, tennis court. It even has an amphitheatre, a skating rink, a multipurpose room and so on!
Be it quiet or a hustle bustle, pick and choose what you'd want to live with inside this amazing society!
Highlights and Amenities in Assetz Homes 27 Park Avenue
Type of apartments: 4 BHK.
Area per apartment: 4540 – 9200 sq ft.
No of flats: 19
4. SNR Mayfair, HSR Layout
Looking to enjoy an international lifestyle? SNR Mayfair is here for you! Whether you want a school for your kid, college perhaps, want to go shopping to malls, want to spend your evening in the dreamy lights of cafes, and restaurants, want to have healthcare centres close by – SNR Mayfair is strategically located close to them all.
Apart from this, the conveniences at SNR Mayfair include power backup, lift, gym, an indoor games room, a multipurpose hall, swimming pool, and a play area.
Highlights and Amenities in SNR Mayfair
Type of apartments: 2, 3 BHK.
Area per apartment: 1185 – 1745 sq ft.
No of flats: 16
The Salarpuria Sattva Group, which has over 80 projects to its name, is behind this project which has over 300 units across an acre of ground. Want a luxurious lifestyle that is also pocket friendly? This is your place.
Salarpuria Serenity offers comfortable and facilitated living, with conveniences which include a clubhouse, cycling and jogging track, power backup, swimming pool, lift, parking space, banquet hall, a tennis court, a badminton court, and a gym.
Highlights and Amenities in Salarpuria Serenity
Type of apartments: 2, 3 BHK.
Area per apartment: 1342 – 1760 sq ft.
No of flats: 300
6. Residency Park, HSR Layout
The Residency Park has easy access to Bangalore's most well-known neighbourhoods. Its 2 Acre size provides enough green space for locals. There are 100 well-ventilated units in the project as a whole.
The conveniences in Residency Park include a swimming pool, lifts, gym, club house, park, cycling and jogging track, and a banquet hall. It also includes a cafeteria, a bar and lounge, a conference room and much more!
Highlights and Amenities in Residency Park
Type of apartments: 1,2,3,4 BHK.
Area per apartment: 979 – 3403 sq ft.
No of flats: 100
If you want to learn all about gated communities in HSR Layout, you can go through this in-depth article.
Things to do in HSR Layout, Bangalore
1. Go shopping on 27th Main Road
Shop for anything, from clothing to decor on 27th Main in Sector 1, HSR Layout! It's home to several top shopping spaces, such as Jaypore, Hamley's, Van Heusen, Wooden Street, Nike, Cotton World and Lenskart. Since 27th Main is where NIFT Bangalore is located, you can also find great clothes at cheaper prices in shops that serve the local student community.
2. Grab a beer at a brewery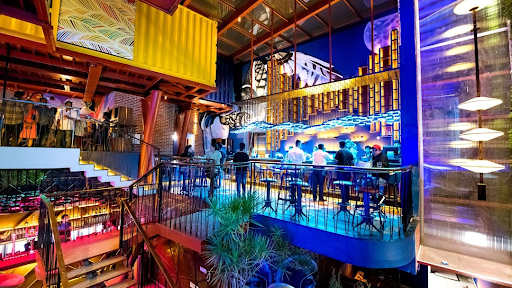 Like everywhere else in Bengaluru, HSR, too, has plenty of great options to grab a beer with friends. Brother Barley is the most popular brewery in the area, but you can also visit places like Shift, Hangover/Plan B and TBC Sky Lounge.
3. Head out for North Indian food
Given its cosmopolitan crowd, HSR Layout is a part of Bengaluru with great North Indian food options, too. This means that you can enjoy Maharashtrian classics Misal Pav at Purnabhrama or Mast Marathi, Chettinad food at Junior Kopanna or Anjappar and North Indian food at Kota Kachori, HSR High Street or Kappor's Cafe.

4. Exercise at a park or lake
One of the wonderful things about HSR Layout is the variety of places to exercise outdoors. Agara Lake has a long walking track, as does Freedom Park. If you don't like exercising outdoors, there are also a number of gyms in the area.
5. Work from a trendy cafe
Given the number of startups in the area, you're bound to hear a number of interesting ideas floating around at the many cafes in the area. The legendary Third Wave Coffee Roasters, in fact, has two outlets in HSR Layout, and you can also visit Qmin, Theobroma, Chai Point, Go Native and many others.
Places to visit in HSR layout
1. Agara Lake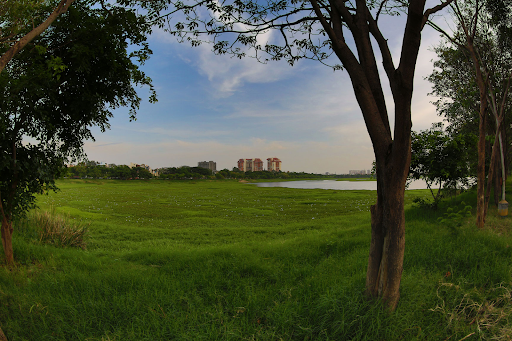 This is an amazing location in the city for morning jogs, bird watching, and your kids to be just themselves in HSR Layout. The entire lake is circled by a jogging path. It is a good three to four kilometres of cardiac exercise.
2. HSR BDA Complex
Anyone who resides in HSR Layout would tell you that the BDA complex is essentially a hallmark location for low-cost shopping! In fact, it might just be our newest go-to hangout and shopping destination!
3. Go Native HSR
Great food? Check. Shopping? Check. Exotic ingredients? Check. Go Native HSR is a great place to spend the day tasting local flavours, shopping for gifts for friends and family and buying unique ingredients for your next cooking adventure.
4. Go Startup Office Hopping
With a number of the country's unicorns in the area, such as Udaan, Acko, KhataBook, DealShare, you're sure to feel like you've entered the future. Or maybe you'll be inspired to dream up a business idea yourself.
FAQs about HSR Layout, Bangalore
How far is HSR Layout from the City Centre?
The distance between Bangalore City Station and HSR Layout is 13 kilometres.
What is the distance from HSR layout to Airport?
The travel distance or driving distance between HSR Layout and Bangalore Airport is 54 kilometres and 311 metres.
What is the nearest bus station from HSR Layout?
BDA Complex has a number of buses, even those going to the airport. 
Is there any metro station in HSR Layout?
The nearest metro station to HSR Layout is Jayanagar Metro Station. The distance between Jayanagar Metro Station to HSR Layout is 8.8 km only. However, construction for a new metro station is underway.
How to reach HSR Layout from Bangalore airport?
The quickest way to get from Bengaluru Airport (BLR) to HSR Layout is to taxi which costs ₹1,200 – ₹1,500 and takes 45 min. The cheapest way to get from Bengaluru Airport (BLR) to HSR Layout is by bus which costs ₹270 – ₹340 and takes 2h 57m.
What are the best hospitals in HSR Layout?
The best hospitals in HSR Layout like Greenview Medical Centre, Phoenix Hospital, and Narayana Multispeciality Hospital.
What are the best schools in HSR Layout?
Best schools in HSR Layout are Vibgyor high, Lawrence High School, Ravindra Bharathi Global School, JSS Public Schools, Euro School HSR [formally Cambridge Public School], National Public School, Freedom International School, Mount Litera Zee School, Sri Chaitanya School, Narayana School, Sri Sri Ravishankar Vidya Mandir.
Which are the parks in HSR Layout?
There are many parks in HSR layout where you can go are Tree Park, Swabhimaana Vruksha Van, Sector 7 Park, Sector 4 Park,HSR, Twin Park, Independence Park, HSR Friends Park.
What are the best gyms in HSR Layout?
If you're fitness freak you can visit Krypton Fitness Club, HSR Layout (Gold's gym), Fitness Fuel Factory – Best Gym in HSR Layout, Cult Hsr 14th Main – Gyms in 7th Sector, Hsr Layout, Bangalore, Zest Fitness Studio, Eurofit Gym and Aerobics, Hammer Fitness, Op Fitness Gym.
What are the police stations in HSR Layout?
HSR Layout Police Station [Sector 1] [80 2294 3467], HSR Layout Traffic Police Station [Iblur Village] [080 2574 7574], and Bandepalya Police Station [Sector 3] [080 2294 2236].