Jadavpur is a well-developed locality situated in southern Kolkata. It is one of the prominent areas in the city and comes under South 24 Parganas district.
This locality comprises quality social infrastructure and is home to many renowned educational and research institutions such as Jadavpur University, Acharya Prafulla Chandra Ray Polytechnic and Indian Association for the Cultivation of Science (IACS).
Prime locations closer to Jadavpur are Dhakuria, Jodhpur Park, Gariahat, Bagha Jatin, Garia, Tollygunge, and Kalighat. In terms of residential developments, the locality has several independent buildings and small projects from local developers.
Looking for a home in Jadavpur? A place that is pleasing, with good connectivity, suitable surroundings, close to schools and hospitals nearby. Here is all the information you require. Read on!
List of top gated communities in Jadavpur, Kolkata
1. Ekta Heights, Jadavpur
Located in Jadavpur, Ekta Heights is a well planned residential society. The carefully crafted apartments in this society have appealing exterior and interiors. These apartments are equipped with all the facilities and amenities necessary for a comfortable lifestyle. Additionally, Ekta Heights is also situated close to important public infrastructure present in and around Jadavpur.
At Ekta Heights you get access to facilities such as power backup, complete air conditioning, intercom facility, maintenance staff, internet/Wi-Fi connectivity, RO water system, piped gas, flower gardens, indoor games room, and kids play area, that make for a healthy and an easy lifestyle.
Highlights and Amenities in Ekta Heights
Type of apartments: 2, 3 BHK
Area per apartment: 1260-1600 sq.ft.
2. Keventer Westwind, Jadavpur
Keventer Westwind is a residential society situated in Jadavpur. It is a well planned society that is sure to impress prospective buyers. This society is spread across an area of 15 Acres and has a total of 313 units available. Keventer Westwind is designed meticulously and in keeping with the housing trends of a contemporary modern lifestyle. Moreover, this society is also Vaastu Compliant.
Keventer Westwind has various amenities and facilities that facilitate a comfortable and a convenient lifestyle. Amenities present in Keventer Westwind are as such- power backup, indoor squash & badminton courts, indoor games room, flower gardens, jogging and strolling track, waste disposal, maintenance staff, visitor parking, and. private terrace/garden.
Highlights and Amenities in Keventer Westwind
Type of apartments: 2, 3 BHK
Area per apartment: 1078- 1293 sq.ft.
3. Project Regent Estate, Jadavpur
Project Regent Estate is situated at Jadavpur. It is an aesthetically pleasing residential society with apartments that are sure to wow buyers and renters. The apartments in Project Regent Estate are designed to provide utmost luxury and comfort. With all the necessary amenities and facilities in place, this might just be your next perfect abode.
You get to enjoy some world class facilities and amenities at Project Regent Estate. The amenities and facilities made available in this society are power backup, kids play area, banquet hall, waste disposal, maintenance staff, water storage, security, rain water harvesting, lift, cycling & jogging track.
Highlights and Amenities in Perfect Regent Estate
Type of apartments: 2, 3 BHK
Area per apartment: 800-1800 sq.ft.
4. Orbit City, Jadavpur
Orbit City is a residential gated community located in Jadavpur. It is a well designed and constructed complex with all the modern necessities in place. The best part, however, is that Orbit City enjoys close proximity with many commercial establishments along with well known schools, colleges, medical centers, and shopping malls. This alone makes it a perfect location for home.
At Orbit City amenities such as 24 hr power backup, gym, indoor games, intercom, landscaped garden, library, maintenance staff, play area, pucca road, security personnel, swimming pool and WiFi connection are made available for a leading a comfortable and a healthy lifestyle.
Highlights and Amenities in Orbit City
Type of apartments: 3 BHK
Area per apartment: 1480 sq.ft.
5. Verdant Radha, Jadavpur
Verdant Radha is a dashing residential society located in Golf Green, Jadavpur. The appeal of this society lies in its verdant environment just as the name suggests. Additionally, the apartments in this society are of optimum quality and make for a beautiful home. These apartments are built as such that they have proper ventilation along with an airy and bright interiors.
The amenities offered in Verdant Radha are lifts, car parking, and fire safety equipment, among others. All the various features made available to its residents assure a comfortable, convenient and an easy lifestyle. Apart from that, suitable security devices are installed throughout to ensure safety of its residents at all times.
Highlights and Amenities in Verdant Radha
Type of apartments: 3 BHK
Area per apartment: 1550 sq.ft.
Things to do in Jadavpur, Kolkata
1. Spend time at a bookstore
If you are a booklover then this place is a great place to spend your time. Starmark is a bookstore where you can spend hours browsing books, no matter what your age.The layout of the books is very customer friendly with sections beautifully segregated into genres- Mystery, classics, romance, biographies, non-fiction — you name it and they have it. They also have a good collection of Bengali literature for anyone interested in the richness of the vernacular. Besides books, the place sports a rich collection of toys and action figures as well.
2. Shop for baby essentials
For couples with babies on the way this is one store that is a must visit. Babyhug is situated in Jadavpur opposite KPC Hospital. Visit Babyhug for all the essentials required for an infant. The store deals in baby clothes, kidswear, baby care products, baby gears, and nursery and feeding essentials. They also have a beautifully curated cot collection and baby blankets to pick from. Babyhug also has several little toys that are meant to develop motor skills in infants. You could shop for your own baby or buy gifts for baby showers.
3. Volunteer at a nature club
When in Jadavpur, you get to contribute towards protecting nature by volunteering at a nature club. If you are passionate about the planet and its well being then you have to join the Nature Mates club. At this club you get to spend your weekends helping with habitat surveys, rescuing birds and animals, and setting up homes for butterflies. It's a city club for all kinds of nature lovers across all age groups, especially known for their efforts to help create butterfly habitats in Kolkata.
4. Eat scrumptious meals at the best food spots
Jadavpur is a hotspot for the best cafes and restaurants in Kolkata. Since it houses a number of colleges and universities, the area is frequented by a young crowd. The social circle around the locality is buzzing with a lot of energy. Some of the eateries that are a must visit in Jadavpur are- Banzara, Mainland China, Bedouin, Bawarchi, Koshe Kosha, Hatari, Chilli's, Pind Balluchi, Flame and Grill, Calcutta Bistro, among so many others.
5. Enjoy the weekend with a drink and good music
If you are looking to unwind with a couple of drinks and dance away the lethargy of the week then Jadavpur has some really great places to be at. You might want to visit the most fancy and popular spot that is Lord of the Drinks. Lord of the Drinks is a Delhi based bar chain that has a very posh outlet in Jadavpur. If you aren't feeling as fancy then you should check out Barrish for a good time with your friends. Another good spot for drinks and delicious food is Flame and Grill.
Places to visit in Jadavpur, Kolkata
1. Madhusudhan Mancha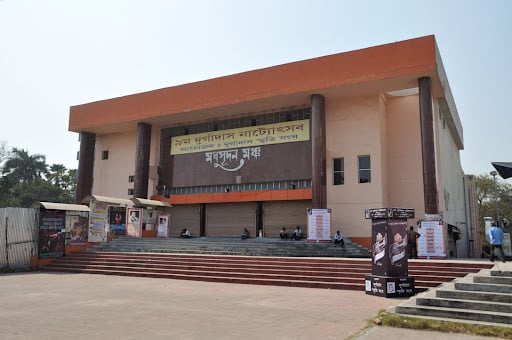 Madhusudhan Mancha is an auditorium located near Dhakuria bridge. It is named after an important Bengali poet called Michael Madhusudan Dutt. This auditorium is regularly used for theatrical performances. It is undoubtedly one of the best theater halls. It is well-maintained and has an excellent sound system. The added attraction is the proximity to Dakshinapan mall making it a great place to hang around.
2. South City Mall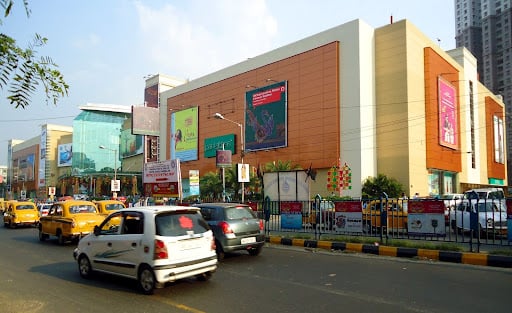 South City Mall is a shopping mall located at Prince Anwar Shah Road, Jadavpur. It has been open to the public since 16th January 2008. South City Mall is one of the largest malls in Kolkata. It serves as an important shopping hub with major Indian and international retails brands having an outlet here. There is an IMAX with six screens for cinema, a huge food court for delicious meals, and a total of 134 stores selling all kinds of stuff. This also serves as the most important hangout spots for youngsters.
3. Rabindra Sarovar
Rabindra Sarovar or Dhakuria Lake is an artificial lake in the locality. The lake and its surroundings are full of recreational complexes, such as children's parks, gardens, etc. It is one of the most popular recreational areas in Kolkata. A number of people come for a walk around the lake in the mornings to enjoy the fresh air. Many visit the sunrise point to offer their prayers to the sun. During the day, it is visited by families on a picnic, tourists, young lovers and joggers.
4. Sri Sri Kaibalyadham Ram Thakur Ashram
Sri Sri Kaibalyadham Ram Thakur Ashram is a small temple complex situated in Jadavpur. The complex houses few temples and has ornamental gardens. This is a peaceful place which gets crowded during festivals and other religious ceremonies. Visiting this place during morning and evening aarti with kirtan going on is a very mesmerizing and peaceful experience. Being in this temple complex is a beautiful spiritual experience in itself and a must visit to know more the local culture.
5. Gariahat Market
A shopper's paradise might just be the best way to describe the phenomenon that is Gariahat Market. You cannot leave the locality without exploring this iconic Market. There's nothing that you won't find here. Looking to pick quality stuff that is cheap and will last you forever? Gariahat is just about the place you should be at. Whether you are shopping for clothes, shoes, accessories, jewelry, home decor, or anything else you'll find it all here.
FAQs about Jadavpur, Kolkata
How is Jadavpur connected to the rest of the city?
Raja SC Mallick Road passes through Jadavpur and enhances its connectivity both northwards and southwards. Similarly, Prince Anwar Shah Road links it with EM Bypass Road.
Which railway station serves this locality?
Jadavpur is served by Jadavpur Railway Station which is an important stop on Sealdah-Namkhana Line.
Which is the nearest metro station from Jadavpur?
The Blue Line metro can be easily accessed through metro stations of Mahanayak Uttam Kumar which is situated at a distance of 3.7 kms and Rabindra Sarovar situated at a distance of 3.8 kms.
Does Jadavpur have an active bus service?
Jadavpur has an active bus service at 8B bus-stand which is a public bus transportation hub.
Which is the go to marketplace/mall in Jadavpur?
Local markets near Jadavpur Railway Station and 8B bus stand are the go to markets for basic day to day goods. The famous South City Mall is situated in this locality.
Which are the important educational institutions situated in and around Jadavpur?
Some of the important educational institutions situated in Jadavpur are South City International School, Carmel High School, Jadavpur University, Acharya Prafulla Chandra Ray Polytechnic and Indian Association for the Cultivation of Science (IACS).
Which are the prominent hospitals located in and around Jadavpur?
Prominent hospitals situated in this locality are KPC Medical College and Hospital, Sri Aurobindo Seva Kendra (EEDF) and AMRI Dhakuria.
How is Jadavpur connected to the important employment hubs of the city?
Jadavpur is well-connected with several private and government offices with Bhawanipur situated at a distance of 6.6 kms, Park Street at a distance of 6 kms, Elgin at a distance of 7 kms, and BBD Bagh at a distance of 13 kms. The IT / ITeS hubs in Salt Lake Sector V situated at a distance of 16 kms and New Town at a distance of 21 kms can be easily accessed from Jadavpur, via NH-34.