Jalahalli is a suburb in northern part of Bengaluru is one of the greenest areas of Bengaluru. It is mainly divided into Jalahalli East and Jalahalli West. The National Academy of Customs and Narcotics in Bengaluru is located in Jalahalli. It houses major industrial companies like Bharat Electronics Limited (BEL), Hindustan Machine Tools (HMT), CMTI and other PSUs. This area also houses various private industries, including the packaging unit of Tata Tea Ltd, and other small-scale industries. The Air Force Station, Jalahalli East is located between Gangamma circle and MS Palya. MS Palya is also connected to Vidyaranyapura.
Wondering which society your future home might be in, where you can find good food, a school for your kids or even spaces you could work out in? Read on to find out!
A) List of top gated communities in Jalahalli West, Bangalore
B) Things to do in Jalahalli West, Bangalore
C) Places to visit in Jalahalli West, Bangalore
D) FAQs about Jalahalli West, Bangalore
List of top gated communities in Jalahalli West, Bangalore
1. Brigade Parkside North, Jalahalli West
Brigade Parkside North lives up to its name. Brigade is one of the most well-known builders in Bangalore. It offers one of the most convenient and beautiful 1BHK flats in a gated community, as per vastu, well maintained ready-to-move – in apartment community with all the amenities. It is close to the main road, has easy access to all other locations and for your daily needs.
Highlights and Amenities in Brigade Parkside North
Type of apartments: 1 BHK
Area per apartment: 711 sq ft.
No of flats: 45
2. Sattva Laurel Heights, Jalahalli West
Sattva Group has launched Sattva Laurel Heights in Tumkur Road, Bangalore. A residential project spread over 4.2 Acres, it offers ample amounts of facilities for residents. The residence provides a classic and elegant lifestyle for all its residents. Want a space to play sports? They have a badminton court, a cricket field, a jogging and cycling track, and a space for your kids to play and even make sandcastles in!
Residents will enjoy access to the Library, and provisions in the project. Some of the other provisions include access to Community Hall, Landscaping & Tree Planting. Own a home in Sattva Laurel Heights today!
Highlights and Amenities in Sattva Laurel Heights
Type of apartments: 1 BHK, 2 BHK, and 3 BHK
Area per apartment: 760, 992, 1268 sq ft.
No of flats: 434
3. Kumar Princetown Royale, Jalahalli West
Are you looking for luxurious apartments? Kumar Princetown Royale is something you should check out. It is a Ready to Move project. Kumar Princetown Royale offers some of the most conveniently designed apartments. You will get a holistic view of the coveted lifestyle and offer a convenient living. It is designed to withstand any natural disaster and hence has an Earthquake Resistant Structure. It offers a bunch of amenities like a Gymnasium, RO Water System, and Power Backup. For families with kids, there is a Children's Play Area, nearby apart from the Swimming Pool.
Highlights and Amenities in Kumar Princetown Royale
Type of apartments: 3 BHK
Area per apartment: 1138 sq ft.
No of flats: 76
4. Sattva Opus, Jalahalli West
Want to experience luxury living? Sattva Opus is where you should be. It offers a splendid destination, a unique and charming combination that complements the opulent lifestyle that makes you feel exclusive every day. It is spread across a wide area that gives the residents a vibrant feel of living. Society is like a town in itself . You can go for a lovely walk with your loved ones in the garden area. The area has every kind of modern lifestyle convenience one can ever dream of.
Highlights and Amenities in Sattva Opus
Type of apartments: 2 BHK and 3 BHK
Area per apartment: 1239 and 1441 sq ft.
No of flats: 278
Things to do in Jalahalli West, Bangalore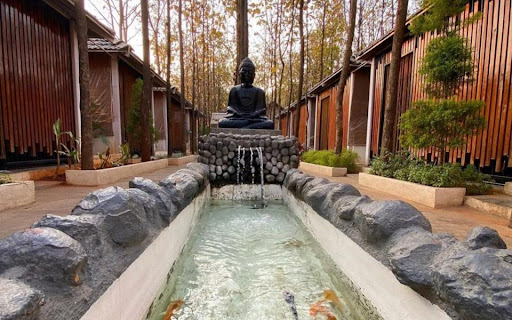 1. Grab a bite at Kasipu
Want to try a new restaurant in town? Well, we have an exciting recommendation for you. You should visit Kasipu in Jalahalli West, Bangalore. The restaurant is located a little away from the outskirts of the city but it's totally worth your while. The decor of Kasipu is mesmerizing, it's like a small village with its quaint little huts, trees, and different kinds of seating options. To top it all, since it's far away from the city buzz, it's relatively peaceful and looks more like an urban dhaba. You can click a bunch of photos for your Instagram as well.
2. Visit the Rockline Mall
Are you a movie fanatic? If the answer is yes, you have just landed a jackpot. In recent times there has been an exponential jump in the prices of movie tickets that has led to a burn in the hole of your pockets. Imagine if watching movies was like going to a play arena for bowling or GoKarting. You would just have to recharge your card and watch movies at your discretion. Rockline Mall has a subscription card model for all Carnival Cinemas. The idea of this card is to allow you to watch eight films within an entire month, but for the price of just INR 50. How cool is that? It's mostly on weekdays excluding Fri, Sat, and Sun. But guess what you are still saving a lot.
3. Footieculture
Every city has its share of football fans, and groups for the game. Bengaluru in particular is crazy for football. Footieculture is dedicated to take the culture of Football to the next level by providing world-class facilities to play the game at affordable rates. It was started by five school-day friends and engineers, the group is headed by Preetham Chandra. This venture is driven by their passion for the game they decided to build a community of footballers in the city.
If you are looking for a place to play a friendly football match with your colleagues or friends, this is the right place for you.
Places to visit in Jalahalli West, Bangalore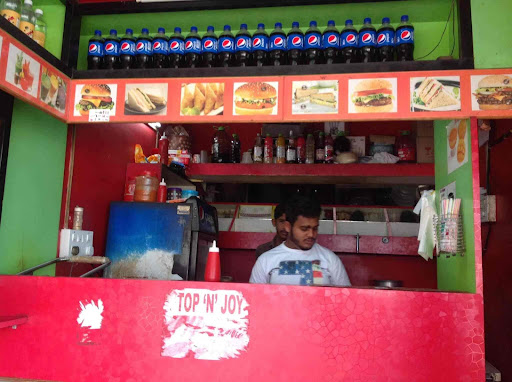 1. Cafe Mia
Are you looking for a place to hang out during the weekends? Look no more. Grab a Coffee or a Sandwich at Cafe Mia and you are all sorted for the day. The quality of food that Cafe Mia has been appreciated by every google reviewer, not to forget the service is also excellent and feedback oriented. This cafe has established its brand and is on its way to becoming one of the most popular spots for the people of Bengaluru. They are also planning to start expanding their chain in other parts of the city. The secret to their food is good quality ingredients, fresh food, and beverages.
2. Stop N Joy
Explore one of the finest Burgers in Jalahalli. Stop N Joy is a food joint that is special for Burgers, Sandwiches, Rolls, and Juice. If you want to grab a quick bite of food. This is the right spot for you. The joint offers fresh food and beverages to help you fill up your hunger needs. The locals living in the area are very fond of Stop N Joy which has made it one of the go-to places for most people.
3. Behrouz Biryani
If you are a Biryani lover, you should definitely check out Behrouz Biryani in Jalahalli. It is very well known across the city for its delicious biryani and people love to fill up their tummy with the special biryani available here. The quality of rice and the chicken that they use are top notch and not to forget they make sure it is authentic in every way. In case you have a less spicy tolerance you can still have the Behrouz Biryani. It's a go-to place for every Biriyani lover. What are you waiting for? Get your friends group and go to the place to have some delicious biryani.
FAQs about Jalahalli West, Bangalore
How far is Jalahalli West from the City Centre?
The distance between Bangalore City Station and Jalahalli West is 11 kilometres.
What is the distance from Jalahalli West to Airport?
The travel distance or driving distance between Jalahalli West and Bangalore Airport is 28 kilometers.
What is the nearest bus station from Jalahalli West?
Jalahalli Village bus stand and Jalahalli Bakery are two bus stops in the area.
Is there any metro station in Jalahalli West?
Jalahalli has a metro station on the Green Line of the Namma Metro serving the Jalahalli area of Bangalore, India.
What is the best place in Jalahalli West to hangout on weekends
You can go and play football at Footieculture and grab a bite with your friends and family at Cafe Mia.
How to reach Jalahalli West from Bangalore airport?
The quickest way to get from Bengaluru Airport (BLR) to Jalahalli West is by taxi which costs ₹600 – ₹800 and takes 45 min. The cheapest way to get from Bengaluru Airport (BLR) to Jalahalli West is by bus which costs ₹150 – ₹200 and takes 1 hr min.
What are the best hospitals in Jalahalli West?
The best hospitals in Jalahalli West like HMT Hospital, BEL Hospital, Eskay Healthcare, Jalahalli Health Care Center And Diagnostics, PHC Govt. Hospital, Nagara Arogya Kendra and Sri Tirumala Hospital.
What are the best schools in Jalahalli West?
Best schools in Jalahalli West are Orchids The International School – Jalahalli, Vishwa Vidyapeeth Vikramashila Campus, St.Claret School, Mother Teresa Public School, Anthony Claret School, Cluny Convent, National Public School Jalahalli, Kendriya Vidyalaya No.2 Jalahalli East and Sri Bhavani Vidya Mandira.