Kankurgachi is a well-developed residential neighborhood located in the north-eastern part of Kolkata, along the Bangaon-Kulpi Road. It is one of the elite and upscale neighborhoods consisting of various commercial buildings and restaurants.
The real estate demand is rising in Kankurgachi owing to its well-established infrastructure, and immediate vicinity to the employment hub of Salt Lake City. Kankurgachi is enveloped by various localities like Phool Bagan, Ultadanga, Narkeldanga, Sarani, Tangra and Lake Town.
Looking for a home in Kankurgachi? A place that is pleasing, with good connectivity, suitable surroundings, close to schools and hospitals nearby. Here is all the information you require. Read on!
List of top gated communities in Kankurgachi, Kolkata
1. Anant Mani, Kankurgachi
Anant Mani, is a residential society that stands tall, amidst the skyline of Kankurgachi, North Kolkata. It is constructed with a focus on simple daily life experiences, and is embedded with fine luxuries to please its prospective residents. Anant Mani is a green paradise comprising 3 skyscrapers, spread over 4 acres that is sure to amaze you.
This residential society is best suited for larger families with its 4 BHK apartment configuration. If you are looking to live in a luxurious, spacious home then Anant Mani is just the right pick for you. The apartments are airy, well-lit and have excellent ventilation making it more appealing.
Highlights and Amenities in Anant Mani
Type of apartments: 4 BHK
Area per apartment: 2820 sq.ft.
2. Ideal Royale, Kankurgachi
Ideal Royale, a vaastu compliant residential complex, in Kankurgachi provides the perfect balance of luxury and comfort to its residents. Whether you are looking to reconnect with nature as you walk through the beautiful terrace garden or trying to find inner peace as you sit beside the serene waterbody, the best of modern lifestyle is available to you at Ideal Royale.
At Ideal Royale you get to enjoy the best of facilities that ensure your comfort. Amenities such as earthquake resistant infrastructure, a grand entrance lobby, lift, power backup, kids play area, intercom facility, security, reserved parking, gymnasium are all available in Ideal Royale.
Highlights and Amenities in Ideal Royale
Type of apartments: 3, 4 BHK
Area per apartment: 1910- 2250 sq.ft.
3. Shree Krishna Ashrey, Kankurgachi
Shree Krishna Ashray is an efficiently designed housing complex. It is located in Kankurgachi. At Shree Krishna Ashray, you get nature-friendly homes for you to lead a peaceful and healthy lifestyle. The best part about this society, however, is how affordable apartments here are.
Choose to lead a fine lifestyle with amenities such as power backup, lift, gymnasium, security, water storage, intercom facility, all of which is made available at Shree Krishna Ashray. If you are looking for a spacious place with big apartments at a good price then this society should be your definite pick.
Highlights and Amenities in Shree Krishna Ashray
Type of apartments: 4 BHK
Area per apartment: 2108 sq.ft.
4. Mani Kala, Kankurgachi
Mani Kala is a high end residential infrastructure developed by Mani Group located in Kankurgachi. It offers lavish and skilfully designed larger apartments. The elegant look of this housing complex adds to its already palpable charisma.
Mani Kala is well equipped with modern day amenities and facilities such as a clubhouse, power backup, swimming pool, lift, 24 hour security facilities, park, reserved parking, visitor parking space, intercom facility, gymnasium, indoor games room, kids club, kids play area, aerobics room, flower gardens, air conditioned, indoor squash & badminton courts, vaastu compliant, fire fighting equipment and conference room, among others.
Highlights and Amenities in Mani Kala
Type of apartments: 3, 4 BHK
Area per apartment: 2252-3400 sq.ft.
5. PS Rain Tree, Kankurgachi
PS Rain Tree, a residential property in Kankurgachi, offers spacious and well ventilated apartments. Every apartment in PS Rain Tree is brilliantly designed to provide its residents with the comforts of living in a luxurious home. Choose this property as your next home if you are looking for a larger home.
The amenities offered in PS Rain Tree include 24 hours power backup, intercom facility, gym, RO water system, internet connectivity, park and flower garden are available here. Early learning centers, fire fighting equipment, maintenance staff, to name a few.
Highlights and Amenities in PS Rain Tree
Type of apartments: 3, 4 BHK
Area per apartment: 1639-3191 sq.ft.
Things to do in Kankurgachi, Kolkata
1. Eat your heart out
Over the years Kankurgachi has become one of the best localities when it comes to food joints. Get yourself delicacies from all over the world all while being in Kolkata. Want to eat vegetarian food, or perhaps the best in non-veg, maybe go out for an early breakfast or a late night dinner, whatever your food needs be, Kankurgachi has you covered. Some of the places you definitely wanna check out are- Go Green, Pawan Putra, Onam, Nasta, The Belgian Waffle co., Hoppipolla, Uno Pizzeria & Grill, among many others.
2. Get some beer at a microbrewery or enjoy hookah
Kankurgachi is a great place to get together, relax and hangout with your friends after work or during the weekends. If you want to grab a drink go to Beer Republic, a microbrewery in Kankurgachi, for a refreshing mug of beer or just hangout at a hookah bar if you enjoy your occasional hookah puffs. Some of the popular hookah bars around this locality are- Cafe 360 Degree, Firefly, and Aqua Java Decibel.
3. Go shopping and Mall hopping
If you enjoy hanging out at a mall, shopping, snacking, strolling, or catching a movie then you are spoiled for options here. The nearest mall is the Mani Square but if that doesn't satisfy you worry not because the popular malls of Kolkata like City Center Mall, Axis Mall, Jawaharlal Mall, and Mbazaar Hatibagan are all situated within a distance of 5kms from Kankurgachi. VIP market is your go to for all things local and affordable.
4. Get yourself some decadent sweet treats
If you are in Kankurgachi and craving something decadent, look no further because these are some of the places that will serve you just what you need- Bake O Cake, The Rose, or Chocotarian. Bake O Cake is the best place for baked goods. Go here for cookies, donuts, pastries, brownies, biscuits, breads, and buns. The Rose, or Chocotarian will get you the best cakes in this part of the town.
5. Freshen up at a salon or a spa
You will find an overwhelming number of salons around the Kankurgachi area. NY, Jawed Habib, Fame Zone and Eye Catcher in Mani Square are some of the best salons available in this locality. Want to revamp your look? Walk into these salons at any time. Want to spend a relaxing spa day? Head to The Thai Harmony, Magic Spell Spa, or The Thai Spa in Mani Square to get just that.
Places to visit in Kankurgachi, Kolkata
1. Boat Museum
The Boat Museum in Kankurgachi is the only one of its kind in India. The Museum was inaugurated in January of 2014. Boats have played an important part in the history of Bengal thus making it an important cultural symbol. If you have a love for water bodies and boats, the history and culture behind them make sure to visit this museum and spend your time among the various displays. The museum offers free entry. You could avail a guiding booklet at a mere sum of rs.15.
2. Kolkata Police Museum
Kolkata Police Museum is a hidden gem of the city. It is situated on Ripon Street. Kolkata Police has opened a museum where anyone can experience the long history of this organization. With a walk around the building you will get to know interesting facts about Kolkata Police in much detail. A genial lady will guide you through your journey. There is a library as well and that is the best place to spend your time if you are a bookworm.
3. Mohammad Ali Park
Mohammad Ali Park located near Calcutta University is named after Mohammad Ali Jauhar, a famous Indian activist, journalist, poet and freedom fighter. This Park is famous for hosting one of the most popular Durga Puja Pandals in the entire city. On other days, Mohammad Ali Park remains a public park open to those looking for a quick break from the hustle and bustle of the fast paced city.
4. Central Park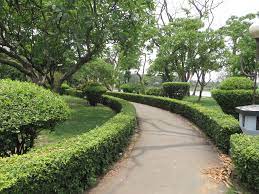 Central Park is a public urban park. The park is also known as Banabitan. It is the second largest open space in Kolkata Metropolitan Area. This park is a favorite hangout for lovers. The park is built around an expansive water body, therefore, there are also boating facilities in a cordoned off section of the lake near the rose garden.
FAQs about Kankurgachi, Kolkata
Which is the closest railway station from Kankurgachi?
The CIT Road connects Kankurgachi to Bidhannagar Railway Station which is located at a distance of 2km.
Which metro station is closest to Kankurgachi?
Bengal Chemical Metro Station on the East-West Corridor is at a distance of 3km through Maniktala Main Road.
How far is the closest airport from Kankurgachi?
Netaji Subhash Chandra Bose International Airport is at a distance of 10km via VIP road.
Which are some of the schools in this locality?
Some of the schools located in this locality are New National High School, Bagmari Manicktala Govt Sponsored Higher Secondary School, St Francis International School, St. Joseph School and Bishop George Mission School.
Which are some of the hospitals in and around Kankurgachi?
Kankurgachi has a number of hospitals in the surrounding areas. Some of which are- ESI Hospital PGIMSR, Dr. B C Roy Post Graduate Institute of Paediatric Sciences, The Calcutta Homoeopathic Medical College & Hospital, North City Hospital, J N Ray Hospital.
Are there any shopping malls in Kankurgachi?
City Center Mall, Axis Mall, Jawaharlal Mall, and Mbazaar Hatibagan are all situated at around a distance of 5km from Kankurgachi.
Is Kankurgachi close to the employment hubs of the city?
Bengal Chemical and Pharmaceuticals is located at Maniktala Main Road at Kankurgachi. The important employment hub of Kolkata, Salt Lake City is at a distance of 4km from Kankurgachi. Another prime employment hub called Kasba Industrial Area is at a distance of 10km via NH12 from this locality.