Kriti Nagar is a famous residential as well as a commercial locality in West Delhi. It is situated on Ring Road, right next to Satguru Ram Singh Road and Shivaji Marg and so it enjoys excellent connectivity with the rest of the city.
This locality hosts a beautiful mix of independent houses and builder floors. The largest furniture market of India is also situated in Kirti Nagar and features reputed furniture stores.
Kirti Nagar is surrounded by Moti Nagar, Karampura, with Patel Nagar, Rajouri Garden, and Punjabi Bagh in proximity.
Looking for a home in Kirti Nagar? A place that is pleasing, with good connectivity, suitable surroundings, close to schools and hospitals nearby. Here is all the information you require. Read on!
List of top gated communities and sub-localities in Kirti Nagar, Delhi
1. The Leela Sky Villas, Kirti Nagar
The Leela Sky Villas is a residential project in Kirti Nagar. Apartments in this society are a perfect combination of contemporary architecture and features that provide a comfortable lifestyle. The interiors of these apartments are spacious, with large windows that provide not just a great view but fresh air and sunlight too.
The Leela Sky Villas has amenities such as- round the clock security, CCTV surveillance, car parking spaces, lifts, power back-up, badminton court, banquet hall, basketball court, children's play area, club house, cricket pitch, fire fighting system, gymnasium, intercom, library, multipurpose room, spa, sauna, steam facility, squash court, swimming pool, regular supply of water, made available for the comfort of its residents.
Highlights and Amenities in The Leela Sky Villas
Type of apartments: 3, 4, 5, 8 BHK
Area per apartment: 2307- 9774 sq.ft.
2. DLF Capital Greens 1 and 2, Kirti Nagar
DLF Capital Greens 1 and 2 is situated in Moti Nagar, near Kirti Nagar. This society is meticulously designed with a keen eye for details. Built over a vast area of 33 Acre, the project is well-established and even better maintained. The apartments in this society are well-ventilated, airy and bright.
There are various amenities made available at DLF Greens 1 and 2 for the convenience of its residents. Some of these amenities are- power back up, waste disposal, laundry service, internet/Wi-Fi connectivity, DTH television facility, banquet hall, flower gardens, indoor games room, indoor squash & badminton courts, kids play area, etc.
Highlights and Amenities in DLF Capital Greens 1 and 2
Type of apartments: 2, 3, 4 BHK
Area per apartment: 1040-3150
3. DLE Industrial Area, Kirti Nagar
DLE Industrial Area is a sublocality in Kirti Nagar. It is located very close to Moti Nagar, Block A. There are several independent houses and builder flats available for both buying and renting in this locality. The locality is enriched with a supportive community as well which makes it all the more impressive. The affluent crowd and the healthy surroundings is why this is a prominent residential area of Kirti Nagar.
Other than this, DLE Industrial Area is also a great sub locality because it is located in proximity to various important public infrastructure such as schools, colleges, offices, eateries, hospitals, and transport facilities.
Highlights and Amenities in DLF Industrial Area
Type of apartments: Studio, 1 BHK
Area per apartment: 315- 450
4. Ware Housing Scheme, Kirti Nagar
Ware Housing Scheme is a popular neighborhood in Kirti Nagar. Very Similar to DLE Industrial Area, Ware Housing Scheme also has numerous independent houses and builder floors available for sale and rentals. It is a well sought after neighborhood known for its spacious, air and well lit apartments. This area is buzzing with parks, eateries, spas, cinemas and market places.
Additionally, Ware Housing Scheme is just a walk away from the city's best schools such as A to Z Training Institute, Pragatisheel Ekta Sangh, and Guru Tegh Bahadur 3rd Centenary Public School. It is also close to good and reputed hospitals like Deen Dayal Upadhyay Hospital, Army Base Hospital Delhi, and Kukreja Hospital and Heart Center.
Highlights and Amenities in Ware Housing Scheme
Type of apartments: 2 BHK
Area per apartment: 900 sq.ft.
5. The Leela Navin Minar, Kirti Nagar
Navin Minar is an upcoming residential project located in Patel Nagar, near Kirti Nagar. The project has apartments of larger configurations that provide a comfortable lifestyle.The apartments proposed are spacious, well ventilated, air and well lit with direct sunlight.This residential society is also to be built in compliant with the rules of Vaastu
The Leela Navin Minar is a haven of luxury, comfort and convenience. Some of the amenities made available in The Leela Navin Minar include a clubhouse, meditation center, gymnasium, swimming pool, a restaurant and a gamut of areas for sports, among others.
Highlights and Amenities in The Leela Navin Minar
Type of apartments: 3,4,5,8 BHK
Area per apartment: 2306-6000 sq.ft.
Things to do in Kirti Nagar, Delhi
1. Shop for unique light fixtures
If you love lights and unique light fixtures then you should definitely check out DBEL Studio in Kirti Nagar. This light studio works with light fixtures as does one with art. Their artistic approach towards lighting and space is very unique and fascinating. DBEL deals in three types of designs, namely, LED lights, Starverse installations, and their Amaranthine collection. Check them out if unique lighting and artistic light fixtures are of interest to you.
2. Eat at this popular buffet
You might have eaten at a buffet but this particular buffet is like no other. Marketplace in Kirti Nagar is a buffet that offers a wide variety of food options to its customers.The entire place is divided into various different sections that serve different cuisines. The interior of this place is also a part of the whole buffet experience with each food section having a different themed sitting space. Everytime you enter a particular section it's like entering an entirely new place itself.
3. Visit M Block Kirti Nagar Market
When in Kirti Nagar you cannot miss out on visiting the M Block market. Kirti Nagar is famous for its furniture market and this is where all the magic happens. This market is very big and it is suggested that you cruise through the entire market before you finalize anything. Some of the furniture stores you should check out are- Manku Furniture, Akarshan Store, Furniture point, Art Effects, Durga Furnitures, Idom, Alaknanda Furniture, Shekhawati Furnitures, Alder Furniture, Dream Furnishing, Stanley Boutique, among many others.
4. Shop for beautiful fabrics
Along with its furniture, Kirti Nagar also has a few stores that deal in beautiful fabrics. If you are looking to amp up your space with colors, prints and patterns then you definitely have to pay these stores a visit while in M Block Kirti Nagar Market. K. K. Talwar Fabriks is just as the name suggests, an upholstery showroom. You can find anything from jungle printed fabric to plain, and basic-coloured fabrics as well. Another place to visit for fabrics would be Sarvodaya Traders.
5. Get delicious meals
Kirti Nagar has its own share of restaurants and eateries that offer delicious meals along with a magical ambience that sets the mood just right. If you are a meat lover and love kebabs especially then you have to check out Kebab Express in Kirti Nagar.Their biryanis, and kebabs are absolutely delicious. Other places to check out for some lip smacking food are Deck of Spices, Mamma Mia and Firangi Island.
Places to visit in Kirti Nagar, Delhi
1. Bhuli Bhatiyari Ka Mahal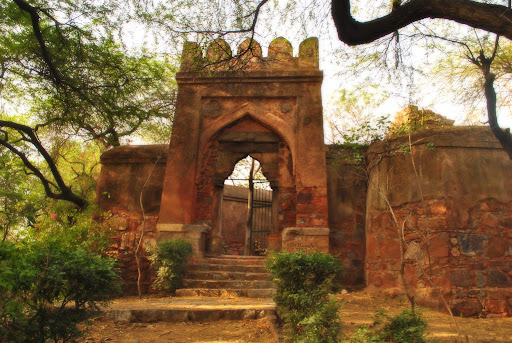 Bhuli Bhatiyari Ka Mahal is an old monument located in Karol Bagh, close to Kirti Nagar. It was built by Feroz Shah Tuglaq as a Hunting lodge in the 14th Century.The place has an old-world Dcharm, all while being eerie and almost scary in a serene environment. This magnificent structure, although grand and monumental, is not guarded by locks or heavy metal gates but by a written note at the entrance saying not to visit the place after sunset. The idea of it being haunted is exciting and a fuel to the adventurous mind. Check this place out with your gang if a spooky thrill is your adrenaline booster.
2. Sulabh International Museum of Toilets
If you are looking for an interesting place that's fun and also informational then you should definitely visit Sulabh International Museum Of Toilets. This museum, located near Kirti Nagar in West Delhi, showcases the evolution of sanitation facilities in different countries over the years. With a number of unique setups to browse through, the Toilet Museum is literally something you have never seen before and a very quirky place to check out.
3. Kumhar Gram or Potter Village
Kumhar Gram is located in Uttar Nagar and is the biggest potters colony in India. This place has been home to over 800 potter families for ages now. You'll find some amazing handcrafted earthenware that perfectly symbolizes the quality craftsmanship of Indian pottery. The colony is located significantly away from the bustling city. As soon as you enter the locality, you see a lot of potters on wheel working. Kumhar Gram has the most unique and ornamental things to offer and you can see them creating pots, surahis, diyas, urulis, vases and sculptures right before your eyes.
4. Hastsal Ki Laat Or Mini Qutub Minar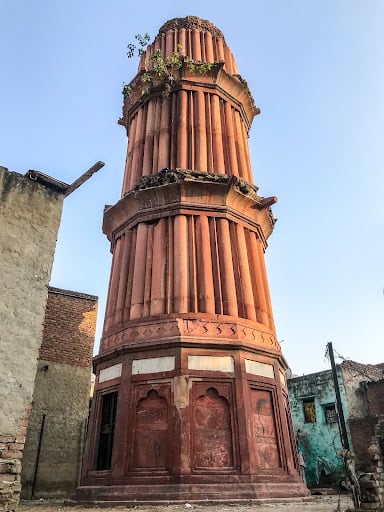 Hastsal Ki Laat is a 5-storeyed Minar built during the reign of Shah Jahan in 1650. It was a part of the hunting lodge complex that used to exist during the Mughal times in this area. However, at present, only three storeys remain which have octagonal rings around it and an internal staircase going through it. You can delve into the vivid folklore of this enchanting tower, so go visit this minaret to experience the glory of the bygone eras.
FAQs about Kirti Nagar, Delhi
How is Kirti Nagar connected to the rest of the city?
Kirti Nagar has excellent connectivity since it is located between Ring Road and Main Mathura Marg, next to the Shivaji Marg and Karampura Flyover. It is accessible from all regions of West and Central Delhi by the Road and Metro Network. Its presence on the Ring Road also connects it to all other parts of Delhi-NCR.
Which are the metro stations that connect Kirti Nagar to the rest of the city?
Kirti Nagar is well connected to the Delhi Metro Network, through Kirti Nagar Metro Station, intersection of Blue and Green Line, Moti Nagar Metro Station, Blue Line, and Mayapuri Metro Station, Pink Line.
How far is the closest railway station from Kirti Nagar?
The nearest railway station is Kirti Nagar Railway Station, which is located right by the locality, while New Delhi Railway Station is located at a distance of 12 kms from Kirti Nagar.
How far is the airport from Kirti Nagar?
T1 and T3 terminals of the Indira Gandhi International Airport are located at a distance of 15 and 20 kms respectively from Kirti Nagar.
Which are the prominent educational institutions located in and around Kirti Nagar?
The Adarsh School, S.D. Public School, Municipal Primary School and Govt Girls Sr Sec School are the prominent schools in and around the locality. The colleges in and around Kirti Nagar include Rajdhani College and Deen Dayal Upadhyay College.
Which are some of the notable hospitals located in and around Kirti Nagar?
Kalra Hospital, Janki Das Kapoor Memorial Hospital, Prem Hospital and Ashray Medical Centre are the hospitals and healthcare facilities located in and around Kirti Nagar.
Which are the go-to marketplaces and malls in and around Kirti Nagar?
Kirti Nagar has a well-developed local market with several food joints, retail stores, and malls such as CTC Mall, TDI Mall, Moments mall, TDI Paragon Mall, Shoppers Stop, City Square, West Gate Mall, and Paradise Mall in proximity. The locality is also in proximity to shopping hubs including Rajouri Garden and Punjabi Bagh.
How is Kirti Nagar connected to the important employment hubs of the city?
Kirti Nagar is centrally located and lies next to Kirti Nagar Industrial Area, which is a hub for traditional carpentry and modular furniture. The area also houses showrooms of multinational home remodeling and fittings companies, interior design boutiques, imported kitchen and bath brands. It is at a distance of 5 kms from Karampura Industrial Area, and well connected to Rajendra Place located at a distance of 6 kms and Connaught Place located at a distance of 11 kms in Delhi. Employment hubs of Noida and Gurgaon can be reached in 45 mins-1 hr by Delhi Metro.