Kondapur is one of the important and emerging residential hubs near the Cyberabad Information Technology Zone. Kondapur is located between Gachibowli and HITECH City and has undergone a massive growth in recent years. Kondapur has a number of schools, hospitals, shopping malls, theaters, and parks for residents
The residential demand in this locality is driven by the people working in Hitech city and other nearby employment hubs. Shilpa Layout, Vinayaka Nagar, and Kothaguda are some of the nearby localities to Kondapur.
Looking for a home in Kondapur? A place that is pleasing, with good connectivity, suitable surroundings, close to schools and hospitals nearby. Here is all the information you require. Read on!
List of top gated communities in Kondapur, Hyderabad
1. My Home Mangala, Kondapur
My Home Mangala is a residential society located in Survey No. 98, Kondapur. This property is spread over a large area of 20 Acre and has more than 1000 units. Irrespective of its size, this is a carefully planned project and has apartments that are of robust quality. These apartments come with essential amenities and facilities of modern living. Other than that the apartments are spacious, well ventilated and private.
At My Home Mangala you get access to fine living with various facilities and amenities such as a large clubhouse, grand entrance lobby, guest lobby on each floor, community entrance gate, indoor games room, entry exit gate, CCTV surveillance, security, intercom facility, among others. What more? This property is Vaastu Compliant as well.
Highlights and Amenities in My Home Mangala
Type of apartments: 2, 3 BHK
Area per apartment: 1297-1798 sq.ft.
Address: My Home Mangala, Survey No. 98, Kondapur, Hyderabad, Andhra Pradesh, 500032
2. Vajras Sree Nivasam, Kondapur
Vajras Sree Nivasam is a residential property located in Kondapur. The units in this complex are of varied configuration, suitable for individuals and families alike. The apartments in Vajras Sree Nivasam are smartly constructed and are of robust quality. These smart apartments are also spacious and have balconies that let in air and light throughout the day. This society is a great and affordable option for a home.
Vajras Sree Nivasam comes with amenities and facilities such as early learning center, flower gardens, kids play area, indoor games room, gymnasium, maintenance staff, lift, library and business center, high end security, among others. Additionally, Vajras Sree Nivasam is situated very close to Hitech City, Align Hospitals, Maharishi Vidya Mandir, Kisan Mega Mart, Outer Ring Road, Gachibowli, and the Financial District.
Highlights and Amenities in Vajras Sree Nivasam
Type of apartments: 1, 2, 3 BHK
Area per apartment: 750-1745 sq.ft.
Address: Survey No. 69, High-Tension Line Road, Opposite RTO Office, Raghavendra Colony, Kondapur, Telangana 500084
3. Trendset Daffodils, Kondapur
Trendset Daffodils is a residential complex located in Kondapur. This is a well-planned project that is constructed to appeal to prospective residents and buyers. This property is a part of an integrated township which spreads over an area of 2 Acre. Trendset Daffodils consists of one tower with carefully constructed units. These apartments are spacious, and endowed with various amenities that are essential for modern living.
At Trendset Daffodils you get to enjoy a number of great facilities and amenities such as power backup, lift, reserved parking, security, etc. These amenities and other facilities let you enjoy a convenient lifestyle with all contemporary conveniences at your disposal.
Highlights and Amenities in Trendset Daffodil
Type of apartments: 3 BHK
Area per apartment: 1823-1945 sq.ft.
Address: Kondapur, West Hyderabad, 500032
4. Uber Heights Project, Kondapur
Uber Heights Project is a magnificent residential property located in Kondapur.It is a meticulously planned project with a keen eye for details.This property is spread over an area of 1 acre and has about 105 units for prospective residents. The apartments in this society are of optimum quality constructed to provide comfort and luxury to homeowners. What more? Apartments in the Uber Heights Project are very affordable.
Various amenities and facilities have been made available at Uber Heights Project, such as power backup, meditation area, flower gardens, maintenance staff, vaastu compliant, security, gymnasium, swimming pool, club house, rain water harvesting, among others.
Highlights and Amenities in Uber Heights Project
Type of apartments: 2, 3 BHK
Area per apartment: 1088-1340 sq.ft.
Address: Kondapur Botanical Garden Road, Serilingampally, Hyderabad
5. Aparna Serene Park, Kondapur
Situated in Serlingam Pally, Kondapur, Aparna Serene Park is a stylish space constructed meticulously. This society is a balanced blend of meticulously planned layouts and luxurious comforts. The apartments in Aparna Serene Park are well-ventilated and spacious perfect for a homely place. These apartments are perfectly fit for leading a modern lifestyle with all its facilities and amenities.
Aparna Serene Park has made available several great facilities and amenities such as meditation area, library and business center, kids play area, indoor squash & badminton courts, aerobics room, outdoor tennis courts, gymnasium, swimming pool, lift, park, among others, for the convenience of its residents.
Highlights and Amenities in Aparna Serene Park
Type of apartments: 2, 3 BHK
Area per apartment: 1295-2225 sq.ft.
Address: SERLINGAM PALLY, Aparna Serene Park, SY.NO 146 SBI OFFICERS QUARTERS, MASJID BANDA, Masjid Banda Main Rd, SBI Officers Quarters, Kondapur, Hyderabad, Telangana 500084
Things to do in Kondapur, Hyderabad
1. Party on a Thursday
Forget about TGIF and weekend parties because Heart Cup Coffee in Kondapur has the most happening Thursday nights. They've got karaoke and ladies night, which brings in the best of the city's crowd for a good weekday party. Get beers and other cocktails and sing your heart out at the Karaoke. There is definitely no better way of partying it out if you are looking for a midweek energy boost.
2. Catch a movie
If you are a cinema lover and want to catch up on the latest movies then AMB Cinemas is where you should be headed. AMB Cinemas is one of the biggest movie theaters in Kondapur. This superplex makes movie watching super convenient with features like valet parking, lounge, on-seat service at the press of a button, etc. It can accommodate about 1,638 members at once. In fact, one of the screens only has recliners, so if you love your recliner seats then you know where to go for your next movie.
3. Grab a cup of freshly brewed coffee
What is better than coffee? Freshly brewed ones. Sentido Coffee Brewers has almost nailed the art of making coffee. If you want to experience coffee with all your senses then this is where you should be headed. Known as one of the best coffee shops in both Kondapur and Gachibowli they serve rich coffee that is aromatic, delicious, and feels almost luxurious.
4. Take cooking classes
Mrs. Arundhati, based in Kondapur is one of the nest culinary teachers to learn cooking from. If you're looking to pick up cooking or polish your cooking skills then cooking classes by Mrs. Arundhati is a great place to learn the ABC's of Indian cuisine. Soups, salads, appetizers, desserts, if you can name it, you can learn it. She hosts a hoard of short workshops regularly, that you might want to check out.
5. Shop for stationery and art supplies
Looking for art supplies, stationeries and DIY essentials? Look no further because Itsy Bitsy is your one stop spot for everything you need. They carry various collections of kits for sculptors, bakers, artists, and designers. With products like wood carving materials, modeling tools, cake decoration sets, quilling kits, and calligraphy sets, you're sorted. What more? Professional art essentials such as canvas boards, easels, acrylic/water paints, and paintbrushes are also easily available here. You are sure to pick up more than you need when you visit Itsy Bitsy..
Places to visit in Kondapur, Hyderabad
1. Kondapur Dog Park
Love dogs but don't have dogs? No worries because Kondapur Dog Park has you covered. Walk to Kondapur Dog Park and spend some quality time in the company of many playful and friendly doggos.The park is shaped like a bone and has a splash pool, a walking track, dog training and exercise equipment, an amphitheater and a loo cafe as well. There are separate enclosures for big dogs and small ones to ensure the comfort of both people and the dogs. You can also choose to sit at the amphitheater or on a bone-shaped bench & enjoy dog shows and training sessions that take place at certain timings.
Address:
HIG-A-78, DLF Rd, Jayabheri Enclave, Gachibowli, Hyderabad, Telangana 500032
2. Khajaguda Hills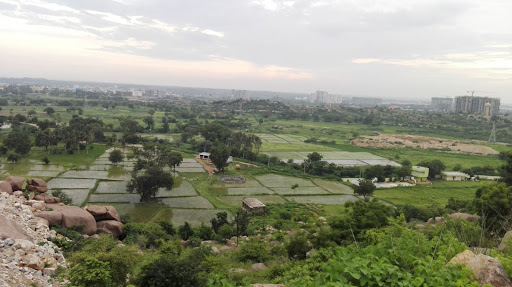 Take a day off and go have a rocking time, literally, at Khajaguda Hills. These hills are situated about three kilometers away from Hitech City. Natural rock formations, boulders, and peacocks in the sight are a few things that define the hills. There's a dargah on top, and watching sunrise or sunset here is a lifetime experience to say the least. It requires a basic trek and is a go to spot for photographers.
Address:
C958+58X, Khajaguda Cave Trail, Khajaguda, Telangana 500075
3. IKEA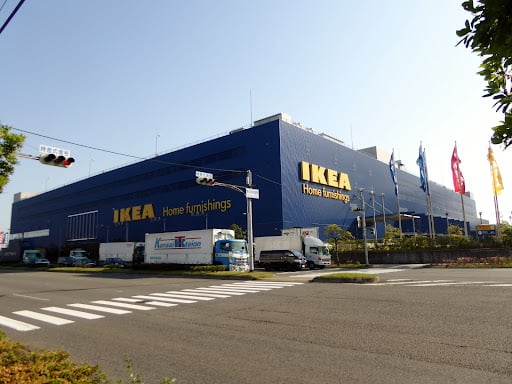 IKEA is one of those places where you can spend hours and hours wandering just looking at things. Whether you love home decor or enjoy eating in their food court, IKEA is definitely an all round experience in itself. Take a few hours off and get lost in the world of furniture, home decor and other essentials. And while you are there dont forget to pick up things from the sale sections and collect ideas for home set ups too.
Address:
Creative Crystal, Kondapur Main Road, Block I, NCB Enclave, Gachibowli, Hyderabad, Telangana 500032
4. 84 Anjuna Shack
If you are missing Goa but cannot go then head to 84 Anjuna Shack for an optimum goan experience. 84 Anjuna Shack is where you must go with your squad. Languishing in a laid back experience with a seating that comprises basic bamboo chairs, you will also stumble upon a flea market with apparel, jewelry, chappal, etc. Whether you are in the mood for waffles or pasta, this shack has a little something for every food lover. The Spicy Goan Wings, which are juicy, are a must try when here.
Address:
House No 2-17/1, Hitex Road, Kondapur, Hyderabad – 500084, Before Hitex Main Gate, Izzathnagar, Kothaguda
5. Hitex Exhibition Center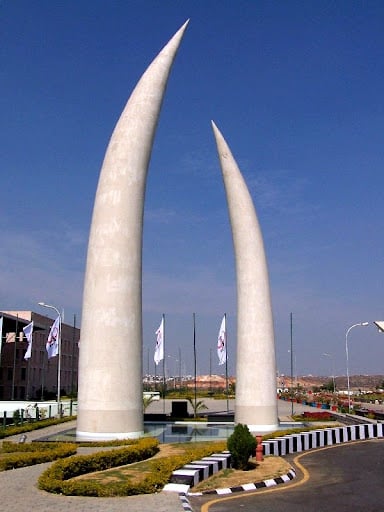 The HiTex Exhibition Center is popular for its massive infrastructure and expansive space. It is an optimum exhibition space for all kinds of showcases. Easy access, exclusivities and conveniences as all have been well thought of. Landscapes with rocks, mountains, ponds give it an almost resort-like ambience.
Address:
Trade Fair Office Building, Izzathnagar, Hyderabad, Telangana 500084
FAQs about Kondapur, Hyderabad
How is Kondapur connected to the rest of the city?
Kondapur is well-connected to multiple travel routes, such as National Highway 9, Old Mumbai Road, Outer Ring Road, and Gachibowli-Miyapur Road. The metro line, which starts from HITEC city station, allows people to commute to other places in the center of the city.
Which are some of the prominent schools located in and around Kondapur?
Some of the prominent schools in the locality include Chirec International School, Mount Carmel International School, and Arbor International School.
Which are some of the notable hospitals located in and around Kondapur?
KIMS hospital, Apollo clinic, and civil hospital are some of notable hospitals in the locality.
Which are the shopping malls near Kondapur?
Next Galleria, Atrium, Srinivasa shopping mall, and NSL Centrum Mall are some famous shopping malls located within 10-15 mins of the locality.
How is Kondapur connected to the important employment hubs of the city?
Kondpaur is situated close to three employment hubs- Gachibowli, HITEC City and Miyapur that cover many top companies.