Kothrud is an important industrial and residential suburb in the West-central region of Pune. It is surrounded by Panchawati in the north, Warje in the south, Chandani Chowk in the west, Erandwane in the east
Kothrud has seen a rapid expansion as well as development in commercial and residential real estate in recent times. Landmarks in Kothrud include the Mrityunjaya Temple dating to Peshwa times. This is also the residence place of Mastani
Several prominent citizens of Pune, who are active in Bollywood, Marathi Cinema, Media, Cricket and Politics reside in this area.
Looking for a home in Kothrud? A place that is pleasing, with good connectivity, suitable surroundings, close to schools and hospitals nearby. Here is all the information you require. Read on!
List of top gated communities in Kothrud, Pune
1. Sobha Nesara, Kothrud
Sobha Nesara is a residential society located in Kothrud. It is a well planned property that is constructed as such to appeal to the prospective buyers. Sobha Nesara is spread out over a large area of 3 Acre of well maintained and clean space.The apartments in this society are of robust quality. What more?The units in Sobha Nesara come at an affordable price too.
In Sobha Nesara you have access to great facilities and amenities such as infinity swimming pool, skydeck, multipurpose hall, kids play pool with water slides, gymnasium, fire fighting equipment, indoor games room, kids play area, security, lawn with pathway.
Highlights and Amenities in Sobha Nesara
Type of apartments: 3, 4 BHK
Area per apartment: 1509-2846 sq.ft.
2. Venkatesh Viom
Venkatesh Viom is a well planned residential society located in Kothrud. This society is constructed in keeping with the modern housing trends of contemporary times. The apartments here are of optimum quality with proper ventilations. They come with balconies and huge windows that allow in ample sunlight during the day time. This makes the apartments a beautiful blend of luxury and comfort.
The Venkatesh Viom comes with necessary amenities and facilities such as lifts, rain water harvesting, gymnasium, security, kids play area, fire fighting equipment, that are carefully curated to ensure a comfortable and a convenient lifestyle that is safe and easy.
Highlights and Amenities in Venkatesh Viom
Type of apartments: 2, 3 BHK
Area per apartment: 815-1075 sq.ft.
3. The Palladium, Kothrud
Strategically located in Kothrud, The Palladium is a carefully planned project. Spaces in this society are meticulously designed with a keen eye for details. The Palladium is built over an area of 2 Acre that is well maintained, clean and scenic. This makes it all the more appealing to the prospective buyer. This residential complex is equipped with the best amenities that is ideal for leading a modern lifestyle.
The Palladium has made available amenities and facilities such as power backup, kids play area, flower gardens, event space & amphitheater, internet/Wi-Fi connectivity, visitor parking, water storage, security, reserved parking, park, to its residents. These amenities makes for a comfortable and a convenient lifestyle in a safe environment.
Highlights and Amenities in The Palladium
Type of apartments: 4 BHK
Area per apartment: 2293-2332 sq.ft.
4. Grand Stand, Kothrud
Grand Stand is a housing society located in Kothrud. It offers beautifully curated apartments for its prospective buyers. The apartments in Grand Stand are spacious and provide a comfortable living experience. The balconies are spacious too, letting in air and sunlight throughout the day. Other than that, this residential society is smartly constructed overall.
Grand Stand offers great amenities and facilities to its residents. Some of these amenities are power backup, jogging and strolling track, outdoor tennis courts, aerobics room, barbeque pit, coffee lounge & restaurants, concierge services, flower gardens, indoor games room, indoor squash & badminton courts.
Highlights and Amenities in Grand Stand
Type of apartments: 2 BHK
Area per apartment: 1144 sq.ft.
5. Prathmesh Elite, Kothrud
Prathmesh Elite is located in Kothrud. It is a well planned and robustly constructed residential society. This project is spread over an area of 1 Acre and is well maintained and spotless. The apartments in this residential society are smartly laid out and caters brilliantly to the contemporary taste. Prathmest Elite is set in a verdant surrounding area making it all the more desirable against the humble and bustle of the busy city.
At Prathmesh Elite you get access to fine living with facilities and amenities such as earthquake resistant structure, 3 tier security system, aerobics room, lift, meditation area, flower gardens, event space & amphitheater, multipurpose hall, CCTV surveillance, power backup. These facilities make for an easy living experience.
Highlights and Amenities in Prathmesh Elite
Type of apartments: 2, 3 BHK
Area per apartment: 1299-1711 sq.ft.
Things to do in Kothrud, Pune
1. Go on walks up the hilltop
The tekdis or hillocks woven into the geography of Pune are the lungs of the city. These hillocks in Kothrud are apt for walks and short hikes. It is the perfect place for your morning or evening jog or walk.These uphill paths will lead you to various places in the city like Law College Road via the Maruti Mandir, Pashan via the abandoned quarry, Senapati Bapat Road via the Aapla Maruti Mandir & Vetal Tekdi. The best part? These hillocks and climbs are pet friendly.
2. Catch a theater play
If you enjoy theater then Kothrud has just the right activity for you. Yashwantrao Chavan Natyagruha is one of the most popular theaters in Pune. They put up some of the best and most popular Marathi plays and music shows in the city. You can look forward to watching excellent shows like the Marathi adaptation of Hamlet, or Bolava Vitthal, a show by Kaushiki Chakraborty to celebrate Ashadhi Ekadashi with an evening of Abhangs.
3. Visit an interesting museum
Vikram Pendse's Cycle Museum just like Joshi's Museum of Miniature Railways is an interesting place to visit. Split into three floors, the first and third floors are dedicated to bicycles and their accessories. The oldest bicycle in this collection is the Sunbeam 1914. The highlight of the museum surely is the replica of a cycle shop from the 1940's complete with vintage cycle ads, tyres and nuts and bolts.
4. Eat some delicious food
Kothrud has some really great eateries to satisfy the foodies in you. You should definitely check out restaurants and cafes like Leafy Trails Cafe for great coffee, hang out around Maruti Mandir for some delicious street food that are cheap and so so good. Get sweet treats at Ganache, eat marathi food at Maratha Samrat, read while you munch at Waari Book Cafe, or get a quick bite at Cafe Durga.
5. Get some marathi style snacks
If marathi snacks are your thing then get to The Agraj Food Company. This company was founded in 1997 and now the company has 3 flagship stores and 42 franchise stores across Pune. Two of these stores are in Kothrud. You should definitely try their healthy dry snacks like Rajgira Ladoo, Churmura Ladoo, Poushtik Ladoos, savory snacks like Chakli, Chivda, & Masala Puris. They also carry a good collection of locally sourced, organic, vegan healthy products.
Places to visit in Kothrud, Pune
1. Joshi's Museum of Miniature Railway
Joshi's Museum of Miniature Railway is located in Erandwane. Just as the name suggests, this museum hosts working models of various types of trains. It is a unique museum demonstrating the evolution of the transportation system in India. There is a small room where the model is built by the owner and there is a show of around 25 min with a narration. It is an interesting place especially for the kids.
2. Dashabhuja Ganpati Mandir and Mrutyunjayeshwar Mandir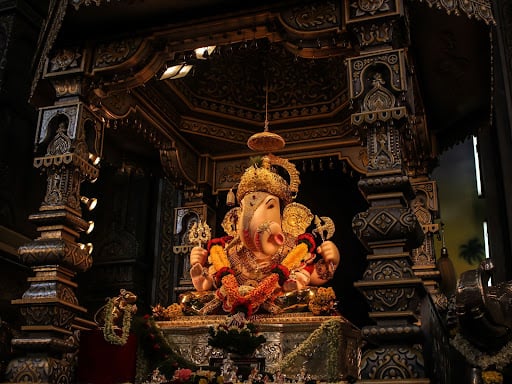 Kothrud has two beautiful temples built by the Peshwas – the Dashabhuja Ganpati Mandir at Paud Phata and the Mrutyunjayeshwar Mandir on Karve Road. The history of these temples are very interesting. According to some historical records, both the temples were owned by Haripant Phadke who was close to the Peshwa family through Nana Phadnavis. Eventually, these temples were handed over to the Peshwa family as a part of dowry, when Phadke's grand-daughter was married to Peshwa Bajirao II.
3. Shaniwar Wada
Shaniwar Wada is located by the south bank of the Mula River in the heart of Pune. It is one of the 18th-century palaces from the Peshwa dynasty. This was the political center of the region until the British arrived in the early 1800s. A light and sound show offers an impression of how the fortress looked before a fire destroyed it in 1828. Large sections of walls, doors and columns survived and now make up a tribute to the former palace. Carry a picnic to eat under the large trees and make a trip out of the visit.
4. Chaturshringi Temple
Chaturshringi Temple is a beautiful temple complex situated on the slope of a hill at SB Road. It has been a pride of Pune for a very long time. It is said to have been built in a time when the Marathas were in their prime. It is home to the Goddess Chaturshringi. Every year during Navratri the temple is beautifully lit in many colors and sees hundreds of people flocking from all over the country to offer prayers to the goddess. After the puja you could also take a small hike up the hill just behind the temple to soak in the gorgeous panoramic view of the city from the top.
FAQs about Kothrud, Pune
How is Kothrud connected to the rest of the city?
Kothrud is well connected via PMPML, local municipal, transport services with two major bus depots connecting to all major parts of Pune.
How far is the nearest railway station from Kothrud?
Pune Railway Station is situated at about 5-6 kms from Kothrud.
How far is the airport from Kothrud?
Pune International Airport is situated at about 10 – 12 kms from Kothrud.
Which are some of the prominent schools located in and around this locality?
Kothrud has schools like City International School, Paranjape Vidya Mandir, Millenium National School, New India School.
Which are some of the important hospitals located in and around this area?
Kothrud has hospitals like Shashwat Hospital, Deoyani Multi Speciality Hospital, Krishna Hospital.
Which are the important colleges situated in and around this area?
Kothrud has many important colleges like Maharashtra Institute of Pharmacy, Bhartiya Vidyapeeth New Law College, MIT School of Government, College of Fire Engineering and Safety.
Which are the goto marketplaces and malls of this area?
Kothrud has many markets both at the retail and commercial markets around the loclaity. Few important malls and markets include Pune Central Mall, Tanaji Chowk Market, Karve Road, Maruti Mandir Market.
How is Kothrud connected to the important employment hubs of the city?
Kothrud houses various IT companies like Medsynaphc, KV Soft Informatics, Siliconix Devices, Harbinger Systems, etc. which provides employment. Other important areas of employment in the vicinity include Chandni Chowk, Bavdhan, etc. which are located rpughly at a disatnce of 10 – 15 kms of Kothrud.