Located in Northern Kolkata, Lake Town is a planned residential colony along VIP Road. The area primarily caters to the mid-segment housing,having a mix of Independent houses and multi- storey residential buildings.
Due to its direct connectivity via bus and rail to the city's commercial hubs, and well-developed social infrastructure, Lake Town is one of the most sought-after localities in Northern Kolkata.
Looking for a home in Lake Town? A place that is pleasing, with good connectivity, suitable surroundings, close to schools and hospitals nearby. Here is all the information you require. Read on!
List of top gated communities in Lake Town, Kolkata
1. Vinayak Vista, Lake Town
Vinayak Vista is strategically located in Lake Town with a seamless connectivity to the prominent areas of Kolkata. If you are looking for a good quality yet affordable property in Lake Town, Vinayak Vista is the place for you. This society is constructed with all the modern needs in mind, therefore, Vinayak Vista is an ideal option.
At Vinayak Vista you get to enjoy the best of facilities and amenities, such as fingerprint access, meditation area, banquet hall, flower gardens, kids play pool with water slides, lift, indoor games room, barbeque space, CCTV surveillance, among others.
Highlights and Amenities in Vinayak Vista
Type of apartments: 3, 4 BHK
Area per apartment: 1220-1968 sq.ft.
2. Natural City Laketown, Lake Town
Situated in Lake Town, Natural City Lake Town has great connectivity with its proximity to major workplaces. It offers to its residents very spacious and skillfully designed apartments.Just as the name suggests it is very close to nature in all senses. Natural city laketown is both- comfortable and Luxurious.
Natural City lake Town is strategically designed with a keen eye to details. It comes with world class facilities and amenities such as 24 hr power backup, club house, covered car parking, intercom, landscaped garden, maintenance staff, rain water harvesting, security personnel, among others.
Highlights and Amenities in Natural City LakeTown
Type of apartments:2, 3, 4 BHK
Area per apartment: 930-1825 sq.ft.
3. Ujaas, Lake Town
Ambuja Ujaas The Condoville is a residential project near Lake Town, Kolkata. It is set in an area of 4.8 Acres of sylvan setting. Ujaas is conceived with a different perspective of home. It is a close knit cluster of homes in a natural setting. It has a natural waterbody to set the ambience of the society just right.
Ambuja Ujaas The Condoville is equipped with various resident-centric amenities that includes gymnasium. For families with kids, there is a children's play area nearby apart from the swimming pool, sports area.
Highlights and Amenities in Ujaas
Type of apartments: 3, 4 BHK
Area per apartment: 1734-2159 sq.ft.
4. Merlin North Star, Lake Town
Merlin North Star is a residential complex in Lake Town, Kolkata. It is a society that is well planned. The society spans across 80 Acre, thus, making it well-spaced out. Merlin North Star is designed keeping in mind the modern lifestyle of the modern individual.
You get to enjoy a host of facilities at Merlin North Star which includes gymnasium, power backup. Children have access to a children's play area, nearby apart from the swimming pool. There is 24hrs Security. Other provisions include access to landscaping & tree planting. If this looks like something you have envisioned for yourself then own a home in Merlin North Star today.
Highlights and Amenities in Merlin North Star
Type of apartments: 3, 4 BHK
Area per apartment: 1195-1830 sq.ft.
5. Alcove Gloria, Lake Town
Alcove Gloria is a residential complex situated in Lake Town. It offers simple and aesthetically designed apartments that are made to provide comfort and convenience. This society keeps at the top of its value structure safety and satisfaction of their residents.
At Alcove Gloria, all residents have easy access to some of the truly desired facilities such as gymnasium, power backup. If you are a sports lover, there are provisions meant for you such as a cycling & jogging Track. Kids can use the children's play area, nearby apart from the swimming pool.
Highlights and Amenities in Alcove Gloria
Type of apartments: 3, 4 BHK
Area per apartment: 1521-1940 sq.ft.
Things to do in Lake Town, Kolkata
1. Try delicious vegetarian food
Who says vegetarianism is boring and repetitive? Check out Urban Masala in Lake Town for some finger licking vegetarian food. Urban Masala is a charming little restaurant that offers pocket friendly dishes and what more? The ambience is absolutely bright and excellent. If you don't usually opt for vegetarian food do it this one time.
2. Get your mani-pedi done while munching on food
Want to get the best of both worlds? It doesn't get better than this. At The London Nail art & Cafe you can get your nails done as well as grab a bite. You don't have to sit through hunger pangs while getting your nails done anymore. And if you have someone accompanying you for your nail appointment they don't have to get bored either.
3. Shop cheap and be happy
9 to 99 is a small shop in Lake Town that sells export surplus apparels from various brands. On your lucky day, you can easily spot some really excellent clothes at affordable prices at this place. If you are here you want to be as stealthy as possible and work quickly through the various racks of clothes.
4. Get a fresh haircut on the go
What's better than getting a fresh haircut? Getting a haircut in a salon on wheels. Pony Up Salon is a saloon service that comes to you when you don't want to step out yourself. The salon might be on wheels but it does not compromise on the services it offers. Get a haircut, manicure, pedicure, hair treatments, hair styling, hair coloring, and even full head, neck and back massages on the go.
5. Eat Authentic Bengali Food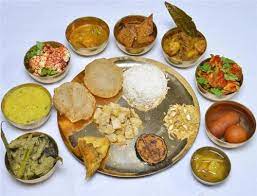 If you are looking for a cozy little place to enjoy authentic Bengali cuisine then make a plan for yourself and your family to dine at Aatithya. Aatithya in Lake Town serves authentic bengali cuisine and if that doesn't make the cut for you then they also serve you good chinese disease to choose from. So, if you are in Laketown make sure to visit this awesome little place.
Places to visit in Lake Town, Kolkata
1. Lake Town Clock Tower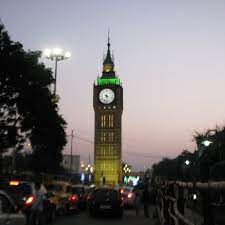 Clock tower in Lake Town is Kolkata's on Big Ben. It is a landmark located at Ultadanga-Airport midway near Lake Town VIP road crossing and is unmissable. It is a beautiful replica of the original and looks almost identical. If you are traveling through the chaotic VIP Road crossing make sure to gaze outside to look at it.
2. Netaji Indoor stadium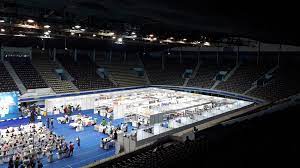 The Netaji Subhash Chandra Bose Indoor Stadium is an indoor sports arena, in Lake Town. The facility seats 12,000 people at a time.The stadium is located just beside Eden Gardens. It was constructed with the intention of hosting the World Table Tennis Championship.The stadium has become famous for its suspension roof design. NIS boasts of its multifunctional, flexible area and of its capability to host different kinds of sports events.
3. Belgachia Rajbari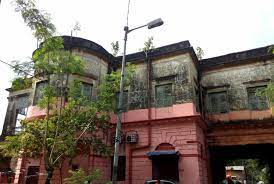 Belagachia Villa also known as the Belgachia Rajbari was one of the most famous mansions of the mid 19th century. Although now dilapidated and in ruins this beautiful building still in a way holds on to its regality from the era bygone. It is a part of an interesting time in history. You can still walk around the place and look at what it used to be from what it is today.
4. Central Park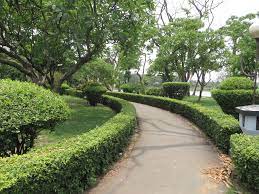 Central Park is a public urban park. The park is also known as Banabitan. It is the second largest open space in Kolkata Metropolitan Area. This park is a favorite hangout for lovers. The park is built around an expansive water body, therefore, there are also boating facilities in a cordoned off section of the lake near the rose garden.
FAQs about Lake Town, Kolkata
How is Lake Town connected to the rest of the city?
Lake Town has excellent connectivity through bus service to the main city. Lake town has two major bus stands on VIP Road and Jessore Road.
Which is the closest metro line from Lake Town?
Kolkata Metro is easily accessible through Jessore Road as it connects Lake Town to Belgachia Metro Station, situated 3.9 Km away.
How far is the Airport from Lake Town?
Lake Town is situated at a distance of 8 kms from the Airport.
Which is the closest train station from Lake Town?
The nearest local train station from Lake town is Bidhannagar Road in Ultadanga, at a distance of 4 kms.
Which are some of the schools and hospitals in the locality?
The schools in Lake Town include a Girls High School and Ideal Secondary School.
Medical Infrastructure is adequate with several local nursing homes and hospitals like ILS.
Is Lake Town a favorable locality?
The residential demand of Lake Town is driven by the locality's direct road connectivity to the IT hubs in Salt Lake Sector 5. Lake Town is well connected to Kolkata's traditional commercial hub of Dalhousie via metro rail.