Bangalore is one of India's fastest-growing cities. It has the highest rate of employability and is the top choice for women seeking employment. It takes pleasure in being the city that caters the most to millennials with its business forums, quiet environment, and easy accessibility to a. Upscale apartments are popular in the city. Imagine waking up to the sun's first rays illuminating one of the nation's top cityscapes. Bangalore is a beautiful city with world-class amenities and infrastructure.
List of top luxury apartments in Bangalore: based on amenities and building quality
1. Sobha HRC Pristine Luxury Apartments, Jakkuru- Luxury at its best!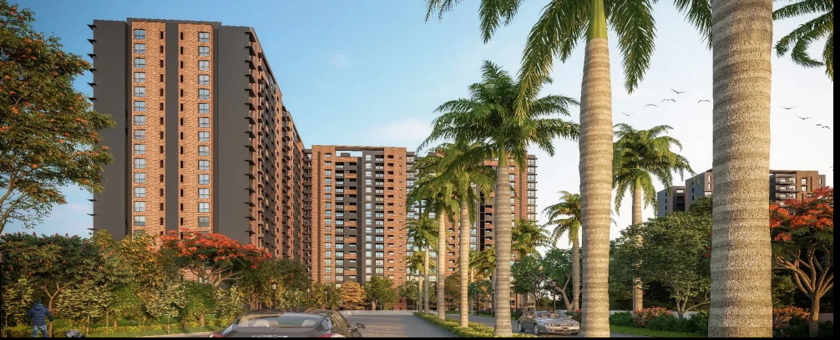 Sobha HRC Pristine is a green paradise in north Bengaluru. The luxury apartments in this property have access to clear sky, pure water, and untouched surroundings. Sobha HRC Pristine is located near Kempe Gowda International Airport, international schools, world-class hospitals, IT clusters, and recreational areas. Its newest residential property includes 3- and 4-bedroom luxury flats, penthouses, and rowhouses, making them one of the best flats in Bangalore.
Teak, mango, and silver oak trees beautify Sobha HRC Pristine's natural landscape, and extra care has been taken to retain its distinctiveness. The apartments offer cool clay cladding, a bio-pond, a flowing stream, bird's nest coves, and a reflexology walk.
2. Prestige Kingfisher Towers Luxury Apartments, Lavelle Road- Elevated modern luxury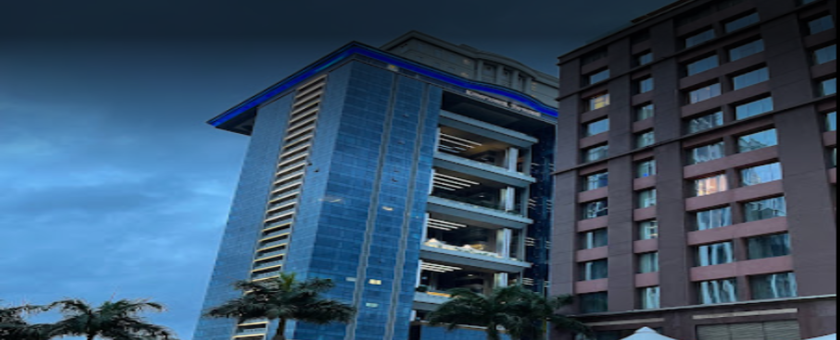 These unique luxury apartments are in Bangalore's Lavelle Road area. The project overlooks UB City and Cubbon Park, offering stunning views of the city's most chic neighbourhoods. The 33-storeyed structure has flats starting from the 5th floor. The project features 3 towers—A, B, and C—each with 8,321 sq. ft. 4-bedroom apartments. Each unit of Prestige Kingfisher Towers has its own lift lobby, service lift area, and access to the clubhouse, pool, and gym. It is one of the top apartments in Bangalore to rent or own.
3. Prestige Leela Residences- Stellar amenities at your fingertips!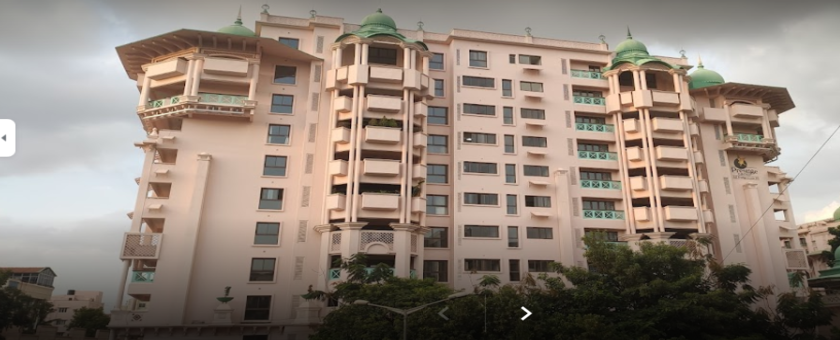 The ultra-luxury residences in Kodihalli Prestige Leela Residences comprise an upmarket east Bangalore property. Prestige Leela Residences is exquisitely designed to resemble the Mysore Royal Palace. The 3-acre property has 88 units of 4 BHK luxury residences. Indulge in a traditional lifestyle at Prestige Leela—one of the best apartments in Bengaluru!
4. Tata Promont Luxury Apartments, Banashankari- Your urban oasis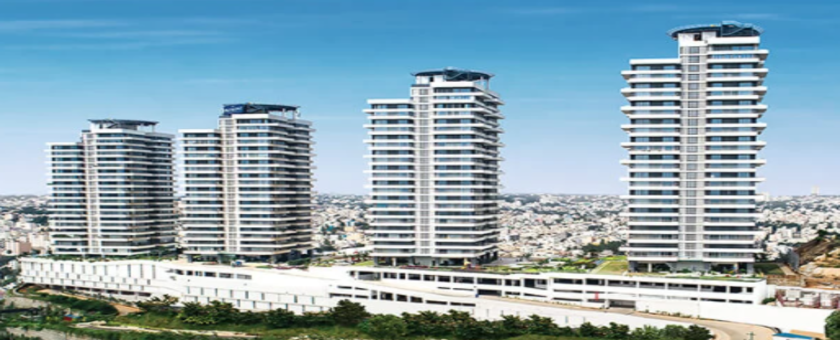 The Tata Group, one of the country's oldest and most renowned business houses, has forayed into real estate under the brand Tata Housing. It has created the Promont atop Banashankari hill, Hosakerehalli in south Bangalore. Tata Promont is one of the best luxury apartments in Bangalore and among south Bangalore's most iconic residential spaces.
The Promont is one of the most desirable "Hill Residences" in Bangalore, comprising 312 units of 3- and 4-BHK apartments and penthouses spread across 4 storeys. The Promont is a self-contained hamlet spread across 14 acres of lush natural landscape that offers modern pleasures and services and convenient access to the city and other essential locations.
Tata Promont provides numerous ways to break routine. Everything needed to live well can be found here. Enjoy the newest box office successes at the pretty little theatre or relish foreign cuisines without having to commute. The 3-level clubhouse has all this and more to rest, recharge, and entertain. All these features make Tata Promont one of the top apartments in Bengaluru.
5. RMZ Latitude- Lifestyle you deserve!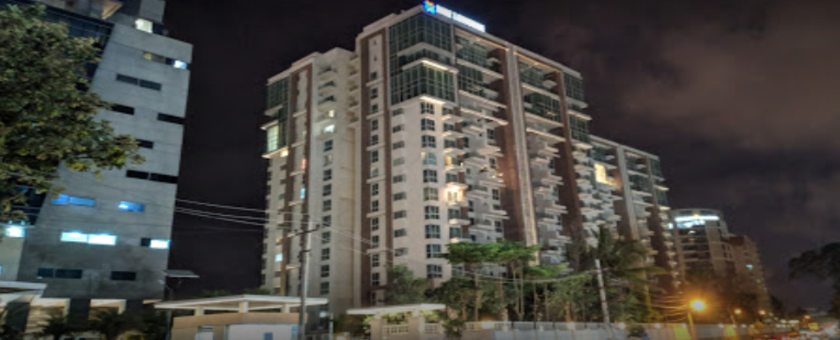 RMZ Homes' magnificent creativity in development and architecture is well-known. RMZ Lattitude in Hebbal, Bengaluru, is a premium property. The 3.92-acre home development features green-lined boulevards and gardens. The property has 122 units of 3- and 4-BHK apartments with modern amenities. Rich, stylish decor, and international-standard amenities make RMZ Latitude one of the best apartments in Bangalore for rent and ownership.
6. Embassy One Four Seasons—Upscale living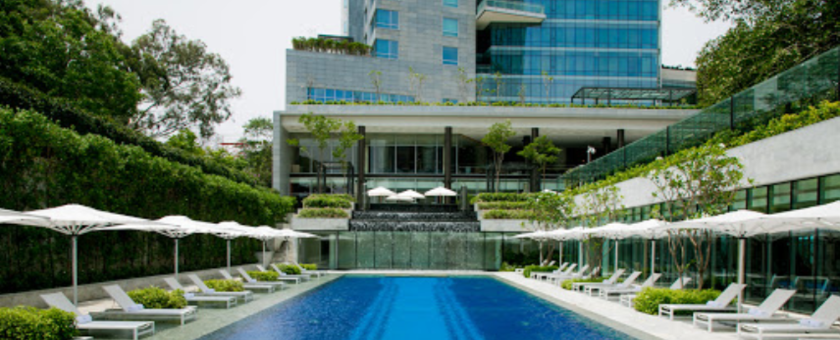 The Embassy Group is one of the largest realty developers, with 54 million sq. ft. of real estate developments across India, Europe, and East Asia. The group's ultra-luxury Embassy One Four Seasons caters to affluent clients. It is a 2.96-acre property with 109 ultra-luxurious apartments. The facilities on offer are a' la carte services, limousine service, butterfly gardens, pools, and saloon services. North Tower contains 1- and 2-BHK apartments and South Tower has 3- and 4-BHK flats. The best apartments in Bangalore for rent or purchase are the 2-BHK luxury properties at Embassy One Four Seasons.
7. Phoenix One- Best luxury apartments in Bangalore west
Phoenix One is truly iconic. International architects Benoy and RSP built this 30-storey skyscraper to please selective clientele. The roughly 17-acre site features a beautifully planted green zone developed by Site Concepts of Singapore. Phoenix One Bangalore West provides vast, expansive apartments overlooking the cityscape comprising 4-bed homes with family and study facilities, 3-bed homes, 2-bed homes with a family room, and penthouses. Phoenix One is yet another property with the best apartments in Bangalore for rent.
A massive central green zone, an internal boulevard, and a 50,000 sq. ft. clubhouse with a temperature-controlled indoor pool, indoor and outdoor Wi-Fi connectivity, a bowling alley, multi-level outdoor pools with jacuzzis, a high-tech gym, fine-dining, and designated outdoor and indoor party areas offer you resort-like living in the city. Phoenix One Bangalore West meticulously integrates luxury, comfort, and lofty design with home automation technology and concierge services.
8. Phoenix Kessaku, Rajajinagar- Epicentre of luxury!
Phoenix Mills Ltd is one of the country's largest retail-led mixed-use developers, noted for its large-scale developments. Phoenix Kessaku can be counted as the developer's most popular endeavour following mega-commercial successes. The property is located in Bangalore's Rajajinagar area. The premium home property is modelled on a Zen sphere and Far East architecture with 110 units in 5 towers named Zora, Niwa, Mizu, Faia, and Zefa. It has an infinity pool, garden, mini theatre, and more. It is among the best apartments in Bangalore for rent.
9. Karle Zenith Residences- Spacious modern living!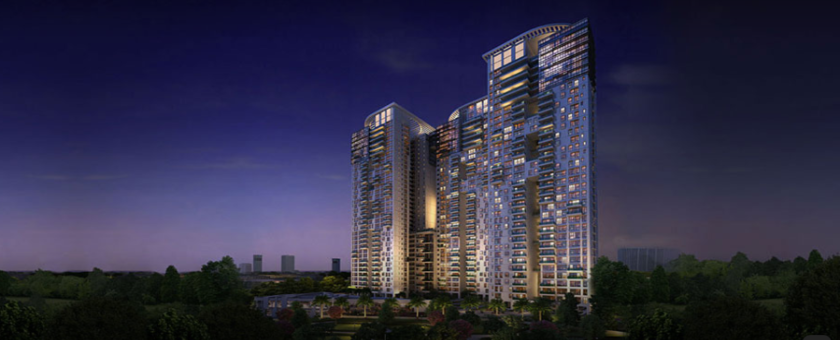 Karle Infra is noted for its architecture and planning. Bangalore, Mysore, and Goa residents may be familiar with this developer. Karle Zenith is one of the top luxury apartments in Bangalore, combining high culture and a premium lifestyle. The project boasts several first-rate amenities. This 4-acre property has 396 units of 3- and 4-BHK apartments that are among the best flats in Bangalore.
10. Total Environment Windmills of Your Mind- Experience the lifestyle!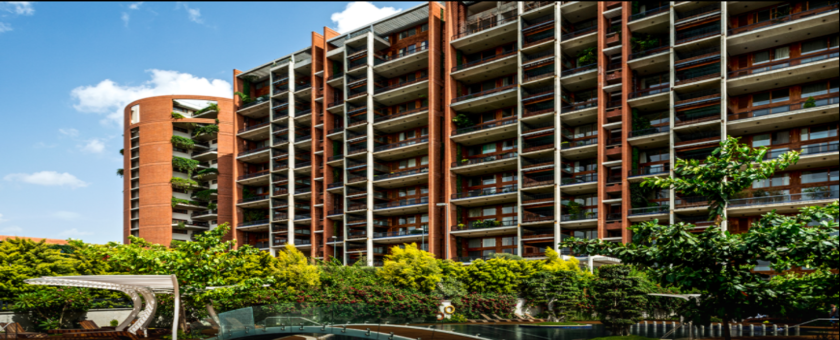 The residential development "Total Environment Windmills of Your Mind" is probably the most aesthetically pleasing luxury apartment property in Bangalore. The developer's architectural style is well-known for incorporating natural features. Total Environment Windmills of Your Mind combines luxury and calm. It is located in Whitefield, East Bangalore, and is a 24-acre premium residential project with 4-BHK simplex, duplex, and triplex residences and villas. Beautiful gardens, a water zone, and a courtyard make it one of the top apartments in Bangalore.
11. Sobha Indraprastha- Luxury, location, and convenience!
Sobha Limited is a reputable developer known for its sustainable urban development strategy. Sobha Indraprastha is in Rajajinagar, West Bangalore, and comprises a 37-storey tower with state-of-the-art facilities. Spread over 9.37 acres, the property has 356 luxurious 3- and 4-BHK homes and offers the best luxury apartments in Bangalore.
12. Salarpuria Sattva Luxuria- Style reimagined!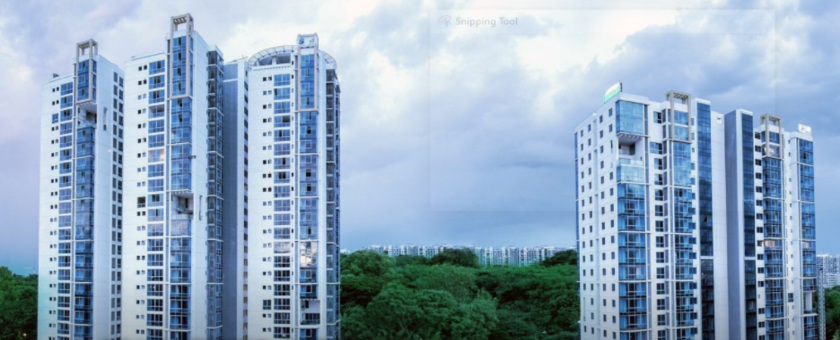 The Salarpuria Sattva Group is a trusted brand. It has come up with a luxurious apartment development in Malleshwaram, West Bangalore. The property is popular for its well-crafted concrete and glass architecture. This luxury complex has 197 units of 4-BHK flats for rent and ownership. It's one of the best apartments in Bangalore for rent.
Who doesn't desire a lovely home in an affluent city? These towers are perfect for a luxurious and relaxing house. They are right in the heart of the nation's IT hub, which makes them much more appealing! Now, it remains to be seen which among these best luxury apartments in Bangalore has piqued the reader's interest!
About MyGate
MyGate is India's largest society management system, benefiting thousands of housing societies, developers, society facility managers, and millions of homeowners in every Indian city.