Model Colony is a part of a popular location, Shivaji Nagar, which is located right at the center of Pune city. This area is surrounded by several localities like Bahiratwadi, Mitra Nagar, Bhageerath, Khaire Vasti, and Hanuman Nagar.
Additionally, the amazing connectivity of the area adds to the charm of Model Colony. It is in close proximity with the best hospitals and educational institutions. Pune Airport is just 12 kms away from Model Colony.
Due to its tranquil environment and close vicinity to Hinjewadi, Model Colony has attracted many home-buyers. Wide-range of residential developments are available in this area including residential plots, multi-storey apartments, and independent houses.
Looking for a home in Model Colony? A place that is pleasing, with good connectivity, suitable surroundings, close to schools and hospitals nearby. Here is all the information you require. Read on!
List of top gated communities in Model Colony, Pune
1. Paranjape Sky One Apartment, Model Colony
Paranjape Sky One Apartment is a magnificent residential society located in Model Colony. This society is a meticulously designed one with a keen eye for details. It is smartly constructed with necessary amenities and facilities in place that cater to the modern taste of contemporary times. Other than that Paranjape Sky One Apartment also comes with an enriching community of affluent people.
At Paranjape Sky One Apartment you get access to the best amenities and facilities such as landscaped garden, indoor games, earthquake resistant structure, CCTV surveillance, swimming pool, gymnasium, play area, intercom, rain water harvesting, lift, club house, health facilities, car parking, fire safety, basement car parking, 24 hr power backup, drainage and sewage treatment, party area, multi-purpose hall, security and fire alarm system.
Highlights and Amenities in Paranjape Sky One Apartment
Type of apartments: 3, 4 BHK
Area per apartment: 1591-3091 sq.ft.
2. Saarrthi Signature Towers, Model Colony
Saarrthi Signature Tower is a residential complex located in ShivajiNagar. It is a well planned society that is sure to appeal to prospective buyers. What makes this complex even more interesting is its close proximity to major workplaces. Also many commercial establishments along with well known schools, colleges, medical centers, shopping malls and places of recreation are in close vicinity to Saarrthi Signature Tower .
Saarrthi Signature Tower comes with various facilities and amenities that make it a suitable home. These facilities are- 24 hrs water supply, 24 hrs power backup, CCTV surveillance, covered car parking, fire safety equipment, landscaped garden, lift and security personnel.
internal roads, sewage treatment plant, water conservation, rain water harvesting, storm water drains.
Highlights and Amenities in Saarrthi Signature Towers
Type of apartments: 2, 3, 4 BHK
Area per apartment: 668-1523 sq.ft.
3. Ethique Hrishikesh, Model Colony
Hrishikesh CHS is a well known residential project located in Shivaji Nagar. It is a well planned project. This society is endowed with all the necessary amenities required in a modern home. The apartments are aesthetically designed and have a very balanced feel to them. These apartments are spacious, well ventilated, airy and bright due to the ample sunlight they get.
At Ethique Hrishikesh you get access to all the necessary amenities and facilities such as sewage treatment plant, 24 hrs water supply, fire fighting system, water conservation, rain water harvesting, open parking space, secure meter room, closed car parking, among others. These facilities make for a comfortable, convenient and a safe lifestyle for the residents of Ethique Hrishikesh.
Highlights and Amenities in Ethique Hrishikesh
Type of apartments: 1, 2, 3, 4 BHK
Area per apartment: 414-1230 sq.ft.
4. Oro Vista, Model Colony
Oro Vista is oa residential complex in Model Colony. It has, on offer, premium luxury apartments that are sure to impress prospective buyers. Other than the premium apartments, Oro Vista is well connected and is just 10 min from Shivaji Nagar Railway Station and E Square Multiplex. It is also merely 5 minutes away from Pune Central Mall. Various basic civic utilities such as Deccan Gymkhana Bus Stop, Deccan Gymkhana, IDBI Bank ATM, Poona Hospital and Research Centre, Kobe Sizzlers, and Chhatrapati Sambhaji Garden, are in close proximity to it.
Some of the amenities and facilities made available in Oro Vista are gymnasium, private terrace/garden, banquet hall, aerobics room, indoor games room, among others.
Highlights and Amenities in Oro Vista
Type of apartments: 3, 4 BHK
Area per apartment: 1928-2583 sq.ft.
5. Manohar Residency
Manohar Residency is a dashing residential complex in Model Colony. It is a well constructed project that offers apartments of a larger configuration. These apartments though larger are economically built with a great use of space. Manohar Residency is an elegant and simple space that is perfect for a home. The complex is designed in compliance with the rules of Vaastu.
Since it is located in Model colony, Manohar Residency is enveloped by verdant surroundings. Your home, therefore, will be an effective relief from the hustle and bustle of the busy metropolis. Manohar Residency is also in close proximity with many famous schools, hospitals, shopping destinations, tech parks and every other civic amenity required to lead an easy and comfortable lifestyle.
Highlights and Amenities in Manohar Residency
Type of apartments: 4 BHK
Area per apartment: 1864 sq.ft.
Things to do in Model Colony, Pune
1. Try your hands at Rock Climbing
Rock Aliens Sport Climbing Gym is the first of its kind in Pune and is located in Model colony. It is an indoor rock climbing gym that has an off-beat set up where all the walls and even the ceilings are climbable. The set ups have different strenuous levels for different levels of practice. Irrespective of your current fitness level, you can train to be a climber. It surely is an interesting way of getting that much needed workout.
2. Go Bird Watching
There cannot be a better way to start your day other than with the shrill chirping of the birds and an enchanting view. If this looks like a perfect morning then head to La-Ka-Ki lake in the heart of Model Colony. This lake is also commonly known as the Model Colony Lake. Birds like Spot Bills, Egrets, Waterhen, Coots, Robins, Crow Pheasant can often be spotted here. This place is also ideal for walkers and joggers. It has a jogging track right beside the lake so if earning/ evening walks and jogs are your thing this is where you should be.
3. Grab Healthy and yummy meals
Eating out or eating healthy is a big struggle but what if you get the best of both worlds in one place? Yes, Butter Brew Bistro and Tien in Model Colony make this a reality with super healthy delicious meals that they serve. Butter Brew Bistro is a European cafe that serves a variety of healthy yet lip smacking dishes such as Cream Cheese Bagel with Roasted Pumpkin, The Fiery Chicken Sambal Bagel, Oats Omelette, among others. On the other hand, if you're looking to grab a healthy breakfast on the go then Tien is where you should head..
3. Take a break and relax at a local garden
Chittaranjan Vatika is a precious little gem of Model Colony. It is a spot popular amongst the locals but usually remains hidden to many outsiders. The small garden is always busy with joggers and walkers, children playing, and groups of youngsters hanging around in the morning and evening. Many informal groups also organize regular yoga sessions from time to time. The lush green garden also has an open gym with basic equipment open to all.
4. Shop for handcrafted clothes
A Charkha Story, is a beautiful store that is making Khadi trendy one clothing item at a time. It has a gorgeous variety of sarees, kurtis and dupattas available to choose from. These outfits are trendy and are perfect to be worn for day to day activities like in the office or for casual hangout. For men too they have a nice collection of Nehru jackets, kurtas and bandhgalas available in subtle as well as interesting colors and prints.
Places to visit in Model Colony, Pune
1. Lal Mahal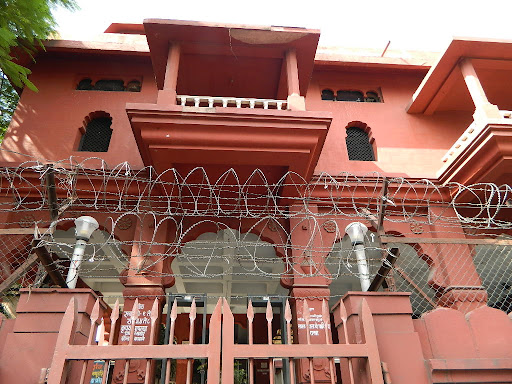 The Lal Mahal or Red Palace of Pune is one of the most famous monuments located in the city. This palace is where Chhatrapati Shivaji Maharaj, founder of the Maratha Empire spent his childhood. At present Lal Mahal is a memorial holding a collection of large-size oil paintings based on the significant events in the life of Shivaji Maharaj, and a huge map of Maharashtra indicating the forts of Shivaji Maharaj. The popular Jijamata Garden is now a recreational park for kids.
2. Chaturshringi Temple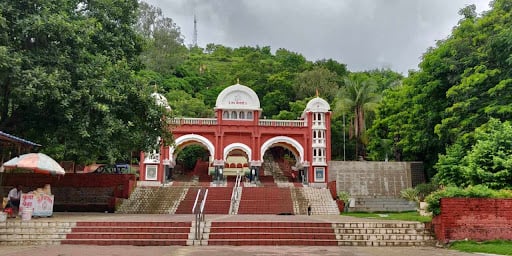 Chaturshringi Temple is a beautiful temple complex situated on the slope of a hill at SB Road. It has been a pride of Pune for a very long time. It is said to have been built in a time when the Marathas were in their prime. It is home to the Goddess Chaturshringi. Every year during Navratri the temple is beautifully lit in many colors and sees hundreds of people flocking from all over the country to offer prayers to the goddess. After the puja you could also take a small hike up the hill just behind the temple to soak in the gorgeous panoramic view of the city from the top.
3. Shaniwar Wada
Shaniwar Wada is located by the south bank of the Mula River in the heart of Pune. It is one of the 18th-century palaces from the Peshwa dynasty. This was the political center of the region until the British arrived in the early 1800s. A light and sound show offers an impression of how the fortress looked before a fire destroyed it in 1828. Large sections of walls, doors and columns survived and now make up a tribute to the former palace. Carry a picnic to eat under the large trees and make a trip out of the visit.
4. Pataleshwar Cave Temple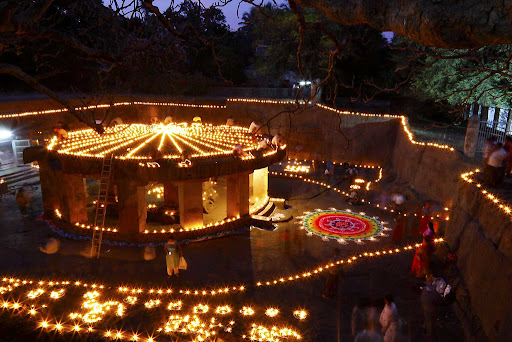 Pataleshwar Cave Temple is an 8th century Rock cut temple located in Viman Nagar, JM Road.
It is said to be the oldest structure in Pune and it lies below the road level. The circular structure houses a huge Nandi idol while the main deity – a form of Shiva – is in the cave opposite. Apart from the Pataleswar idol, there are idols for Ganapati, Parvati, Hanuman, Ram and Sita. The interiors were very clean. The atmosphere is very peaceful and the interior is very cool because it is literally made of rock.
FAQs about Model Colony, Pune
How is Model Colony connected to the rest of the city?
Model Colony enjoys excellent connectivity. It is connected to State Highway 114 and Old Mumbai Pune Highway.
How far is the nearest railway station from Model Colony?
Shivaji Nagar Railway Station is at a distance of 2 kms from Model Colony. It can be reached through Agriculture College Flyover and Ganeshkhind Road.
How far is the airport from Model Colony?
When following the Sangamwadi Road, Pune International Airport is situated at a distance of 12 kms from Model Colony.
Which are some of the prominent schools located in and around this locality?
Fazlani International School, Sharad Pawar International School, Inlingua International School of Languages, Vivero International Pre-School & Child Care, Aundh, and Wisitek Academy-International School of Knowledge are some of the prominent schools located in and around Model Colony.
Which are some of the important healthcare facilities located in and around Model Colony?
Metropolis Healthcare Ltd, Vivo Healthcare Institute, and Symbiosis Centre of Healthcare are some of the important healthcare facilities situated in and around Model Colony.
Which are the go to malls located in and around Model Colony?
The shopping needs of the locals are catered by Pune Central Mall, City Mall, and Deccan 99 Mall, which are located in the neighboring areas.
How is Model Colony connected to the important employment hubs of the city?
Tech parks that are situated near Model Colony are Platinum Tech Park, Panchsheel at a distance of 1 km, Venture Centre at a distance of 4 kms, Commerzone at a distance of 9 kms, and Phase 3 Maan Rajiv Gandhi Infotech Park at a distance of 21 kms. Hinjewadi is situated at a distance of 15 kms via Aundh Road, Mundhwa Industrial Estate is at a distance of 12 kms through Sangamwadi Road and N Main Road, Hadapsar and Kharadi are at a distance of 14 kms each through N Main Road and Pune – Ahmednagar Highway resopectively.