Nehru place is a thriving commercial area in south Delhi. Named after the first prime minister of India, Jawaharlal Nehru. Since its inception back in the 80s, it has been a commercially and financially important area. Flaunting headquarters of major MNCs and national companies like CSM software, DPH software, and Geonix.
The area is connected through the southern ring road. And the frequency of buses and taxis is impressive. It enjoys the presence of three dedicated metro stations, Nehru place on the violet line, Kalkaji Mandir on the magenta line, and Nehru enclave also on the magenta line. The metro network connects Nehru place with Gurgaon by a simple interchange at Hauz Khas and directly connects with Noida and IGI airports. Also, the new Delhi railway station and Hazrat Nizamuddin railway stations are roughly an hour and 30 mins drive away. In Nehru Place, there is an abundance of spiritual retreats and recreational destinations like the Lotus temple, the Beer Cafe, and the VU penthouse bar.
These traits collectively make Nehru place a perfect destination for settlers looking forward to a satisfying residential experience. And this article will try to guide them by discussing the following.
Top gated communities in Nehru Place, Delhi NCR
1. Godrej South estate, Delhi NCR
This apartment complex is among the most popular, tallest, and most lavish in the entire south of Delhi. It is located within a kilometre of new friends' colony, Greater Kailash, and the defence colony. Being located in Okhla, it enjoys proximity to the outer ring road and is extremely well connected with the rest of Delhi.
One can easily access neighbouring cities like Noida and Faridabad from the locale. And the amenities include an Air purification system, a clubhouse with a luxurious SPA, 5-tier security, and a well-furnished gymnasium.
Highlights and Amenities in Godrej south estate
Type of apartments: 1 BHK, 2 BHK, 3 BHK, and 4 BHK apartments
Area per apartment: 1200- 3851 sq. ft.
No of flats: 512 units
Address: Plot No B, 319, Pocket B, Okhla I, Okhla Industrial Estate, New Delhi, Delhi 110025
2. Godavari Apartment, Delhi NCR
Nestled in Alaknanda, south Delhi, the project occupies almost 10 acres of land and proudly flaunts 19 well-maintained towers. And the huge compound is well utilised by establishments such as strolling a jogging park, a kids club, water storage, and even rainwater harvesting systems.
Residents can enjoy the proximity to the Alaknanda shopping complex, Alaknanda market, and CR park market, alongside schools, bank gardens, and even designated play areas for kids. Highlights and Amenities in Godavari apartment
Highlights and Amenities in Godavari Apartment:
Type of apartments: 2 BHK, 3 BHK, 4 BHK
Area per apartment: 1200-2800 sq. ft.
No of flats: 114
Address: Alaknanda, South Delhi, Delhi 110019
3. Savlani Homes, Delhi NCR
Shivani homes is a premium residential tower, with only four floors, each featuring one well-furnished 3 BHK apartment. The apartment complex offers an exclusive, premium experience with a surrounding green compound and a lavish balcony for each household. Being located in greater Kailash Block E, the residents here can enjoy well-connected city life with all the bustle on offer.
Highlights and Amenities in Savlani Homes:
Type of apartments: 3 BHK, entire floor
Area per apartment: 1800 sq. ft.
No of flats: 4
Address: Off 80 Feet Road, Near Sehgal Market – I, South Delhi, Delhi
4. Navgrow Chirag Enclave, Delhi NCR
Chirag enclave is a premium residential experience, developed by Navgrow group at Kalkaji, south Delhi. Being located in Kalkaji, the residents here enjoy proximity to important regions in Delhi like Govindpuri, Greater Kailash, Chittaranjan Park, and South Extension. The living experience is luxurious, as there is no scarcity of essential amenities and security.
Highlights and Amenities in Navgrow Chirag enclave
Type of apartments: 4 BHK
Area per apartment: 2520 sq. ft.
No of flats: 20
Address: 56, Greater Kailash-1, Hemkunt Colony, Basement, New Delhi, Delhi 110048
5. Aarone Homes 4, Delhi NCR
Aarone group is a renowned name in the real estate space. Over the years, they have developed over 40 residential projects. The apartment complex is a gated community offering an exclusive and luxurious living experience.
The amenities are well taken care of, such as there is a dedicated power backup, with 24*7 security and surveillance.
Highlights and Amenities in Aarone Homes 4
Type of apartments: 4 BHK
Area per apartment: 2254 sq. ft.
No of flats: 4
Address: 6th Floor, Office Tower, Select Citywalk, A-3, District Centre Saket, New Delhi, Delhi 110017
Things to do in Nehru Place, Delhi NCR
1. Satiate your culinary demands in Epicuria
Epicuria is the most popular food mall in entire Delhi. An amazing and unique concept that brings in all kinds of cuisines under one roof. It is located under the Nehru Place metro station, just opposite of the electronic and tech market. It is like an island of culinary finesse in the heart of Delhi's IT and tech hub. Epicuria is known for its variety and extravaganza of choices in terms of food and cuisine. A perfect place for taking a break from the bustle of south Delhi's busiest locality.
2. Have fun in the lord of the drinks forum
The lord of the drinks forum is an elegant place to be when it comes to enjoying music with good food in a casual but elegant environment. And the ambiance matches the nomenclature in terms of grandeur and elegance. The establishment is known for its amazing food, exceptional music, and popular preparations like Mushroom Chili Fry, Pumpkin Halwa, Signature Chapman, Honey Chili Fries, Corn Bhel & Beijing Chicken.
3. Experience the best north Indian food at Sandoz
Sandoz is undoubtedly the best restaurant for north Indian food in Delhi. The restaurant is extremely family-friendly and tries to provide a fine dining experience that is rare in this part of the world. Keema Mutton, Bhatti Chicken, Virgin Mojito, Gulab Jamun, Brownie, and Paneer Butter Masala are the most ordered and popular dishes that can be enjoyed here. May it be a solo outing or a date, or maybe a family brunch, Sandoz is always ready with its amazing interiors and delicious food.

4. Work, and relax at Starbucks
The perfect destination for caffeine heads, Starbucks is a well-known Seattle-based Cafe chain. They serve amazing coffee and related dishes around the world. In Nehru Place Starbucks, it seems Toffee Nut Latte, Irish Frappe, Caramel Macchiato, Tiramisu Pastry, Frappuccino, and Caramel Coffee are the most popular. During the week, many prefer to work from the place due to excellent WIFI availability. And on the weekends, the place is filled with drifting souls looking for relaxation.
5. Relish Chinese cuisine in Royal China
Royal China is known for finesse, perfection, and authentic Chinese cuisine. Royal China lives up to its name through its startling interiors and royal environment, matching the quality of food with absolute finesse. A perfect place to visit with family or for a quick weekend dining with a view of Delhi from the 16th floor.
6. Enjoy your favourite drinks in luxury.
Nehru place has something for everyone to offer! The place is riddled with popular and happening weekend and leisure destinations. And many among them like Yuzu and the beer café are known for their amazingly fresh brews. When it comes to having a drink or a relaxing dinner with family or friends, United Coffee House Rewind and the VU penthouse Bar can be ideal destinations.
7. Feel at Home in the Irish House
The Irish House is a prestigious establishment catering to culinary needs with absolute finesse. The restaurant is well known among foodies and commoners alike for its wide range of offerings. Popular dishes include Dual Chocolate Torte, Whiskey Cocktail, Feta Cheese Salad, Potato Fingers, Chicken Tenders and Grilled Fish. Also, there are provisions for bar games and generous happy hours.
Places to visit in Nehru Place, Delhi NCR
1. The Clay Company, Delhi NCR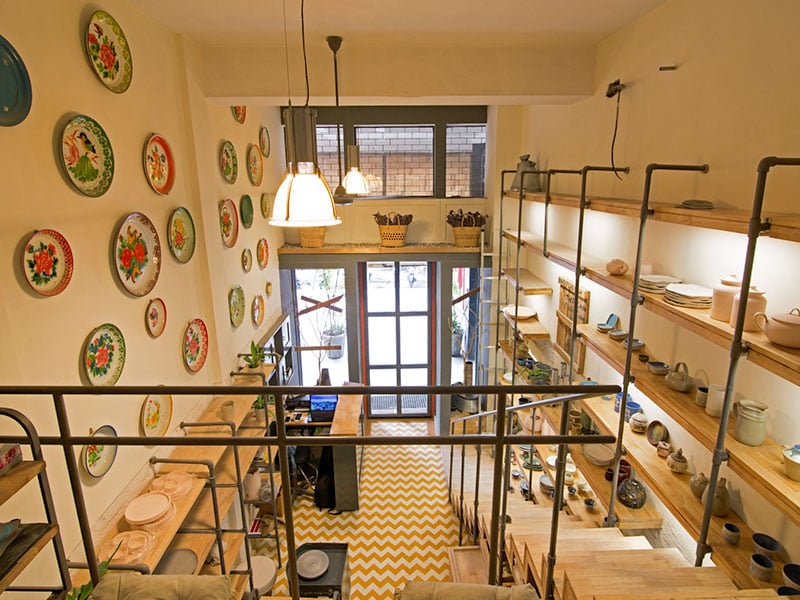 The clay company started as an art school, back in 2012. And gradually developed into a business, producing small batches of clay utensils, for home and commercial purposes. The clay company is not just a commercial establishment it is a fine studio, responsibly propagating the art of pottery. The studio is led and fueled by passion, standing strong amidst the busiest tech and electronics market in the entire country.
Address: Nehru Enclave Metro Gate No. 2, Nehru Enclave, New Delhi, Delhi 110019
2. Big Wong XL, Delhi NCR
Big Wong XL specializes in Asian food. And a food lover can find all kinds of offerings from Thai, to Malaysian and even Japanese. Popular dishes include Chicken Thai Herbs, Sushi Platter, Pad Thai Noodles, Dimsums, and Honey Chilli Potatoes. The place is well maintained and offers a wonderful environment, created and maintained by a team of adept and welcoming staff.
Address: M-61, Block M, Greater Kailash II, Greater Kailash, New Delhi, Delhi 110048
3. Nehru Place Social, Delhi NCR
Nehru Place social aims to deliver the essence of Nehru palace under one roof. The decorations and the casual environment encourage the visitors to feel like being at home. The place is known for Bar games and a regular black tie crowed and fairly priced, high-quality beers. Among the amazing curation of dishes, like Honey Chili Fries, School Chicken Tikka, Breakfast Tray, Social Shake, Crispy Corn Chili Pepper, Liit Cocktail, etc.
Address: Metro Station, Astha Kunj Rd Shop R-1, Upper Ground Floor, Epicuria Food Mall, Nehru Place, New Delhi, Delhi 110019
4. Dhaba by Claridges, Delhi NCR
Dhaba By Claridges is all about a holistic experience, and thematic interiors that match the food. The restaurant tries to provide an authentic Dhaba feel to the visitors. Popular dishes include Balti Meat, Lassi, Mocktails, Dal Makhani, Butter Chicken, and Paneer Tikka. And the same can be enjoyed with family or friends in a sophisticated and luxurious environment.
Address: The Claridges, 12, Dr APJ Abdul Kalam Rd, Tees January Road Area, Motilal Nehru Marg Area, Delhi, 110011
5. The Asian Tuk Tuk, Delhi NCR
The Asian Tuk Tuk is perhaps the only reliable destination for authentic Japanese and Asian food. The place offers large sitting areas, ideal for visiting with a large group. Popular dishes include Chocolate Burger, Char Siu Bao, Exotic Mushroom, Lamb Rendang, Tempura Prawns, and Dimsum Basket. And all of them can be enjoyed in a well-decorated and family-friendly environment.
Address: 6A, Hansraj Gupta Rd, Sant Nagar, East of Kailash, New Delhi, Delhi 110065
FAQs about Nehru Place, Delhi NCR
How far is Nehru Place from the City Centre?
Nehru place is approximately 20 km away by the Lala Lajpat rai road from central Delhi. And it typically takes 33 mins by the same.
What is the distance from Nehru place to the Airport?
Nehru place is approximately 74 km from Noida airport and from IGI airport it is only 15 km away.
What are the best hospitals in Nehru Place?
Fortis C-Doc hospital, Triton Hospital, and Apollo Spectra Hospitals are the most prominent healthcare institutes in Nehru Place. In addition to these, specialised institutes like fortis Escorts heart Institutes, and Eye health clinic@Nheru Place enhance the healthcare experience to an all-new level.
What are the best schools in Nehru Place?
The best schools in Nehru place are Beverly Hills Shalini School, ram-Krishna Saraswati Vidya Niketan, government boys' senior secondary school, guru Harkishan public school, oxford public school, Kalka public school and for kids, Udgam preschool and daycare.
What are the police stations in Nehru place?
Kalkaji police station is the largest police station near Nehru place, but there are multiple police posts in Nehru market, and a dedicated Delhi police station for Nehru place as well.